INTERSECTIONS: LINN MEYERS
Meyers explores two-dimensional space in an exquisitely detailed wall drawing composed of thin, tremulous lines. The drifting whirls of at the time being, drawn around an archway in the Goh Annex, move toward each other, meeting above the arch and creating optical vibrations. The color, movement, and energy of the drawing relate to the brushwork and colors of Vincent van Gogh's The Road Menders (1889), a painting in the collection.
Intersections artist Linn Meyers presents: at the time being
A Closer Look: Linn Meyers
INTERSECTIONS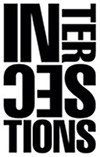 Intersections is a new series of contemporary art projects that explores—as the title suggests—the intriguing intersections between old and new traditions, modern and contemporary art practices, and museum spaces and artistic interventions. Whether engaging with the permanent collection or diverse spaces in the museum, the projects suggest new relationships with their own surprises.

Many of the projects also riff on the nontraditional nature of the museum's galleries, sometimes activating spaces that are not typical exhibition areas with art produced specifically for those locations.