Jordan Bak, Ashley Jackson, and Adam Sadberry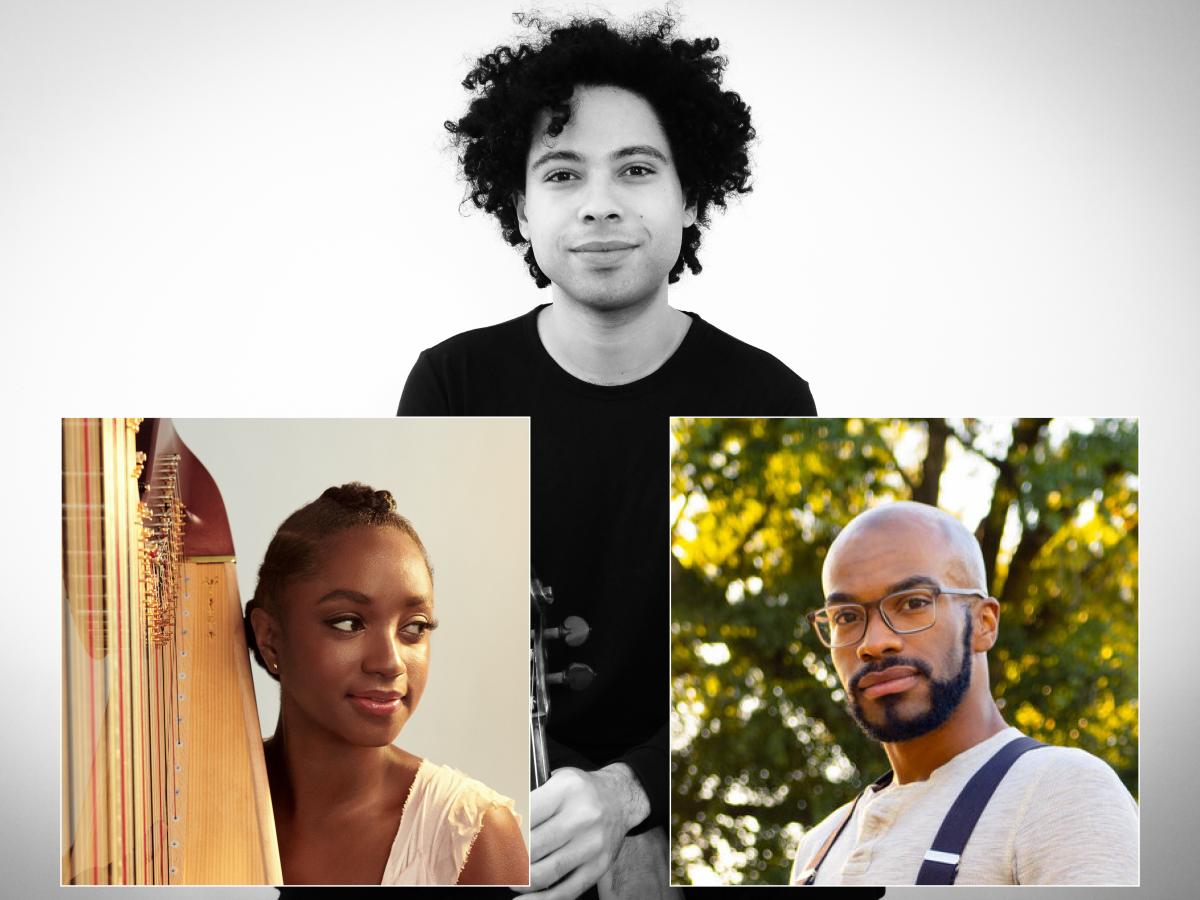 Award-winning Jamaican-American violist Jordan Bak has achieved international acclaim as a trailblazing artist, praised for his radiant stage presence, dynamic interpretations, and fearless power. Critics have described him as "an exciting new voice in Classical performance" (I Care If You Listen), "a powerhouse musician, with a strong voice and compelling sound" (The Whole Note) and lauded his "haunting lyrical grace" (Gramophone). The 2021 YCAT Robey Artist and a top laureate of the 2020 Sphinx Competition, Bak is also a Grand Prize winner and Audience Prize recipient of the 2019 Concert Artists Guild Victor Elmaleh Competition, the recipient of the 2019 Samuel Sanders Tel Aviv Museum Prize and the 2019 John White Special Prize from the Tertis International Viola Competition. Other recent accolades include being named one of ClassicFM's "30 Under 30" Rising Stars, Musical America's New Artist of the Month and being a featured artist for WQXR's inaugural Artist Propulsion Lab.
Bak's enthusiastically-received debut album IMPULSE (Bright Shiny Things) was released in May 2022, garnering over one million streams on major digital media platforms and featuring new compositions by Tyson Gholston Davis, Toshio Hosokawa, Anne Leilehua Lanzilotti, Quinn Mason, Jeffrey Mumford, and Joan Tower. A proud new music advocate, Bak gave the world premieres of Kaija Saariaho's Du gick, flög for viola and mezzo-soprano, Jessica Meyer's Excessive Use of Force for solo viola and On fire…no, after you for viola, mezzo-soprano and piano, and Augusta Read Thomas' Upon Wings of Words for string quartet and soprano. He has additionally championed works by H. Leslie Adams, Esteban Zapata Blanco, Carlos Carillo, Caroline Shaw, and Alvin Singleton.
Bak has appeared as soloist with such orchestras as Sarasota Orchestra, London Mozart Players, New York Classical Players, Juilliard Orchestra and Brandon Hill Chamber Orchestra among others, and has performed under such esteemed conductors as Howard Griffiths, Stephen Mulligan, Keith Lockhart, Gerard Schwarz, and Ewa Strusińska. As a recitalist and chamber musician, he has been heard at some of the world's greatest performance venues including Carnegie Hall, Alice Tully Hall, Wigmore Hall, Jordan Hall, Merkin Concert Hall, Princeton University Concerts, Perelman Theater at The Kimmel Center, Elgar Concert Hall, and Helsinki Musiikkitalo. Bak's recent performances include recitals at Kravis Center, Wiltshire Music Centre, and Isabella Stewart Gardner Museum, and is looking forward to upcoming concerts at the Concertgebouw, Harriman-Jewell Series, and at the Schleswig-Holstein and Lichfield music festivals.
Bak has been a presence at numerous chamber music festivals such as Marlboro Music Festival, Tippet Rise, Chamber Music Northwest, Roman River Festival, and Newport Classical, and has appeared during the year at Chamber Music Detroit, Chamber Music Society of Central Virginia, and Chamber Music Society of Little Rock. Recent and upcoming highlights include NEXUS Chamber Music, Brooklyn Chamber Music Society, and Emory University, as well as an upcoming tour with Musicians from Marlboro. Bak has performed as a guest with the Verona Quartet and Merz Trio and has collaborated with such artists as Jonathan Biss, Lara Downes, Jennifer Frautschi, Ani Kavafian, Soovin Kim, Charles Neidich, Marina Piccinini, and Gilles Vonsattel.
Passionate about education, Bak currently serves as Assistant Professor of Viola at University of North Carolina School of the Arts (UNCSA). He was a former faculty member of Bowling Green State University in Ohio and served as a visiting artist and Ambassador for Music Masters in London. Additionally, he has given masterclasses at Peabody Institute of the Johns Hopkins University, University of Wisconsin-Madison, Royal Birmingham Conservatoire (UK), Conservatorio del Tolima (Colombia), and the Brevard Music Center.
Only the third violist to earn the Artist Diploma from The Juilliard School, Jordan Bak holds a Bachelor of Music degree from New England Conservatory and a Master of Music degree from The Juilliard School where he was awarded the prestigious Kovner Fellowship. His principal teachers were Dimitri Murrath, Hsin-Yun Huang, and Samuel Rhodes.
Jordan Bak plays a 2016 viola made by Jon van Kouwenhoven. He is married to violist Rubina Bak and shares two cats, Bartok and Walton. An avid car buff, he drives a very loud Dodge Dakota 5.9 R/T.
Praised for her "soulful" and "eloquent" playing (Musical America), harpist Ashley Jackson enjoys a multifaceted career as a highly sought-after musician and collaborator in New York and beyond.
As a soloist, she has performed at Lincoln Center, Celebrate Brooklyn! and the Schomburg Center for Research in Black Culture. She has also performed with the New York Philharmonic, Metropolis Ensemble, the Qatar Philharmonic, and is the principal harpist of NOVUS NY, the contemporary music orchestra of Trinity Wall Street led by Grammy-nominated conductor Julian Wachner. She is a member of the Harlem Chamber Players, with whom she has developed a number of projects, including her first film, In Song and Spirit and the Harlem Walking Tour Series.
Throughout her academic and professional careers, Ashley has demonstrated a commitment to diversity and inclusion within higher education and the performing arts, firmly believing that a deeper understanding of cultural and ethnic diversity is critical to intellectual and artistic development. As a recipient of the Theodore Presser Award, she pursued her doctoral research on black female composer Margaret Bonds and her collaboration with Langston Hughes, and presented her findings in lectures at the Studio Museum of Harlem, WMP Concert Hall, and the University of North Carolina. Her research culminated in the release of the album, The Ballad of the Brown King and Selected Songs (Avie Records) on which she is a featured performer, as well as the author of the liner notes. Her speaking engagements have included "1960: Margaret Bonds and a Message for Civil Rights" (Juilliard), "Affinities: Margaret Bonds and Langston Hughes," (Studio Museum of Harlem) and "Representation as Resistance: How an Activist Orchestra Redresses the Push-out of Black Practitioners from Classical Music" (Harvard University). As a writer, her works have appeared on NewMusicBox ("The Cultural Citizen: How Classical Music Got Me Woke") as well as in the International Journal of Women in Music ("Margaret Bonds and The Ballad of the Brown King: A Historical Overview"). She is currently an Assistant Professor and the Director of Undergraduate Studies for the Music Department at Hunter College, where she teaches chamber music, harp, and courses such as the Arts in New York City.
Ashley holds a Doctor of Musical Arts degree from the Juilliard School, a Master of Music degree from the Yale School of Music, and a Bachelor of Arts degree from Yale University.
Named one of The Washington Post's 23 for '23, flutist and educator Adam W. Sadberry is paving a distinctive career with his citizenry, creativity, and vibrancy both on and off stage. As a winner of Concert Artists Guild's 2021 Victor Elmaleh Competition, he is making debuts in the 22/23 season with Chamber Music Detroit, Newport Classical, Scottsdale Performing Arts, Macon Concert Series, Strings Music Festival, Pro Musica: San Miguel de Allende, Northeast Kingdom Classical, Glema Mahr Performing Arts Center, Dumbarton Concerts, and more. Adam is tremendously excited to make his Merkin Hall debut in NYC during March 2023 where he will premiere a composition by Dameun Strange that is inspired by Adam's late grandfather and unsung hero of the Civil Rights Movement, L. Alex Wilson.
Adam's commitment to citizenry is reflected through his collegiate work. He is on faculty at the University of Minnesota (Twin Cities) for the spring 2023 semester, and he has given residencies at Lawrence University, Northern Michigan University, South Carolina Governor's School for the Arts and Humanities, and Wesleyan College (GA). Adam has had performance engagements at Indiana University (Bloomington), Pepperdine University, and Georgia Southwestern State University, and he has given masterclasses at New York University, Oakland University, University of Memphis, Rhodes College, and the Harmony Project (Los Angeles). Adam's work revolves around identity, his grandfather's legacy, and mindfulness that is informed by Alexander Technique. His most popular lectures are Using Your Identity to Create a Relevant Voice in Music and Musical Journalism: Continuing a Legacy Through the Flute.
Along with his solo and educational work, Adam has a strong foundation in orchestral playing. He is the principal flutist of the Cabrillo Festival of Contemporary Music in Santa Cruz, CA, he has played principal flute with the St. Louis and Detroit Symphony Orchestras, and he has previously held positions with orchestras including acting principal flute with Memphis Symphony Orchestra, flute and piccolo with the Des Moines Metro Opera, and orchestra fellow with the Detroit Symphony Orchestra. He has also performed with the Minnesota Orchestra, Seattle Symphony Orchestra, Sphinx Symphony Orchestra, and the New World Symphony. Adam can be heard playing on the soundtrack of Disney's The Lion King (2019) and in the Hollywood Bowl's Juneteenth Celebration (2022) that included artists such as Chaka Khan, Ne-Yo, Billy Porter, Questlove, and Earth, Wind, and Fire.
Adam is currently enrolled in the Training Course at the Minnesota Center for The Alexander Technique as a 2023 Judith Leibowitz Scholar, and he holds a Bachelor of Music and Performer's Certificate from the Eastman School of Music. Outside of music, Adam finds joy in rollerskating, listening to podcasts, reading, playing video games, and spending time outdoors. Adam can be found on Facebook and on Instagram as @adamhappyberry.