Nathalie Joachim and Yvonne Lam
flute and violin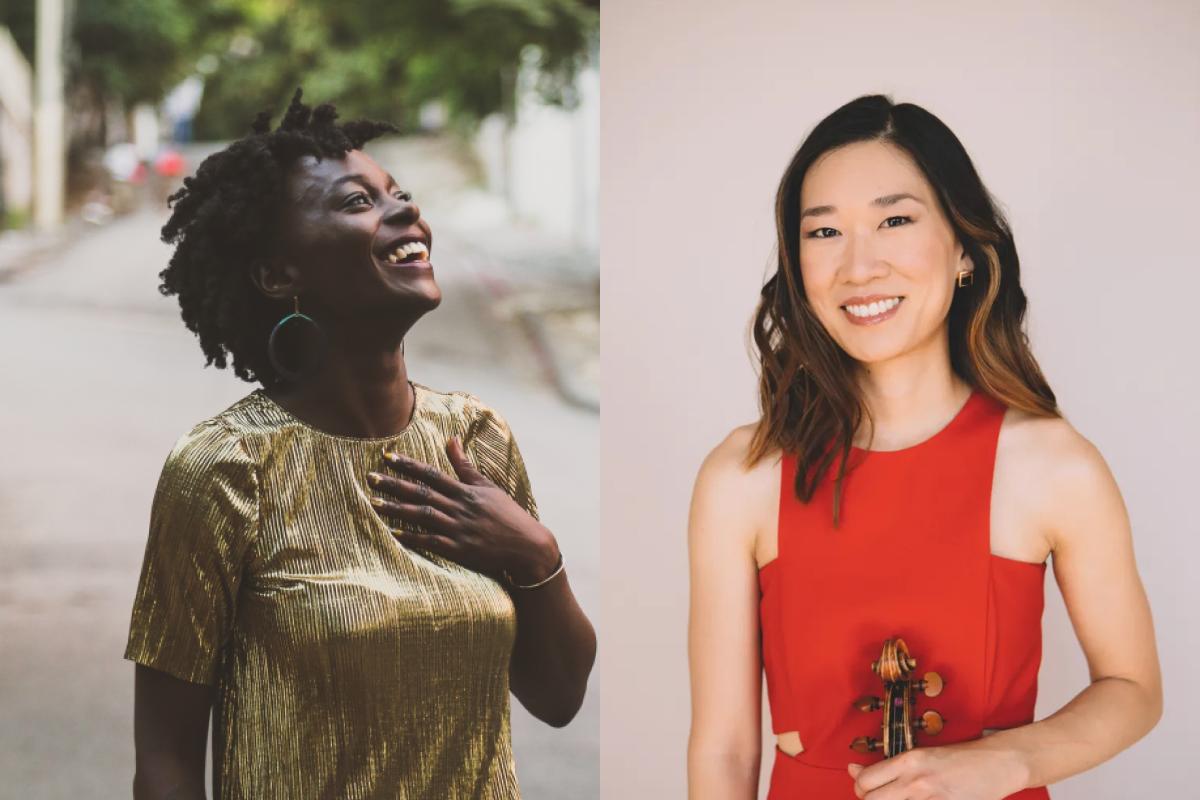 Nathalie Joachim is a Grammy-nominated flutist, composer, and vocalist. The Brooklyn born Haitian-American artist is hailed for being "a fresh and invigorating cross-cultural voice". (The Nation). She is co-founder of the critically acclaimed duo, Flutronix, and comfortably navigates everything from classical to indie-rock, all while advocating for social change and cultural awareness. Her authenticity has gained her the reputation of being "powerful and unpretentious." (The New York Times)
Ms. Joachim, a United States Artist Fellow, has performed and recorded with an impressive range of today's most exciting artists and ensembles, including Miguel Zenón, Bryce Dessner, and the International Contemporary Ensemble, and is the former flutist of the contemporary chamber ensemble Eighth Blackbird. As a composer, Joachim is regularly commissioned to write for instrumental and vocal artists, dance, and interdisciplinary theater, often highlighting her unique electroacoustic style. Upcoming premieres include Joachim's symphonic debut commissioned by St. Louis Symphony and the In Unison Chorus; new large scale chamber works for Roomful of Teeth, So Percussion, and Fuse Ensemble; a micro-chamber opera commissioned by Boston Lyric Opera; and a site-specific performance installation commissioned for Yale University's Schwarzman Center.
Joachim's current touring project, Fanm d'Ayiti, is an evening-length work for flute, voice, string quartet and electronics that celebrates and explores her personal Haitian heritage. Commissioned and developed in residence through St. Paul Chamber Orchestra's Liquid Music series, Fanm d'Ayiti was recorded with Chicago-based ensemble Spektral Quartet. The work, released in 2019 on New Amsterdam Records as Joachim's first featured solo album, received a Grammy nomination for Best World Music Album, and will make its orchestral debut in 2022 with the Oregon Symphony, where Joachim currently serves as an Artistic Partner. Other notable projects and collaborations include Discourse, an evening-length performance, community engagement and social change initiative commissioned by Carolina Performing Arts and continuing at additional sites nationally; new works for the Brooklyn Youth Chorus, Imani Winds, and Duo Noire; as well as solo instrumental works for cellist Seth Parker Woods and violinist Yvonne Lam.
Ms. Joachim has appeared as a featured performer on stages throughout the United States, Europe, Australia, and Japan, including performances at Carnegie Hall, the Big Ears Festival, Newport Jazz Festival, The Kimmel Center, Davies Symphony Hall, Alice Tully Hall and more. Her performances and compositions are regularly broadcast on NPR, WFMT, WBEZ, BBC Radio, WNYC, WQXR, and she has been featured in television segments on BBC World News, Saturday Night Live, and the Late Show with David Letterman, among others.
As an active educator of students of all ages and skill levels, Ms. Joachim is devoted to supporting music education with intention. She holds faculty positions at The Hartt School at The University of Hartford, the Bang on a Can Summer Festival, the Perlman Music Program and the Gabriela Lena Frank Creative Academy of Music. She also serves as a mentor for The Juilliard School's BluePrint Fellowship with National Sawdust and the Banff Centre for Arts and Creativity. Her youth education workshops, presented internationally with Flutronix in partnership with The Juilliard-Nord Anglia Performing Arts Programme, focus on creative collaboration and igniting the spirit of composition in young people. Her work focused in this realm has led to innovative educational initiatives, including the 2020 release of Transformation, an album co-created with students at New York City's Special Music School High School as part of an artist residency through the Kaufman Music Center.
Ms. Joachim makes regular appearances as a guest lecturer and visiting artist at notable institutions, including recent presentations for the University of Michigan, Los Angeles Philharmonic's Composer Fellowship Program, Oberlin Conservatory, University of North Carolina School for the Arts, and New York University among others. Joachim is an alumnus of The Juilliard School, where she studied flute performance, and The New School, where her focus was audio production and sound design.
Grammy-winning violinist Yvonne Lam enjoys challenging, delighting, and disarming audiences worldwide with her thoughtful musicianship, technical prowess, and fearless performance aesthetic.
As a co-artistic director of Eighth Blackbird for eight years, Yvonne performed around 50 concerts a year internationally, and has performed with the Philadelphia Orchestra, the Melbourne Symphony, the Kansas City Symphony, the Cincinnati Symphony, the Lexington Philharmonic, the New World Symphony, and the Tasmanian Symphony. She has recorded three albums with Eighth Blackbird, including the Grammy-winning album Filament. In 2017, she co-founded the Blackbird Creative Lab, an intensive tuition-free training program for performers and composers in Ojai, California, as a way to inspire future generations of artists to share in Eighth Blackbird's vision of championing new work and engaging audiences with innovative and dynamic performance. In addition to teaching and mentoring at the Blackbird Creative Lab, Yvonne has given lessons, masterclasses and lectures at universities throughout the US in addition to long-term residency activities at the Curtis Institute of Music, the University of Chicago, and the University of Richmond.
Prior to joining Eighth Blackbird, Yvonne served three seasons as Assistant Concertmaster of the Washington National Opera Orchestra and as Associate Concertmaster of the Cabrillo Festival Orchestra. She has also appeared as soloist with such renowned orchestras as the Los Angeles Philharmonic, the Los Angeles Chamber Orchestra and the Auckland Philharmonia. Winner of the silver medal at the 2005 Michael Hill World Violin Competition, Yvonne has also garnered top prizes at the Liana Issakadze International Competition and the Holland-America Music Society Competition. She won the grand prize at the Pasadena Instrumental Competition and first prize at the Bronislaw Kaper Awards, the Arts and Talent Recognition Search festival (sponsored by the National Foundation for the Advancement in the Arts), and the Donna Reed Foundation Competition. Furthermore, she won prizes for the Best Performance of a Commissioned Work at the Irving M. Klein International String Competition and at the Michael Hill World Violin Competition.
Yvonne is deeply committed to and inspired by artistic collaboration. An avid chamber musician, she toured the east coast with Musicians From Marlboro, collaborated with her orchestra colleagues regularly, and toured with musica aperta in Puerto Rico. She has performed at Marlboro Music Festival, Music From Angel Fire, Ravinia Music Festival, Twickenham Fest, Taos Music Festival, and Yellow Barn Music Festival, and had the privilege of playing chamber music with such distinguished musicians as Jonathan Biss, Jeremy Denk, Gil Kalish, Paul Katz, Ida Kavafian, Ani Kavafian, Ida Levin, Anthony Marwood, and Roger Tapping. Yvonne also enjoys an ongoing collaboration with the jazz bassist and composer Matt Ulery, performing with his trio in Chicago and New York, and appearing on two of his albums. Her most recent collaboration with the experimental performance group Every House Has A Door convened emerging visual artists, musicians, writers and directors in performance projects at the Museum of Contemporary Art Chicago and the Chicago Art Institute.
A native of Los Angeles, Yvonne began her early studies in violin purely by mistake, thinking it was a guitar. Refusing to admit her mistake, she persisted, studying violin and piano at the Colburn School of Performing Arts. Her violin teachers in Los Angeles included Alexander Treger, Laura Schmieder, Alice Schoenfeld, and Linda Rose; her piano teachers were Dr. Louise Lepley and Yohsuke Suga. She continued her studies for two years at the Peabody Institute, where she studied violin with Victor Danchenko and piano with Boris Slutsky and Brian Ganz. She earned her Bachelor of Music from the Curtis Institute of Music, and her Master of Music from the Juilliard School, where she studied with Robert Mann. She still has not learned to play the guitar, even though there are at least two in her basement.
Yvonne has lived in every major city on the east coast except Boston, and spent eight years in Chicago. She now lives with her husband and two sons in East Lansing, where she is an Assistant Professor of Violin Performance at Michigan State University.