Alma W. Thomas: Imagine That!
By Caleen Sinnette Jennings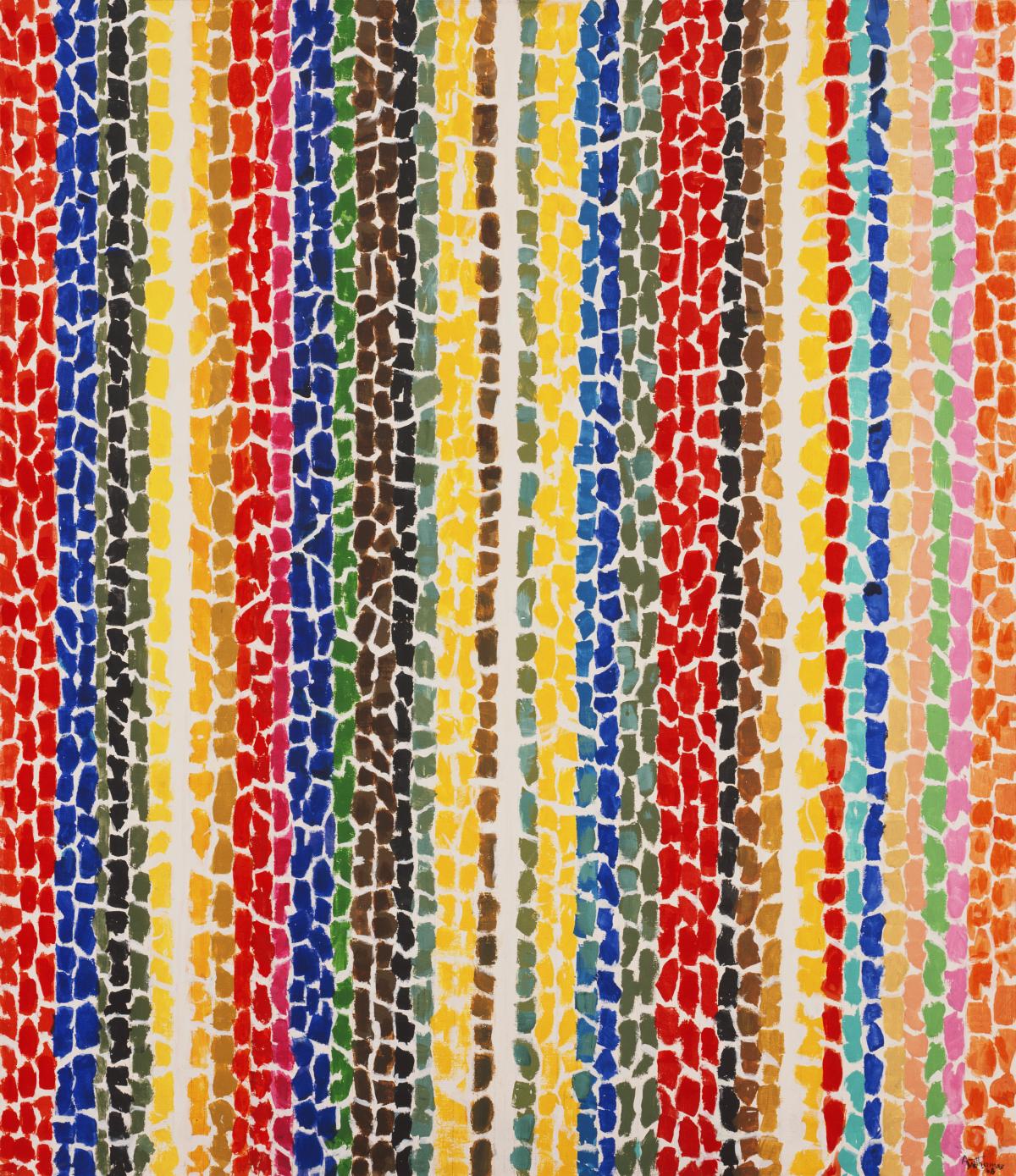 Join us for a live reading of a one-act play by local playwright Caleen Sinnette Jennings on the life of Alma W. Thomas, commissioned by The Phillips Collection. Q/A to follow with Phillips theater consultant Ann Greer.
When it comes to Alma W. Thomas, her favorite song title was apropos: "Everything Is Beautiful!" Join the artist in her kitchen/studio where she created the masterpieces seen at The Phillips Collection and at prestigious museums around the world. As this brilliant, down home, yet elegant artist comes to life, she helps us imagine her world, her adventures, and her joy.

IMAGE: Alma Thomas, Breeze Rustling through Fall Flowers, 1968, Acrylic on canvas, 57 7/8 x 50 in., The Phillips Collection, Gift of Franz Bader
 
Caleen Sinnette Jennings is an actor, director, playwright, and a founding member of The Welders, a D.C. Playwrights' Collective. Dramatic Publishing Company has published eight of her plays, and her work has appeared in seven play anthologies. In 2015, she was commissioned by the Kennedy Center to write a stage adaptation of Walter Dean Myers' novel, Darius & Twig, which was produced at the Kennedy Center Family Theatre and did a national tour in 2017. Her play, Queens Girl in the World, did an extended run at Theater J. in 2015. She was commissioned to write part 2, Queens Girl in Africa, for Mosaic Theatre in 2018. In May/June 2019, the two plays ran in repertory at Everyman Theatre, which commissioned Caleen to write part 3 of the Queens Girl Trilogy--Queens Girl: Black in the Green Mountains in 2020. Arena Stage commissioned her to write monologues for two pandemic-related Zoom plays: May 22, 2020 and The 51st State. She wrote the final episode for Round House Theatre's zoom series, Homebound. She is currently writing the book for a new musical on the life of famous black contralto Marian Anderson, which will open in New York in 2022. Queens Girl in the World is scheduled to run in 2022 at Theatre Row in Manhattan. Caleen has received five nominations for outstanding new play from the Helen Hayes Awards, as well as play writing awards from the Kennedy Center and The Actor's Theatre of Louisville. She is Professor Emerita of Theatre in the Department of Performing Arts at American University in Washington, D.C. where she taught for 31 years. During her tenure, she received American University's inaugural Diversity, Equity & Inclusion Award and A.U.'s highest faculty honor – the Scholar/Teacher of the Year Award. Caleen is currently a senior consultant to the Director of the Folger Shakespeare Library. She has been a faculty member of the Folger's Teaching Shakespeare Institute since 1994 and she was Project Manager on an NEH grant to the Folger entitled Crosstalk: D.C. Reflects on Identity and Difference. Jennings graduated from Bennington College with a B.A. in Drama, and received her M.F.A. in Acting from NYU Tisch School of the Arts.
Cara Gabriel is a writer, director, performer, and educator. She was an assistant professor of theatre at American University for 16 years, where she taught theatre history, acting, the moving body, politics and performance, intro to theatre, and more. She has directed locally for 1st Stage, Rorschach Theatre, Urban Arias, Keegan Theatre, Adventure Theatre, Catholic University, and over 30 productions at AU. Gabriel served as co-producer for the Womxn on Fire Festival at Keegan Theatre for four years. You can hear her performing her own writing in her serialized memoir podcast, I AM THE GENTRY anywhere you listen to podcasts, and find her baking business at www.carascupcakesforchange.com. Education: Middlebury College (BA); Northwestern University (MA); University of Michigan (PhD).
Lolita Marie Helen Hayes award recipient for Doubt (1st Stage), and Helen Hayes nominee for God of Carnage (Keegan Theatre) and Secrets of the Universe (The Hub Theatre) was most recently seen on the Keegan stage in N, a play. Other regional stage credits include The Adventures of Pericles (Chesapeake Shakespeare Company), Olney and 1st Stage theatres in a repertory production of The Royale, Native Son (Mosaic Theater Company), Flood City, Brownsville Song, and For Colored Girls Who Have Considered Suicide When the Rainbow is Enuf (Theater Alliance), American Daughter (Keegan Theatre), The Skin of Our Teeth (Constellation Theatre Company), Sophocles' Electra (4615 Theatre Company), Well (1st Stage Theatre), Leto Legend (The Hub Theatre), The Hampton Years and Something You Did (Theater J), Blood Wedding (Constellation Theatre Company), and The Constellation (Active Cultures Theatre), and Getting Out (Journeymen Theater Ensemble). Independent film and television credits include Too Saved and Nocturnal Agony (Nubia Filmworks), and Who the (Bleep) Did I Marry (I.D. Investigation Discovery).
Ann has written about theater for The Washington Post, American Theatre, and Capitol File, among others. She was an arts reporter for WAMU and was the region's first online theater critic, for AOL Digital City Washington. She studied acting at Studio and Shakespeare Theatres, and was on the staff of Arena Stage and the Folger.