Lou Stovall: The Museum Workshop 
Panel Discussion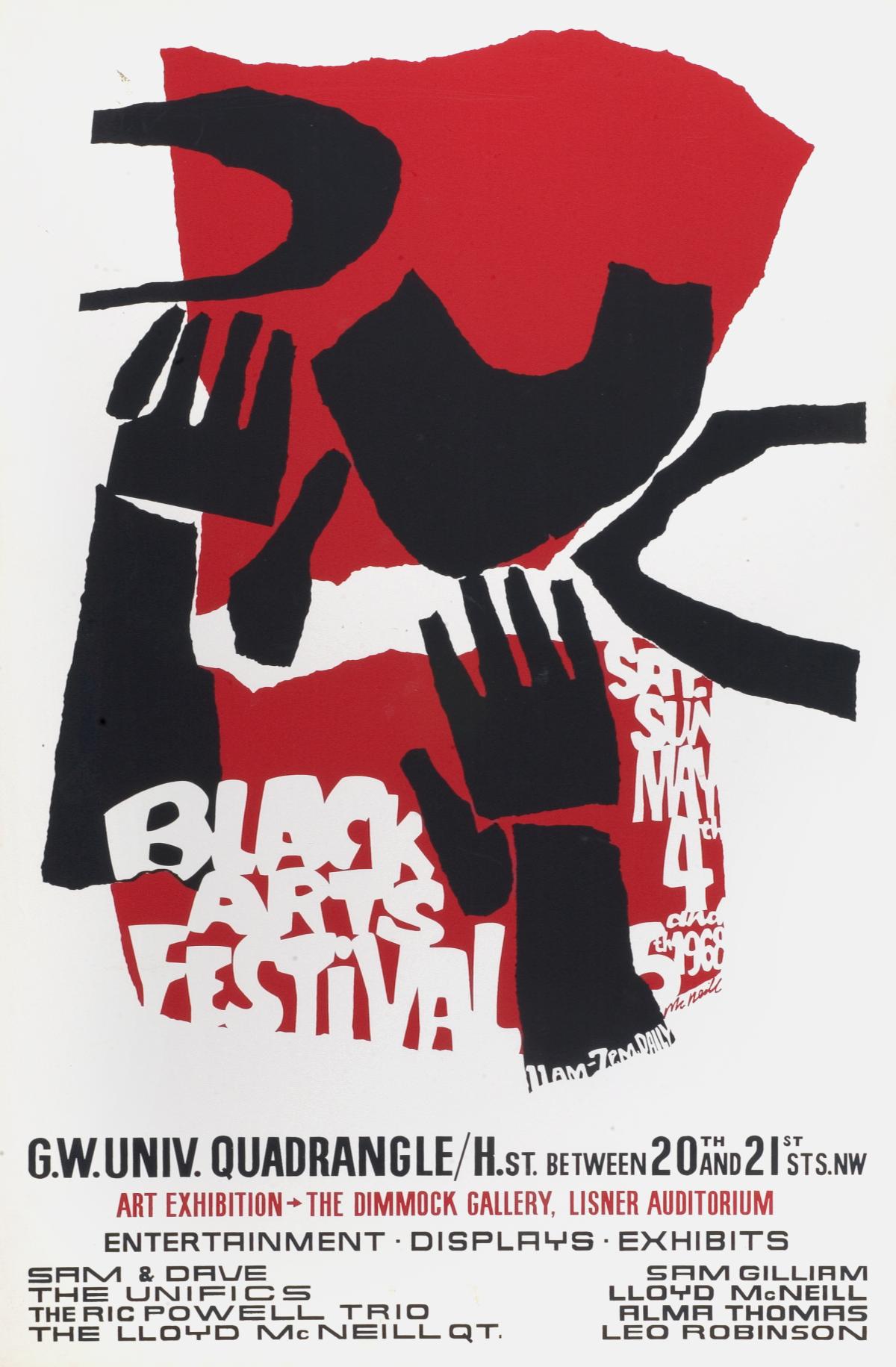 Community Posters in 1968 and Today
On the occasion of Lou Stovall's seminal exhibition at the Phillips Collection, guest curator Will Stovall will be joined in conversation with art historian Dr. Melanee Harvey, curator Natalie Campbell, artist and printmaker Joseph Orzal moderated by Camille Brown, Phillips Assistant Curator.
IMAGE: Lloyd McNeill and Lou Stovall, Black Arts Festival, 1968, Silkscreen print, 35 x 23 in., Courtesy of the Artist
Guest Curator of Lou Stovall: The Museum Workshop
Will Stovall is an artist and painter who has also worked in the book medium. He holds a Ph.D from Yale University with a dissertation on the institutional imagination of philosopher Jürgen Habermas. He is currently a candidate for the MFA in Painting at Bard College.
Melanee C. Harvey is assistant professor of art history in the Department of Art at Howard University. She earned a BA from Spelman College and went on to Boston University where she received her MA and PhD in American Art and Architectural History. She has also published extensively on Black Arts Movement artists including Faith Ringgold, James Phillips and African Commune of Bad Relevant Artists (AfriCOBRA). She is currently working on her book project which will explore the architectural history of the African Methodist Episcopal denomination, across material and visual artifacts. The book will provide a social material and visual history that recovers the architectural and aesthetic discourse among this community of African Americans throughout the nineteenth and twentieth centuries that permanently altered the American landscape.
Natalie Campbell is an independent curator, art historian and arts worker active in DC and New York. She studied Art History at Hunter College CUNY and currently is also a lecturer in Art History at the Corcoran School of Arts + Design at George Washington University. She has curated exhibitions at venues including Smack Mellon, Nicole Klagsbrun Gallery, and the Center for Book Arts, all in New York, as well as numerous temporary, collaborative, and publication-based projects outside of traditional exhibition spaces. As a project manager for contemporary artists and galleries, she has overseen complex video, performance, installation, and print productions, coordinating the expertise of numerous performers, technicians, fabricators, and designers.
Joseph Orzal is a Filipino-Mexican American painter, sculptor, curator, and writer active in DC and Baltimore. He co-founded the infamous NoMüNoMü, a revolutionary intersectional artistic organization active in the United States working towards liberation for broader society from perpetual systems of oppression and class domination that permeate throughout the art world. His work is often political.