Leading International Composers: Tania León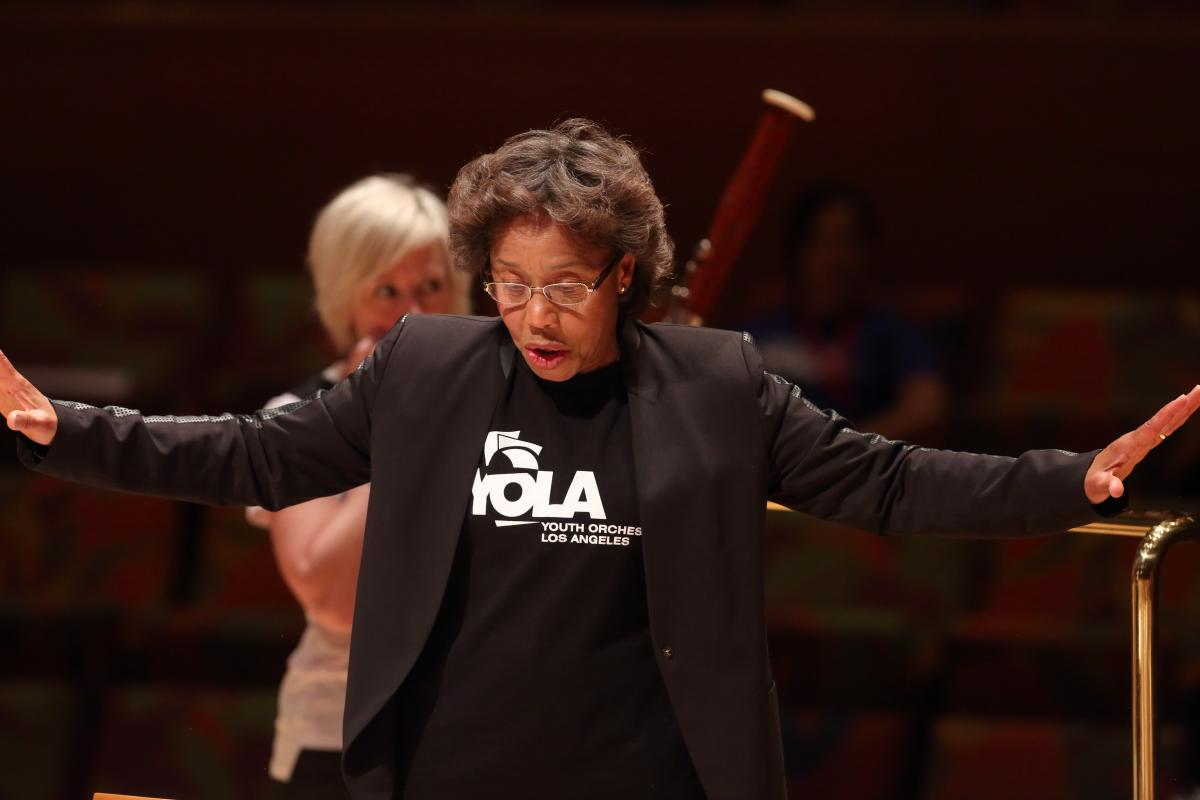 Tania León (b. Havana, Cuba), a vital personality on today's music scene, is highly regarded as a composer and conductor and for her accomplishments as an educator and advisor to arts organizations. She has been the subject of profiles on ABC, CBS, CNN, PBS, BB3, Telemundo, independent films, and Univision, including their noted series "Orgullo Hispano," which celebrates living American Latinos whose contributions in society have been invaluable.
León's orchestral work Stride, commissioned by the New York Philharmonic in celebration of the centennial of the 19th Amendment, was awarded the 2021 Pulitzer Prize in Music. Recent commissions include Anima for Jennifer Koh's Alone Together in response to the Coronavirus pandemic; Ritmicas for The Chicago Center for Contemporary Composition's Grossman Ensemble; Ser for the Los Angeles Philharmonic; Pa'lante for the International Contemporary Ensemble and YOLA (Youth Orchestra Los Angeles); and Ethos for pianist Ursula Oppens and Cassatt String Quartet.
Upcoming premieres feature commissions by Arkansas Symphony for the New Music USA Amplifying Voices Program; The Musical Fund Society in Philadelphia to celebrate their 200th anniversary; The Crossing chamber choir with Claire Chase, flutist; Isabella Stewart Gardner Museum; and Brooklyn Youth Chorus, featuring text by New York Youth Poet Laureate Aaliyah C. Daniels.
León's opera Scourge of Hyacinths, based on a play by Wole Soyinka with staging and design by Robert Wilson, received over 20 performances throughout Europe and Mexico. Commissioned by Hans Werner Henze and the city of Munich for the Fourth Munich Biennale, it took home the coveted BMW Prize, and the aria "Oh Yemanja" ("Mother's Prayer") was recorded by Dawn Upshaw on her Nonesuch CD, The World So Wide.
Past commissions include works for The John F. Kennedy Center for the Performing Arts, Library of Congress, National Endowment for the Arts, NDR Symphony Orchestra, American Composers Orchestra, New World Symphony, Cincinnati Symphony, Orpheus Chamber Orchestra, Ensemble Modern, Fest der Kontinente (Hamburg, Germany), The Koussevitzky Music Foundation, Fromm Music Foundation, Los Angeles Master Chorale, DanceBrazil, and Dance Theatre of Harlem.
León's compositions have been performed by such orchestras as the Gewandhausorchester, Orchestre de la Suisse Romande (Switzerland), China National Symphony, NDR Symphony Orchestra (Germany), Orchestre Symphonique et Lyrique de Nancy (France), and Orquesta de la Opera, Palacio de Bellas Artes (Mexico). As a composer, she has also collaborated with poets, writers and directors, including John Ashbury, Margaret Atwood, Rita Dove, Wendy Kesselman, Jamaica Kincaid, Mark Lamos, Fae Myenne Ng, Julie Taymor, Derek Walcott, and Robert Wilson.
Past highlights include a Composer Portrait at Columbia University's Miller Theatre in New York City, and the hour-long, multimedia work Drummin', featuring percussionists of diverse cultures and performed by New World Symphony in Miami and members of the NDR Symphony Orchestra in Hamburg, Germany. León was one of the first artists to be featured by Harlem Stage in Aaron Davis Hall's initiative WaterWorks, and her work was featured in the celebration of some of the most prestigious composers of our time, including Pierre Boulez's 80th birthday, "Gyorgy Ligeti's 80th Birthday, and the Copland Centennial.
As a guest conductor, Tania León has appeared with the Philharmonic Orchestra and Chorus of Marseille and Colonne Orchestra (France), Gewandhausorchester and Beethovenhalle Orchestra (Germany), Orchestre de la Suisse Romande and Geneva Chamber Orchestra (Switzerland), Orquesta Sinfonica de Asturias and Orquesta y Coro de la Communidad de Madrid (Spain), Santa Cecilia Orchestra (Italy), Sadler's Wells Orchestra (England), Guanajuato Symphony Orchestra (Mexico), Orquesta Filarmónica de Bogotá (Colombia), Orquesta Sinfónica de El Salvador (El Salvador), Orquesta Sinfónica de Cuba, Johannesburg Philharmonic Orchestra, and KwaZulu-Natal Philharmonic Orchestra (South Africa), and the New York Philharmonic, among others.
In 1969, Tania León became a founding member and first Music Director of the Dance Theatre of Harlem, establishing the Dance Theatre's Music Department, Music School and Orchestra. She instituted the Brooklyn Philharmonic Community Concert Series in 1978, and founded the Sampler Concerts series presented by the Whitney Museum of American Art at Atria. In 1994, in her capacity of Latin American Music Advisor, she co-founded the American Composers Orchestra's Sonidos de las Américas festivals. From 1993 to 1997, she was New Music Advisor to Kurt Masur and the New York Philharmonic.
Tania León is the founder and Artistic Director of the nonprofit organization and festival Composers Now, created in New York City in 2010. Composers Now is dedicated to the empowerment of living composers by celebrating the diversity of their voices and honoring the significance of their artistic contributions to the cultural fabric of society. In 2017, a proclamation on behalf of Mayor Bill de Blasio was presented to Composers Now in recognition of their contributions to living composers (composersnow.org).
León has lectured at the prestigious Mosse-Lectures at Humboldt-University in Berlin and at Harvard University and University of Chicago. In 2012 she was the Andrew Mellon Foundation's Distinguished Scholar at University of the Witwatersrand in Johannesburg, South Africa. She has been Visiting Professor at Yale University, Chicago University, University of Michigan, University of Kansas, Purchase College, and the Musikschule in Hamburg, Germany, among others, and she served as Composer's Mentor at the Jazz Composers Orchestra Institute. She was also a Guest Composer/Conductor at the Musikschule in Hamburg, and at Central Conservatory of music in Beijing, China. In 2020, she was the Robert M. Trotter Lecturer at College Music Society.
León has received Honorary Doctorate Degrees from Colgate University, Oberlin, and SUNY Purchase College, and served as U.S. Artistic Ambassador of American Culture in Madrid, Spain. A Professor at Brooklyn College and at The Graduate Center, CUNY since 1985, she was named the Claire and Leonard Tow Professor in Music in 2000, Distinguished Professor of the City University of New York in 2006, and Professor Emerita in September 2019.
Honors include the New York Governor's Lifetime Achievement Award; American Academy of Arts and Letters Award in Music; fellowships and awards from The Koussevitzky Music Foundation, Guggenheim Foundation, Fromm Music Foundation, National Endowment for the Arts, Chamber Music America, NYSCA, Lila Wallace/Reader's Digest Fund, ASCAP and Meet the Composer; Symphony Space's Access to the Arts; and artist residencies at Bellagio, Citivella Ranieri, MacDowell, and the American Academy in Rome in Italy, among others. In 2010 León was inducted into the American Academy of Arts and Sciences. She received a 2008 Pulitzer Prize nomination for Ácana, and both a Grammy nomination for "Best Contemporary Classical Composition" and a Latin Grammy nomination for "Best Classical Contemporary Composition" in 2012 for Inura. She is also the recipient of the 2013 ASCAP Victor Herbert Award, the 2017 MadWoman Festival Award in Music in Madrid, Spain, and a 2018 United States Artists Fellowship. In 2022, she received the Chamber Music America's 2022 Richard J. Bogomolny National Service Award for her significant and lasting contribution to the chamber music field.
León serves as an honorary chair for the Recording Academy's Songwriters & Composers Wing. She is a Member of the Boards of Directors of New York Philharmonic, The ASCAP Foundation, and MacDowell.
Conrad Tao has appeared worldwide as a pianist and composer, and has been dubbed a musician of "probing intellect and open-hearted vision" by The New York Times. Tao is a recipient of the prestigious Avery Fisher Career Grant, and was named a Gilmore Young Artist—an honor awarded every two years highlighting the most promising American pianists of the new generation.
Tao opened last season with the New York Philharmonic's world premiere of his piece Everything Must Go, and went on to make recent debuts with the Los Angeles Philharmonic, Cleveland Orchestra, New York Philharmonic and Boston Symphony. In the 2019-20 season, following his recital debut at Carnegie Hall, Tao will make his debut in recital at Walt Disney Hall, where the LA Phil will present him in works by Copland and Frederic Rzewski. Following his debut at Blossom, the Cleveland Orchestra will present Tao in Severance Hall in a special program inspired by jazz and Dadaist art film, performed with pianist Aaron Diehl. Concerto highlights in the upcoming season include performances of his own work for piano & orchestra, The Oneiroi in New York, with the Seattle Symphony, as well as performances with the Baltimore, Charlotte, and Pacific Symphonies. He will also perform The Oneiroi alongside Galina Ustvolskaya's Piano Concerto with the Phoenix Symphony.
Highlights from Conrad's 2018-19 season included his inauguration of the New York Philharmonic's Nightcap series with artist Charmaine Lee and dancer Caleb Teicher, with whom he also premiered the new evening-length multidisciplinary work, More Forever, which continues to tour throughout the US. His ongoing electroacoustic collaboration with improviser and vocalist Charmaine Lee also continues with an opening-night performance at the 2019 Resonant Bodies Festival in New York. In February 2019, Conrad made his LA Opera debut in the West Coast premiere of David Lang's new work, the loser.
‍ A Warner Classics recording artist, Tao's will release his third album, entitled American Rage this Fall, featuring works by Julia Wolfe, Frederic Rzewski and Aaron Copland.
Tao was born in Urbana, Illinois, in 1994. He has studied piano with Emilio del Rosario in Chicago and Yoheved Kaplinsky in New York.
Thomas Kraines, a graduate of the Curtis Institute of Music and the Juilliard School, has gained renown as a versatile cellist, composer, and teacher. In addition to the Daedalus Quartet, he performs often with his wife, violinist Juliette Kang, with the Philadelphia-based Network for New Music, the Arcana Ensemble, and the improvisatory ensembles Great Blue Heron and Basquiat Blues. Kraines' solo cello and chamber compositions have been heard around the country. He has performed his own works in collaboration with artists such as Awadagin Pratt, Mimi Stillman, Maria Jette, Ilana Davidson, and Kinan Abou-afach. Kraines has served on the faculty of the Longy School of Music, Princeton University, Peabody Conservatory, Phillips Academy Andover, and Yellow Barn. He currently teaches at the University of Pennsylvania and the Settlement Music School in Philadelphia. He has performed chamber music at the Moab Music Festival, Festival dei Due Mondi (Spoleto, Italy), Bravo! Vail, Caramoor Summer Music Festival, Next Generation Festival, Portland Chamber Festival, Cape Cod Chamber Music Festival, Mostly Mozart Festival, and Bard Music Festival. Kraines studied cello with Frederic Raimi, Orlando Cole, and Joel Krosnick, and composition with Tom Benjamin. He lives in Philadelphia with his wife Juliette, and daughters Rosalie and Clarissa.
Violinist Maja Cerar's repertoire ranges from the Baroque to the present, and her stage experience includes performances with live electronics as well as theater and dance. Since her debut in the Zürich Tonhalle in 1991, she has performed internationally as a soloist with orchestras and given recitals with distinguished artists. She has played at festivals such as the Davos "Young Artist in Concert," Gidon Kremer's Lockenhaus Festival, the International Society for Contemporary Music's World Music Days in Ljubljana, the International Computer Music Conference (Singapore, Barcelona, New York, Texas), the Society for Electroacoustic Music in the United States conference (Texas, Arizona, Florida, Boston), the "Viva Vivaldi" festival in Mexico City, and numerous others.
In 2016, she was the featured performer at the New York City Electroacoustic Music Festival, an event of the New York Philharmonic Biennial. Her collaborative works have been featured at the "Re:New Frontiers of Creativity" symposium celebrating the 250th anniversary of Columbia University and "Listening in the Sound Kitchen" festival at Princeton University. Since 2014 she has also created her own works, fostered by The Tribeca Film Institute's "Tribeca Hacks" and by the Future Music Lab at the Atlantic Music Festival, involving robotics and wearable motion sensors.
Maja Cerar has premiered and recorded numerous works written for and dedicated to her. She has worked with many composers, including Jean-Baptiste Barrière, Sebastian Currier, R. Luke DuBois, Beat Furrer, Elizabeth Hoffman, György Kurtág, Alvin Lucier, Katharine Norman, Yoshiaki Onishi, Morton Subotnick, and John Zorn.
Ms. Cerar has recently presented her academic research on the early history of the Brooklyn College Center for Computer Music (SEAMUS conference 2019), has organized a panel on the subject of women in early electronic music (International Computer Music Conference, 2019), as well as presented research on the choreographic evocations of Tania León's Axon, for solo violin and live electronics (American Musicological Society Annual Meeting, 2019).
She graduated from the Zurich-Winterthur Conservatory and earned a Ph.D. in Historical Musicology from Columbia University, where she is currently a member of the Music Performance Faculty
Washington National Opera's Cafritz Young Artist Program is a leading resident-training program for artists on the verge of international careers. Founded in 2002 by Plácido Domingo, the program offers exceptionally promising young singers and coach/accompanists two years of intensive training, study, and career guidance with the resident faculty, and a team of world-renowned visiting master teachers and coaches which includes Joan Dornemann, Kathleen Kelly, Dennis Giauque, John Churchwell, Alan Held, Erie Mills, Laura Brooks Rice, and Neil Shicoff among others.
Members of the program are featured prominently in performances at the Kennedy Center and throughout the Washington, DC, metropolitan area. They are cast in principal and comprimario roles, given cover assignments, and perform an annual showcase with full orchestra in the Opera House. One or two performances each season are specially designated as "young artist performances," giving them the opportunity to step into leading roles on the main stage. As well as being featured in an annual recital and masterclass series, they are actively involved in WNO's American Opera Initiative, where they have the opportunity to workshop and premiere newly composed operatic works. Young Artists also perform frequently in other landmark venues around DC, including the Smithsonian Institution and various embassies, as well as with the National Symphony Orchestra.
The Domingo-Cafritz Young Artist Program is dedicated to cultivating successful careers in opera. Graduates of the program have gone on to perform at the world's leading opera houses, including the Metropolitan Opera, San Francisco Opera, Lyric Opera of Chicago, LA Opera, New York City Opera, The Glimmerglass Festival, Santa Fe Opera, Bayreuth Festival, the Glyndebourne Festival, Vienna State Opera, Berlin State Opera, Teatro Real in Madrid, Gran Teatre del Liceu, and Opéra de Monte-Carlo, among others. Additionally, WNO actively seeks to provide former young artists with the opportunity to return to the company in principal and featured roles upon completion of the program.
Director: Robert Ainsley
Principal Coach: Ken Weiss