Tabea Debus & Paul Morton, recorder & theorbo
recorder and theorbo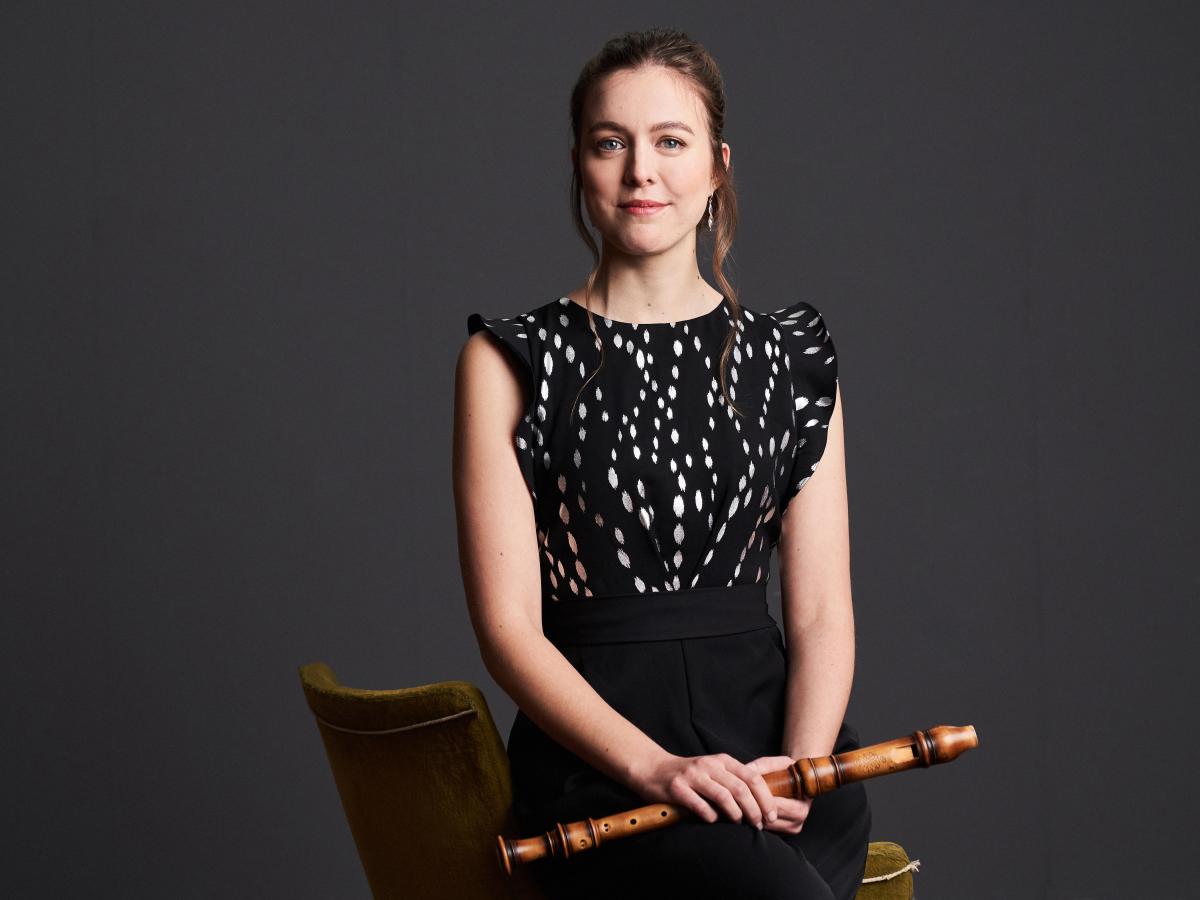 Tabea Debus is one of the most exciting young musicians in the early music world…"
Classic FM
Described by The Times as a 'charismatic virtuoso' Tabea is much sought after as a soloist, collaborator, teacher and communicator.
Over the last year she has returned to Wigmore Hall and recorded live concerts commissioned for release online by the Vancouver Recital Society, San Francisco Early Music, the Shriver Hall Washington D.C. Discover Series, London International Festival of Early Music and the Banquo de la Republica in Colombia. In 2020 her recording for Delphian: Ohrwurm was released to critical acclaim.
Passionate about outreach work, Tabea has developed several projects including a music/art-game Soundshapes, a play-along library Continuo Lines, and Endo the Earthworm (a series of videos inspired by Gareth Moorcroft's 'Diaries of the Early Worm') which uses puppets. She works with musicians, actors and artists and has contributed to Saffron Hall's Together in Sound, Jackdaws Music Education Trust and Music Masters, among many others.
This season, Tabea gives recitals across the USA including the Phillips Collection in Washington D.C., Morgan Library (NY), UChicago series, Merkin Concert Hall (NY) and Houston Early Music. Other highlights include concerts at the Festspiele Mecklenburg-Vorpommern in Germany where she won the prestigious Soloists Prize in 2019.
Always eager to discover, develop and perform new music, Tabea collaborates with numerous composers. She has performed widely internationally, highlights including the Schleswig-Holstein Musikfestival, Musica Antiqua Bolzano, Edinburgh International Festival, the Funkhaus Cologne, Early Music Festivals in London, York and Brecon, the LSO Soundhub and Barbican Centre's Sound Unbound.
As a chamber musician she has collaborated with Iestyn Davies, Rachel Podger, Elizabeth Kenny, Richard Egarr, Jonathan Rees and Lawrence Cummings, among many others. She regularly appears with La Serenissima and The English Concert and is a frequent guest on BBC Radio 3's In Tune and Early Music Show.
Born in Würzburg, Germany, Tabea studied at the Frankfurt University of Music and Performing Arts and the Royal Academy of Music in London. She was a prize-winner at the Young Classical Artists Trust International Auditions (London) in 2018 and the Concert Artists Guild (New York) International Auditions in 2019 where she also received the Richard S. Weinert Award for Innovation.
She teaches recorder at Wells Cathedral School and leads composition and chamber music workshops at the Royal Academy of Music and Cambridge University.
Paul Holmes Morton is native to the state of Pennsylvania, where he had his first music lessons on his father's banjo and later the cello. After a youthful education of folk music, he went on to study classical guitar under the instruction of Ernesto Tamayo, Marc Teicholz, and Sergio Assad. While attending the San Francisco Conservatory of Music, he studied lute with Richard Savino and continuo with Corey Jamason. Perpetually inspired by music as a vehicle to transport oneself across time and culture, Paul Holmes can be found in a variety of venues from cathedrals and concert halls to smoky bars and country barns, anywhere that allows performance to lend harmony to the present noise. As a lutenist Morton performs across North America in the practice of a baroque continuo player, regularly performing with Ruckus, Acronym, The Baroque Chamber Orchestra of Colorado, Spoleto Festival USA, and tours internationally with Beth Morrison Project's production of the Pulitzer Prize winning "Angel's Bone", an opera by Du Yun. An active recording artist, his musicianship can be found on Oracle Hysterical's "Passionate Pilgrim", Emi Ferguson's "Amour Cruel", "Arcangelo's Circle" by the Baroque Chamber Orchestra of Colorado, "Fly the Coup" by Emi Ferguson and Ruckus, and "Orphea" by Majel Connery. Recently released EP's include "The Chivalrous Crickets" and "Flowers of the Rhododendron", showcasing respectively Celtic/Americana traditionals and original compositions. Paul Holmes recently completed his studies in historical performance at The Juilliard School instructed by Daniel Swenberg and Charles Weaver, he is based in New York City.