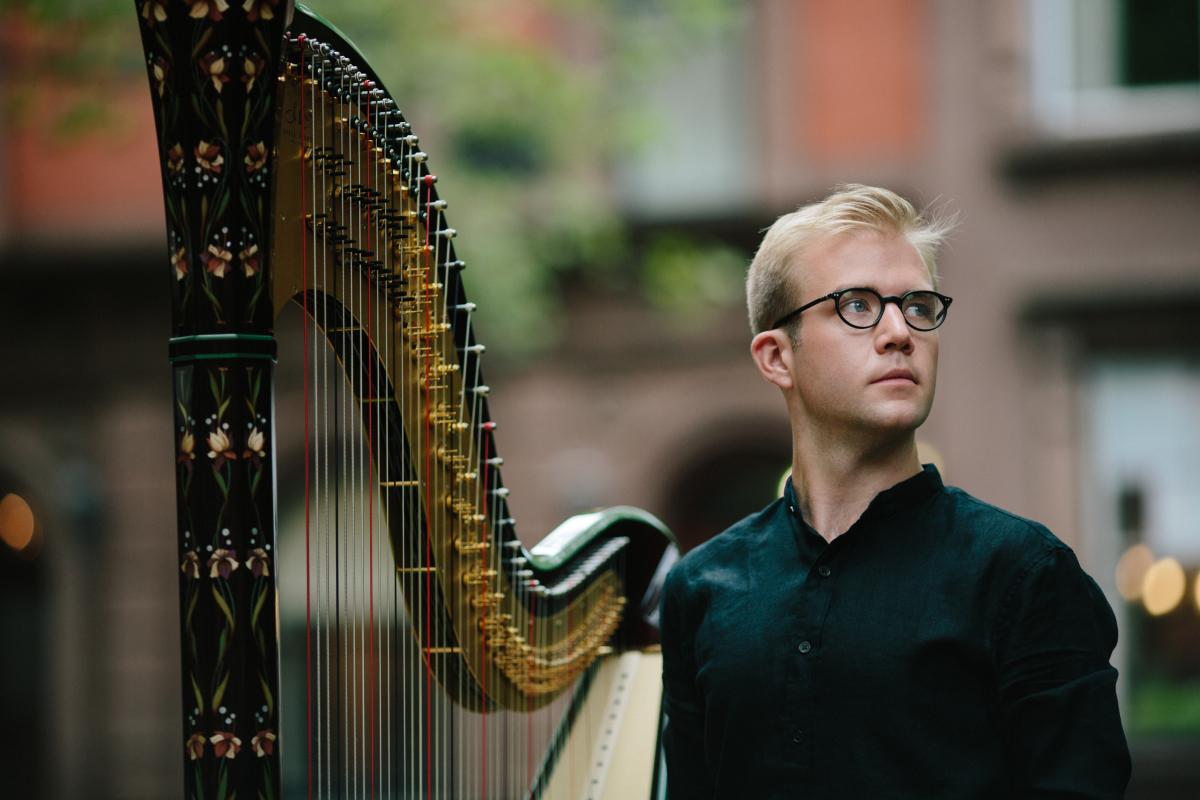 Harpist Parker Ramsay's career, unique in its integration of contemporary music and historical performance, defies easy categorization. Equally at home on modern and period harps, Parker is dedicated to invigorating the existing canon while delving into new and underperformed works. In 2020, the recording of his transcription of Bach's Goldberg Variations for the King's College, Cambridge label was praised as "remarkably special" (Gramophone), "nuanced and insightful" (BBC Music Magazine), "relentlessly beautiful" (WQXR), "marked by keen musical intelligence" (The Wall Street Journal) and "a resounding success" (The Independent). His essay on the transcription process, "Is Bach Better on Harp?" was published in The New York Times.
A native of Nashville, Tennessee, Parker began harp studies with his mother at a young age before moving to the UK at age 16. Parker was awarded the undergraduate organ scholarship at King's College, Cambridge where he served under the direction of Stephen Cleobury. His tenure with the Choir of King's College, Cambridge included performing for the Festival of Nine Lessons and Carols in 2012, as well as six international tours and four recordings. Parker has performed at the Concertgebouw in (Amsterdam), the Royal Albert Hall (London), the Musée d'Orsay (Paris), the National Center for the Performing Arts in (Beijing), Sejong Center for the Performing Arts (Seoul), Verizon Hall in (Philadelphia), and Alice Tully Hall (New York City).
Parker is co-director of A Golden Wire, a period instrument ensemble devoted to French and English music from the seventeenth century. He has appeared with the Shanghai Camerata, the Academy of Sacred Drama, Ruckus, Teatro Nuovo and Apollo's Fire. Upcoming projects include collaborations with composers Tom Morrison, Michael Seltenreich, David Fulmer, Saad Haddad, Josh Levine, Nico Muhly and Marcos Balter.
After receiving his bachelor's degree in history at Cambridge, he pursued graduate studies in historical keyboards at Oberlin Conservatory. In 2014, he was awarded First Prize at the Sweelinck International Organ Competition. He then studied modern harp at The Juilliard School, under the tutelage of Nancy Allen. He is a regular contributor for VAN Magazine, and his writing has appeared in Cleveland Classical, The New York Times and The Washington Post. He lives in New York City.