Attacca Quartet
string quartet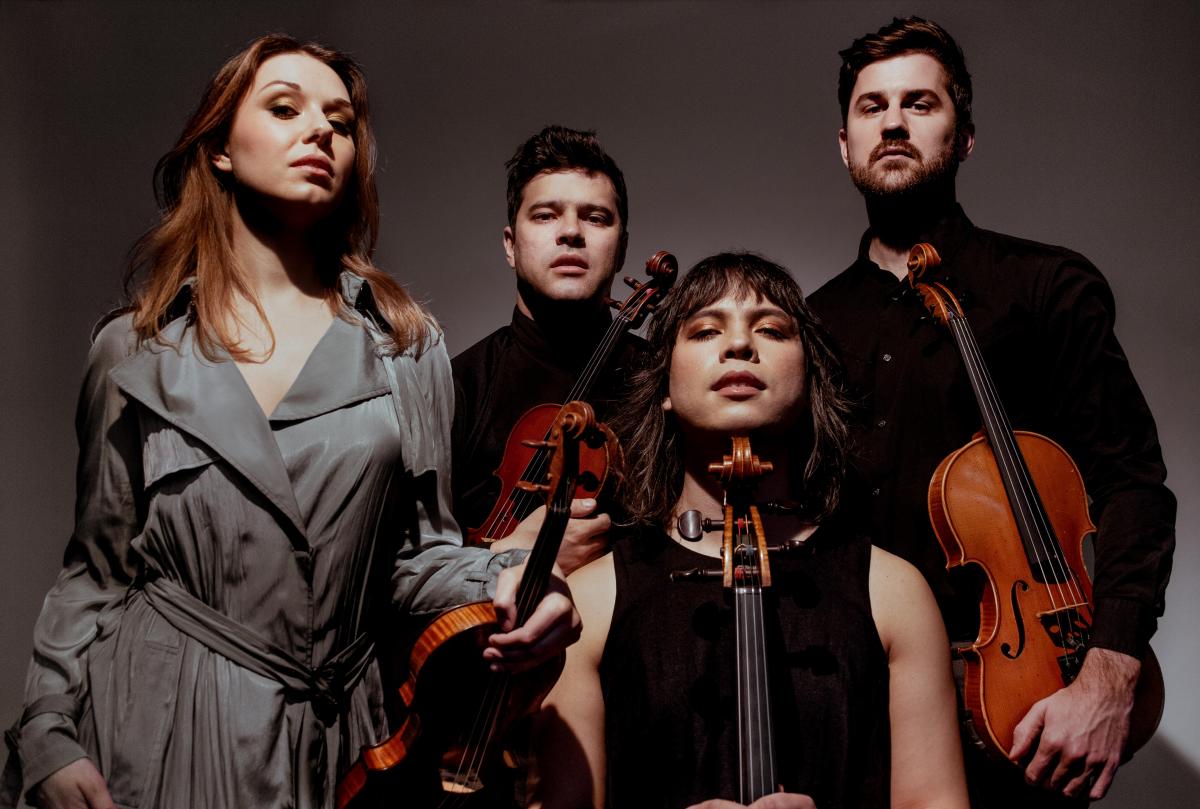 Grammy award-winning Attacca Quartet, as described by The Nation, "lives in the present aesthetically, without rejecting the virtues of the musical past", and it is this dexterity to glide from the music of the 18th through to the 21st century repertoire that place them as one of the most versatile and outstanding ensembles of the moment – a quartet for modern times.
Touring extensively in the United States, recent and upcoming highlights include Carnegie Hall Neighborhood Concerts, New York Philharmonic's Nightcap series, Lincoln Center's White Lights Festival and Miller Theatre, both with Caroline Shaw, Phillips Collection, Chamber Music Austin, Isabella Stewart Gardner Museum in Boston, and Trinity Church at Wall Street where they will perform the complete cycle of the Beethoven String Quartets. Attacca Quartet has also served as Juilliard's Graduate Resident String Quartet, the Quartet in Residence at the Metropolitan Museum of Art, and the Ensemble-in-Residence at the School of Music at Texas State University. Outside of the US, recent performances include Gothenburg Konserthuset, MITO Septembre Festival in Italy, and their debut in London at Kings Place and in Oslo at the Vertravo Haydn Festival. As well as their recent tour in Central and South America, they will return to Europe for a tour of ten concerts around Sweden as well as taking part in the Prague String Festival and September Me Festival in the Netherlands.
Passionate advocates of contemporary repertoire, their latest recording, Orange, features string quartet works by Pulitzer-prize winning composer Caroline Shaw. Greatly received by the critics, Attacca Quartet won the 2020 Grammy award in the category ​"Best Chamber Music/​Small Ensemble Performance" in recognition for their work on this album. Previous recordings include three critically acclaimed albums with Azica Records, including a disc of Michael Ippolito's string quartets, and the complete works for string quartet by John Adams.
Gabriel Kahane is a musician and storyteller whose work increasingly exists at the intersection of art and social practice. Hailed as "one of the finest songwriters of the day" by The New Yorker, he is known to haunt basement rock clubs and august concert halls alike, where you'll likely find him in the green room, double-fisting coffee and a book.
He has released four albums as a singer-songwriter, including, most recently, the intimate Book of Travelers (Nonesuch Records), which Rolling Stone called "a stunning portrait of a singular moment in America." As a composer, he has been commissioned by many of America's leading arts institutions, including the Brooklyn Academy of Music, Carnegie Hall, the Los Angeles Philharmonic, Orpheus Chamber Orchestra, and the Public Theater, which in 2012 presented his musical February House.
In 2019, Kahane was named the inaugural Creative Chair for the Oregon Symphony, following the premiere in Portland of his oratorio emergency shelter intake form, a work that explores inequality in America through the lens of housing issues. The piece was released as an album in March of 2020, and is scheduled for performance by half a dozen other American orchestras in the coming years.
Kahane's discography also includes 2014's The Ambassador, which received an acclaimed staging at BAM, directed by Tony and Olivier Award-winner John Tiffany; an album of chamber music, The Fiction Issue, with the string quartet Brooklyn Rider and vocalist/composer Shara Nova; a recording with The Knights of his orchestral song cycle Crane Palimpsest; as well as the original cast album for February House.
A frequent collaborator across a range of musical communities, Gabriel has worked with an array of artists including Paul Simon, Sufjan Stevens, Andrew Bird, Phoebe Bridgers, Caroline Shaw, and Chris Thile. After nearly two decades in Brooklyn, Kahane relocated with his family to Portland, Oregon, in March of 2020. Their freakishly self-possessed cat, Roscoe Greebletron Jones III, when not under investigation for securities fraud, continues his fruitless attempts to monetize his Instagram account.