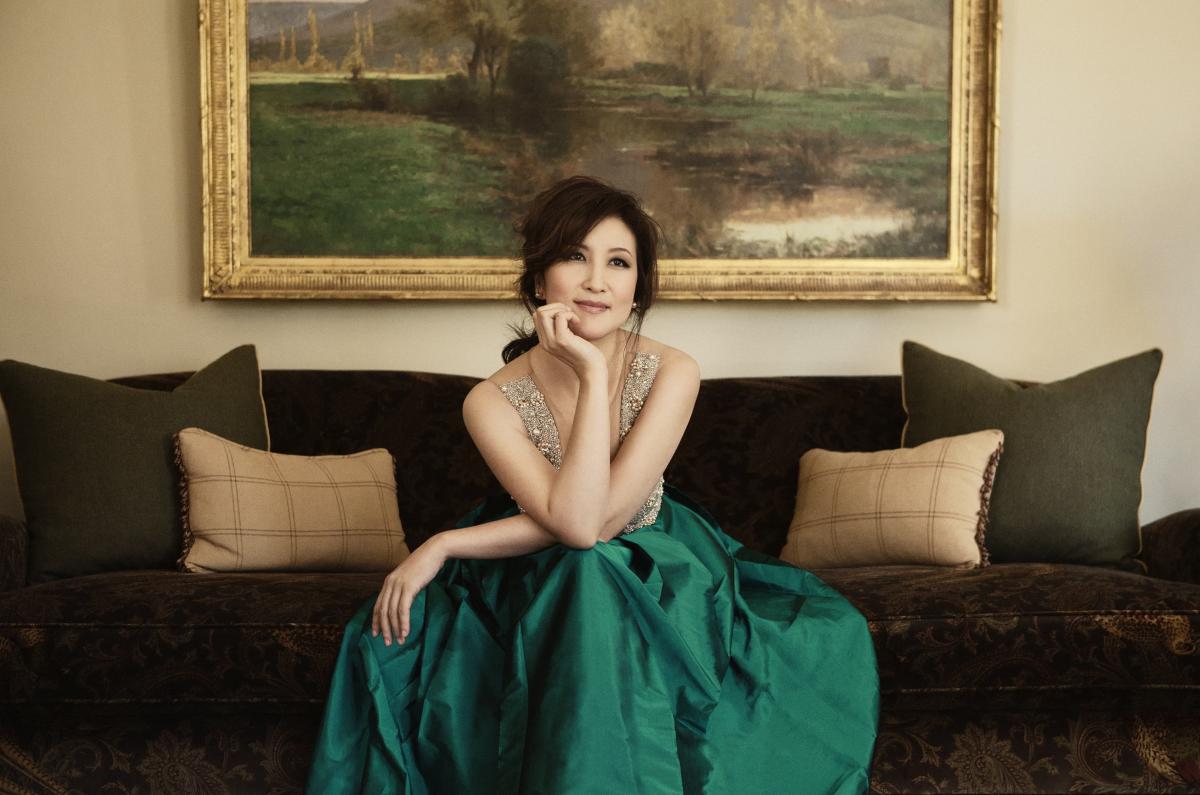 Korean-born American pianist Min Kwon excels in a versatile career that encompasses concerti, solo recitals, and chamber music appearances, while in high demand around the world as pedagogue, arts advocate, and administrator. She has held professional engagements in over 60 countries on seven continents and all 50 U.S. states.
In Summer 2021, Kwon launched America/Beautiful, a large-scale commissioning initiative that culminated in the world premieres of works by over 70 composers across four streaming performances and 2 live concerts at Green-Wood Cemetery for The Angel's Share concert series. For America/Beautiful, a group of leading U.S.-based composers spanning generations, ethnicities, and countries of origin wrote variations on Samuel A. Ward and Katharine Lee Bates's song "America the Beautiful." The 70+ composers who have contributed to America/Beautiful offer a true cross-section of America, representing all ages, races, genders and backgrounds. In addition to several emerging voices, the group includes multiple winners of Grammys, Emmys, MacArthur "Genius" Grants, Pulitzer, Grawemeyer, Guggenheim, Rome, and Doris Duke Prizes, and more.
In 2021-22 Kwon tours America/Beautiful in recitals at the Phillips Collection in Washington DC, Oberlin College and Conservatory, Stockton Performing Arts Center, Watchung Performing Arts Center, Steeple Concerts in Westfield NJ, plus performances and masterclasses at Southern Methodist University and Kent State University. In December 2021 she performs Rachmaninoff's Piano Concerto No. 2 with the Miami Youth Orchestra.
Professor of Piano at Mason Gross School of the Arts, Rutgers University since 2002, Dr. Kwon is also the founder and director of the Center for Musical Excellence (CME), a non-profit dedicated to mentoring and supporting gifted young musicians. To date, CME has awarded 12 international performing arts grants, each up to $10,000, and currently features 20 young artists on the 2021 CME Young Artists Roster. CME's alumni/ae list includes more than 100 young artists from 22 countries. As Artistic Director of Music Made Here, a concert series inaugurated in 2018, and CME in Harding Homes, Kwon brings world class talent to intimate venues. She has also served as Co-Director of Vienna ConcertoFest, a two-week festival that provides extraordinary opportunities for young artists to appear as soloists with the Viennese International Orchestra in prestigious venues in Austria.
As soloist, Min Kwon has performed extensively in Europe, North and South America, and Asia, with such orchestras as Philadelphia, North Carolina, Atlanta, New Jersey, and Fort Worth, Aspen Festival Orchestra, Orquesta Estaudo Mexico, Orquesta Sinfónica Venezuela, Wiener Residenz Orchester, Bacau Philharmonic, as well as all major orchestras in Korea on several nationally televised concerts. Since her Avery Fisher (now David Geffen) Hall, Lincoln Center debut in 1992 with the Juilliard Orchestra, she has appeared with many of New York's leading ensembles, including New York Classical Players, Manhattan Chamber Orchestra, and the New York Sinfonietta. Among the distinguished conductors with whom she has collaborated are James Conlon, Stanislaw Skrowaczewski, Alan Gilbert, Vaktang Jordania, Gerhardt Zimmerman, and Xian Zhang.
As recitalist, Kwon has performed at Carnegie's Weill Recital Hall, where she returns each year as Artistic Director of critically acclaimed, themed concerts featuring Rutgers pianists. Additionally, she has appeared in such major cities as Boston, Copenhagen, London, Madrid, Paris, Philadelphia, Rome, Seoul, Singapore, and Sydney. The New York Concert Review wrote of her Weill Recital: an "impassioned performance, in full technical command, she allowed for both simplicity and opulence, and the results were gratifying…Ms Kwon made the trek with enviable ease and calm but gave plenty of horror-film drama amid booms of sonic thunder and pianistic lightning."
An avid chamber musician, she has performed in numerous duo and chamber recitals around the world, from Stavanger Concert Hall in Norway, Tartu Festival in Estonia, Sony Convention in New York, IMF Conference in Davos, Switzerland to recent appearances in New York, Madrid, Rome, Curaçao, Malaysia, Vienna, Prague, Luxembourg, and Serbia. Festival performances include Aspen, Ravinia, Caramoor, Cape & Islands, Colmar (France), Freiburg (Germany), Kuhmo (Finland), and AMEROPA (Prague). With her sister, violinist Yoon Kwon (first violin at the Metropolitan Opera Orchestra), she has given over 200 recitals on Community Concert Tours (CAMI) and has collaborated with principals of the Chicago Symphony, Metropolitan Opera Orchestra, New York Philharmonic, Orchestre National de Paris, and the Czech Philhamornic. She has also produced and performed in chamber music concerts with 10 principals of the Philadelphia Orchestra. Recent season chamber music partners include the Shanghai String Quartet, Harlem String Quartet, Jason Moran, Fred Hersch, Robert McDuffie, Cho-Liang Lin, Paul Neubauer, Arnold Steinhardt, and Sara San't Ambrogio.
In addition to her collaboration with Yoon Kwon on concert tours, the duo made a recording for RCA Red Seal/BMG in 1996 as the first Koreans to do so in the Company's 100-year history. Min Kwon also recorded Schubert and Liszt, released by MSR Classics, which received a Grammy Award (David Frost, Best Producer of the Year, 2009). The American Record Guide called this album "a full conquest of the music's temperament and technical demands." With Viennese pianist and conductor Robert Lehrbaumer, she recorded four-hand music of Schubert for MSR. Her solo album, Dance!,to be released in March 2019, features works by 19 composers spanning 300 years. A recent release, CME Presents: Piano Celebration--forwhich she was producer, artistic director, and performer--celebrates composers and pianists from 17 countries. Its solo and four-hand piano music emphasizes the cultural cross-pollination that influenced such diverse composers as Barber, Rachmaninoff, Poulenc, Earl Wild, Brahms, Milhaud, Piazzolla, and Lecuona.
Dr. Kwon has led master classes worldwide at Shanghai and Beijing Central Conservatories, Hong Kong University and HK Academy of Fine Arts, Singapore National University, Royal College of Music in London, Kuhmo International Music Festival in Finland, Perugia Festival in Italy, and the Vianden Festival in Luxemburg. She has also taught in Spain, Denmark, Austria, Korea, and, in the U.S., numerous universities and conservatories, including Juilliard, Mannes School of Music, and New York University.
Min Kwon holds Doctor of Musical Arts and Master of Music degrees from The Juilliard School and a Bachelor of Music degree from The Curtis Institute of Music, completing post-doctoral studies in Salzburg. From 2015-2018, she served on the Juilliard Council as the first and only alumnus/a to be invited. She counts among her teachers and mentors Eleanor Sokoloff, Martin Canin, Leon Fleisher, Hans Leygraf, Dorothy DeLay, Jerome Lowenthal, and Leif Ove Andsnes. Kwon is a Steinway Artist.