Imani Winds with a new commission by Nathalie Joachim
wind quintet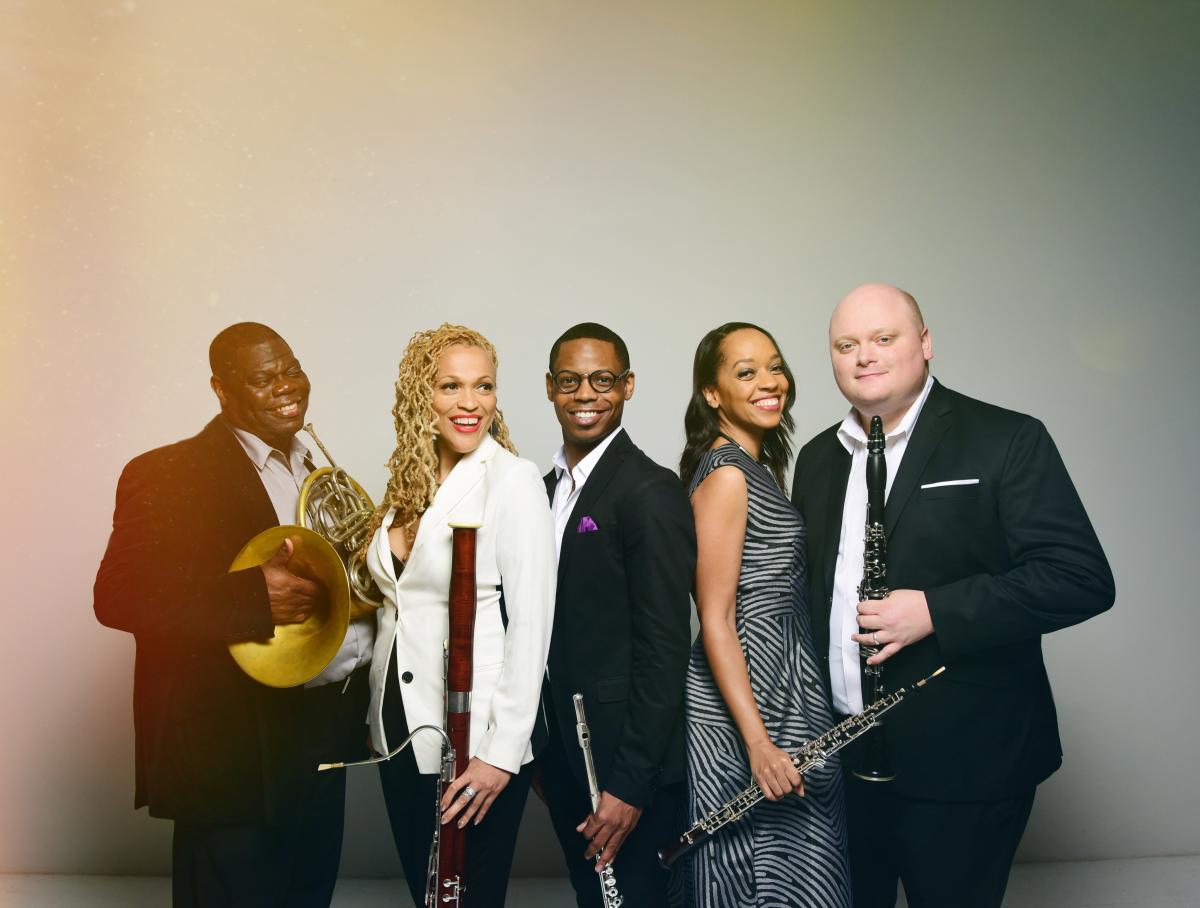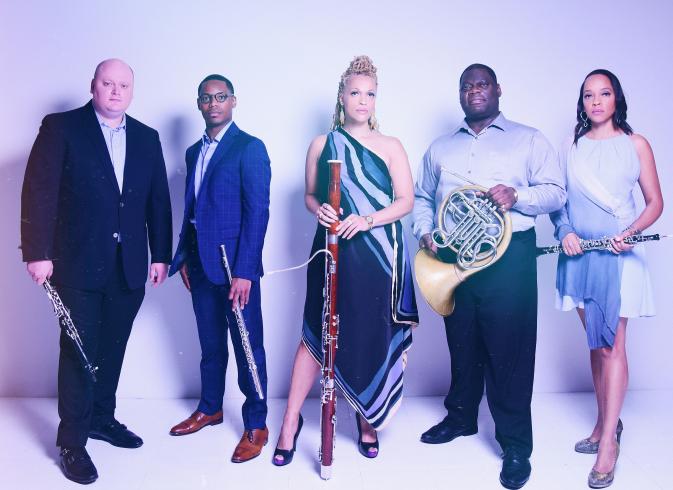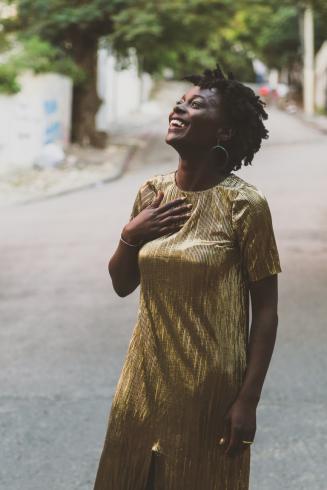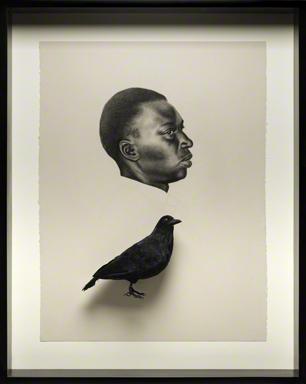 Celebrating over two decades of music making, the Grammy nominated Imani Winds has led both a revolution and the evolution of the wind quintet through their dynamic playing, adventurous programming, imaginative collaborations and outreach endeavors that have inspired audiences of all ages and backgrounds.
The ensemble's playlist embraces traditional chamber music repertoire, and as a 21st century group, Imani Winds is devoutly committed to expanding the wind quintet repertoire by commissioning music from new voices that reflect historical events and the times in which we currently live.
Present and future season performances include a Jessie Montgomery composition inspired by her great-grandfather's migration from the American south to the north; and, socially conscious music by Andy Akiho designed to be performed both on the concert stage and in front of immigrant detention centers throughout the country.
Imani Winds regularly performs in prominent international concert venues, including Carnegie Hall, Lincoln Center, the Kennedy Center, Walt Disney Hall and the Kimmel Center. Their touring schedule has taken them throughout the Asian continent, Brazil, Australia, England, New Zealand and across Europe. Their national and international presence include performances at chamber music series in Boston, New York, Washington D.C., San Francisco, Philadelphia and Houston. Festival performances include Chamber Music Northwest, the Santa Fe Chamber Music Festival, the Ravinia Festival, Chautauqua, Banff Centre and Angel Fire.
Imani Winds travels through the jazz world are highlighted by their association with saxophonist and composer Wayne Shorter, woodwind artist and composer Paquito D'Rivera and pianist and composer Jason Moran. Their ambitious project, "Josephine Baker: A Life of Le Jazz Hot!" featured chanteuse René Marie in performances that brought the house down in New York, Pittsburgh, San Francisco, Los Angeles and St. Louis.
Imani Winds' commitment to education runs deep. The group participates in residencies throughout the U.S., giving performances and master classes to thousands of students each year. Academic and institutional residencies include the Chamber Music Society of Lincoln Center, Duke University, the University of Chicago, Curtis Institute of Music, the University of Michigan, Da Camera of Houston and numerous others across the country.
The ensemble launched its annual Imani Winds Chamber Music Festival in 2010, bringing together young instrumentalists and composers from across North America and abroad for exploration and performance of the standard repertoire and newly composed chamber music. Festival participants also take part in workshops devoted to entrepreneurial and outreach opportunities, with the goal of creating the complete musician and global citizen.
Imani Winds has six albums on Koch International Classics and E1 Music, including their Grammy Award nominated recording, The Classical Underground. They have also recorded for Naxos and Blue Note and released Stravinsky's "Rite of Spring" on Warner Classics. Imani Winds is regularly heard on all media platforms including NPR, American Public Media, the BBC, SiriusXM, The New York Times and The Wall Street Journal.
In 2016, Imani Winds received their greatest accolade in their 20 years of music making: a permanent presence in the classical music section of the Smithsonian's National Museum of African American History and Culture in Washington DC.
Nathalie Joachim is a Grammy-nominated flutist, composer, and vocalist. The Brooklyn born Haitian-American artist is hailed for being "a fresh and invigorating cross-cultural voice." (The Nation). She is co-founder of the critically acclaimed urban art pop duo, Flutronix, and comfortably navigates everything from classical to indie-rock, all while advocating for social change and cultural awareness. Her authenticity has gained her the reputation of being "powerful and unpretentious." (The New York Times).
Ms. Joachim, a 2020 United States Artist Fellow, has performed and recorded with an impressive range of today's most exciting artists and ensembles, including Bryce Dessner, Bonnie "Prince" Billy, Richard Reed Parry, Miguel Zenón, and the International Contemporary Ensemble, and is the former flutist of the contemporary chamber ensemble Eighth Blackbird. As a composer, Joachim is regularly commissioned to write for instrumental and vocal artists, dance, and interdisciplinary theater, each highlighting her unique electroacoustic style. Upcoming works include Joachim's first ever symphonic and chorale work commissioned by St. Louis Symphony and the In Unison Chorus, and new large scale chamber works for Roomful of Teeth, So Percussion, Imani Winds, and Lorelei Ensemble.
Joachim's current touring project, Fanm d'Ayiti, is an evening-length work for flute, voice, string quartet and electronics that celebrates some of Haiti's most iconic yet under recognized female artists, and explores Joachim's personal Haitian heritage. Commissioned by and developed in residence through St. Paul Chamber Orchestra's Liquid Music series, Fanm d'Ayiti was recorded with Chicago-based ensemble Spektral Quartet. The work, released in 2019 on New Amsterdam Records as Joachim's first featured solo album, received a Grammy nomination for Best World Music Album.
Other recent projects include Discourse, an evening-length performance, community engagement and social change initiative commissioned by Carolina Performing Arts and continuing at additional sites nationally; new solo instrumental works for cellist Seth Parker Woods and violinist Yvonne Lam; and larger scale chamber works for the Brooklyn Youth Chorus and Duo Noire. Joachim's original compositions have been broadcast on NPR, WFMT, WBEZ, BBC Radio, WNYC, WQXR, Q2, J-Wave, Tokyo FM, FM Yokohama and more. In addition, she has been featured in television segments on BBC World News, SNL, Late Show with David Letterman, Telemundo, BK Live and The Daily Buzz, as well as an internationally broadcast ESPN super bowl commercial.
Ms. Joachim is a Burkart Flutes & Piccolos artist, and has appeared as a concert soloist both in recital and with orchestra on stages throughout the United States, Europe and Japan. Highlights include featured performances at the Big Ears Festival, Newport Jazz Festival, Carnegie Hall, Alice Tully Hall, the Brooklyn Museum, Fukuoka Symphony Hall, National Flute Association Conventions, Gezmataz Genoa Jazz Festival, Symphony Space, Biwako Hall, Virginia Arts Festival, and WNYC's Greenespace among others.
She is an active educator of students of all ages and skill levels. Ms. Joachim is Director of Contemporary Chamber Music at the Perlman Music Program; and holds faculty positions at The Hartt School at The University of Hartford, Princeton University, the Bang on a Can Summer Festival and Banff Centre for Arts and Creativity; and is a guest teaching artist for The Juilliard-Nord Anglia Performing Arts Programme; She is a former flute faculty member at The Juilliard School's Music Advancement Program, and has coached chamber music for The Juilliard School's Pre-College Division. Her youth education workshops, presented internationally with Flutronix in partnership with The Juilliard-Nord Anglia Performing Arts Programme, focus on creative collaboration and the use of traditional instruments in modern ways including improvisation, extended techniques and the integration of technology. At the university level, she has been presented as a guest lecturer and has led masterclasses for The Juilliard School, University of Michigan, University of North Carolina School for the Arts, University of North Carolina Greensboro, University of the Arts, New York Flute Club, New England Conservatory, University of Wisconsin-Madison, and many other institutions across the country.
Joachim is a graduate of The Juilliard School, and was the first person to successfully complete the conservatory's MAP, Pre-College, and College Division programs. Upon graduation, she was granted the first ever Juilliard InterArts Award for independently producing and presenting exceptional interdisciplinary arts performances involving music, dance, theater and technology while pursuing her degree. She continued her graduate degree studies at The New School, where her focus was audio production and sound design.