New Chamber Ballet & Ensemble: Stray Bird: a Dance Tribute to Ursula Mamlok
chamber music and dance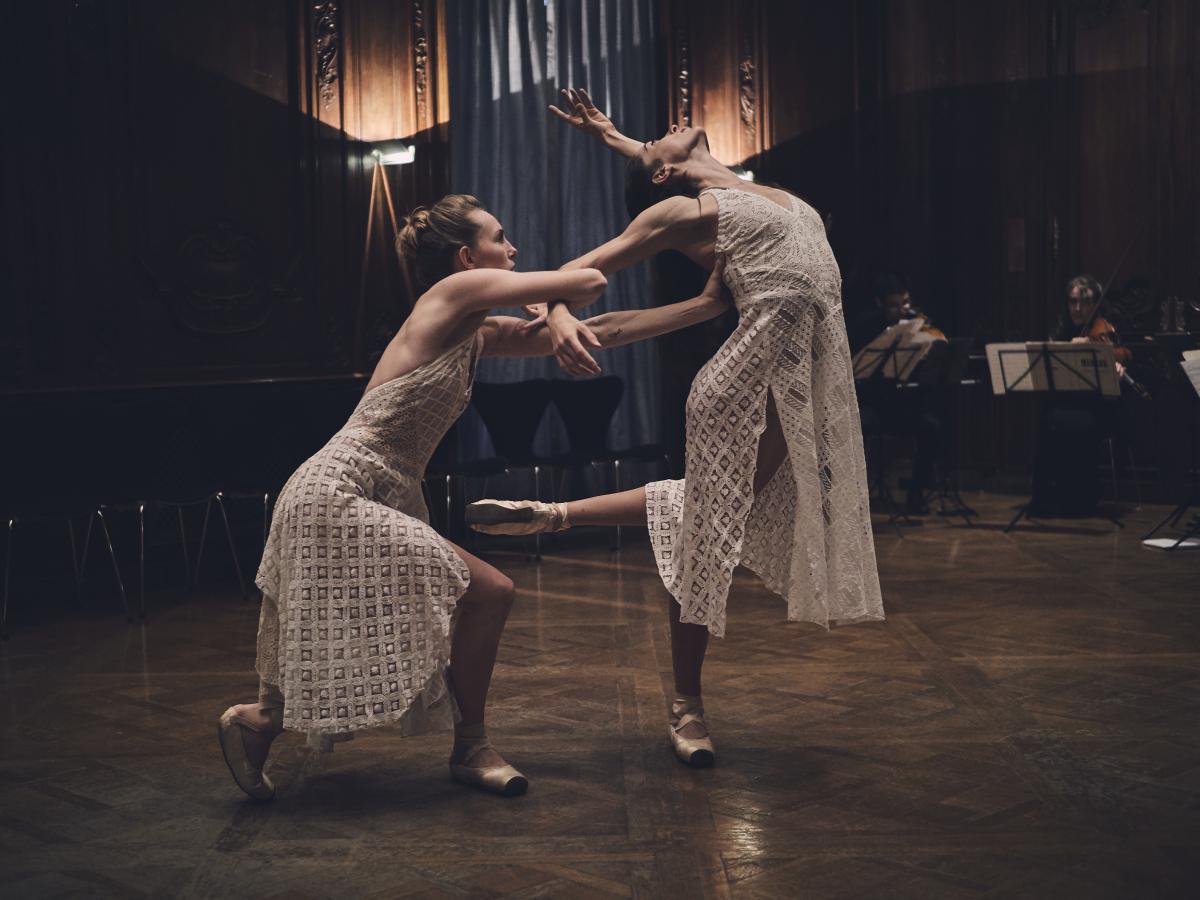 The New Chamber Ballet and an ensemble of leading musicians take us on a sonic and visual journey through Ursula Mamlok's delicate, abstract music revealing powerful themes of loss, displacement, rejection, and reconciliation.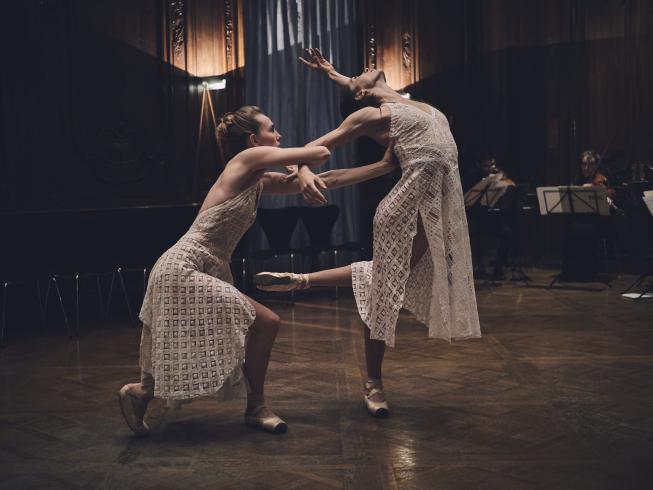 Program
In a cross-disciplinary first for Phillips Music, contemporary dance and music are synthesized in a unique project devised by choreographer and composer Miro Magliore as a tribute to composer Ursula Mamlok. Mamlok was born to a Jewish family in Berlin in 1923, and by her early teens was a precocious talent on her way to becoming a composer. Then Germany descended into Nazi oppression, and when Mamlok was 16, she and her parents made a last-minute escape to Ecuador (leaving almost immediately after Kristallnacht in 1938). Physically and culturally displaced, Mamlok continued her studies before becoming a composer and noted teacher in New York. In her late 80s she finally returned to her spiritual home of Berlin, where she passed away in 2016 at the age of 93.

In the intimate setting of the Music Room with the audience seated up close to the performers in the round, the New Chamber Ballet and an ensemble of leading musicians take us on a sonic and visual journey through Mamlok's delicate, abstract music with dances by three choreographers, revealing powerful themes of loss, displacement, rejection, and reconciliation.

These performances of Stray Bird are made possible in part by support from the Dwight and Ursula Mamlok Foundation.

This performance is 1 hour and 10 minutes without intermission. Audience seating is in the round. Space is limited.
About the Artists
Praised by The New York Times as "one of the small-scale delights of the New York Dance Scene," New Chamber Ballet is a group of dancers and musicians dedicated to performing modern ballets to contemporary chamber music.
The company boasts a repertoire that includes over 70 ballets by founder and chief choreographer Miro Magloire, as well as important works by other young choreographic talents, set to music by composers such as Stockhausen, Boulez, Feldman, Berio, Sciarrino, Haas, Furrer, and younger composers such as Michel Galante, Richard Carrick, and Nina C. Young.  "It's heartening to see work so focused on the meeting of dance and music." (Alastair Macaulay, The New York Times)
New Chamber Ballet has collaborated with ensembles including the Argento Chamber Ensemble, Ensemble Sospeso, and Ensemble Moto Perpetuo. Recently the company has created site-specific works engaging architecture ranging from Bramante's Renaissance-Tempietto in Rome to a new building by Pritzker Prize winners SANAA.
In recent seasons the company performed nationally from California to Connecticut, and internationally from Italy to Guatemala. But its artistic home remains its ongoing studio series at New York's City Center Studio.  "In a city full of ballet, Magloire's New Chamber Ballet is a welcome and unique voice… Indeed, with music and choreography that remind us of our own humanity, Magloire, with New Chamber Ballet, will continue to show us what is possible for ballet." (Tara Lindis, Times Square Chronicle)
Momenta: the plural of momentum—four individuals in motion towards a common goal. This is the idea behind the Momenta Quartet, whose eclectic vision encompasses contemporary music of all aesthetic backgrounds alongside great music from the recent and distant past. The New York City-based quartet has premiered over 150 works, collaborated with over 200 living composers and was praised by The New York Times for its "diligence, curiosity and excellence." In the words of The New Yorker's Alex Ross, "few American players assume Haydn's idiom with such ease."
The Quartet came into being in November 2004, when composer Matthew Greenbaum invited violist Stephanie Griffin to perform Mario Davidovsky's String Trio for events celebrating Judaism and Culture at New York's Symphony Space and Temple University in Philadelphia. A residency through the composition department at Temple University ensued, and the rehearsals and performances were so satisfying that the players decided to form a quartet. Through this residency, Momenta gave two annual concerts highlighting the talents of Temple University student composers alongside 20th-century masterworks and works from the classical canon, and repeated the programs at the Brooklyn Society for Ethical Culture. 
Word of Momenta's passionate advocacy for emerging composers spread quickly. Composers started inviting Momenta for similar concerts and residencies at other academic institutions, among them Harvard, Brown, Cornell, and Columbia Universities; the Boston and Cincinnati Conservatories; and the Eastman School of Music. Momenta has received two Koussevitzky Foundation commission grants: for Malaysian composer Kee Yong Chong in 2009 and for Bolivian composer Agustín Fernández in 2011; a Barlow Foundation commission for Claude Baker in 2016; a Jerome Foundation grant to commission Eric Nathan in 2013, and a Chamber Music America commission for Alvin Singleton, whose new work will be featured prominently in their 2018/19 season. Deeply committed to the musical avant-garde of the developing world, Momenta has premiered and championed the works of Tony Prabowo (Indonesia), Cergio Prudencio (Bolivia), and Hana Ajiashvili (Georgia). Upcoming adventures include a project to perform and record all 13 string quartets by Mexican, microtonal maverick Julián Carrillo (1875-1965) over the next three years.
Momenta has appeared at such prestigious venues as the Library of Congress, National Gallery of Art, the Smithsonian's Freer Gallery, Rubin Museum, Miller Theatre at Columbia University, the Princeton Institute for Advanced Study, Philadelphia Chamber Music Society, Chamber Music Cincinnati, Louisville Chamber Music Society, Washington University in St. Louis, Ostrava Days in the Czech Republic, and at the internationally renowned Cervantino Festival in Mexico.
Highlights of Momenta's 2018/19 season include a residency at The Laredo Institute in Cochabamba, Bolivia, and closer to home: residencies at Bates and Williams Colleges; collaborations with the Cornell University gamelan ensemble and student composers at Brown University; and recitals presented by Arbor Music, Chamber Music Live at Queens College, and the Mexican Cultural Institute in Washington, DC. Momenta will also continue its collaboration with Mexican actor/director Fernando Villa Proal on "The Lost String Quartet," a theatrical string quartet for children with an original score by Stephanie Griffin.
Momenta has recorded for Centaur Records, Furious Artisans, PARMA, New World Records, and Albany Records; and has been broadcast on WQXR, Q2 Music, Austria's Oe1, and Vermont Public Radio. The quartet's debut album, Similar Motion, is available on Albany Records.
Hailed by The New York Times as "outstanding clarinetist," Pascal Archer leads an active career as a performer and teacher.  He is the founder and artistic director of the Exponential Ensemble, a mixed chamber music ensemble creating interactive music educational programs connecting music with math, science, and literacy. He is currently Principal Clarinet of the Glimmerglass Opera Orchestra, the Northeastern Pennsylvania Philharmonic, and acting principal clarinet of the Princeton Symphony Orchestra.  He has played on several New York City Broadway Show productions such as Mary Poppins, South Pacific, On the Town, and Fiddler on the Roof. Archer is also a former member of the New World Symphony, America's Orchestral Academy. 
As a chamber musician, he has collaborated with the JACK and St. Lawrence String Quartets, Camerata Pacifica, the Adaskin String Trio, and toured with Musicians from Marlboro.  He has performed at renowned festivals such as Marlboro, Mostly Mozart, Monadnock, Verbier Orchestra, Spoleto USA, and the Sun Valley Summer Symphony.  
Archer is on faculty at the Manhattan School of Music Precollege Division and adjunct at Fordham University.  Additionaly he coaches chamber music for the Chamber Music Center of New York and Alaria Chamber Ensemble. Originally from Québec, Canada, Archer holds music performance degrees from the Conservatoire de Musique de Montréal, Université de Montréal (BM), Indiana University (PD) and the Manhattan School of Music (MM).  His former teachers include Jean Laurendeau, André Moisan, Eli Eban, and Mark Nuccio.
Brooklyn-based flutist Roberta Michel is dedicated to the music of our time. Praising her "extreme adventurousness," New York Concert Review said she "riveted with her performance, inspiring one to want a repeated hearing." Michel is the Co-artistic Director of Wavefield.
A founding member of Duo RoMi and Cadillac Moon Ensemble, Michel has also performed with: Ecce Ensemble, Portland String Quartet, Newspeak, SEM Ensemble, Wet Ink Ensemble, Argento, Iktus, Wordless Music Orchestra, Bang on a Can All-Stars, Ensemble LPR, and Cygnus Ensemble among others. Recent venues include: Lincoln Center, Carnegie Hall, Alice Tulley Hall, Merkin Hall, The Kennedy Center, Roulette, Issue Project Room, and the Metropolitan Museum of Art. She can be heard on New Dynamic, Innova, Tzadik, and Meta Records. Michel has commissioned and premiered hundreds of new works and has worked with many notable composers of our day.
Michel holds degrees from the University of Colorado at Boulder, SUNY-Purchase College, and the City University of New York Graduate Center. She is a winner of the NFA Graduate Research Competition for her dissertation on the flute music of Salvatore Sciarrino, resulting in a presentation at the 2013 National Flute Association Convention in New Orleans. Her teachers include Robert Dick, Tara O'Connor, and Alexa Still. She currently teaches at St. Francis College, Sarah Lawrence College, and at her private studio in Brooklyn.