Music and Migration: PostClassical Ensemble
The Reinvention of Arnold Schoenberg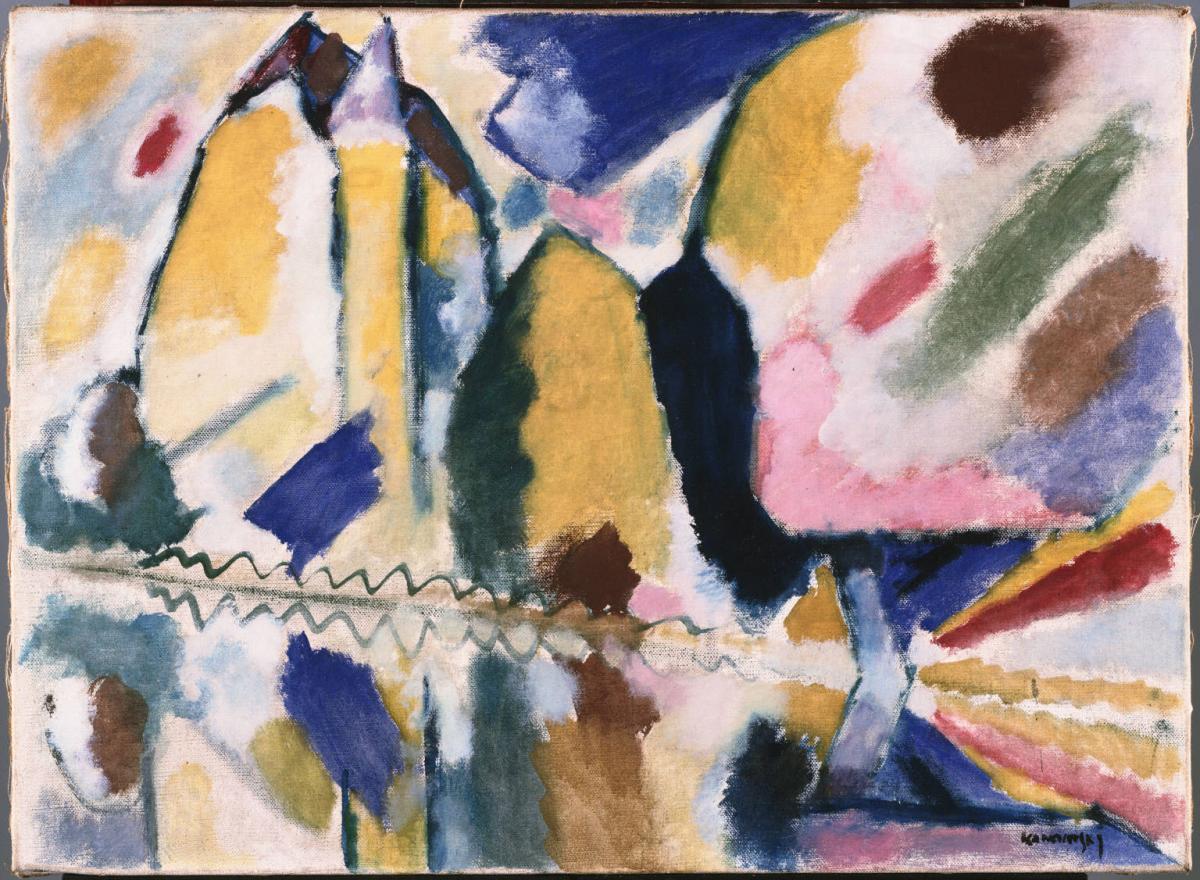 PostClassical Ensemble explores the parallels between Schoenberg's development of non-tonal music and Kandinsky's ethos of non-representational painting. The program also explores Schoenberg and Kurt Weill's experience as émigré composers in the US through their musical responses to Pearl Harbor.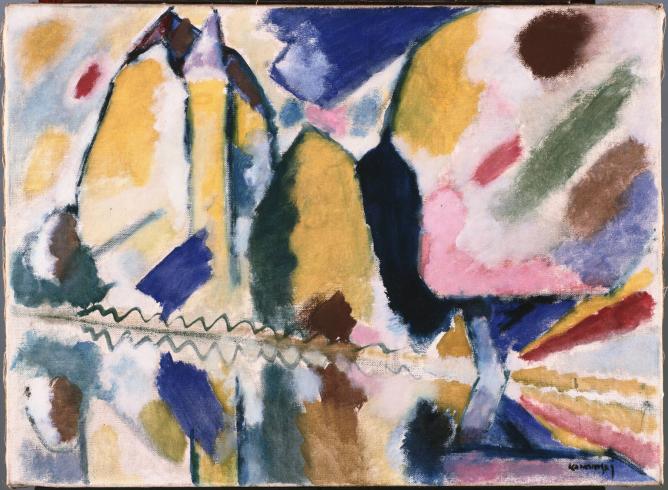 Program
In the years preceding World War I, Arnold Schoenberg, Wasilly Kandinsky, and Ferruccio Busoni craved liberation. The result was non-tonal music and non-representational painting. As friends, Schoenberg and Kandinsky corresponded with one another through letters. Kandinsky wrote to Schoenberg in 1911, "In your works you have realized what I have so greatly longed for in music. Today's dissonance in painting and music is merely the consonance of tomorrow." Schoenberg responded, "Art belongs to the unconscious! One must express oneself directly! That which is inborn, instinctive!"

Join us as we explore the revolution in art and music, that Kandinsky and Schoenberg simultaneously plotted, in a program of letters, art, and music, including Schoenberg's own seething refugee response to Pearl Harbor, Ode to Napoleon, in which he exalts George Washington (standing in for FDR). This performance is in conjunction with the Phillips's exhibition The Warmth of Other Suns: Stories of Global Displacement.

"One of the country's most innovative music groups." — Phillip Kennicott, The Washington Post (about PCE)

Click here to learn more about the program. 

PROGRAM:
"THE REINVENTION OF ARNOLD SCHOENBERG"
William Sharp, baritone/reader
Alexander Shtarkman, piano
Netanel Draiblate and Bela Horvath, violins
Chiara Kingsley-Dieguez, viola
Benjamin Capps, cello
Angel Gil-Ordonez, conductor
Scripted and hosted by Joseph Horowitz
ARNOLD SCHOENBERG (1874-1951)
Six Little Piano Pieces (1913) 
     Commentary/readings: Schoenberg, Kandinsky, Busoni
Piano Piece, Op. 11, No. 2 (1909)
Schoenberg/Busoni: Piano Piece, Op. 11, no. 2 (1909) 
FERRUCCIO BUSONI (1866-1924)
Sonatina Seconda (1912) for solo piano
     Commentary/readings: Schoenberg vs Weill in America; two musical responses to Pearl Harbor, both by Jewish refugees.
KURT WEILL (1900-1950)
Dirge for Two Veterans (1942) baritone and piano
ARNOLD SCHOENBERG
Ode to Napoleon (1942) for reader, piano, string quartet. Conducted by Angel Gil-Ordonez
About the Artists
William Sharp has long been one of America's leading concert singers. A frequent guest of PostClassical Ensemble, he next appears singing (and recording) songs of Arthur Farwell, the leader of the "Indianists" movement in American music. ("Native America," a PCE festival at the Washington National Cathedral in October 2020.)
Alexander Shtarkman, a graduate of the Moscow Conservatory, last appeared with PostClassical Ensemble performing music by Eisler and Shostakovich. He is featured in the Behrouz Jamali's PCE-produced film "Shostakovich in Wartime" (also featuring Netanel Draiblate and Benjamin Capps). 
Netanel Draiblate is concertmaster of PostClassical Ensemble and of the Annapolis Symphony. He maintains an active career as a soloist and chamber musician. 
Bela Horvath, a native of Hungary, has performed throughout Europe and the United States. He has been a faculty member at the Manhattan School of Music since 2009.          
Chiara Kingsley-Dieguez performs regularly with the National Symphony, the Baltimore Symphony, the Washington National Opera, and the Eclipse Chamber Orchestra, in addition to her position as Principal Viola of the Baltimore Chamber Orchestra.  
 
Benjamin Capps is principal cellist of PostClassical Ensemble. His most recent concert tours featured music for solo cello. He is featured in Behrouz Jamali's PCE-produced film "The 24 Preludes of Mieczyslaw Weinberg."
Angel Gil-Ordonez is Music Director of PostClassical Ensemble. Formerly Associate Conductor of the National Orchestra of Spain, he also serves as Principal Guest Conductor of New York's Perspectives Ensemble, Music Director of the Georgetown University Orchestra, and advisor for education and programming for Trinitate Philharmonia, a program in León, Mexico, modeled on Venezuela's El Sistema. In 2006 the King of Spain bestowed upon Gil-Ordóñez the Royal Order of Queen Isabella, the country's highest civilian decoration, for advancing Spanish culture around the world.
Joseph Horowitz is Executive Director of PostClassical Ensemble. Long a pioneer in contextualized symphonic programing, he served as Executive Director of the Brooklyn Philharmonic at BAM and has since served as an artistic advisor to dozens of American orchestras, frequently with the support of the NEH. His ten books include Classical Music in America: A History (2005) and Artists in Exile (2008), both Economist best books of the year. The latter is a study of twentieth century artistic migration in which he considers both Arnold Schoenberg and Kurt Weill. His blog, "The Unanswered Question," is artsjournal.com/uq.
PostClassical Ensemble (PCE), co-founded by Angel Gil-Ordonez and Joseph Horowitz in 2003, is Ensemble-in-Residence at the Washington National Cathedral. Philip Kennicott has called PCE "one of the country's most innovative musical groups." An "experimental orchestral laboratory," PCE explores music in its cultural context. All PCE programing is thematic; most is cross-disciplinary. The Ensemble's upcoming National Cathedral season comprises three multi-event festivals: "Native America: From Spillville to Pine Ridge" (including musicians from South Dakota's Lakota Music Project); "The Color of Pomegranates: An Armenian Odyssey" (including an Armenian Film Festival at the National Gallery of Art); and "Why Haydn?" (featuring the pianist Jean-Efflam Bavouzet). For more Information please visit www.postclassical.com.