Dear Dove, Dear Phillips, Dear Stieglitz
Reading Room Exhibition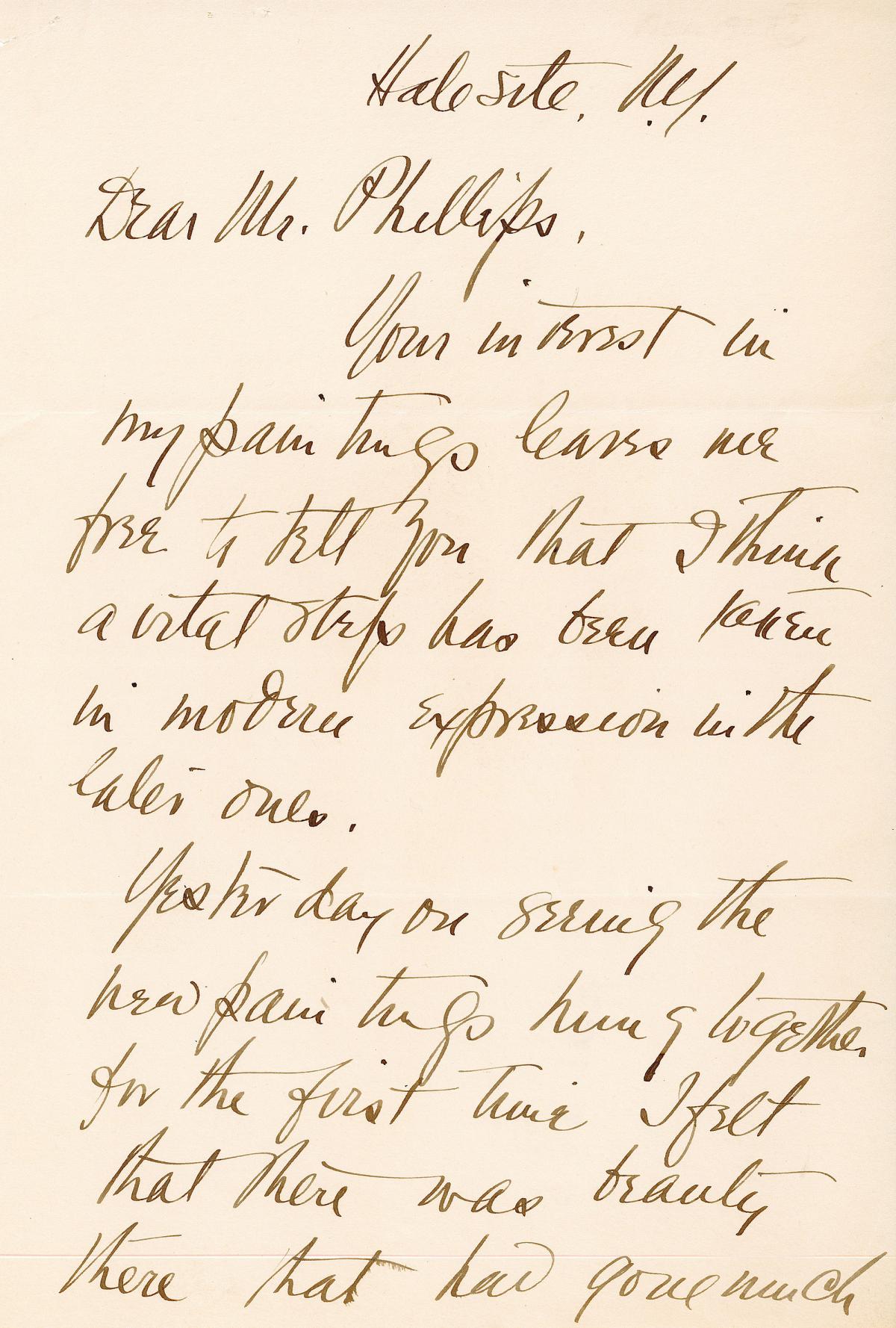 [Arthur] Dove's relationship with my father [Duncan Phillips]—launched, controlled, and sometimes distorted by the redoubtable Alfred Stieglitz—must stand as one of the most interesting and productive artist-patron relationships of modern times … Dove was the model of what [my father] wanted most to encourage—the independent artist with a powerful, fresh, and highly personal vision.—Laughlin Phillips

Arthur Dove (1880-1946) grew up in Geneva, New York. He attended Cornell University, where he took classes in pre-law to please his father and studied art to please himself. Following graduation, he became an illustrator, and eventually dedicated himself to painting. In his early work, Dove explored realistic subjects, such as still lifes, but by 1910, deeply influenced by his immersion in nature, he began to work abstractly, creating some of the first abstract paintings in the United States.
In 1912, Alfred Stieglitz (1864-1946), acclaimed photographer and gallery owner representing Georgia O'Keeffe, John Marin, and Marsden Hartley, among others, became Dove's dealer. Beginning in 1930, museum founder Duncan Phillips (1886-1966) became Dove's patron. He sent Dove a check for 50 dollars a month (which increased to 200 a month by 1944) in exchange for first choice of the artist's paintings that were exhibited at Stieglitz's gallery, which also allowed the artist to dedicate himself to painting. Phillips responded to Dove's individuality, simple way of life, and his independence from European art movements. The Phillips Collection gave Dove his first museum retrospective in 1937 and owns 56 works by the artist—the largest collection of works by Dove in the world. Artist, patron, and gallery dealer exchanged hundreds of letters from 1926 to 1946, the year that Dove and Stieglitz died. This Reading Room exhibition looks at their relationship through correspondence from the Phillips archives, photographs, and more.