Chiaroscuro Quartet and Kristian Bezuidenhout
String Quartet and Fortepiano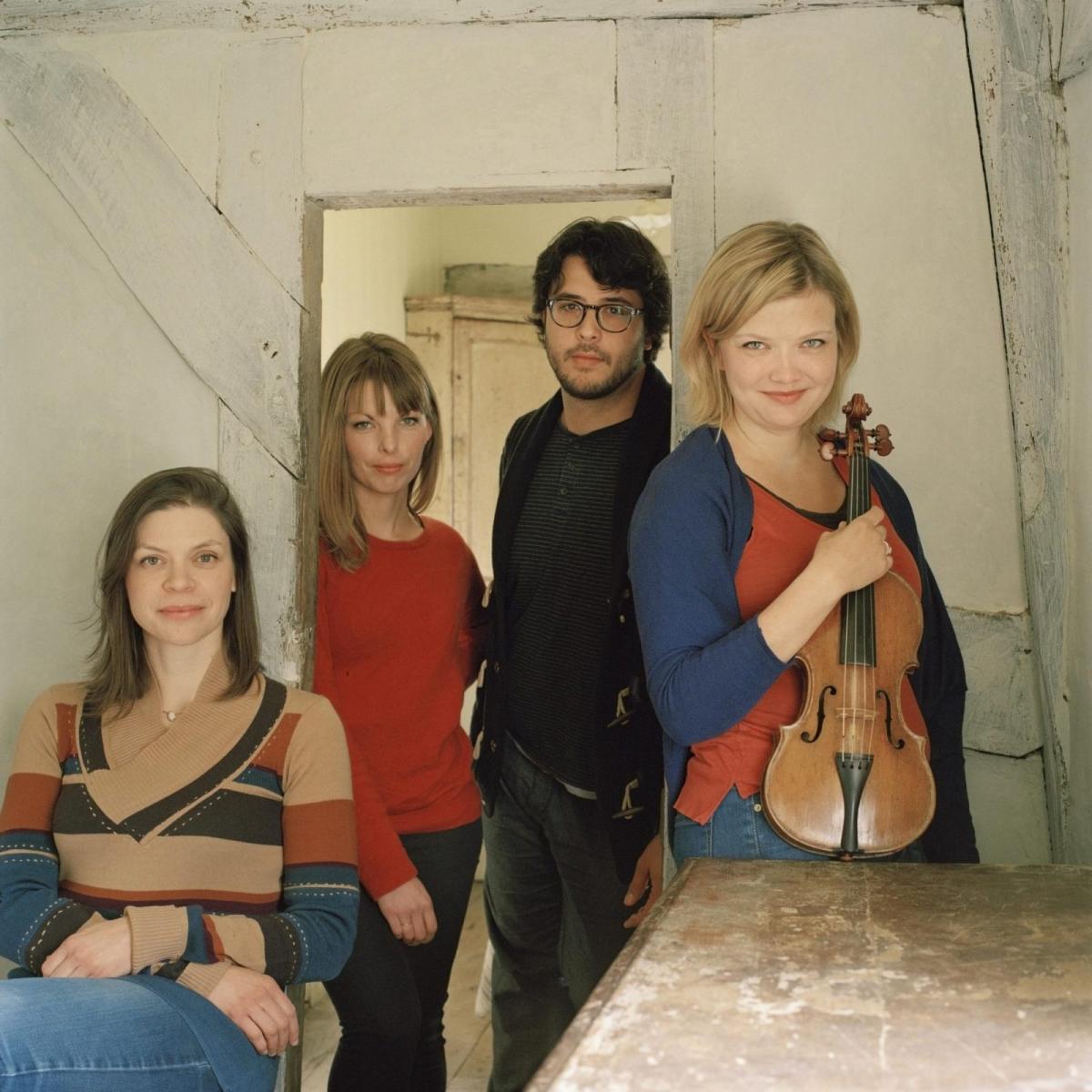 The Chiaroscuro Quartet and fortepianist Kristian Bezuidenhout make their DC debut with works by Schubert and Mozart.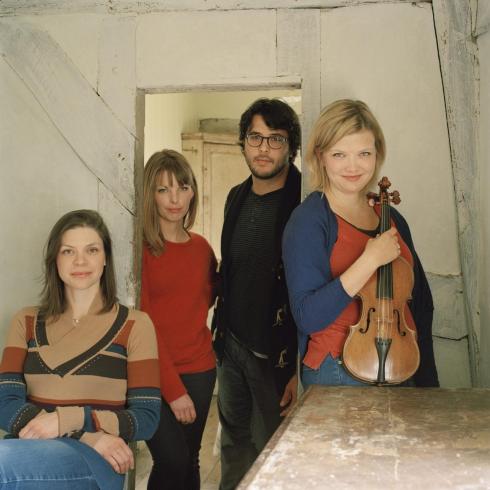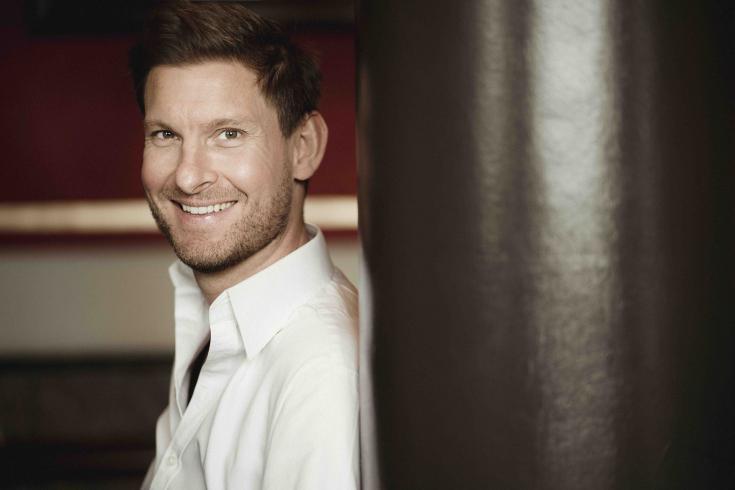 Program
Formed in 2005, the Chiaroscuro Quartet comprises violinists Alina Ibragimova and Pablo Hernan Benedi, violist Emilie Hornlund, and cellist Claire Thirion. Performing on gut strings and with historically appropriate bows, this ensemble brings the listener closer to the sound of the string quartet as it might have been heard at the time of the Viennese Classical masters, and this concert presents Schubert's great Death and the Maiden. Kristian Bezuidenhout first gained acclaim when he won the audience prize at the Bruges Fortepiano Competition. His recordings include the complete keyboard music of Mozart. Along with the Piano Sonata in C minor, K. 457, this concert includes Mozart's version for fortepiano and string quartet of the Piano Concerto in A Major, K. 414 in which Bezuidenhout joins the Quartet.
Program:
FRANZ SCHUBERT (1797-1828)
String Quartet No. 14 in D minor "Death & the Maiden," D. 810
INTERMISSION
WOLFGANG AMADEUS MOZART (1756-91)
Piano Sonata No. 14 in C minor, K. 457
Piano Concerto No. 12 in A Major, K. 414    

 
About the Artists
Formed in 2005, the Chiaroscuro Quartet comprises violinists Alina Ibragimova (Russia) and Pablo Hernán Benedí (Spain), the Swedish violist Emilie Hörnlund and cellist Claire Thirion from France. Dubbed 'a trailblazer for the authentic performance of High Classical chamber music' in Gramophone, this international ensemble performs music of the Classical and early Romantic periods on gut strings and with historical bows. The quartet's unique sound – described in The Observer as 'a shock to the ears of the best kind' – is highly acclaimed by audiences and critics all over Europe.
Their growing discography includes recordings of music by Mozart, Beethoven, Schubert and Mendelssohn. The Chiaroscuro Quartet was a prize-winner of the German Förderpreis Deutschlandfunk/Musikfest Bremen in 2013 and received Germany's most prestigious CD award, the Preis der Deutschen Schallplattenkritik in 2015 for their recording of Mozart's Quartet in D minor, K. 421 and Mendelssohn's Second String Quartet in A minor, Op. 13. Among the ensemble's chamber music partners are renowned artists such as Kristian Bezuidenhout, Trevor Pinnock, Jonathan Cohen, Nicolas Baldeyrou, Chen Halevi, Malcolm Bilson and Christophe Coin.
Recent engagements included their enthusiastically received debut concerts at Vienna Konzerthaus and Philharmonie Warsaw. In April 2016, the quartet embarked on its first tour to Japan playing concerts in Tokyo and Hyogo. Other highlights have taken the ensemble to the Edinburgh International Festival, Concertgebouw Amsterdam, London's Wigmore Hall, Auditorio Nacional de Música Madrid, Music Festival Grafenegg, The Sage Gateshead (recorded for BBC Radio 3), Auditorium du Louvre Paris, Théâtre du Jeu-de-Paume in Aix-en-Provence, Grand Théâtre de Dijon, Gulbenkian Foundation Lisbon, West Cork Festival and for a residency to Aldeburgh.
For the 2017/18 season, the Chiaroscuro Quartet gives various concerts in the UK including Edinburgh, Snape, London, Sheffield, York, Gateshead, performances in Cologne, Salzburg, Lisbon and are Menuhin Festival Artists at the Gstaad Festival. With Ronald Brautigam they perform in Bath, Bremen, Utrecht and Amsterdam. Their latest recording is on BIS Records, featuring Vol.2 of Haydn's Opus 20 quartets.
Since 2009, the Chiaroscuro Quartet has been artist-in-residence in Port-Royal-des-Champs giving a concert series dedicated to Mozart's string quartets. The Chiaroscuro quartet are grateful to Jumpstart Jr Foundation for the kind loan of the 1570 Andrea Amati violin.
Kristian Bezuidenhout is one of today's most notable and exciting keyboard artists, equally at home on the fortepiano, harpsichord, and modern piano. Born in South Africa in 1979, he began his studies in Australia, completed them at the Eastman School of Music, and now lives in London. After initial training as a pianist with Rebecca Penneys, he explored early keyboards, studying harpsichord with Arthur Haas, fortepiano with Malcolm Bilson, and continuo playing and performance practice with Paul O'Dette. Kristian first gained international recognition at the age of 21 after winning the prestigious first prize, and audience prize in the Bruges Fortepiano Competition.
Bezuidenhout is a regular guest with the world's leading ensembles including the Freiburger Barockorchester, Les Arts Florissants, Orchestra of the Age of Enlightenment, Orchestre des Champs Elysées, Koninklijk Concertgebouworkest, Chicago Symphony Orchestra, and the Leipzig Gewandhausorchester; and has guest-directed (from the keyboard) the English Concert, Orchestra of the Eighteenth Century, Tafelmusik, Collegium Vocale, Juilliard 415, Kammerakademie Potsdam, and Dunedin Consort (St. Matthew Passion).
He has performed with celebrated artists including John Eliot Gardiner, Philippe Herreweghe, Frans Brüggen, Trevor Pinnock, Giovanni Antonini, Jean-Guihen Queyras, Isabelle Faust, Alina Ibragimova, Rachel Podger, Carolyn Sampson, Anne Sofie von Otter, Mark Padmore, and Matthias Goerne.
Bezuidenhout's rich and award-winning discography on Harmonia Mundi includes the complete keyboard music of Mozart (awarded the Diapason d'Or de L'année, Preis der Deutschen Schallplattenkritik, and Caecilia Prize); Mozart Violin Sonatas with Petra Müllejans; Mendelssohn and Mozart Piano Concertos with the Freiburger Barockorchester (ECHO Klassik); Beethoven and Mozart Lieder, and Schumann Dichterliebe with Mark Padmore (Edison Award). In 2013 he was nominated as Gramophone Magazine's Artist of the Year. Recent releases include Winterreisse with Mark Padmore, and Bach's sonatas for Violin and Harpsichord with Isabelle Faust.

In the 2017/2018 season, Bezuidenhout became an Artistic Director of the Freiburger Barockorchester and Principal Guest Director with the English Concert. He play-directs programs with both orchestras and also with Camerata Salzburg, Tafelmusik Baroque Orchestra, and Zürcher Kammerorchester. As a soloist he performs with Orchestre des Champs Elysees/Herreweghe, Les Violons du Roy/Cohen, and Le Concert Olympique/Caeyers. Solo recitals and chamber music take him to London, Rome, Amsterdam, Stuttgart, Munich, Cologne, Berlin, US, and Japan.