Jess Gillam and Thomas Weaver
saxophone and piano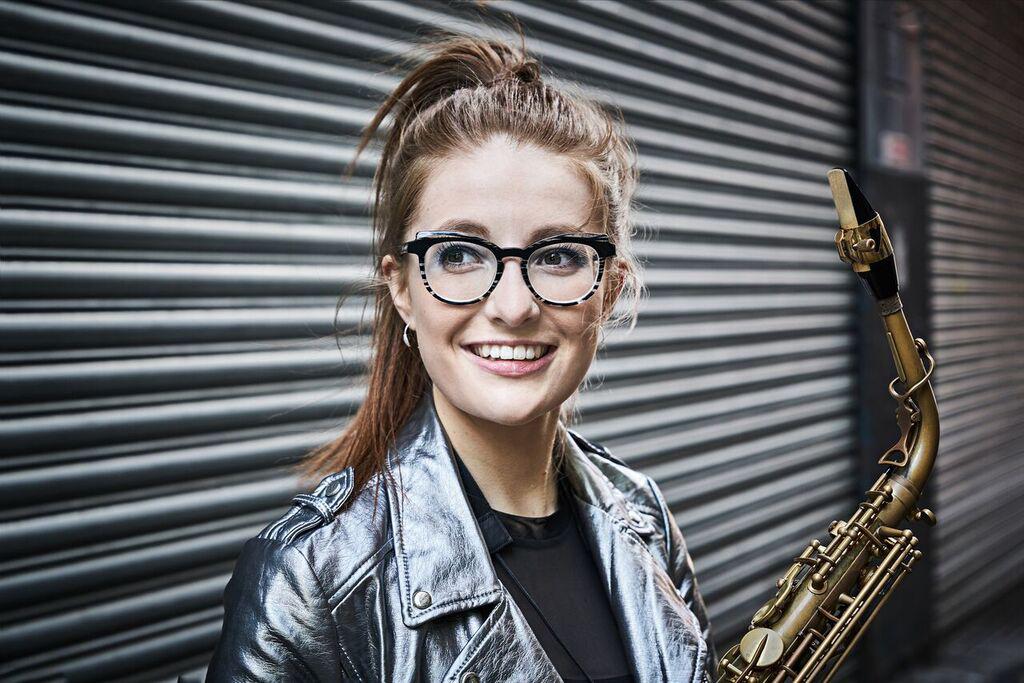 Saxophonist Jess Gillam makes her US debut with works by Britten, Ravel, Bartók, Pedro Iturralde,  John Williams, and more.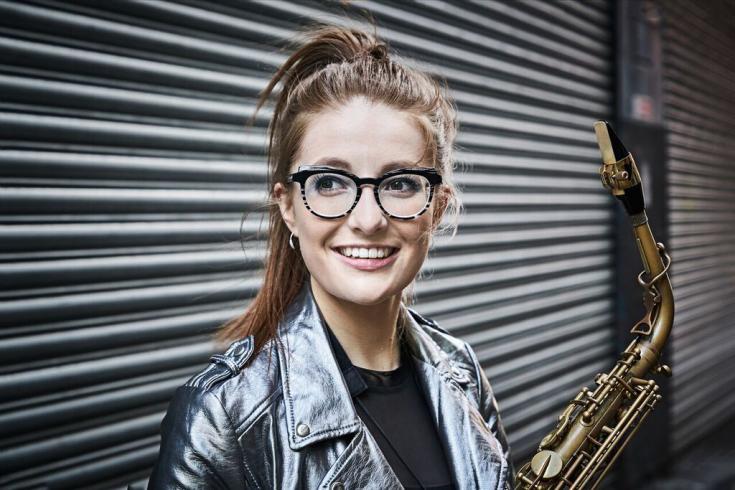 Program
In 2016, Jess Gillam made history as the first saxophonist to win the woodwind final of the BBC Young Musician of the Year competition. She made her BBC Proms debut in 2017 and returns in 2018 as one of the soloists in the Last Night of the Proms. Gillam hosts the BBC Young Musician weekly podcast, and recently became Decca Classics's first saxophone player. She is a student at the Royal Northern College of Music in Manchester and is mentored by saxophonist and composer John Harle. The US debut of this charismatic young artist includes an engaging mix of music originally composed for saxophone and arrangements, with composers ranging from the Baroque period to Michael Nyman and John Harle, via Milhaud, Britten, and Bartok.
Program:
PEDRO ITURRALDE (b. 1929)
Pequeña Czarda
BENJAMIN BRITTEN (1913-76)
Temporal Variations
MAURICE RAVEL (1875-1937)
Pièce en forme de Habanera
RUDY WIEDOEFT (1893-1940)
Valse Vanité
MICHAEL NYMAN (b. 1944)
"If" (from The Diary of Anne Frank)
DARIUS MILHAUD (1892-1974)
Scaramouche
INTERMISSION
ALESSANDO MARCELLO (1673-1747)
Oboe Concerto in D minor, S.Z799
JOHN WILLIAMS (b. 1932)
Escapades from Catch Me If You Can
BÉLA BARTÓK (1881-1945)BÉLA BARTÓK (1881-1945)
Three Hungarian Folksongs from Csík, Sz. 35a 

JOHN HARLE (b. 1956)
Rant
About the Artists
In summer 2017, Jess Gillam made her BBC Proms debut at the Royal Albert Hall where she performed as a soloist with both the Royal Philharmonic Orchestra conducted by Jessica Cottis and the BBC Concert Orchestra conducted by Keith Lockhart. Gillam returns to perform two proms in 2018, the BBC Young Musician Prom and the world famous Last Night of the Proms which is broadcast on international television. In June 2018, she made her international debut with the Gothenburg Symphony Orchestra and Santtu-Matias Rouvali, and has been the recipient of a Classic Brit Award in the Sound of Classical Poll 2018, which promotes the best emerging artists and ones-to-watch in classical music.
In the 2018/2019 season Gillam makes a number of important international debuts including the Tampere Philharmonic, her debut at l'Auditori Barcelona, her Swiss debut opening the season at the Argovia Philharnonic as well as making her debut at the acclaimed Phillips Collection recital series in Washington, DC.
She also appears extensively in recital throughout the UK and performs with orchestras including the BBC Philharmonic, BBC Concert Orchestra, Royal Northern Sinfonia, and the Manchester Camerata. 
Gillam studies at the Royal Northern College of Music with an ABRSM Scholarship, and is mentored by John Harle. She has appeared on BBC Radio 3, BBC Radio 4 (Woman's Hour), BBC Radio 2, BBC 6 Music, and BBC Radio Cumbria, who have made a program about her. In 2015, Jess was awarded Musician of the Year at the Cumbria Culture Awards. 
Gillam programs and presents shows on TV and radio including the BBC Young Musician podcast and recently featured in a documentary celebrating the 40th Anniversary of the BBC Young Musician Competition. 
In 2016, at the age of 17, Gillam made history as the first saxophonist to win the Woodwind Final of BBC Young Musician of the Year. She then reached the Grand Final at London's Barbican Hall, and performed Michael Nyman's Where the Bee Dances with the BBC Symphony Orchestra conducted by Mark Wigglesworth to widespread critical acclaim.  
Gillam records exclusively for Decca Classics, and is a Vandoren UK Artist. At just 13 she became the youngest ever endorsee for Yanagisawa Saxophones and she is also a patron for Awards for Young Musicians. She also promotes her own series of concerts, bringing international talent to her hometown of Ulverston. Gillam is very grateful for the support she has received from the Young Classical Artists Trust.
Thomas Weaver is an American composer and pianist whose active solo and chamber career has included performances both in the US and abroad. His playing has been hailed as displaying both "sensitivity" and "incredible dexterity." Weaver has appeared in concert halls in New York, Philadelphia, Boston, Chicago, Nashville, Dallas, Berlin, and others, in addition to regular performances at Tanglewood. Weaver has performed with a number of eminent musicians including Elmira Darvarova, Kenneth Radnofsky, Jennifer Frautschi, Gene Pokorny, and members of the Metropolitan Opera Orchestra, Philadelphia Orchestra, Boston Symphony Orchestra, and others. Weaver is a currently a member of the Amram Ensemble, Trio Ardente, and New England Chamber Players. A champion of new music, Weaver has premiered many new works, including works by David Amram, David Loeb, and Christopher LaRosa. Recently, Weaver appeared on the New York Philharmonic Ensembles chamber music series at Merkin Hall and later performed Leonard Bernstein's Symphony No. 2 "Age of Anxiety" with the Boston University Tanglewood Institute Young Artists Orchestra as part of the Bernstein Centennial celebration at Tanglewood. This past year, he was featured on a new album, David Amram: So In America released by Affetto Records, which includes many world premiere recordings.
An award-winning composer, Thomas Weaver's music has been performed throughout the US, Germany, Austria, and Japan. His works have been commissioned by a number of organizations and musicians including The New York Chamber Music Festival, Elmira Darvarova, Kenneth Radnofsky, Alea III, and the Daraja Ensemble. Weaver's works have also been performed by large ensembles such as the Boston University Symphony Orchestra and Mannes American Composers Orchestra.
An active educator, Weaver holds faculty positions at the Curtis Institute of Music in Philadelphia, PA and the Boston University Tanglewood Institute. Weaver has presented lectures and classes at a variety of locations, including Northwestern University, Murray State University, Austin Peay State University, and The People's Music School in Chicago. Weaver's primary piano teachers include Anthony di Bonaventura, Victor Rosenbaum, and Pavel Nersessian. His primary composition teachers include David Loeb, Dr. John Wallace, and Dr. Martin Amlin.