István Várdai will make his Phillips solo debut with works by Ligeti, J.S. Bach, and Kodály.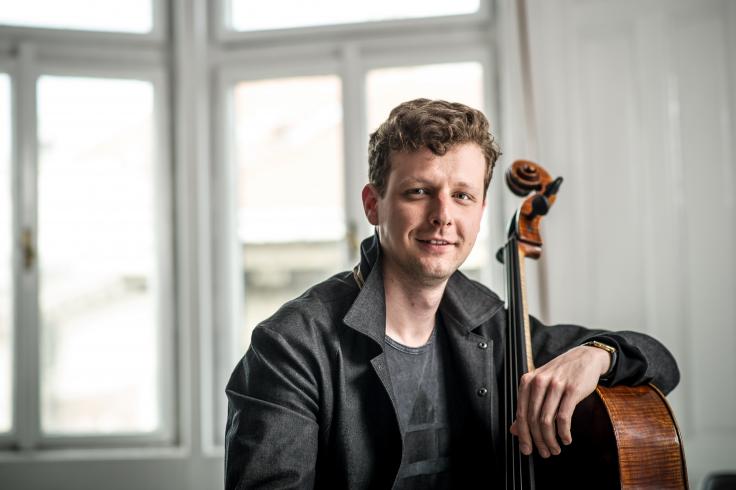 Program
A graduate of the Franz Liszt Academy in Budapest, István Várdai won the Geneva International Cello Competition in 2008 and has played all over the world. He plays on a remarkable cello, the 1673 Stradivari instrument formerly used by Jacqueline du Pré and Lynn Harrell. His recital includes three outstanding works for solo cello, with Bach's Suite No. 5 as the centerpiece. Ligeti's Sonata for Solo Cello was composed in 1948–53 and is one of his most significant early works, suppressed by the authorities at the time, but emerging in the 1980s as a major rediscovery. Kodály's Sonata for Solo Cello was written in 1915, and was quickly recognized as one of the greatest works for the instrument since Bach's time.
PROGRAM:
GYÖRGY LIGETI (1923-2006)
Sonata for Solo Cello
     Dialogo – Adagio, rubato, cantabile
     Capriccio – Presto con slancio
JOHANN SEBASTIAN BACH (1685-1750)
Suite for Solo Cello No. 5 in C minor, BWV 1011 (1720)
     Prelude
     Allemande
     Courante
     Sarabande
     Gavotte 1
     Gavotte 2
     Gigue
INTERMISSION
ZOLTÁN KODÁLY (1882-1967)
Sonata for Solo Cello, Op. 8 (1915)
     Allegro maestoso ma appassionato
     Adagio
     Allegro molto vivace
About the Artist
István Várdai, the 31 year old Hungarian cellist was honored with several prestigious international prizes: in 2008 he won the 63rd Geneva International Cello Competition, along with three special prizes: the Audience Prize, Pierre Fournier Prize, and Coup de Coeur Breguet Prize. He took the third prize of the Tchaikovsky Music Competition in Moscow in 2007. In 2006 he was awarded with the special prize of the Emanuel Feuermann Cello Competition at the Kronberg Academy and received first prize at the 13th International Brahms Competition in Austria. He was winner of the David Popper International Music Competition three times (2000, 2003, and 2004). In 2014 he won the prestigious ARD Competition in Munich.

Since his debut concert in 1997 in The Hague, he has performed in New York, London, Paris, Prague, Vienna, Frankfurt, Jerusalem, Munich, Berlin, Geneva, Dublin, Moscow, St. Petersburg, Florence, Tokyo, Kobe, Shanghai, and Beijing with great success. Várdai has collaborated with world-famous musicians including Mikhail Pletnov, Ádám Fischer, Zoltán Kocsis, Howard Griffiths, and Gilbert Varga, and has played with world-class orchestras such as the Petersburg Symphony Orchestra, Mariinsky Theatre Orchestra, Russian National Orchestra, Geneva Chamber Orchestra, Franz Liszt Chamber Orchestra, Irish Chamber Orchestra, Suisse Romande Orchestra, Bavarian Radio Symphony Orchestra, Manchester Camerata, and the American Symphony Orchestra. He has received invitations to the Santander Festival, Gergiev Festival, the Pablo Casals Festival, Festival of Radio France, Bellerive Festival, Schleswig-Holstein Music Festival, Verbier Festival, West Cork Chamber Music Festival, Schwetzingen Festival, and the Budapest Spring Festival. His chamber music partners include András Schiff, Yuri Bashmet, Gidon Kremer, Nelson Goerner, Yura Lee, Kristóf Baráti, Shai Wosner, Jean-Efflam Bavouzet, Alexander Sitkovetsky, Mischa Maisky, and Dénes Várjon, to mention a few.

Beginning in 2004 István studied in the Class of Special Talents at the Franz Liszt Academy in Budapest with László Mező, and in 2005 at the Music Academy of Vienna with Reinhard Latzko. Between 2010 and 2013 he continued his studies at the Kronberg Academy with Frans Helmerson and since 2013 he has been on staff of the Academy. In past years he has attended the masterclasses of Natalia Gutman, Natalia Shakhovskaya, András Schiff, and János Starker. 

In 2009 he was awarded the Junior Prima Prize as best young artist of the year. In 2012 he received the prestigious Prix Montblanc awarded to the world's most promising young musician. His first recording of Janáček, Prokofiev, and the Elgar cello concerto was released in October 2009 by Ysaye Records. In 2010 he recorded the cello concerto of Vanhal. On his recording released by the Hännsler label in 2013 he played works by Mendelssohn, Martinu, Paganini, Beethoven and Popper. His album with both versions of Tchaikovsky's Rococo Variations was released in 2014 by Brilliant Classcis. His most recent album, Singing Cello, with pianist Julien Quentin was released in late 2016.

He is, together with Kristóf Baráti, artistic director of the Kaposfest Chamber Music Festival in Hungary. István Várdai plays the legendary "Ex du Pré-Harrell" Stradivari built in 1673.