Jason Vieaux & Julien Labro
Guitar and Bandoneón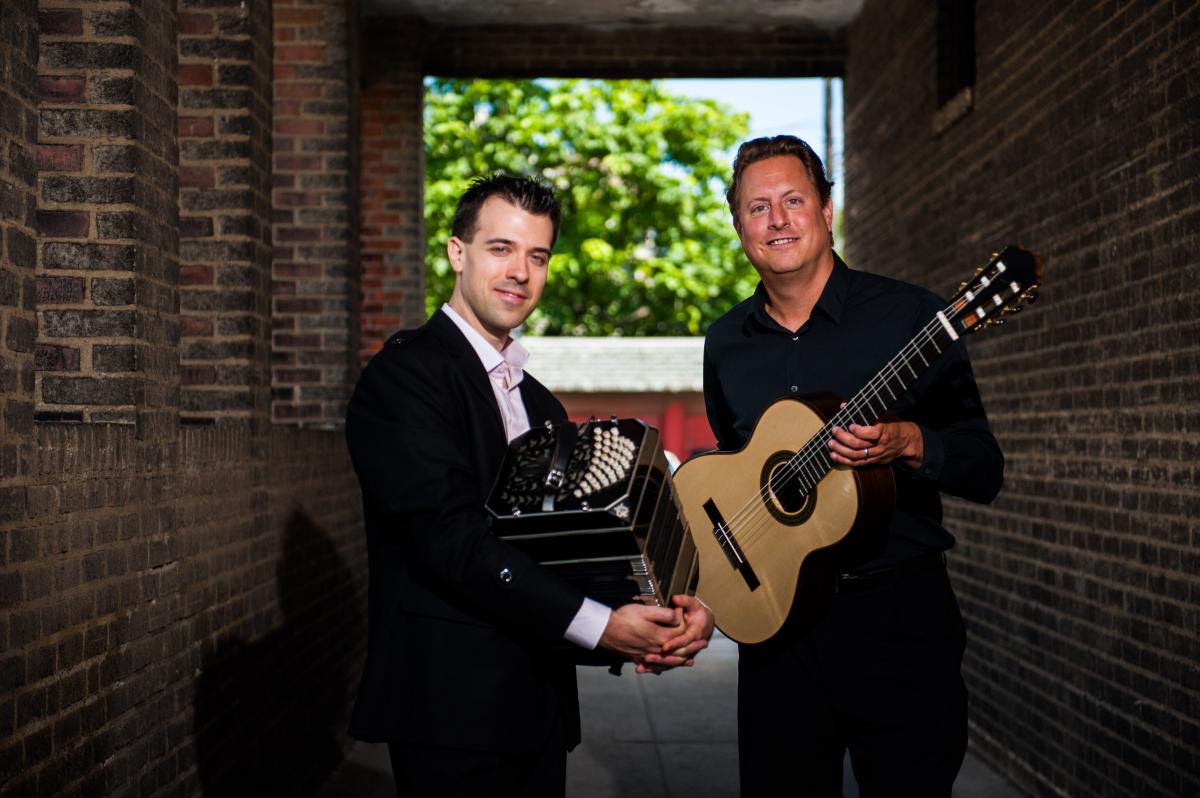 Jason Vieaux and Julien Labro will make their DC duo debut with works by Astor Piazzolla, Radamés Gnattali, Pat Metheny, and Rossen Balkanski.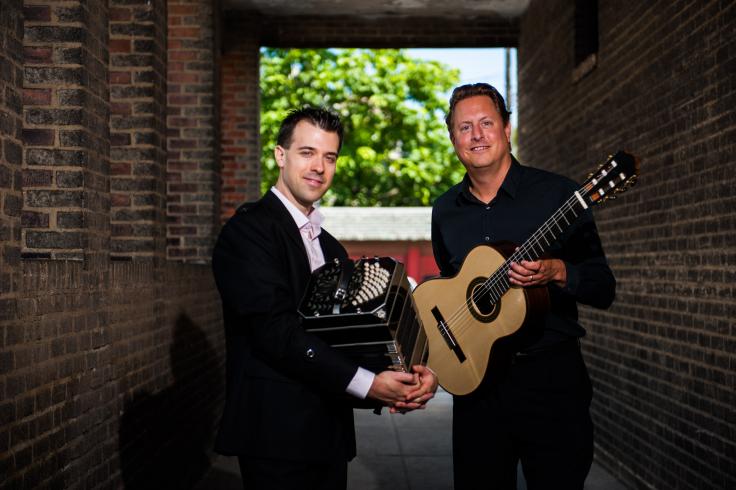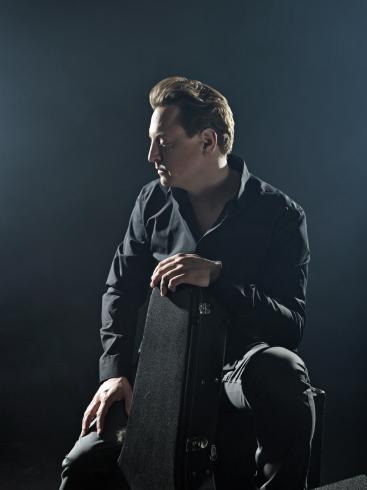 Program
The intoxicating rhythms and melodies of South America and Eastern Europe are brought to life by Grammy-winning guitarist Jason Vieaux and French-born bandoneón player Julien Labro. The music of Argentinian composer Astor Piazzolla brought Vieaux and Labro together for their collaboration on the album Piazzolla, released in 2011. This concert also features the work of Brazilian composer Radamés Gnattali, as well as a haunting work by American jazz musician Pat Metheny and a piece by Bulgarian composer and guitarist Rossen Balkanski.
PROGRAM:
ASTOR PIAZZOLLA (1921-1992)
Histoire du Tango
     Café 1930
     Bordel 1900
RADAMÉS GNATTALI (1906-1988)
Suite Retratos (arr. Labro)
     Pixinguinha (Choro)
     Ernesto Nazareth (Valse)
PAT METHENY (b. 1954)
Antonia  (arr. Vieaux)
ASTOR PIAZZOLLA (1921-1992)
Escualo  (arr. Labro/Vieaux)
INTERMISSION
ROSSEN BALKANSKI (b. 1968)
Prelude and Scherzo
RADAMÉS GNATTALI (1806-1988)
Suite Retratos (arr. Labro)
     Anacleto de Madeiros (Schottisch)
     Chiquinha Gonzaga (Corta Jaca)
---
Please note that this concert will be held at The Society of the Cincinnati at Anderson House, 2118 Massachusetts Ave., NW.
About the Artists
Grammy-winner Jason Vieaux, "perhaps the most precise and soulful classical guitarist of his generation" (NPR), is the guitarist that goes beyond the classical. His latest solo album, Play, won the 2015 Grammy for Best Classical Instrumental Solo.
Recital highlights include performances at Caramoor, Philadelphia Chamber Music Society, Amsterdam's Concertgebouw, Ravinia, 92Y, Bard Music, Strings Music Festival, and many others. He has performed as soloist with over 100 orchestras and his passion for new music has fostered premieres by Avner Dorman, Dan Visconti, Vivian Fung, José Luis Merlin, and more. Vieaux continues to bring important repertoire alive in the recording studio as well. Most recently, he recorded for Ginastera: One Hundred (Oberlin Music October 2016) and released Infusion (Azica October 2016) with bandoneónist Julien Labro.
In 2012, the Jason Vieaux School of Classical Guitar was launched with ArtistWorks Inc., an interface that provides one-on-one online study with Vieaux for guitar students around the world. In 2011, he co-founded the guitar department at The Curtis Institute of Music, and in 2015 was invited to inaugurate the guitar program at the Eastern Music Festival. Vieaux has taught at the Cleveland Institute of Music since 1997, heading the guitar department since 2001. He has received a Naumburg Foundation top prize, a Cleveland Institute of Music Alumni Achievement Award, GFA International Guitar Competition First Prize, and a Salon di Virtuosi Career Grant. Vieaux was the first classical musician to be featured on NPR's Tiny Desk series. He plays a 2013 Gernot Wagner guitar with Augustine strings. 
Heralded as "the next accordion star" by Howard Reich of the Chicago Tribune, Julien Labro has established himself as one of the foremost accordion and bandoneón players in both the classical and jazz genres. Deemed to be "a triple threat: brilliant technician, poetic melodist, and cunning arranger," his artistry, virtuosity, and creativity as a musician, composer, and arranger have earned him international acclaim and continue to astonish audiences worldwide.

French-born Labro was influenced early on by traditional folk music and the melodic, lyrical quality of the French chanson. Upon discovering the music of jazz legends, he quickly became inspired by the originality, freedom, creativity, and endless possibilities in their musical language. After graduating from the Marseille Conservatory of Music, Labro began winning international awards including the Coupe Mondiale, the Castelfidardo Competitions, and many others. In 1998, Labro moved to the US, where he further pursued his musical dream. Equipped with advanced degrees in classical music, jazz studies, and composition, Labro draws from his diverse academic background and eclectic musical influences as he searches for new themes and untried concepts, transforming and developing his creative ideas into new projects.
Labro has collaborated with numerous professional symphonies and chamber ensembles, often playing the dual roles of solo artist as well as composer/arranger. These include the conductorless Boston-based chamber orchestra, A Far Cry, Spektral Quartet, Ensemble Vivant of Toronto, and Curtis On Tour from the Curtis Institute of Music faculty of Philadelphia. He has been a guest artist with numerous symphonies and chamber ensembles such as the Detroit Symphony Orchestra, Orchestra of St Luke's, Arkansas Symphony, Grand Rapids Symphony, Cape Cod Symphony, Cleveland Pops Orchestra, Lebanese Philharmonic Orchestra, and the Qatar Philharmonic Orchestra.
Labro's musical journey has taken him all across North America, Europe, the Middle East, and South America. He has performed and collaborated with groups and artists such as Hot Club of Detroit, Brazilian pianist João Donato, Argentinean Grammy winning composer and pianist Fernando Otero, vocalist Cassandra Wilson, clarinetist Anat Cohen, Lebanese oud master Marcel Khalife, saxophonists Miguel Zenón, James Carter, and Jon Irabagon composers Du Yun and Avner Dorman, and guitarists Larry Coryell, Frank Vignola, Tommy Emmanuel, and John and Bucky Pizzarelli.
Labro will open the 2017 season with a two-week tour in Finland with guitarist Olli Soikkeli, presenting music from their new release Rise & Grind. In October, Labro will reconnect with Jason Vieaux to perform in several cities across the country. Other highlights of the 2017/2018 season include Labro's debut at the prestigious Gilmore Keyboard Festival, where he will be performing classical and jazz concerts with the Julien Labro Quartet, and a performance with the San Angelo Symphony. In his free time, Labro is working on composing a new bandoneon concerto that will be a sequel to his accordion concerto Apricity.