Tessa Lark & Roman Rabinovich
Violin and Piano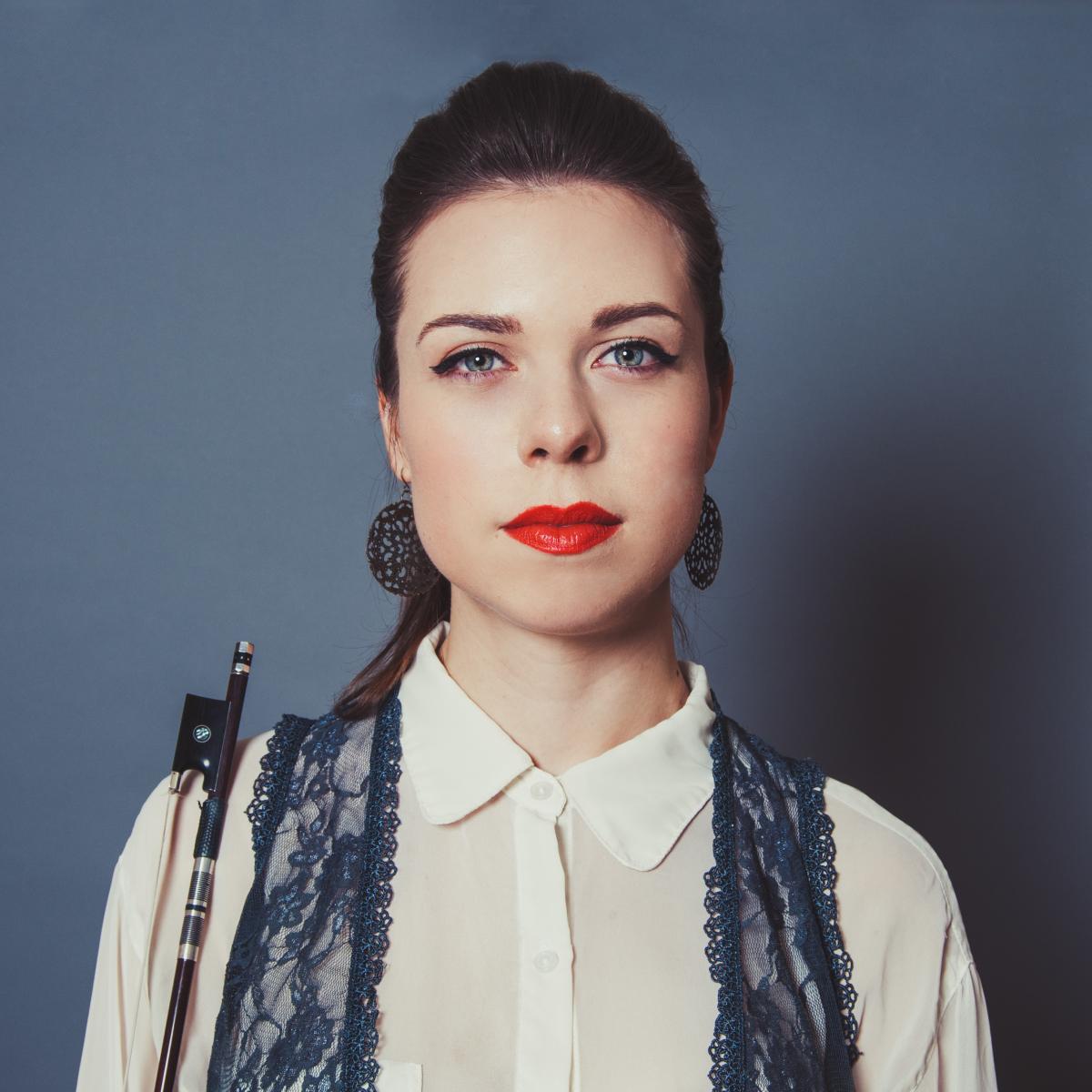 Tessa Lark and Roman Rabinovich will make their Phillips Music debut with works by Brahms and Bartok.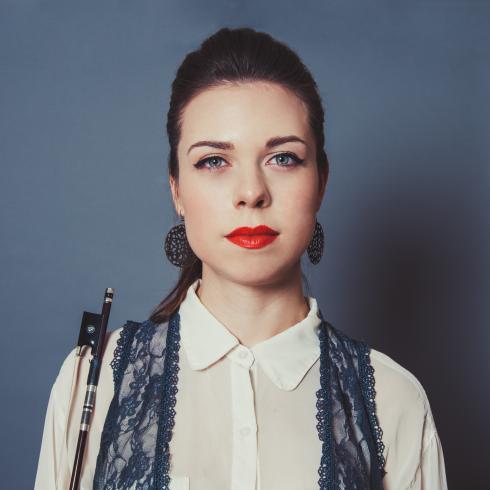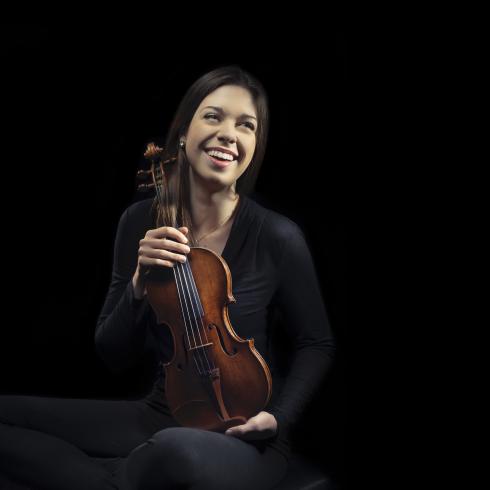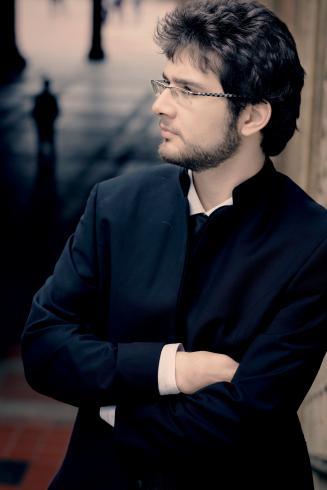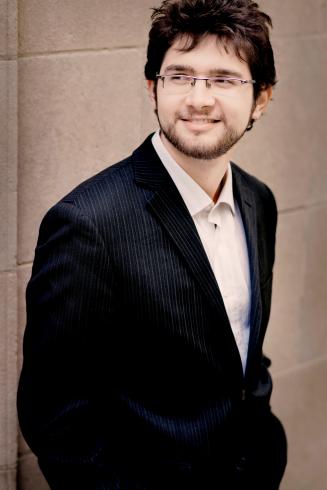 Program
Kentucky native Tessa Lark is an Avery Fisher Career Grant winner and recipient of a Leonore Annenberg Fellowship grant in 2014. An experienced soloist and chamber musician, she plays on the "ex-Gingold" Stradivarius violin made in 1683. Pianist Roman Rabinovich has enjoyed an international career since winning the Arthur Rubinstein International Piano Master Competition. These artists perform two very different masterpieces of the violin and piano repertoire: Brahms's idyllic G Major Violin Sonata and Bartók's intense, harmonically daring Violin Sonata No. 1.

PROGRAM:
JOHANNES BRAHMS (1833-1897)
Sonata for Violin and Piano No. 1 in G Major ("Regen"), Op. 78 (1879)
Vivace ma non troppo
Adagio
Allegro molto moderato

ROMAN RABINOVICH (b. 1985)
Two-dot Wings*

TESSA LARK (b. 1989)
Impermanessence*

INTERMISSION
BÉLA BARTÓK (1881-1945)
Sonata for Violin and Piano No. 1 in C-sharp minor, Sz. 75, BB 84 (1921)
Allegro appassionato
Adagio
Allegro
*World Premiere
---
Please note that this concert takes place at the Cosmos Club, 2121 Massachusetts Ave., NW.
Dress Code at the Cosmos Club:
Gentlemen are expected to wear jackets, dress slacks, a collared long-sleeved shirt (tucked-in) or turtleneck at all times.
Ladies are expected to dress in an equivalent fashion, which means dresses, suits, skirts or dress slacks with jackets or tops of equivalent formality. Leggings or tights, unless worn with skirts, dresses, or long jackets, are not considered to be of equivalent formality.
Military uniforms and national dress of equivalent formality are also acceptable.
Sweat suits or other athletic or sports attire, jeans or other denim garments, sneakers, flip-flops, athletic footwear and shorts are never acceptable in the public rooms.
About the Artists
Violinist Tessa Lark, recipient of a 2016 Avery Fisher Career Grant, Silver Medalist in the 9th Quadrennial International Violin Competition of Indianapolis, and winner of the 2012 Naumburg International Violin Competition, is one of the most captivating artistic voices of her generation. She has been consistently praised by critics and audiences alike for her astounding range of sounds, technical agility, and musical elegance.
Lark has appeared with orchestras throughout the US since making her concerto debut with the Cincinnati Symphony Orchestra at age sixteen. As part of Carnegie Hall's "Distinctive Debuts" series she performed in February 2017 at Carnegie's Weill Recital Hall, and she has appeared at such venues as the Isabella Stewart Gardner Museum in Boston, the Perlman Music Program, San Francisco Performances, Dame Myra Hess Memorial Concerts, Ravinia's Bennett-Gordon Classics series, the Troy Chromatics series, Chamber Music Tulsa, the Caramoor Wednesday Morning Concert series, Seattle Chamber Music Society, and the Marlboro, Yellow Barn, Olympic, and Music@Menlo festivals. Highlights of her 2016/2017 season include concerto engagements with the Alabama, Richardson, Valdosta, and South Florida symphonies; the Evansville and Lexington philharmonics; the Gettysburg and Mission chamber orchestras; and the Symphony of Westchester.
Keeping in touch with her Kentucky roots, Tessa enjoys playing bluegrass and Appalachian music. She collaborates frequently with Mark O'Connor and is included in his recording MOC4, released in June 2014.
Tessa started playing violin at age six, and in 2001 joined the Starling Strings Program at the University of Cincinnati College-Conservatory of Music, where she studied with Kurt Sassmannshaus. She entered the New England Conservatory in the fall of 2006 to begin studies with Miriam Fried, and completed her Master's degree in May 2012. Tessa is currently participating in The Juilliard School's prestigious Artist Diploma program under the guidance of Sylvia Rosenberg and Ida Kavafian. As part of her prize from winning the Indianapolis Competition, she plays the 1683 ex-Gingold Stradivari violin, on loan to her for four years. 
The eloquent young pianist Roman Rabinovich, a top prizewinner at the 12th Arthur Rubinstein International Piano Master Competition in 2008 has been highly lauded by The New York Times, the BBC Music Magazine, the San Francisco Classical Voice and others. He has performed throughout Europe and the US in venues such as Leipzig's Gewandhaus, Wigmore Hall in London, Carnegie Hall and Lincoln Centre in New York, the Great Hall of Moscow Conservatory, the Cité de la Musique in Paris, and the Millennium Stage of Kennedy Center in Washington, DC. Rabinovich has participated in such festivals as Marlboro, Lucerne, Davos, Prague Spring, Klavier-Festival Ruhr, and Mecklenburg-Vorpommern.
Recent concerto performances include Rachmaninoff's Concerto No. 3 with the KBS Orchestra of South Korea under Yoel Levi and Bartók's Concerto No. 2 with the Dohnányi Orchestra Budafok, while recitals in 2016 included appearances at the Vancouver Recital Society, Chopin Society in St. Paul, Lincoln Center's Alice Tully Hall and Chamber Music San Francisco. In early 2017 Rabinovich made his debut at the Gilmore Keyboard Festival and the Calgary Philharmonic.  
In 2015, distinguished pianist András Schiff chose Rabinovich for his "Building Bridges" series created to highlight young pianists of unusual promise. Under this aegis Roman Rabinovich's New York recital at SubCulture received high praise from senior music critic Anthony Tommasini of The New York Times. An avid chamber musician, he is regular guest at ChamberFest Cleveland, and partners regularly with violinist Liza Ferschtman, having recently performed the complete Beethoven and Brahms sonatas for violin and piano. As artist in Residence at the Lammermuir Festival in Scotland in September 2016, Rabinovich presented a "Haydn Marathon" performing 25 Haydn sonatas in five days. A gifted visual artist, he often illustrates his programs with his own artwork.
Rabinovich made his Israel Philharmonic debut under the baton of Zubin Mehta at age 10 and appeared again as soloist with the same forces in 1999 and 2003. He has been heard as soloist with all the Israeli orchestras, the Polish Radio Orchestra, Orchestre de Chambre de Paris, Prague Symphony, Dohnányi Orchestra and many others.
Born in Tashkent, Rabinovich immigrated to Israel with his family in 1994. He graduated from the Curtis Institute of Music as a student of Seymour Lipkin and obtained his Master's Degree at the Juilliard School where he studied with Robert McDonald.
Notes
Johannes Brahms, Sonata for Violin and Piano No. 1 in G Major (Regen), Op. 78 (1878-79)
The image of Johannes Brahms as a "late bloomer" derives from the composer's cautious reserve, which led to the suppression of much of the evidence of his youthful creative efforts. He famously took decades before completing his First Symphony and continued to revise its score even after its premiere in 1876. So it should be no surprise that not until 1879 (when he was 46) did Brahms officially introduce the first of his three Sonatas for Piano and Violin. He destroyed his numerous previous attempts (as he did with many other instances of his "juvenalia").
The G Major Sonata incorporates allusions to a pair of Lieder from Brahms's Op. 59 set from 1873—Regenlied ("Rain Song") and Nachklang ("Lingering Echo"), to poems by his good friend Klaus Groth—which in turn thematize a Proustian experience of childhood memory triggered by the sound of pouring rain (hence the Sonata's nickname, Regen-Sonate).
The Op. 78 Sonata is a product of the summers of 1878 and 1879 at the composer's idyllic getaway on the Wörthersee in southern Austria—where Brahms had recently composed his Violin Concerto and Second Symphony. This music is remarkable for its unique blend of melancholy and lyricism. Referring to the Regenlied melody that supplies the main theme of the third movement rondo, Clara Schumann (by now a woman entering her 70s) wrote to Brahms: "You can imagine my rapture when in the third [movement] I once more found my passionately loved melody … I say 'my' because I do not feel anyone feels the rapture and sadness of it as I do…"
This gesture of embedding a previous song melody within a purely instrumental work—and by implication, perhaps a secret "subtext"—is of course an old practice, but one that took on new life for the Romantics from the examples of Schubert and, most significantly for Brahms, of Robert Schumann himself, whose works contain many such instances alluding to his love for Clara.
Brahms carries the practice further in Op. 78 by integrating elements of the song into the content of the entire piece. Following the tolling piano chords of the opening, the violin plays a long-short-longer rhythm that serves as a motto for the Sonata: this is the same rhythm that introduces the Regenlied melody, and it permeates the score like the rain of the poem. Also notable is Brahms's attention to the interchange between the piano's sonority and the gentle flow of the violin's song; at the moment of recapitulation, he reverses roles, giving the violin pizzicato notes in lieu of the piano's tolling chords, to enchanting effect. The biographer Jan Swafford points out that while the harmonic language here is "conventional and unambiguous," Brahms is astonishingly innovative with regard to "rhythmic freedom," continually recalibrating the metrical flow into subtly altered relations of twos against threes and vice versa.
The Adagio, in E-flat Major, offers another instance of lyrical warmth tinged with hints of grief—the motto rhythm even suggests a funeral march in one episode—and is recalled at pivotal moments in the final movement, which turns to G minor. Only in the coda is the home key of G Major attained again and, as Lawrence Wallach observes, "The motto is passed back and forth between the instruments in overlapping statements, as if they were calling their farewells to each other across an increasing distance."
Roman Rabinovich, Two-dot Wings (2017)
I wrote "Two-dot wings" for violinist, Tessa Lark to be premiered at this concert. The piece is comprised of three contrasting sections that are played without a break.
The title refers to the life of a butterfly. Meditative and sparse, the first episode symbolizes the first stage in a butterfly's life, the egg. It starts with a bell-like call, continued by an expressive melody hovering over a strumming figure in the piano. After a canonic back-and-forth between the violin and piano, the initial bell concludes the first section and morphs into the next section. Depicting the caterpillar stage, the short violin cadenza introduces fragments of new motives and propels the music forward into the energetic and whimsical final episode. The metamorphosis is represented by dance-like music with syncopated rhythms that lead into a climactic riff. After an abrupt stop the initial tune returns, like a memory, before regaining momentum. The final insistent chords suggest the pumping of blood into the wings in order to get them flapping: the butterfly is finally ready to rise up and fly away. 
-Roman Rabinovich, 2017
Tessa Lark, Impermanessence (2017)
As I was recently coping with life traumas, including the death of a friend much too young, I became intrigued by the human process of grieving and change as brought about by these crises. Impermanessence explores a portion of the stages of change–denial, acceptance, and the initial engagement with a new way of life–both structurally and emotionally. The act itself of composing Impermanessence served as a profound catharsis while I was in the midst of traversing these phases.
-Tessa Lark, 2017
Béla Bartók, Sonata for Violin and Piano No. 1 in C-sharp minor, Sz. 75, BB 84 (1921)
Béla Bartók wrote both of his violin sonatas for fellow Hungarian Jelly d' Arányi (grand-niece of Brahms's great friend Joseph Joachim). The ambitious, large-scaled First Violin Sonata of 1921 has acquired a reputation as one of his thorniest compositions, a work that makes unusual demands on listeners and performers alike. It emerged during a period of political, social, and aesthetic crisis, but the act of writing it seems to have jolted Bartók (who had just turned 40) out of a temporary creative rut. This music represents the composer in his most extreme Modernist phase, aglow with something of the Expressionist ferocity of the recently drafted The Miraculous Mandarin.
Although the spirit of open-minded innovation in this score betrays a wide palette of influences—including Debussy, Stravinsky's Russian ballets, and Schoenberg's advances in serial atonality—Bartók arrives at solutions distinctly his own. The folk elements typically associated with the composer arrive in their most overt form only in the final movement, but they are present more subliminally at various moments throughout (as in the piano's jagged, angular rhythms in the first movement). Meanwhile, for all its chromatic saturation, the First Sonata's treatment of tonality is so difficult to classify that musicologists argue about the extent to which it really is atonal. Paul Wilson, for example, describes Bartók's process here and in the Second Sonata as "the extension of an essentially non-tonal idiom to large instrumental works."
Further adding to the complex layering of signals in this Sonata is the composer's choice of the Classical format of three movements, despite the lack of a conventional tonic. And, quite unlike in a Classical sonata (or a Romantic one, for that matter), Bartók conceives the violin and piano as essentially inhabiting separate worlds. The opening bars vividly emblematize this situation, tonally and texturally: against a stream of heavily pedaled arpeggios from the keyboard, the violin enters on a sustained C natural decorated with an E-flat (the only two pitches not included in the piano's figurations). Huge intervallic leaps on the violin are later juxtaposed against hints of a waltz rhythm. Bartók characteristically varies each reprise of previously stated ideas, continually generating fresh contexts for them.
The Adagio opens with the violin set apart in a haunting monologue, its line tangentially referencing the opening of a piece that held great importance for Bartók: Beethoven's String Quartet in C-sharp minor, Op. 131 (which the Hungarian enigmatically declared was the "key" of his First Sonata). A more animated central section is initiated by insistent notes deep on the piano, while the reprise of the first section again underscores the composer's genius for variation.
Shifting tempi propel the rondo-style finale, in which vestiges of conventional tonality as well as cooperation between the two instruments occasionally resurface. Near the very end of his life, Bartók would write his Solo Violin Sonata for Yehudi Menuhin, which was prompted by Menuhin's private audition of the First Sonata (with pianist Adolph Baller). After playing the first movement, recalled Menuhin, Bartók stood up to say, "I did not think music could be played like that until long after the composer was dead."
—Thomas May, 2017