Seth Parker Woods
Solo Cello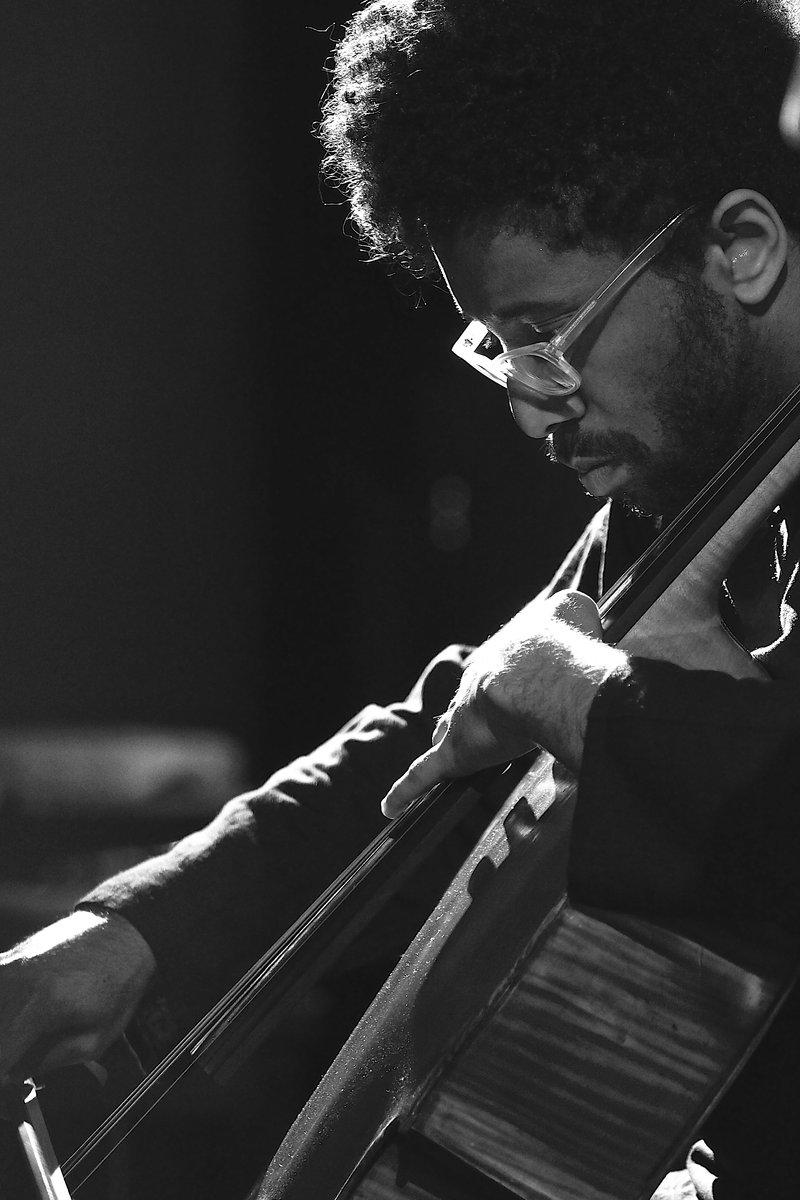 Cellist Seth Parker Woods will make his DC debut with J.S. Bach's first cello suite and three DC premieres of works by Jürg Frey, Claudio Gabriele, and Monty Adkins.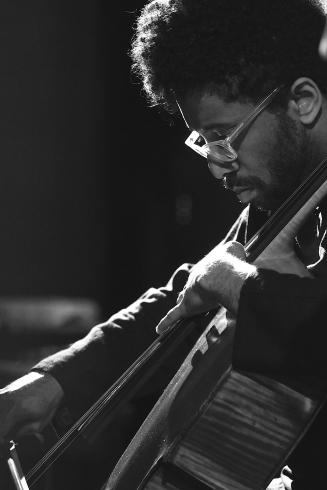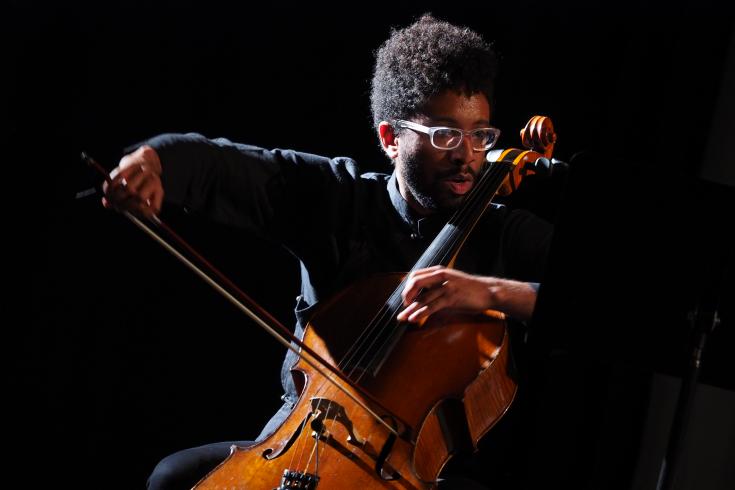 Program
Following the completion of his doctorate at the University of Huddersfield in England, cellist Seth Parker Woods returned to the US and is now based in Chicago. An innovative musician with interests in dance and movement, he is currently Artist in Residence at Dartmouth College for the 2017/2018 academic year. His program ranges from Bach's Suite No. 1 in G Major, BWV 10007 to a major contemporary work for solo cello: Khse Buon (1980) by Chinary Ung, born in Cambodia in 1942 and based in the US since 1964, and winner of the 1988 Grawemayer Award for musical composition.
PROGRAM:
JOHANN SEBASTIAN BACH (1685-1750)
Cello Suite No. 1 in G Major, BWV 1007 (1720)
     Prélude
     Allemande
     Courante
     Sarabande
     Menuett I - Menuett II
     Gigue
INTERMISSION

CHINARY UNG (b. 1942)
Khse Buon (1980)
JURG FREY (b. 1954)
Im Bereich des Möglichen (1997)
     a DC premiere
CLAUDIO GABRIELE (b. 1974)
PNOM for solo cello (2005)
     a DC premiere
CONRAD BECK (1901-89)
Drei Epigramme für solo cello  (1976)
     Moderato
     Tranquillo
MONTY ADKINS (b. 1972)
Winter Tendrils for cello and tape (2015)
     a DC premiere
---
Please note that this concert takes place at the Cosmos Club, 2121 Massachusetts Ave., NW.
About the Artist
Critiqued as "a cellist of power and grace" (The Guardian) and possessing "mature artistry and willingness to go to the brink," Seth Parker Woods has established a reputation as a versatile artist straddling several genres. Outside of solo performances, he has performed with the Ictus Ensemble, Ensemble L'Arsenale, zone Experimental, Basel Sinfonietta, New York City Ballet, Ensemble LPR, and Orchestra of St. Luke's. A fierce advocate for contemporary arts, he has collaborated and worked with a wide range of artists ranging from the likes of Louis Andriessen, Elliott Carter, Heinz Holliger, G.F. Haas, Helmut Lachenmann, Klaus Lang, Steve Mackey and Peter Eotvos to Peter Gabriel, Sting, Lou Reed, Dame Shirley Bassey, Rachael Yamagata, as well as visual artists Aldo Tambellini, Jack Early, and Adam Pendleton.
Holding a Ph.D. from the University of Huddersfield, his principal teachers were Thomas Demenga, Lucas Fels, Frederik Zlotkin, and Daniel Morganstern. In recent years he has appeared in concert at the Royal Albert Hall— BBC Proms, Snape Maltings Festival, The Ghent Festival, Musée d'art Moderne et Contemporain, Le Poisson Rouge and the Bohemian National Hall, Cafe OTO, Huddersfield Contemporary Music Festival, Klang Festival- Durham, INTER/ actions Symposium, ICMC-SMS Conference (Athens), New Interfaces for Musical Expression (London), Sound and Body Festival, Instalakcje Festival, Virginia Tech, La Salle College (Singapore), and FINDARS (Malaysia) amongst others. Recent awards include a Department of Cultural Affairs and Special Events grant from the city of Chicago, Earle Brown/ Morton Feldman Foundation Grant, McGill University - Center for Interdisciplinary Research in Music Media and Technology/Input Devices and Music Interaction Laboratory Visiting Researcher Residency, Centre Intermondes Artist Residency, Francis Chagrin Award, Concours [Re]connaissance- Premiere Prix, and the Paul Sacher Stiftung Research Scholarship.
His debut solo album, asinglewordisnotenough (Confront Recordings-London) has garnered great acclaim since its release in November 2016, and has been profiled in The Guardian, 5against4, I Care If You Listen, Musical America, and Strings Magazine amongst others. 
Notes
Johann Sebastian Bach, Cello Suite No. 1 in G Major, BWV 1007
For his Phillips Music debut, Seth Parker Woods has created a program juxtaposing one of the most-loved repertoire classics with composers who are likely to be discoveries for many listeners (including three area premieres). The variety here attests to the extraordinary versatility of the young American cellist (born in 1984 in Houston), who was named New Artist of the Month for October by Musical America. At the same time, Parker Woods chose contemporary works that suggest a resonance in one way or another with the sonic illusion Johann Sebastian Bach evokes in his Cello Suite No. 1 in G Major. For all his activities as a new-music champion, he says, Bach has remained a constant for him over the years. 
A connecting thread here is the manipulation of polyphony, of "multiple voices—strands and tendrils—that take you on a journey." Since the advocacy of Pablo Casals in the early 20th century, Bach's Six Suites have been revered as the peaks of the literature for unaccompanied cello—a far cry from the solo calisthenics they were long misunderstood to represent. In Bach's time, the cello was generally assigned a purely accompanimental role as part of the basso continuo spine providing the harmonic foundation.
Likely composed before 1720, when the parallel works for solo violin were completed (the Sonatas and Partitas), the Cello Suites are generally believed to date from Bach's years in Cöthen, when his patron's interests left him much greater leeway to concentrate on secular instrumental composition. Following an initial prelude, all six of the Suites are cast as a sequence of movements based on well-known dance types of the era.
The First Suite's opening prelude is similar to the kind of flowing, harmonically rich fantasy encountered so abundantly in the Well-Tempered Clavier (whose preludes are yoked to strictly disciplined counterparts in the form of fugues). This Prélude sets the entire G Major Suite in motion: the German-flavored Allemande, the energetic Courante, the dignified, triple-meter Sarabande (this dance becomes the center of emotional gravity in several of the later Suites), a pair of Major and minor Menuetts, and the animated concluding Gigue in a toe-tapping 6/8 meter.
Chinary Ung, Khse Buon
Chinary Ung (born in 1942) came to the US from his native Cambodia in 1964 and has long been based at the University of California, San Diego. He was the first American citizen to win the prestigious Grawemeyer Award in composition (1988). Khse Buon—which means "four strings" in Khmer—dates from 1980, in the midst of an immensely difficult period for the composer, who lost much of his family in the holocaust perpetrated by the Khmer Rouge. During this period, Ung became involved with aiding refugees from Cambodia and immersed himself in the folk music of the homeland from which he was cut off.
Khse Buon was written for Marc Johnson, the late cellist of the Vermeer Quartet; a transcribed version also exists for solo viola. The piece reflects Ung's concentration on Asian music at the time, re-imaging the Western cello as a fictive instrument from the East. (In Cambodia, there exists a single-string lute known as the khse diev.) Along with specific Cambodian impulses, the composer drew on his studies of Indian and Japanese musical traditions. Ung's subsequent work as a composer has tended to approach music as a vehicle—for understanding and healing—rather than as an end in itself, which makes his aesthetic in one sense not far off from that of Bach.
While Ung does not refer to Bach as an inspiration and in fact moves away from the Western tuning and understanding of the cello, notes Parker Woods, the many voices of the piece "remind me of the moving polyphonic voices of Bach." Moreover, in comparison with the Cello Suites, Ung's work "shows the amazing breadth of what the cello can mean, how far this single instrument has gone in the imaginations of composers since its beginnings."
Jürg Frey, Im Bereich des Möglichen
Parker Woods spent an important part of his training in Europe, including a formative period in Switzerland. This is represented by the selection composed by Jürg Frey (born in 1953 in Aarau, Northern Switzerland), with whom the cellist worked closely for several years; currently Frey is writing a new work for him that Parker Woods will premiere in spring 2018.
Im Bereich des Möglichen ("In the Realm of Possibility") dates from 1997. Along with flute-like sonorities, unusual harmonics, and overtones generated by a special technique, it calls for the cellist to sing a high E in falsetto while playing chords. "The lines start to become blurred and you wonder: is this the cellist performing and singing?" Parker Woods explains, comparing the illusionary magic to what happens in Bach's Suites. "You hear chordal pitches, and then a third pitch emerges and disappears into the texture. The idea of blurring lines is characteristic of Jürg Frey."
The delicacy—gentle and pianissimo throughout—plus the slow pacing of the piece, which is punctuated by long silences, involves a subtle kind of virtuosity quite different from the showy, nimble-fingered kind—on the part of the audience as well, who must listen with mindfulness.
Claudio Gabriele, PNOM for Solo Cello
The Italian composer, pianist, and conductor Claudio Gabriele (born in 1974 in Rome) studied with such mentors as George Benjamin and Toshio Hosokawa at IRCAM (a French institute of science, music, and sound). He has become known for his chamber music, compositions for saxophone, and electroacoustic and interdisciplinary works. Parker Woods recalls meeting him nearly a decade ago in Boston, where he played one of his quartets.
PNOM is an early piece for solo cello that Gabriele wrote in 2005. The score includes a brief epigraph from 1928 titled, Grido ("Cry") by the Italian Futurist and Modernist Giuseppe Ungaretti. In translation, it reads: "Night having fallen/I rested on the tedious grass/And indulged/In that infinite longing,/The dark and winged cry/That light, when it dies, prolongs."
An intensely gestural composition marked by extreme contrasts, PNOM has four sections that are seamlessly linked. Parker Woods explains that "over time, the material breaks down or is reformed in different ways, with variations in ideas and pitch classes over time." He compares Gabriele's method to Bach's presentation of material in the Prélude of the First Suite" Just as you hear in the Prélude an introduction to the whole Suite, there is specific gestural material at the beginning that continuously shows ups throughout PNOM."
Conrad Beck, Drei Epigramme für solo cello 
The Swiss composer Conrad Beck (1901-89)—the only figure on the program's second half who is not still living—came of age in Paris when Les Six where shaping stylistic trends and was based at Radio Basel for decades. Beck had an important champion in Paul Sacher, a conductor and passionate advocate of new music who, thanks to his family's wealth, served as a patron for some of the greatest composers of the 20th century (including Bartók, Stravinsky, Richard Strauss, and Pierre Boulez). Sacher's largesse in turn inspired composers to pay tribute when the Swiss benefactor reached his milestone birthdays: as in 1976, the year he turned 70.
For this occasion, the cellist Mstislav Rostropovich commissioned 12 composer friends (among them Benjamin Britten, Boulez, and Conrad Beck) each to write a cello piece in Sacher's honor. The unifying idea was to base the pieces on a musical cryptogram, such that they would incorporate a spelling of the name "Sacher" using musical notes (following European conventions for note names): E-flat [S], A, C, B [H], E, D ["re" for R].
Parker Woods has chosen the first two of Beck's Three Epigrams for solo cello. The first one, Moderato, is somber in character and serves as a prelude or introduction to what one will hear throughout as the tone row is manipulated. Parker Woods describes it as "introspective yet still forward moving" and remarks on a parallel with Bach's Cello Suites in Beck's allusion to dance paradigms, with a kind of Sarabande for the final epigram. In contrast to the expansive first one, the second Tranquillo moves the fastest and features chordal writing, with the exception of the singing line at the beginning. "For me," explains the cellist, "these internalized, subjective elements are especially interesting when juxtaposed with Bach's Suites."
Monty Adkins, Winter Tendrils for cello and tape
To conclude his recital, Parker Woods performs the local premiere of Winter Tendrils by the British composer Monty Adkins, who is known his explorations of electroacoustic music and dance. The solo cello's polyphonic capabilities, which Bach exploited three centuries ago, are here amplified by the presence of a pre-recorded tape. The result is a composition comprising "twelve tendrils—voices running simultaneously, in a very visceral way." Speakers channel the sound world of this piece so that it whirls around the audience to create an immersive experience.
For Parker Woods, Winter Tendrils is a highly personal composition, an expressive, even Romantic, work that "encapsulates the process of one idea that evolves over ten minutes" and is comparable to "the kind of expansion you find in the Bach Suites between the Prélude and the last movements." The sonic spectrum of the piece ranges from sparseness to filling out, with all 12 voices intermingling at the same time, after which it fades back into simplicity at the end.
What is the association with winter? Parker Woods observes that Adkins was fond of taking walks in West Yorkshire, where the cellist spent several years completing his PhD thesis (at the University of Huddersfield) on a topic combining his scholarly and performance work: Almost Human: The Study of Physical Processes and the Performance of a Prosthetic Spine, which investigated the kinesthetics of musicians and dancers.
"In winter, there would be layers of rotting and decaying leaves that filled the ground, with snow either freshly laid or old and trodden over. Monty was inspired by this image of different perspectives of the same idea layered on top of each other, each placement of the foot shifting the terrain slightly."
Thomas May, 2017