Ensemble 4.1
Piano, Oboe, Clarinet, Bassoon, and Horn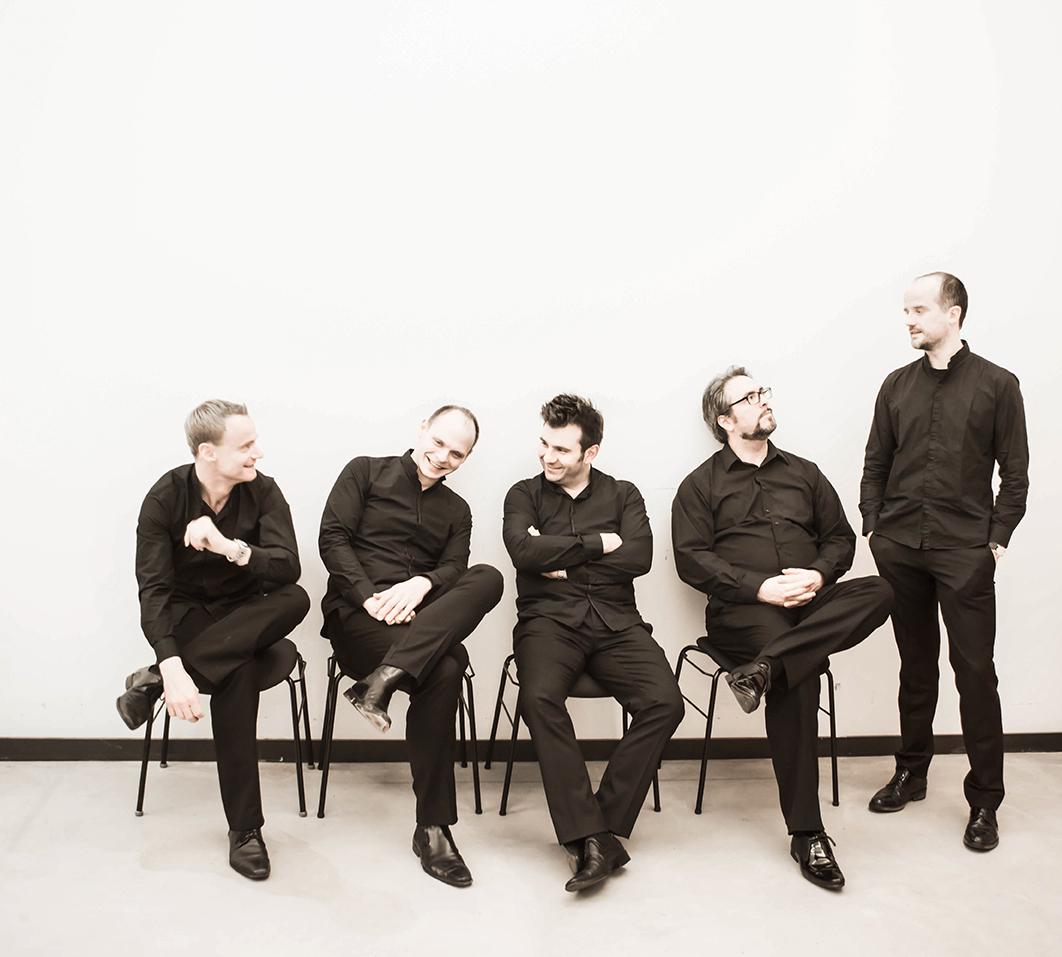 Ensemble 4.1 will make its DC debut with works by Francis Poulenc and Walter Gieseking.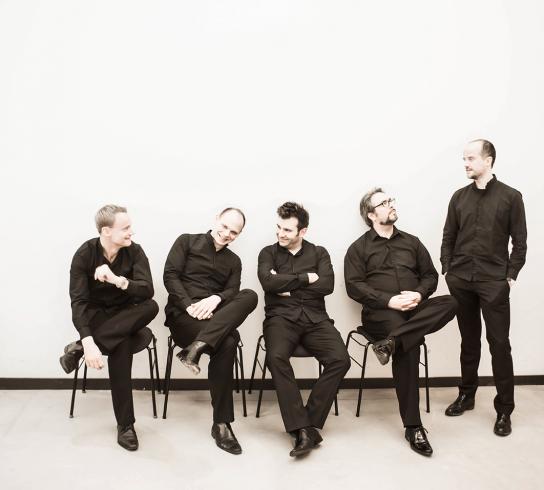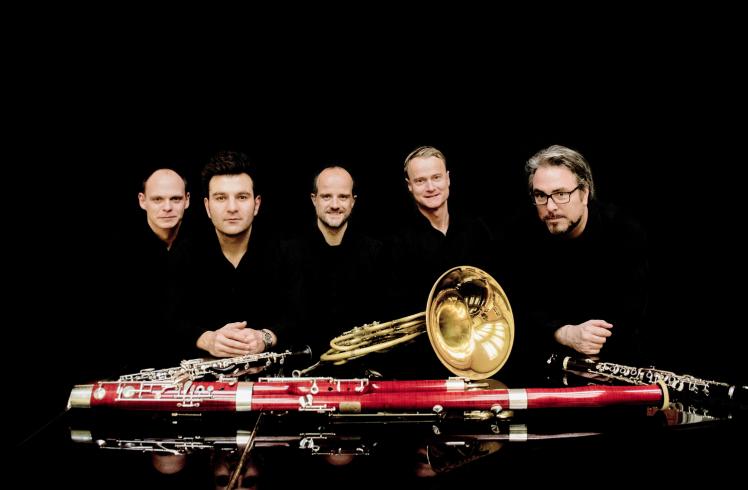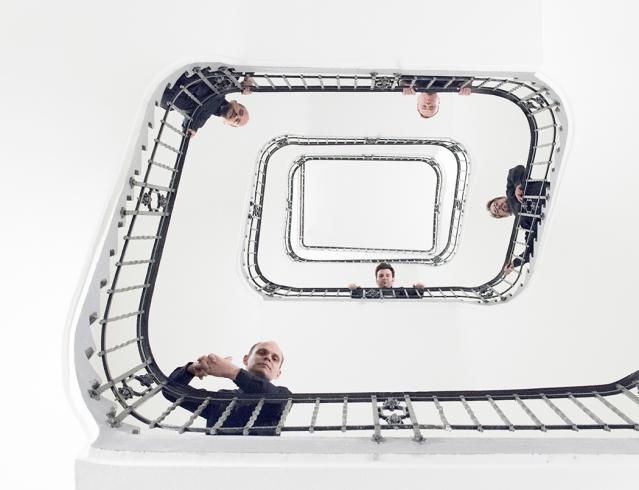 Program
Ensemble 4.1 was founded in Germany in 2013 by four leading orchestral wind players and pianist Thomas Hoppe to perform quintets for piano and wind instruments alongside pieces for smaller combinations. The first half of this concert is devoted to chamber works by Francis Poulenc, whose music for wind instruments is some of the most delightful of the 20th century. From the ebullient Trio written in 1926 to two works from the 1950s: Elégie for horn and piano written in memory of the great horn player Dennis Brain, and the Clarinet Sonata, commissioned by Benny Goodman. The final work on the program is a rarity: the 1919 Quintet for Piano and Wind by the great pianist Walter Gieseking.
PROGRAM :
FRANCIS POULENC (1899-1963)
Sonata for Clarinet and Piano, FP 184 
     Allegro tristamente
     Romanza
     Allegro con fuoco
FRANCIS POULENC (1899-1963)
Élégie for Horn and Piano, FP 168 
FRANCIS POULENC (1899-1963)
Trio for Oboe, Bassoon, and Piano, FP 43 
     Lent – Presto
     Andante con moto
     Rondo. Trés vif
INTERMISSION
WALTER GIESEKING (1895-1956)
Quintet for Piano and Winds in B-flat Major 
     Allegro moderato
     Andante
     Vivace molto scherzando
---
Please note that this concert takes place at the Cosmos Club, 2121 Massachusetts Ave., NW.
About the Artists
Four wind soloists from top German Orchestras and one unmistakable pianist, Thomas Hoppe, devote themselves to this still undiscovered wonderful musical genre. The communicative powers through its music and the intoxicating atmosphere the ensemble creates on stage has repeatedly been praised by critics and has become a hallmark of Ensemble 4.1. In addition to the original masterworks for this instrumentation by Wolfgang Amadeus Mozart and Ludwig van Beethoven, the ensemble is devoted to discovering rarely played compositions from the Romantic and Modern periods. After many years of silence, composers like Walther Gieseking, Theodor Verhey, Herrmann Zilcher, and Arne Oldberg are again being performed for an enthusiastic public.
The beginnings of the group were overseen and fostered by the renowned Goethe Institute, who assisted with the initial concerts and worldwide tours. Since its inception in 2013, Ensemble 4.1 has already crisscrossed the globe and performed recitals in China, Pakistan, Austria, Germany, Algeria, Canada, and the US, in cities such as Berlin, Istanbul, New York City, Toronto, Ottawa, Karachi, Shanghai and Chengdu. They have appeared with great success at festivals in Denmark and in Malta, as well as at the Kotor Festival in Montenegro.
Notes
Francis Poulenc, Sonata for Clarinet and Piano, FP 184
Poulenc's last two sonatas, for clarinet and oboe, were both finished in 1962 and they are dedicated to the memory of composers who were friends: the Clarinet Sonata to Arthur Honegger, and the Oboe Sonata to Sergei Prokofiev. Alas, the first performances of both works turned out to be commemorations of Poulenc himself, as he died suddenly on January 30, 1963. The Clarinet Sonata was commissioned by Benny Goodman, and it was completed in early Autumn 1962. Goodman gave the first performance at New York's Carnegie Hall on April 10, 1963, with Leonard Bernstein at the piano. The work is often tinged with melancholy–the first movement is marked Allegro tristamente while the central Romanza has the feeling of a gentle lament. The finale, by contrast, is high-spirited and exciting. For an interview in Saturday Review in 1950, Poulenc was asked to described the essence of French music and his description matches a work like the Clarinet Sonata particularly well: "Sombreness and good humor are not mutually exclusive. French composers, too, write profound music, but when they do, it is leavened with the lightness of spirit without which life would be unendurable."
Francis Poulenc, Élégie for Horn and Piano, FP 168
Poulenc composed his Élégie for Horn and Piano as a memorial to the horn player Dennis Brain who was killed in a car crash on September 1, 1957, while Poulenc was on a visit to Britain. The first public performance was a BBC broadcast by the horn player Neill Sanders with Poulenc himself at the piano, on September 1, 1958, the anniversary of Brain's death. Sanders later recalled Poulenc's playing of the piano part: "In the duplets you realize what he is doing is getting Dennis's heartbeat going through it. He does it very well … You suddenly feel the pulse of a body in it." As for playing the solo horn part, it was something Sanders found emotionally taxing–understandably: "It was a pretty grim thing for me to do because Dennis's death didn't seem long ago." From a musical point of view, the Élégie opens with a 12-note row, boldy announced by the unaccompanied horn, which is then brutally cut off by Stravinsky-like piano chords over which the horn introduces the agitated main theme. This powerful work is characteristic of the serious style of Poulenc's later music and a heartfelt tribute to a great artist.
Francis Poulenc, Trio for Oboe, Bassoon, and Piano, FP 43
Poulenc was always drawn to wind instruments. Apart from single sonatas for violin and cello, the bulk of his chamber works are for wind. Poulenc wrote his Trio for Oboe, Bassoon and Piano in 1926, with advice from one friend, Igor Stravinsky, and dedicated to another, Manuel de Falla. While it is certainly not the most daring of his works from the 1920s, it is the chamber piece that most completely demonstrates the range of Poulenc's musical language at the time–from the astringent harmonies of the opening bars (a deliberate recollection of the French Overture style, lightly spiced à la Stravinsky), to the song-like elegance and lyrical restraint of the slow movement, and the high spirits of the finale. Poulenc spent several years worrying over the Trio (his earliest plans go back to 1921), and in November 1924 he gave a description of it to his friend Paul Collaer: "I've worked on it a lot. It's in a style new to me yet at the same time it's very Poulenc." This neatly summarizes the work's significance in Poulenc's output, as one of the first pieces to reveal the stylistic characteristics that later earned him the description of being both "monk and vagabond": seriousness, tenderness and raw good humor are to be found side by side here. Poulenc gave the first performance of the Trio at the Salle des Agriculteurs in Paris on May 2, 1926, with Roger Lamorlette (oboe) and Gustave Dhérin (bassoon). In 1928 the same artists made the work's first recording for French Columbia–one of Poulenc's earliest records.
Walter Gieseking, Quintet for Piano and Winds in B-flat Major
Walter Gieseking was one of the great pianists of the twentieth century with a career that spanned more than 40 years. Born in Lyon and brought up in the South of France before studying in Germany. While still a student he was already pioneering the music of Debussy (he gave an entire recital of his music in 1914) and he continued to champion modern composers throughout his career, culminating in his famous recording of Debussy's complete piano works. What is less well known is that Gieseking was also a composer. His works include chamber music and songs: Sonatinas for Flute and Cello, a Divertimento for Clarinet and String Quartet, a Serenade for String Quartet, a set of Kinderlieder (some of them recorded by Elisabeth Schwarzkopf) and the present Quintet in B-flat for Oboe, Clarinet, Horn, Bassoon, and Piano. The Quintet was composed in 1919, a year before Gieseking's sensational Berlin debut as a pianist, which launched his international playing career. It was published by Fürtsner in 1922 and Gieseking himself played it on his first American tour at a concert in Cincinnati on March 17, 1926.
The Allegro moderato opens with delicate piano chords (marked dolcissimo) over which an oboe melody gently unfolds before being taken up by the whole ensemble. Two more themes play an important part in this movement: a lively fanfare-like idea and a more lyrical tune first heard on the clarinet. Gieseking weaves all his material with great skill, but this is also extremely attractive music above thanks to the delicacy of the writing, and the obstinately memorable character of the ideas themselves. The movement ends as it began, with the quiet, undulating piano chords. The Andante opens with a horn melody that sets the tone for this expansive and highly expressive idyll. The markings in the score make Gieseking's intentions clear: äusserst zart ("extremely tender"), and, near the close, unendlich zart ("infinitely tender"), establishing a dream-like mood before the quietest of conclusions, marked kaum hörbar ("barely audible"). With a bold leaping theme, the horn launches the energetic finale. A contrasting central section is slower and more lyrical, with an eloquent new theme on the piano. The opening returns and with virtuoso writing for all five instruments, Gieseking brings the work to an exciting conclusion.  
Nigel Simeone, 2017