Anne Akiko Meyers & Akira Eguchi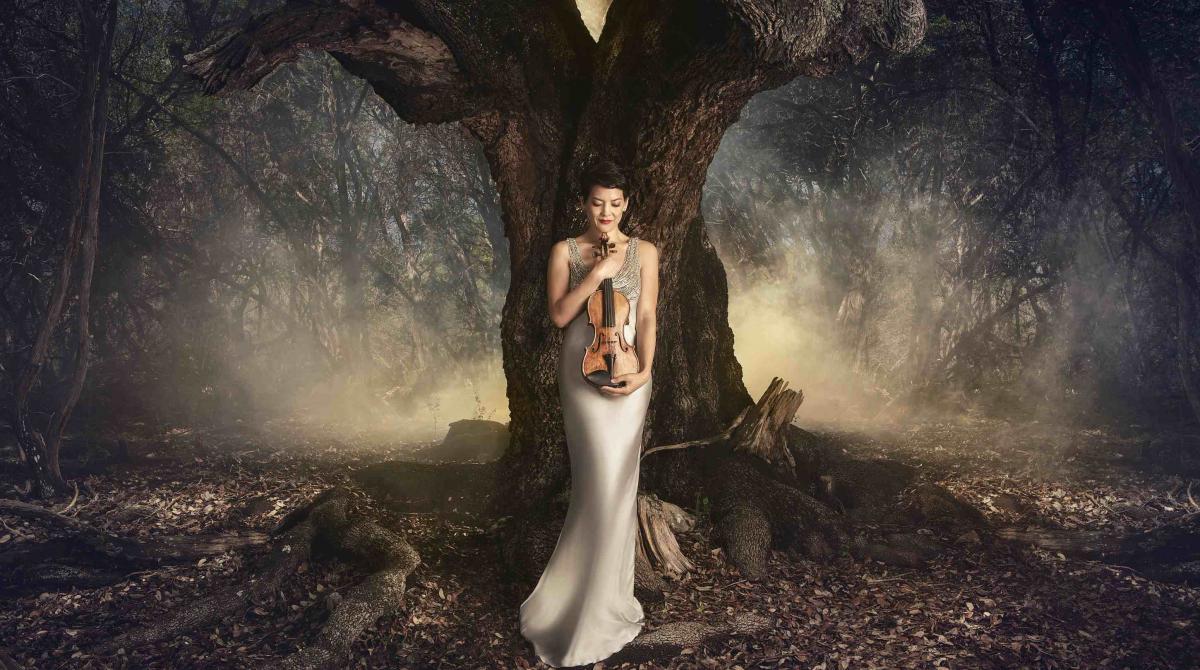 Anne Akiko Meyers will make her Phillips debut with selections by W.A. Mozart, Arvo Pärt, Einojuhani Rautavaara, Maurice Ravel, and the DC premiere of Morten Lauridsen's O Magnum Mysterium. She will be accompanied on piano by Akira Eguchi.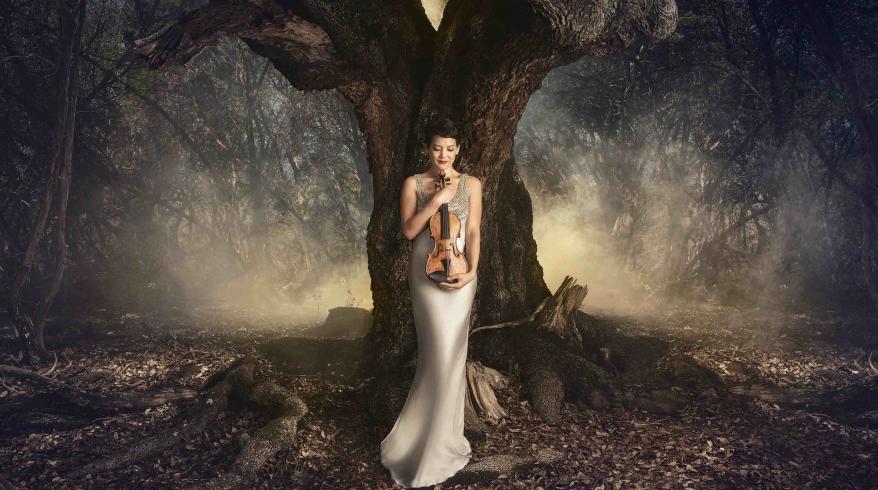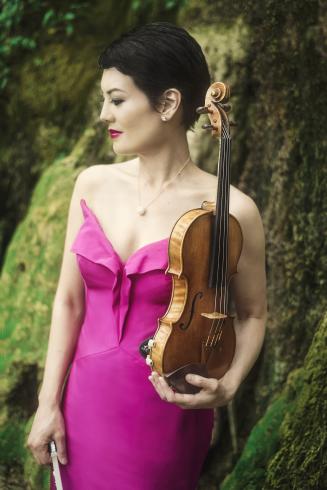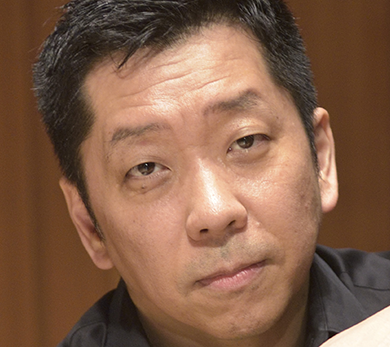 Program
A native of San Diego, California, and a graduate of Indiana University (where she was taught by Josef Gingold) and Juilliard (where her teachers included the legendary Felix Galimir and Dorothy DeLay), Anne Akiko Meyers is one of the most successful violinists of her generation. A passionate proponent of new works for her instrument—including, among many others, pieces by Jennifer Higdon, Arvo Pärt, and Einojuhani Rautavaara—she has also made a series of acclaimed recordings of core violin repertoire, from Vivaldi to Samuel Barber. This concert features the world premiere of Morten Lauridsen's O Magnum Mysterium, written for Meyers.
PROGRAM:
LUDWIG van BEETHOVEN (1770-1827)
Sonata No. 1 Op. 12 in D Major 
ARVO PÄRT (b. 1935)
Fratres 
EINOJUHANI RAUTAVAARA (1928-2016)
Fantasia 
Intermission
MORTEN LAURIDSEN (B. 1943)                                                                      
O Magnum Mysterium
     A DC premiere for violin and piano
MAURICE RAVEL (1875-1937)
Tzigane
     Lento, quasi cadenza
About the Artists
One of the world's most celebrated violinists, Anne Akiko Meyers is known for her passionate performances, purity of sound, deeply poetic interpretations, innovative programming, and commitment to commissioning new works. Meyers possesses a rare ability to connect with audiences from the concert stage, online, and on television and radio broadcasts. She has actively maintained an extensive touring schedule for three decades and regularly performs in recital, as guest soloist with many of the world's top orchestras, and is a best-selling recording artist who has released 34 albums. In 2014, Meyers was the top-selling traditional classical instrumental soloist on Billboard charts.
This season Meyers returns to the Cartagena Music Festival to perform Vivaldi's The Four Seasons with the Orpheus Chamber Orchestra, the Casals Festival in Puerto Rico to perform the Mendelssohn Violin Concerto, the Beethoven Festival in Warsaw, performing the Szymanowski Concerto No.1, and will headline the Last Night of the Proms in Krakow. Other performances include the Mason Bates Violin Concerto with the National Symphony Orchestra at the Kennedy Center and a tour with the New Zealand Symphony.
Other highlights from this season include the world premiere of Einojuhani Rautavaara's Fantasia, a piece written for Meyers, with the Kansas City Symphony, conducted by Michael Stern, a recital at the 92nd Street Y in New York, and a return to the Nashville Symphony performing the Bernstein Serenade with Giancarlo Guerrero, among many other performances. Her 35th album titled, Fantasia: The Fantasy Album with the Philharmonia Orchestra, conducted by Kristjan Järvi, will be released this spring on the eOne Music label.
In recent seasons Meyers appeared in a nationwide PBS broadcast special and on a Naxos DVD featuring the world premiere of with the All-Star Orchestra led by Gerard Schwarz and the French premiere of Mason Bates Violin Concerto with Leonard Slatkin and the Orchestre de Lyon. Two new recordings and a box set were released—Naïve Classics celebrated Arvo Pärt's 80th birthday with Passacaglia: Arvo Pärt, works for violin and orchestra whom she collaborated closely with the composer, led by Kristjan Järvi, and the MDR Leipzig Orchestra and Serenade: The Love Album, an album featuring Leonard Bernstein's Serenade and ten newly arranged pieces from the American Songbook and classic movies, with the London Symphony Orchestra, Keith Lockhart conducting. Anne's complete RCA Red Seal recordings are now available through Sony Music.
Recently, Meyers stepped in on 24 hours notice to perform and lead the conductor-less Orpheus Chamber Orchestra in the Mendelssohn Violin Concerto in Carnegie Hall and Pennsylvania to rave reviews. In 2014, eOne Music released The American Masters featuring the world premiere recordings of the Mason Bates Violin Concerto and John Corigliano's Lullaby for Natalie (written for the birth of Meyers's first born daughter) and the Samuel Barber Violin Concerto, with the London Symphony Orchestra, conducted by Leonard Slatkin. This recording made Google Play's, Best of 2014 and was heralded by critics and audiences alike. Anne's prior release the Four Seasons: The Vivaldi Album, debuted at number one on the classical Billboard charts and was the recording debut of the 'Ex-Vieuxtemps' Guarneri del Gesu violin, dated 1741, which was awarded to Meyers for her lifetime use. This instrument is considered by many to be the finest sounding violin in existence.
Meyers's recent performances have included recital and concerto appearances in North and South America, Europe, and Asia, with the Chicago, Detroit, Nashville, National, and Richmond Symphony Orchestras of the Mason Bates Violin Concerto, a work she co-commissioned and premiered with the Pittsburgh Symphony in December 2012. A champion of living composers, Meyers has actively added new works to the violin repertoire by commissioning and premiering works by composers such as Mason Bates, Jakub Ciupinski, John Corigliano, Brad Dechter, Jennifer Higdon, Samuel Jones, Wynton Marsalis, Akira Miyoshi, Arvo Pärt, Gene Pritsker, Einojuhani Rautavaara, J.A.C. Redford, Huang Ruo, Somei Satoh, Adam Schoenberg, and Joseph Schwantner.
Meyers has collaborated with a diverse array of artists outside of the classical genre, including jazz icons, Chris Botti and Wynton Marsalis, avant-garde musician, Ryuichi Sakamoto, electronic music pioneer, Isao Tomita, Il Divo, and singer, Michael Bolton. She performed the National Anthem in front of 42,000 fans at Safeco Field in Seattle, appeared twice on The Tonight Show and was featured in a segment on MSNBC's Countdown with Keith Olbermann that became the third most popular story of the year.
Recently, she was featured on CBS Sunday Morning, CBS's The Good Wife, NPR's Morning Edition with Linda Wertheimer and All Things Considered with Robert Siegel, and the popular Nick Jr. show, Take Me To Your Mother, with Andrea Rosen. Best-selling novelist, J.Courtney Sullivan, consulted with Meyers for The Engagements, and based one of the main characters loosely on Meyers's career. She also collaborated with children's book author and illustrator, Kristine Papillon, on Crumpet the Trumpet, where the character Violetta, the violinist, is played by Meyers.
Meyers was born in San Diego, California and grew up in Southern California. Her teachers include Alice and Eleonore Schoenfeld at the Colburn School of Performing Arts, Josef Gingold at Indiana University, and Felix Galimir, Masao Kawasaki, and Dorothy DeLay at the Juilliard School. She received the Avery Fisher Career Grant and serves on the advisory board of Composers Concordance and Young Concert Artists. She was recently awarded "The Luminary Award" for her support of the Pasadena Symphony. Meyers lives with her husband and two young daughters in Los Angeles, California.
Anne Akiko Meyers is represented by Colbert Artists Management, Inc., 307 Seventh Avenue, Suite 2006, New York NY 10001. Tel: (212)757-0782. www.colbertartists.com
Anne Akiko Meyers records extensively for the eOne label. She may also be heard on Avie, Camerata, Hyperion, Naxos, RCA Victor Red Seal, RPO, Sony, and Warner Classics family of labels.
Since making his highly acclaimed New York recital debut at Alice Tully Hall in 1992, Akira Eguchi has performed in the foremost music centers of the United States, Europe, and the Far East. His appearances in the United States include Carnegie Hall, Avery Fisher Hall, Alice Tully Hall, the 92nd Street Y in New York City, and the Kennedy Center in Washington, D.C. He also has performed at Musikverein in Vienna, Barbican Centre in London, Théâtre des Champs-Elysées in Paris, Herkulessaal in Munich, Tonhalle in Zürich, and Concertgebouw at Amsterdam.
Distinguished for his performances for heads of state, Eguchi has played for President Clinton presented by Isaac Stern at the White House, and for the Emperor and Empress of Japan at Hamarikyu Ashahi Hall in Tokyo. Eguchi has been featured in numerous tours of the US, France, England, Germany, Austria, Switzerland, Holland, Italy, Belgium, Poland, Slovenia, Ireland, Spain, Greece, Canada, Mexico, Guatemala, Korea, China, Taiwan, Hong Kong, and Japan, encompassing recitals and concerts with many of those countries' foremost ensembles. He is also known as a collaborative pianist for renowned violinists such as Gil Shaham, Anne Akiko Meyers, Akiko Suwanai, Kyoko Takezawa, Tamaki Kawakubo, and Reiko Watanabe amongst the others.
Currently 45 recordings are available from Deutsche Grammophon, Philips, Denon, Marquis Classics, Victor, IDC, BMG, Kosei publishing, Canary/Vanguard, AVEX, Octavia, and NYS Classics, including 11 solo recordings, most of which have been selected as "The Best Newly Released Album of the Month" from Recording Arts Magazine. He is privileged to use a legendary instrument, a New York Steinway model "D75 (1912), which Vladimir Horowitz played at his concerts from the late 70s until 1983, currently owned by Takagi Klavier of Tokyo.

An active composer, Eguchi's arrangements of Gershwin Piano Selections were published by Zen-On publishing company, and the piano trio version of Faure's Après un rêve was published by International Music Company. Born 1963 in Tokyo, Eguchi received his Bachelor's Degree in Composition from Tokyo National University of the Fine Arts and Music (renamed Tokyo University of the Arts), and Master's Degree in Piano Performance from The Juilliard School. He has studied with Herbert Stessin, Samuel Sanders, Hitoshi Toyama, Akiko Kanazawa for piano, and Shin Sato, Akira Kitamura, Ichiro Mononobe for composition. Eguchi currently lives in New York and Tokyo, serving as an Associate Professor at Tokyo University of the Arts. He also teaches at Senzoku-Gakuen Music College in Japan as a guest professor.
Notes
Ludwig Van Beethoven, Sonata No. 1 Op. 12 in D Major (1797-1798)
Of Beethoven's 10 Sonatas for Violin and Piano, nine were composed during his so-called early period, between the years 1797 and 1803. He completed his first published set, Op. 12, in 1797-1798, dedicating them to Antonio Salieri (at the time serving as the imperial court composer for the Habsburgs). Beethoven had tried studying with Haydn, but it was a problematic match of teacher and pupil, and he moved on to Salieri. A touch of Italianate vocalism may be discerned in some of his phrasing for the violin.
Beethoven's immediate models would have been the violin sonatas of Mozart and Haydn, and his Op. 12 set is true to the prevailing aesthetic of Classical style. But already these works show a unique perspective on balancing the different sonorities of the keyboard with the violin. The violinist and scholar Mark Kaplan writes that "Beethoven often took advantage of the new bows and techniques [relating to the violin] in order to push the violin's sonorities and articulations closer to those of the piano."
The first movement carries a quintessentially Beethovenian tempo marking: Allegro con brio (an Allegro "with spirit/vigor"—the marking he used for the first movement of the Fifth Symphony, for example). Both instruments join for the opening fanfare-like statement and then exchange roles in spelling out the vigorously joyful main theme. The impetuous drive of the music makes room for some pockets of calmer lyricism. A set of four variations comes next, treating a two-part theme introduced by the piano and taken up by the violin. Beethoven concludes with a vivid rondo whose main theme is charged by syncopated accents.
Arvo Pärt, Fratres (1977)
After an early period of writing in a harsh Modernist idiom, the Estonian composer Arvo Pärt—ranked by the classical site Bachtrack.com as "the world's most performed living composer"—dramatically transformed his style through an immersion in the religious traditions of the Orthodox Church. He absorbed the techniques of Medieval choral music, from which Pärt developed a fascination with bell-like resonances (labeled "tintinnabuli" by the composer) and a spartan but pregnant simplicity that has led some to pigeonhole him as a "holy Minimalist."
Pärt's contemplative, hypnotic intensity pervades his composition Fratres (the Latin word for "brothers"). It was originally written in 1976 for chamber ensemble but has been arranged for numerous other configurations, including the one we hear on this program.
The piece unfolds as mutations of a core sequence of chords, which are punctuated by a mysterious, recurrent knelling. The resulting mood seems at once archaic and beyond time. The quasi-monastic solemnity of Pärt's music conveys an impression of stasis in motion. Repetitive textures wash like waves over the listener. As the composer has remarked, Fratres reflects humanity's internal struggle "between the instant and eternity."
Einojuhani Rautavaara, Fantasia for Violin and Piano (2015)
A passionate commissioner of new music, Anne Akiko Meyers fulfilled one of her dreams when, in the fall of 2015, she received a handwritten score by Einojuhani Rautavaara. In 2014 she had requested the Finnish master to compose a fantasy for violin and orchestra for her. The result, Fantasia, is among the last compositions he completed before his death last summer at the age of 87. In a preview of the new work for Gramophone, the violinist recalled flying to Helsinki to meet with the composer and his wife. "The apartment was flooded with a special light that only seems to exist at the edge of the earth, overlooking the sea," she recalled.
Recommended personally by Sibelius when he was just starting out, Rauatavaara left a prolific catalogue of orchestral, choral, chamber works, and numerous operas. Meyers had become a fan in her early 20s — not long after the Finn's music had started to become better known in America thanks to such champions as former Washington Post critic Tim Page, who released a celebrated all-Rautavaara recording on his small label Catalyst. Among the works it featured was Cantus Arcticus, a "concerto for birds and orchestra" that became the best-known piece by this protégé of Sibelius.
Meyers writes that, for her, Fantasia shares qualities with his Seventh Symphony (subtitled Angel of Light) and Cantus Arcticus: "Rautavaara's signature soulful sound permeates throughout the piece, with fluid harmonies and deep moods — much like flowing large movements of water and majestic scenes from nature."
Together with the composer, she worked through his bow markings, but the dynamics and the notes themselves were already in place, says Meyers, "just the way he wrote it," and required no changes. Meyers gave the live world premiere in March with the Kansas City Symphony under Michael Stern. Last month she and Akira Eguchi introduced the version we hear, for violin and piano, at the 92nd Street Y in New York. Fantasia (in the original orchestral version) is also included on her newest release (with the London Philharmonia Orchestra and Kristan Järvi).
Writes Meyers: "Fantasia is transcendent and has the feeling of an elegy with a very personal reflective mood. Rautavaara's music will live on forever and I thank him from the bottom of my heart for writing a masterpiece that makes me cry every time I listen to it."
Morten Lauridsen, O Magnum Mysterium (1994/2015)
Along with Rautavaara, Anne Akiko Meyers has commissioned new works from composers as varied as Mason Bates, Wynton Marsalis, John Corigliano, Jennifer Higdon, and Morten Lauridsen—one of the major figures in the realm of contemporary choral music. Lauridsen is so highly sought after, in fact, that for years he had been unable to take on her request to write a brand-new piece for her. After hearing Meyers play Vivaldi's The Four Seasons in a concert, Lauridsen proposed making an instrumental arrangement of his O Magnum Mysterium.
Raised in the Pacific Northwest and a veteran professor at the University of Southern California's Thornton School of Music, Lauridsen composed O Magnum Mysterium in 1994, while serving as composer in residence with the Los Angeles Master Chorale. The text is a prayer traditionally associated with the Liturgy of the Hours for Christmas Day. Master Chorale cofounder Marshall Rutter commissioned Lauridsen to write a new setting piece as a Christmas gift for his wife, Terry Knowles.
The Latin text—a mere 23 words—conveys a sense of awe at the central paradox of the Christmas miracle: that the manifestation of the divine takes place not among the 1% but is the privilege of the most humble to witness and be changed by. Lauridsen's radiant, serene harmonic language became an international phenomenon. O Magnum Mysterium is regularly performed about 75 times a year around the world and has inspired a new generation of composers.
For Meyers, Lauridsen took his original setting for a cappella chorus and rewrote it for violin and full orchestra. "My challenge was to keep the essence of the original and yet have something that is violinistic for Anne," explains Lauridsen. "I was able to rethink the piece and to use the colors of the orchestra, with long countermelodies for English horn, for example, and I constructed new violin lines for the solo part." He also crafted a version for chamber orchestra and violin.
The new violin-piano version we hear is based on a version he created for solo singer and piano but includes a new introductory section, while the solo violin part also incorporates newly elaborated material. All of these versions emanate the uncanny ability to convey an experience of epiphany that has secured Lauridsen's reputation as a musical mystic in our time.
​Maurice Ravel: Tzigane (1924)
Jelly d'Arányi (1893-1966), a transplant from Hungary to London, was a violin virtuoso and grand-niece of Joseph Joachim, the 19th-century celebrity violinist and close friend of Brahms. An intriguing character who practiced spiritualism, she once claimed she could communicate with Robert Schumann in séances and played a role in one of music history's most bizarre stories (the rediscovery of Schumann's Violin Concerto). When Maurice Ravel crossed her path in the early 1920s, he immediately determined to write a violin piece to exploit d'Arányi's phenomenal talent.
Ever the meticulous craftsman, Ravel labored until the last minute before the premiere of the original version of Tzigane in 1924, which he scored for violin and piano. A few months later, Ravel prepared the orchestral version often encountered in the concert hall. The spectrum of special effects he calls for in the piece makes Tzigane a cross between a killer étude and a mini-concerto. Ravel himself described it as "a virtuoso piece in the style of a Hungarian rhapsody."
The title is one of the French terms for the Romani people, but the piece is really about the French fantasy of a generic "Eastern European" exoticism associated interchangeably with stereotypes of so-called "gypsies" and Hungarian folk music. In fact, for the premiere Ravel specified using a now-obsolete keyboard attachment, one of whose stops allowed the piano to mimic the mysterious sonority of the Hungarian cimbalom or hammered dulcimer. Tzigane follows the slow/fast model of the kind of dance Liszt made immortal in his Hungarian Rhapsodies. Also apparent is Ravel's close study of the diabolically difficult violin writing of Paganini's Caprices.
The slow part is given to the violin alone, a sort of low, incantatory cadenza on the G string. As the duet with the keyboard commences, a theme takes shape and the dance moves forward in a series of variations on it. Ravel's technical demands—multiple stops, harmonics, perky slides, and left-handed pizzicato—give the illusion of a Shiva-limbed soloist and never fail to leave audiences gasping.
Thomas May, 2017