Leading International Composers: Anders Hillborg, Sweden
with Calder Quartet, Moran Katz, Axiom Brass, and Amy Yang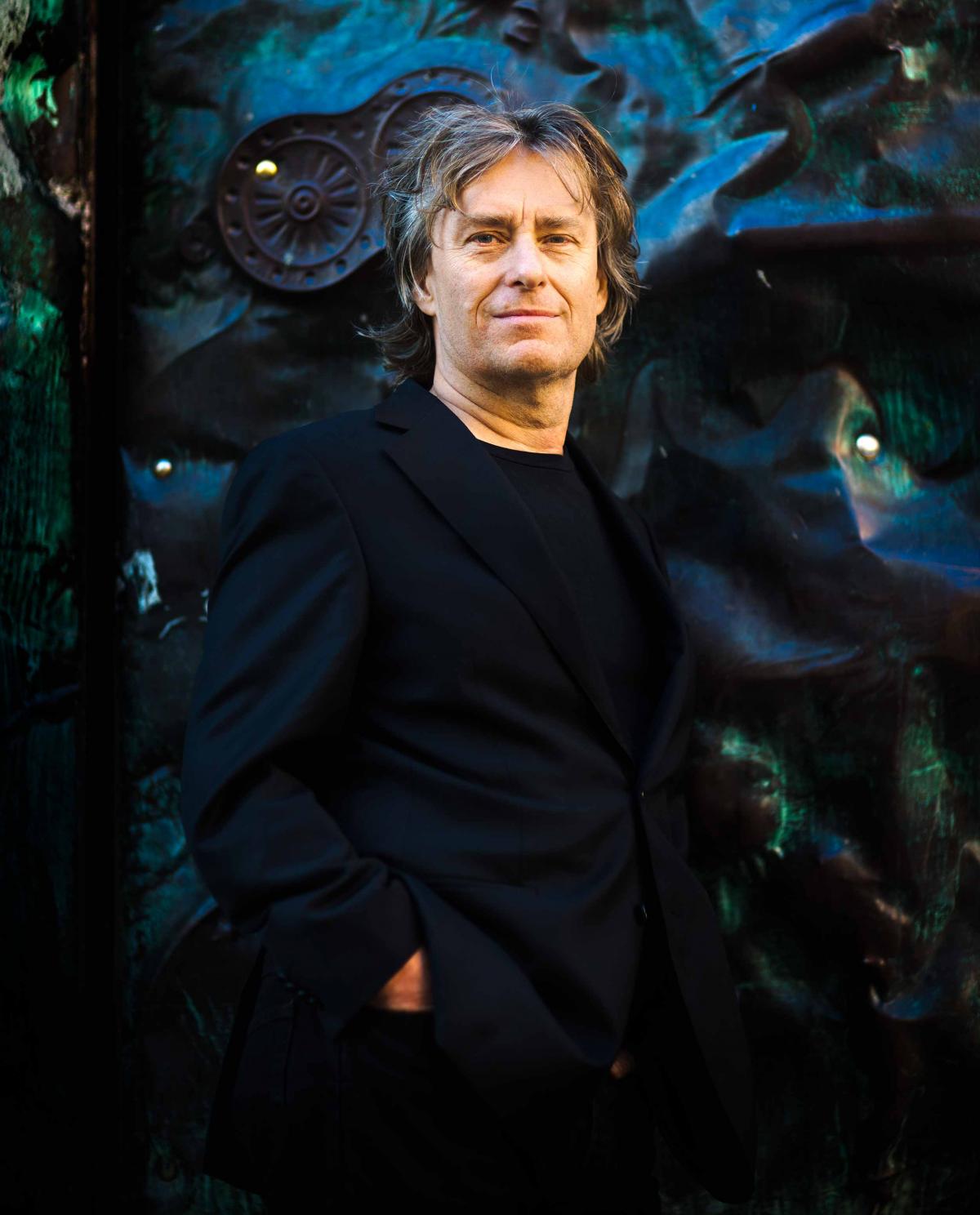 In partnership with The Embassy of Sweden and The Swedish Arts Council, music from Leading International Composer, Anders Hillborg, will be performed by the Calder Quartet, Moran Katz, Axiom Brass, and Amy Yang.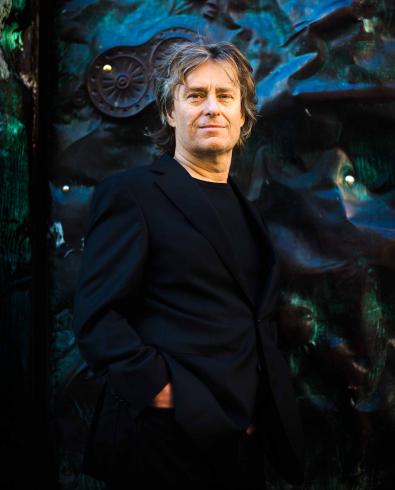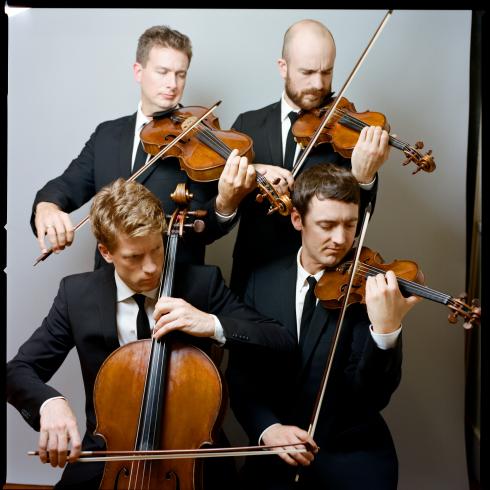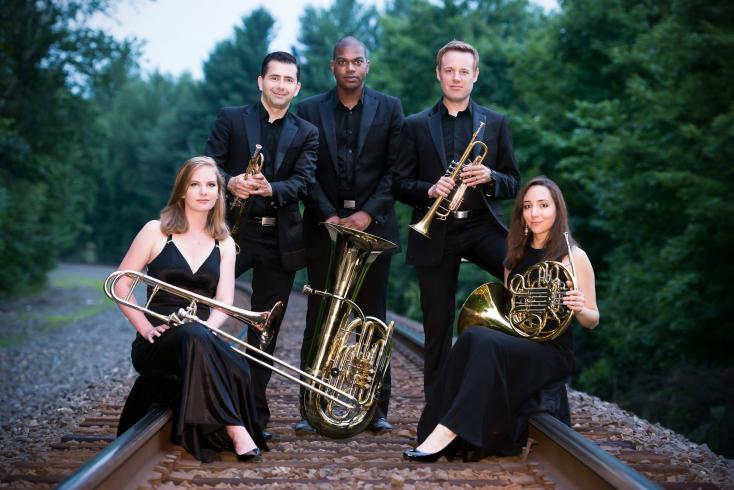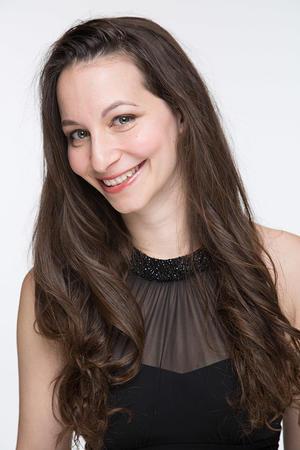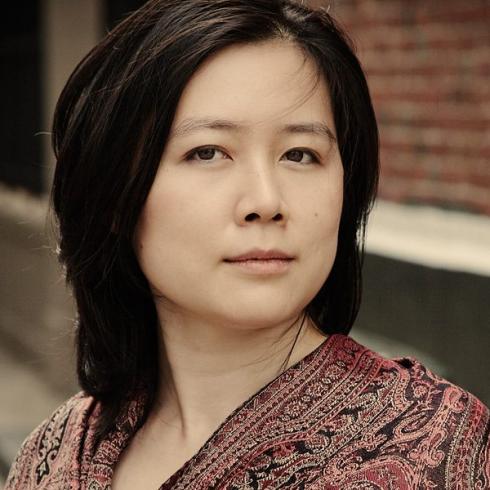 Program
In partnership with the Embassy of Sweden and The Swedish Arts Council.
ANDERS HILLBORG (b. 1954)
String Quartet
Kongsgaard Variations                                                                         
Heisenberg Miniatures                                                                        
Clarinet and Piano
Tampere Raw                                                                                     
Påfågelsögonblick (The Peacock Moment)                                                                          
Clarinet and pre-recorded track                                              
Close Up                                                                                              
Piano Solo
Corrente della Primavera                                                                    
Clarinet and Violin                                                                                                   
Primal Blues                                                                                         
Brass Quintet
Opening Fanfare
Brass Quintet                                                                    
About the Composer
One of Sweden's leading composers, Anders Hillborg is that rare artist whose music strikes a chord across many different countries and cultures. Born in Sweden in 1954, Hillborg developed an early interest in electronic music from his beginnings as a keyboard improviser in a pop band, but contact with Ferneyhough and the music of Ligeti quickly led to a fascination with counterpoint and orchestral writing. Since then, Hillborg's love of pure sound and the energy that he gives it has appealed to many major conductors including Alan Gilbert, Sakari Oramo, Kent Nagano, and Gustavo Dudamel.
Peacock Tales, Hillborg's theatrical clarinet concerto for Martin Fröst, displays another strand of his large and varied output: a sense of humour and the absurd. The piece has been taken up with enthusiasm in several different versions and has received a staggering number of performances. Mouyayoum for 16-voice a cappella choir is one of his most popular works, riffing on a rhythmically complex overtone series unadorned with words. Here, as always, Hillborg's ear for the subtleties of the voice and his natural lyricism are unmistakable. Above all, his music is borne out of a refreshing stylistic freedom matched by an innate communicative ability. Hillborg's sphere of activity extends well beyond the concert hall to embrace a wide range of pop and film music. In 1996 Hillborg won a Swedish Grammy for his work on "Jag vill se min älskade komma från det vilda" ("I want to see my beloved coming from the wild").
The year 2011 saw the premiere of Cold Heat by the Berlin Philharmonic under David Zinman, and Sirens—Hillborg's largest work to date—by the LA Philharmonic and Esa-Pekka Salonen. The advocacy of Esa-Pekka Salonen has resulted in numerous works, including Dreaming River (premiered by the Royal Stockholm Philharmonic Orchestra in 1999), Eleven Gates (2005–2006, premiered and commissioned by the Los Angeles Philharmonic), and most recently Sirens, a joint commission from the LA Philharmonic and Chicago Symphony Orchestra.
With each passing year, Hillborg's international reputation grows apace. His music has twice been the subject of a Royal Stockholm Philharmonic's Composer Festival (1999, 2014) and he has also enjoyed residencies at Soundstreams, Toronto (2003), Avanti! (1995, 2005),Aspen (2008), and, most recently, in Hamburg where he is Composer in Residence with the NDR. His extensive discography (at least 24 recordings) includes four portrait discs on BIS. Recently recorded by Decca, Hillborg's song cycle for Renée Fleming, The Strand Settings, received a rapturous reception in London while the UK premiere of Beast Sampler at the 2015 BBC Proms led The Timesto pronounce: "Spectralism writ large: more please." In recognition of his music's extraordinary international reach, Hillborg was awarded the Swedish Government's 2015 Music Export Prize, an accolade usually reserved for pop and rock artists.
In October 2016 the Stockholm Philharmonic under Sakari Oramo premiered a Violin Concerto for Lisa Batiashvili (his second) co-commissioned by the Leipzig Gewandhaus (Alan Gilbert), Minnesota (Osmo Vänskä), and Seoul Philharmonic orchestras. Current projects include a companion piece to Bach's Third Brandenburg Concerto for Pekka Kuusisto and the Swedish Chamber Orchestra under Thomas Dausgaard.
About the Artists
The Calder Quartet performs a broad range of repertoire at an exceptional level, always striving to channel and fulfill the composer's vision. Already the choice of many leading composers to perform their works, the group's distinctive approach is exemplified by a musical curiosity brought to everything they perform. Inspired by innovative American artist Alexander Calder, the Calder Quartet's desire to bring immediacy and context to the works they perform creates an artfully crafted musical experience. Winners of the prestigious 2014 Avery Fisher Career Grant, they are widely known for the discovery, commissioning, recording, and mentoring of some of today's best emerging composers (over 40 commissioned works to date). The group continues to work and collaborate with artists across musical genres, spanning the ranges of the classical and contemporary music world, as well as rock and film/tv soundtracks. They have performed in prestigious venues ranging from museums to Carnegie and the Hollywood Bowl. Recent and upcoming highlights include Lincoln Center, Metropolitan Museum of Art, Wigmore Hall, Barbican, Salzburg Festival, Donaueschingen Festival, Frankfurt Alte Oper, Tonhalle Zurich, IRCAM Paris, Hamburg's Elbphilharmonie, Centro Nacional de Difusión Musical Madrid, a residency at the Perth International Arts Festival, ongoing residency and Beethoven cycle at Santa Monica's Broad Stage, as well as returns to Los Angeles' Disney Hall and the Ojai Music Festival on a program curated by Peter Sellars. Their long list of collaborators include the Cleveland Orchestra, LA Philharmonic, Thomas Adès, Peter Eötvös, Barbara Hannigan, Audrey Luna, Johannes Moser, Joshua Bell, Edgar Meyer, and Danielle DeNiese.
The Calder Quartet is comprised of Benjamin Jacobson, violin, Andrew Bulbrook, violin, Johnathan Moerschel, viola, and Eric Byers, cello. 
First Prize winner of the 2013 Ima Hogg Competition, clarinetist Moran Katz also received the Audience Choice Prize as well as the Artistic Encouragement Prize voted on by the Houston Symphony musicians. In 2009 alone, Katz won the First Prize at the Freiburg International Clarinet Competition in Germany, the Second Prize at the Beijing International Music Competition for Clarinet in China, and the First and Overall Prize at the Midland/Odessa National Young Artist Competition in Texas.
Katz has performed extensively throughout the United States, Europe, and Asia as a soloist, recitalist, and chamber musician. She has appeared as soloist with such orchestras as the Israel Philharmonic Orchestra, China Philharmonic, SWR ABOUT THE ARTISTS sinfonieorchester Baden-Baden and Freiburg, Collegium Musicum Basel, Houston Symphony, Midland-Odessa Symphony and Chorale, Albany Symphony, Brooklyn Philharmonic, Ensemble ACJW, New Juilliard Ensemble, Haifa Symphony Orchestra, Israel Sinfonietta, and the Tel Aviv Soloists Ensemble. Her performance credits include recitals for the Detroit Institute of Arts, Rhinebeck Chamber Music Society, and the Dame Myra Hess Recital Series in Chicago; a New York debut recital at Merkin Concert Hall as part of the Tuesday Matinee Recital Series; and a debut at the Chamber Music Hall of the Berlin Philharmonic. Chamber music includes appearances at the United Nations Hall, Les Musicales Festival, Les Invalides, Palais des Fêtes, Marlboro Music Festival, Weill Hall, Lincoln Center's Alice Tully Hall, Jazz at Lincoln Center, MoMA, Miller Theater, and Bargemusic, among others. She has also collaborated with the Ariel, Carmel, Contemporary, Tesla, Old City (Dover), Benaim, and Vogler String Quartets, as well as with artists such as Zubin Mehta, David Robertson, Sylvain Cambreling, Richard Goode, Vera Beths, and Arnold Steinhardt.
She received bachelors, masters, and artist diplomas from The Juilliard School, where she was admitted with presidential distinction and a full scholarship. Katz was a member of Ensemble ACJW—The Academy, a program of Carnegie Hall, The Juilliard School, and the Weill Music Institute in partnership with the NYC department of Education, performing chamber music at Carnegie Hall and bringing classical music to students in the NYC public schools. Katz is currently on the faculty of Vassar College.
Hailed by The New York Concert Review as "a magnificent artist and poet," Amy Yang is a seasoned soloist, chamber musician, and pedagogue. Recent engagements include collaborations with the Saint Paul Chamber Orchestra and Patricia Kopatchinskaya, National Youth Orchestra of the US, Penn Symphony Orchestra, participating in the Mitsuko Uchida Workshop at Carnegie Hall, and returning to Weill Recital Hall, Kennedy Center, and Gardner Museum. Upcoming engagements include soloing with Tuscaloosa Symphony, performing with Dover Quartet, appearing on Philadelphia Chamber Music Society and Schneider Concert Series. Past major engagements include soloing with Houston Symphony; collaborating with the Jasper, Amphion, Aizuri, and Daedalus Quartets; premiering music by Pulitzer Prize winner Caroline Shaw, Avner Dorman, and Ezra Laderman; and appearing at the Marlboro Music Festival, Ravinia Festival, Prussia Cove Masterclasses, Verbier Academy, and Caramoor.
Yang serves as Chamber Music Mentor at the Curtis Institute of Music and Chamber Music Coach at The University of Pennsylvania. At Curtis Summerfest, she is the Program Director and faculty for its Young Artist Summer Program and faculty for the Chamber Music and Orchestra for Adults program. She attributes her growth to the teaching of Claude Frank, Peter Frankl, Robert McDonald, Mitsuko Uchida, and Timothy Hester. As a juror, she has judged the Bravura Philharmonic Concerto Competition, Temple University Concerto Competition, NJMTA, CCC Toronto Piano Competition, and the Marian Garcia Competitions at PSU. Yang is an alumna of the Curtis Institute of Music, Juilliard School, and Yale School of Music, where she received the Parisot Award for an Outstanding Pianist and Alumni Association Prize
Praised for their "high level of musicality and technical ability" and for their "clean, clear and precise sound," the award-winning Axiom Brass Quintet has established itself as "one of the major art music groups in brass chamber music." As the only Brass Quintet in 27 years to ever win the prestigious Chamber Music Yellow Springs Competition (2012) and the only American ensemble to ever win the Preis der EuropaStadt Passau in Germany (2012), Axiom has also been named winners of the 2008 International Chamber Brass Competition and prizewinners of the 2016 M-Prize, 2010 Fischoff Chamber Music Competition, the Plowman Chamber Music Competition, and the Jeju City International Brass Competition in South Korea. Axiom Brass is dedicated to enhancing the musical life of communities across the globe and educating the next generation of musicians. Their commitment to education and their blend of virtuosic performances and dynamic teaching have inspired young audiences around the nation, earning the ensemble the 2011 Fischoff Educator Award. Highlights of Axiom's past seasons have included concerts in the Dominican Republic, Germany, Portugal, Spain, South Korea, and Japan; a four-week residency at the Grand Tetons Music Festival; the release of their debut album New Standards, clinics and performances at the Midwest Clinic, their New York debuts at Symphony Space and Merkin Hall, masterclasses at The Juilliard School and Manhattan School of Music, and recitals and solo appearances with orchestras and bands around the US. In 2013, Axiom gave the American premiere of Fantasia Flamenca and the world premiere of Raimundo Penaforte's Concertice with the Modesto Symphony, followed by the 2015 Midwest premieres of Bernard Rands' Adieu, and the Midwest premiere of Fantasia Flamenca with the Grand Rapids Symphony. This season, Axiom continues its touring schedule across the United States and marks the release of two new albums: Astor, with original arrangements of Astor Piazzolla's music, and the second installment of New Standards. During the 2016/2017 season Axiom is premiering ten new commissions as a celebration of the ensemble's 10th anniversary. Axiom Brass is comprised of Dorival Puccini, Jr., trumpet, Kris Hammond, trumpet, Melanie Erena, horn, Mary Tyler, trombone, and Kevin Harrison, tuba.
Notes
The etiquette on a bottle of Arietta wine displays a couple of bars of the Arietta theme from the manuscript of Beethoven's last piano sonata, No. 32 in C minor, Op. 111. When I was asked to compose a piece in honor of this fabulous wine, I naturally decided that this theme should have a key role. But whereas Beethoven produces a set of rigorous variations with a steadily increasing intensity curve (the Arietta theme, serenely beautiful and calm in the beginning, culminating in what can best be described as the first ragtime in music history, before fading back to serenity)—my Kongsgaard Variations (2006) are more like meditations, with no directional process.
The music floats aimlessly through the centuries, displaying reminiscences of Baroque, Folk, Renaissance, and Romantic music,but always with Beethoven's Arietta theme at its epicentre. Although scarcely audible, the piece actually starts with music directly derived from the Arietta theme, leaving out the melody but maintaining the same rhythmical flow and harmonic landscape, as if Beethoven's music is dreaming about yet another variation of itself. Arietta means "little song." These opening bars are then cloned and mutated into other "little songs" that occur on several occasions in the piece.
After the introductory section the first violin takes on a simple, thoughtful solo motif, which is again cloned and mutated and appears later in the piece in different shapes. Then comes a viola solo—joyful, as in a trance—which leads to a section where all instruments sing in praise of wine and music. Shortly after the middle of the piece, we hear theArietta theme for the first time, but strangely distorted and stretched in the same way a Cubist painting twists the motif it uses—almost as if the music is being played backwards. A simple chorale follows which lands us in the music that began the piece and then, finally, comes the first part of Beethoven's theme in C Major in its pure, original shape. This is succeeded by the second part of the theme in A minor (here again distorted in the manner described earlier) before the music evaporates into a mist of harmonics. Kongsgaard Variations is warmly dedicated to John and Maggy Kongsgaard.
The Heisenberg Miniatures (2007) was written for Swedish amateur quartet Heisenbergkvartetten. It consists of seven small movements, some of them with a nod to a composer that in one way or another has meant something to me (Bartok, Shostakovich, Bach, and Stravinsky).
Tampere Raw (1991) was commissioned by the Swedish Royal Academy of Music for Swedish musicians Martin Fröst and Roland Pöntinen to be premiered at the Tampere Biennale for young soloists that year. The piece has been widely performed all over the world and is recorded on the album French Beauties and Swedish Beasts by Fröst and Pöntinen. The music alternates between two different characters: one slowly flowing texture,composed completely intuitively,and one fast, fiercely rhythmical and pulsative texture, where the tone material for the most part is generated from permutations of a prime-number series. The fast parts—written mostly in rhythmical unison—are extremely demanding for both performers, with wide leaps in register and dynamics as an outstanding feature.
Despite its short duration, The Peacock Moment (1997) holds a central place in my worklist. The prime-number series that I first used when composing Close Ups is also used here, boiled down to one voice—a voice thatsounds like multiple voices because of the structure of the tone material.
Close Up (1991) is the first minute of Close Ups (Närbilder) which was written for flute solo. Close Up, by contrast, can be played by virtually any instrument (transposed where needed).The tone material is generated from a prime-number series.
Corrente della Primavera (2002) takes its material from the 3rd movement of my Piano Concerto, written in 2001. It is extremely virtuosic piano music in a classical sense, extremely difficult to play.The first performance took place in Toronto in 2003 during the Soundstreams Festival with Canadian pianist, Simon Docking.
Primal Blues (2015) was written for Swedish clarinetist Martin Fröst's project Genesis, as one of four pieces, the other ones being Incantation, Hymn of Echoes, and Hyper Exit. It is an extremely virtuosic piece for clarinet and violin (a girl's chorus was also included in the Genesis performances).
Opening Fanfare (1991) was written for the opening of the Swedish parliament in 1991, and premiered by the Stockholm Chamber Brass. Listen to see if you can recognize some of the same material that was used in the Heisenberg Miniatures.
Brass Quintet (1998) was commissioned by the Stockholm Chamber Brass in 1998, and was premiered by the ensemble that year in Stockholm. The piece relies heavily on a steady, energetic pulse, closer to the articulation in a jazz/rock context than that of the classical. In hocket (a musical motif shared between two alternating voices, as if in conversation) fashion the piece starts out with the musicians throwing short motifs between each other, giving the music a playful, rocking character. In between the pulse driven sections, there are also parts with floating textures, notably some moments where the sound of music being played backwards is mimicked. Toward the end, the hocket music from the opening returns and the piece fades out in a lyrical chorale.
Anders Hillborg, 2017