Niklas Walentin, Christina Bjørkøe, & Sō Percussion with conductor Jean Thorel
Violin, Piano, and Percussion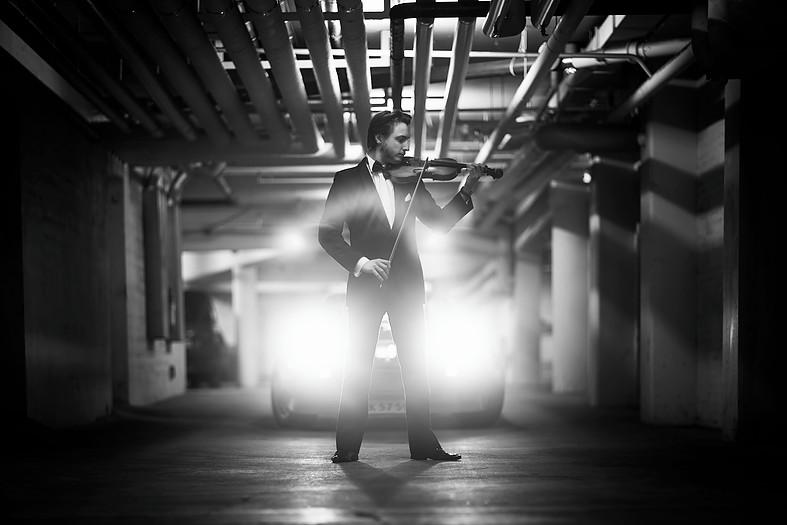 Danish-Swiss violinist Niklas Walentin, pianist Christina Bjørkøe, conductor Jean Thorel, and Sō Percussion will make their DC debut on October 2, 2016.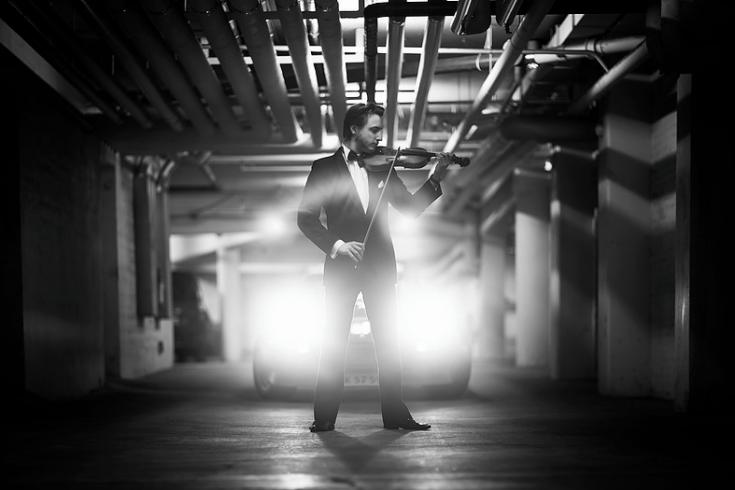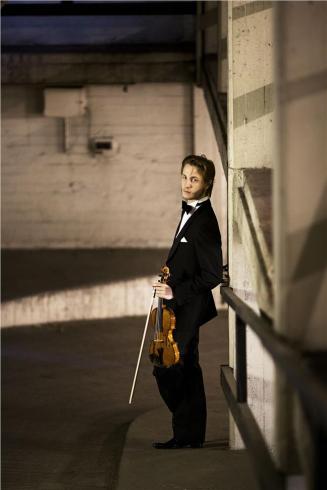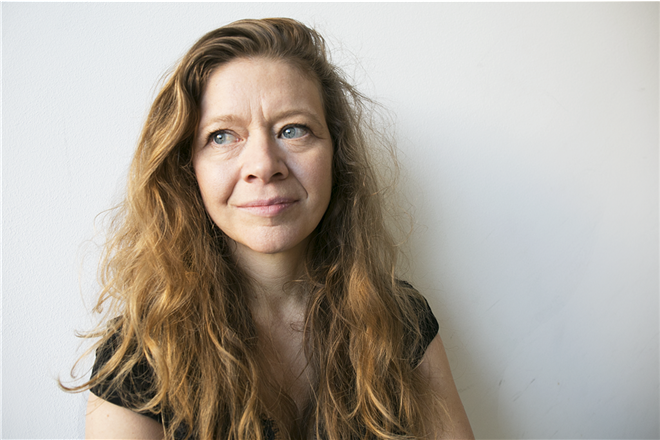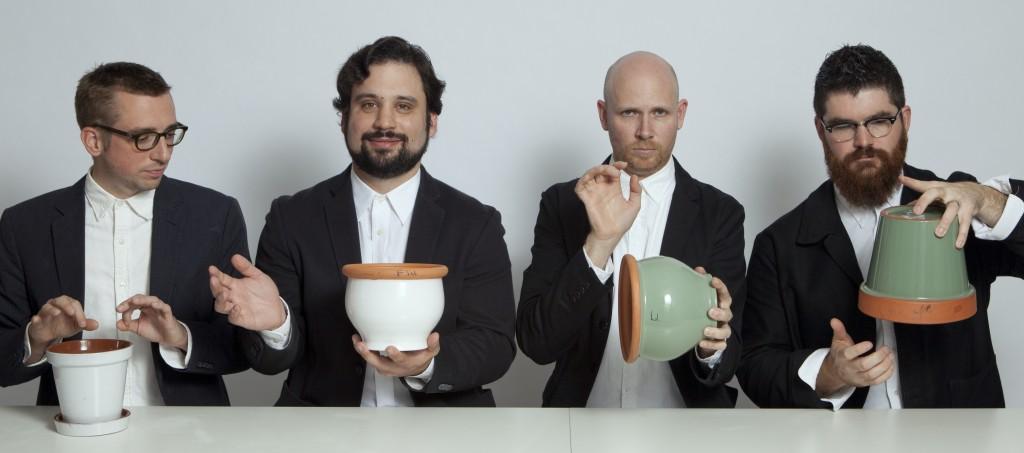 Program
Though still in his early twenties, Danish-Swiss violinist Niklas Walentin is already a widely traveled soloist and chamber musician, with a passion for performing rarely-heard works alongside more familiar music. His Carnegie Hall recital in June 2015 coincided with the release of a CD of Carl Nielsen's music for violin and piano, including the Sonata Op. 9 which features in this concert. Additionally, Walentin, joined by Sō Percussion under conductor Jean Thorel, will perform Lou Harrison's Concerto for Violin and Percussion Orchestra. One of the most remarkable features of Harrison's music is its embracing of other traditions, especially gamelan. In his concerto, Harrison also uses 'junk' percussion, including brake drums, washtubs, clock coils, and flower pots.
PROGRAM:
CARL NIELSEN (1865-1931)
Violin Sonata in A Major, Op. 9; FS 20 (1895)
     Allegro glorioso
     Andante
     Allegro piacevole è giovanile
JOHANNES BRAHMS (1833-1897)
Violin Sonata No. 2 in A Major, Op. 100 (1886)
     Allegro amabile
     Andante tranquillo
     Allegretto grazioso (quasi Andante)
Intermission
JOHN CAGE (1912-1992)
Third Construction (1941)
LOU HARRISON (1917-2003)
Concerto for Violin and Percussion Orchestra (1959)
     Allegro
     Largo cantabile
     Allegro vigoroso, poco presto
About the Artists
Born in 1994, Danish/Swiss musician Niklas Walentin began playing violin at the age of six. He is known for his unique style of performing, which combines the best aspects of both tradition and innovation in violin techniques. His noteworthy style and talent has taken him across the world, from concerts at Carnegie Hall in New York to the Mariinsky Theater in St. Petersburg and The National Conservatory in Beijing.
Niklas Walentin has appeared as a soloist with the Danish Radio Symphonic Orchestra, Copenhagen Philharmonic, Aarhus Symphonic Orchestra, Odense Symphonic Orchestra, South Jutlands Symphonic Orchestra, and has represented Denmark at several chamber music festivals such as Usedom in Germany, Baastad in Sweden, and XIX International Music Festival in Ukraine. 
In March 2014 Niklas Walentins released his first CD, Solo Violin, with works by Bach, Paganini, Ysaÿe, Nielsen, Reger and Nørholm. His second CD, from June 2015 concurrent with his recital in Weill Hall - Carnegie Hall, features works by Carl Nielsen. His latest recording is of American composer Lou Harrison's Violin Concerto for Violin and Percussion Orchestra, which released this spring on Naxos International.
Outside his solo career, Niklas Walentin actively tours with Trio Vitruvi, performing worldwide from Denmark to China. Trio Vitruvi was formed in the summer of 2013 and has since won 1st prize and "Audience Favorite" in the 2014 National Danish Radio Chamber Music competition as well as 1st prize in the Jurmala International Chamber Music competition.
Since August 2015, Niklas Walentin has studied with Eszter Haffner and Tim Fredriksen at The Royal Danish Academy of Music, working on both an Advanced Diploma as Soloist and an Advanced Diploma as Chamber Musician with his piano trio, Trio Vitruvi. He has studied at the Conservatorio della Svizzera Italiana in Lugano with Sergej Krylov, with Danish violinist and composer Søren Elbæk, docent Elisabeth Zeuthen Schneider, and participated in master classes with Sylvie Gazeau, Anker Buch, Odin Rathnam, Gerhard Schultz and Hilary Hahn.
The Danish concert pianist Christina Bjørkøe was born in Copenhagen. At the age of 19 she was accepted by the Juilliard School of Music in New York where she studied with Seymour Lipkin and later with Anne Oland at the Royal Danish Academy of Music.
At the age of 16 Christina Bjørkøe was already performing as a soloist with an orchestra. She has appeared as a soloist, with orchestral engagements, and as a chamber musician at venues in Denmark, including the Tivoli Concert Hall's major Beethoven, Chopin, and Schubert series, as well as in Sweden, Germany, Italy, the Czech Republic, Croatia, Poland, France, South America, China, and the USA.
Christina Bjørkøe has performed with most Danish symphony orchestras, with the Malmö Symphony Orchestra of Sweden, the Iceland Philharmonic Orchestra, Recife Festival Orchestra in Brazil, the Czechish Chamber Orchestra, and the Danish National Symphony Orchestra/DR.
Christina Bjørkøe's recording of Knudåge Riisager's piano music received the 2005 Danish Music Award, and in 2009 her recording of Carl Nielsen: Complete Piano Works received the Danish Music Award as Solo Recording of the Year. She has twice won First Prize in the Steinway Competition and has been awarded several other prizes and grants, including the prestigious Victor Borge Award.
Christina Bjørkøe is an associate professor at The Carl Nielsen Academy of Music.
Sō is: Eric Cha-Beach, Josh Quillen, Adam Sliwinski, and Jason Treuting
With its innovative multi-genre original productions, sensational interpretations of modern classics, and "exhilarating blend of precision and anarchy, rigor and bedlam," (The New Yorker), Sō Percussion has redefined the scope of the modern percussion ensemble.
Their repertoire ranges from "classics" of the 20th century by John Cage, Steve Reich, and Iannis Xenakis, et al, to commissioning and advocating works by contemporary composers such as David Lang, Steve Mackey, and Paul Lansky, to distinctively modern collaborations with artists who work outside the classical concert hall, including vocalist Shara Worden, electronic duo Matmos, the groundbreaking Dan Deacon, legendary drummer Bobby Previte, jam band kings Medeski, Martin, and Wood, Wilco's Glenn Kotche, choreographer Shen Wei, and composer and leader of The National, Bryce Dessner, among many others.
Sō Percussion also composes and performs their own works, ranging from standard concert pieces to immersive multi-genre programs – including Imaginary City, Where (we) Live, and the newest endeavor, A Gun Show. In these concert-length programs, Sō Percussion employs a distinctively 21st century synthesis of original music, artistic collaboration, theatrical production values and visual art, into a powerful exploration of their own unique and personal creative experience.
In 2014/15, Sō Percussion performed David Lang's percussion concerto "man made" with Gustavo Dudamel for the opening of the LA Philharmonic season; performed Bryce Dessner's "Music for Wood and Strings" at the Barbican in London, and at Bonnaroo Music and Art Festival; released a collaborative album with Bobby Previte and the Dessner work in a Billboard-charting disc; created and performed an original score for a live performance and broadcast of WNYC's Radiolab with Jud Abumrad and Robert Krulwich at BAM; performed at SFJazz, the Museum of Fine Arts, Boston, the Mona Bismarck Center in Paris; and more.
In the 15/16 season, Sō returns to Carnegie Hall for a performance with Glenn Kotche and Shara Worden; opens Da Camera of Houston's season in collaboration with Dawn Upshaw and Gil Kalish; tours internationally to Poland and Ireland; performs at the SONiC Festival with the JACK Quartet and Tristan Perich; appears at the universities of Washington, Denver, and Wisconsin-Madison and, as Ensemble-in-Residence, offers multiple concerts at Princeton University.
Sō Percussion is the Edward T. Cone Ensemble-in-Residence at Princeton University, and its members are Co-Directors of the percussion department at the Bard College-Conservatory of Music.  They run the annual Sō Percussion Summer Institute (SoSI), providing college-age composers and percussionists an immersive exposure to collaboration and project development.
Rooted in the belief that music is an essential facet of human life, a social bond, and an effective tool in creating agency and citizenship, Sō Percussion enthusiastically pursues a growing range of social and community outreach.  Examples include their Brooklyn Bound presentations of younger ensembles; commitments to purchasing offsets to compensate for carbon-heavy activities such as touring travel; and at SoSI 2105, leading their students in packing 25,400 meals for the Crisis Center of Mercer County through the organization EndHungerNE.
Sō would like to thank Pearl/Adams Instruments, Zildjian cymbals, Vic Firth drumsticks, Remo drumheads, Black Swamp Accessories, and Estey organs for their sponsorship.
Born in 1958, Jean Thorel studied orchestral conducting with Jean-Jacques Werner and Léon Barzin, and ballet conducting with Antal Dorati and André Girard. He won prizes in harmony and counterpoint at the Paris National Conservatory. In 1985 he became permanent conductor of the Stringendo Orchestral Ensemble (Paris) and, with the support of Jean-Claude Casadesus, he was awarded the Vocation Foundation Prize in 1989. Since January 2005, Stringendo is "orchestra in residence" in the city of Orly. Since 1994, Thorel has been in ever increasing demand throughout Scandinavia, in Finland and in Poland, his versatility enabling him to conduct both ballet and multi-facetted concert programmes. He is a regular guest conductor at prestigious festivals of contemporary music. Starting from the 2008/09 concert season Jean Thorel has also been appointed Chief Conductor of the City Chamber Orchestra of Hong Kong, which with its thirty musicians is the only chamber orchestra in the Asian region with a regular subscription season. Since Feb 2011, JT is 1st guest conductor of the EQ Ensemble (Ireland), all dedicated to contemporary music.
Jean Thorel's unconventional interpretations of both contemporary music and classical music have delighted many music critics in France and abroad. An impassioned promoter of new and rare music, he has to date given almost four hundred first performances. Perhaps it is this interest and vast experience in performing present day compositions which enables him to approach the older repertoire with such revealing insight and remarkable freshness. Jean Thorel's recordings include works by Fauré, Debussy, Messager, Alain, Ponce, Françaix, Saguer, Brenet, Vercken, Ledoux, Morançon, Pinchard, Lejet, Bret, Sikora, Bruun, Nielsen, Jorgensen, Rosing-Schow and Yanov-Yanovski.
In 2002, his disc of works by Louis Saguer was joint winner (with Pierre Boulez's Das Lied von der Erde) of the Académie du Disque Lyrique 'Orphée d'Or'. In May 2002, he was the first French conductor to lead the Russian National Orchestra and the Moscow Contemporary Music Ensemble in two CDs. Of these the CD of works by Sikora won a "special mention" by the Académie du Disque Lyrique in 2003. Jean Thorel's concerts have been broadcast by BBC Radio 3, Radio France-Musique, France 2, De Soziokulturelle Radio (Luxembourg), Swedish Radio, Danish Radio DR2, Radio Orpheus (Russia), Hong-Kong Radio 4 and the Russian and Polish radio-television networks.
Notes
Notes by Peter Laki
Sonata for Violin and Piano No. 1 in A Major, Op. 9 (1895)
Carl Nielsen (Sortelung, Denmark, 1865 – Copenhagen, 1931)
Carl Nielsen was originally trained as a violinist, and played for many years in the orchestra of the Royal Theatre in Copenhagen.  His first major work for his own instrument (not counting some unpublished juvenilia) is the present sonata, composed a few years after a life-changing trip to Paris in 1890-91.  The trip was life-changing in more ways than one.  It was in the French capital that he met his wife, the Danish sculptor Anne-Marie Brodersen, at a gathering of Scandinavian expatriates.  But Nielsen also had some musical experiences in Paris that had a long-lasting impact, including a memorial concert for César Franck who had passed away in 1890.  Nielsen's sonata was audibly influenced by Franck's familiar masterpiece whose key it shares.  Both works take chamber music out of the "chamber," calling for public concert performances rather than the intimate home venues that the term "chamber music" implies.
The young Nielsen, working within an inherited Romantic idiom, was striving to extend that idiom in new directions by way of a highly advanced harmonic language and a marked predilection for a big, lush sound.  (The frequent use of octave doublings is rather striking; they occur not only in the piano, where it could be expected, but in the violin part as well.)  After the premiere of the sonata, Nielsen's friend, the celebrated artist Jens Ferdinand Willumsen, wrote to the composer:  "From the first movement of your sonata I received an unusually strong and positive impression, it was the part of the concert that moved me the most, for an instant it seemd to me as though I became a more fiery man, the blood flowed more strongly through my veins."
The three-movement sonata opens with an "Allegro glorioso," full of grandiose gestures and an irresistible dynamism that always remained a hallmark of Nielsen's style.  The second-movement "Andante" starts out with a tender lyrical melody, but a massive crescendo soon leads to powerful gestures recalling the first movement—even a characteristic cadential formula is repeated verbatim.  The ending, however, is once again soft and dream-like. 
The final movement, marked "Allegro piacevole e giovanile" ("Pleasant and youthful Allegro"), fully lives up to its tempo designation.  The opening theme could almost be a waltz, were it not for the agitated accompaniment, in short, separated notes; in the piano.  A more robust rhythmical passage momentarily recalls Brahms.  That idea, and a second, lyrical melody, serve as episodes, after which a brief stretto (an excited passage in an even faster tempo) provides a forceful conclusion.
Sonata No. 2 in A Major, Op. 100 (1886)
Johannes Brahms (Hamburg, 1833 - Vienna, 1897)
Nielsen met Brahms in Vienna in 1894, and showed him the score of his First Symphony.  He evidently revered the older composer whose influence, like Franck's, may also be detected in some of his early works.  Yet in so many ways, those two composers were emotional and temperamental opposites.  Brahms's A-major sonata, written the very same year as Franck's (1886), is much more intimate and "chamber-like"; it has also repeatedly tempted commentators to invoke texted vocal music to explain its delicate lyricism.
The opening motif of the A-major sonata has been taken as symbolic of the fact that the gulf between Brahms and Wagner was not as deep as their contemporaries believed.  The resemblance between this theme and Walther's Prize Song from The Mastersingers of Nürnberg is in fact too great to go unnoticed.  Yet, maybe another allusion, this time to one of Brahms's own songs, is more to the point:  the second, equally songful, theme sounds a lot like "Wie Melodien zieht es mir leise durch den Sinn" ("It goes softly through my mind like music"), also from 1886.  A third theme, a striking rhythmic idea, provides the necessary contrast in character.  These three themes, first presented in the exposition dominate the development section and the recapitulation as well.
The second movement is really two movements in one:  it starts with a tender "Andante tranquillo," which is soon disrupted by a "Vivace" that plays the role of a scherzo.  The Andante later returns in a modified form, followed by an even more playful variant of the scherzo (the violin plays pizzicato—with plucked strings—and the piano matches that sound with its own short and light staccato—short and separated—notes).  A brief recall of both the slow and the fast themes ends this unusual movement.
The last movement returns to the songful lyricism of the opening.  Remarkably understated for a finale, it is all dolce and espressivo, and even the tempo is on the slow side ("Allegretto grazioso quasi Andante").  Some commentators have speculated that the warm intimacy of this music has something to do with Brahms's warm feelings for the young singer Hermine Spies.  This is of course pure conjecture, just like the Wagner connection in the first movement—but like that connection, it offers an intriguing associative framework for the sonata.
Third Construction (1941)
John Cage (Los Angeles, 1912 – New York, 1992)
Writing music for percussion instruments alone was an idea whose time had clearly come in the 1930s.  Composers as different as Edgard Varèse, Amadeo Roldán, Henry Cowell, and Johanna Beyer were exploring the potentials of music made with unpitched sounds.  For the young John Cage and Lou Harrison, both protégés of Cowell, the idea of percussion music was inseparable from modern dance, an art form with which they were both seriously involved.  From 1938 to 1940, Cage worked at the Cornish School of the Arts in Seattle as composer and accompanist for Bonnie Bird's modern dance classes (it was there that he met his future life partner, Merce Cunningham); and Harrison served in a similar capacity at Mills College in Oakland.  The two friends put on several all-percussion concerts together in San Francisco, even presenting a joint work called Double Music on May 14, 1941.  On the same program, Cage's Third Construction (now a classic in the percussion repertoire) was heard for the first time.
As the title implies, Third Construction followed two other works for percussion ensemble, all based on some well-defined structural principles.  In the case of Third Construction, all four parts are made up of rhythmic cycles with a similar sequence of unequal phrases.  According to an analysis by James Pritchett from his 1993 book on Cage, the first player plays a cycle of 2 bars + 8 bars + 2 + 4 + 5 + 3, the second a cycle of 5 + 3 + 2 + 8 + 2 + 4, and so on, all four players using rotations of the same series of numbers in their respective cycles.  As a result, the articulation points in the four parts never coincide until the whole cycle is over.  The interplay among the four players becomes extremely complex, especially since Cage frequently writes polyrhythms such as four against five, four against seven, and so forth.  The sum of the units in the cycles is 24; thus, each player comes full circle after 24 bars, and the piece consists of exactly 24 cycles of 24 bars each.  (The first performance of Third Construction happened to fall on Lou Harrison's 24th birthday—but the piece was actually dedicated to Cage's then-wife Xenia, on their sixth wedding anniversary.)
The four percussionists play on a wide variety of instruments, and Cage was very specific in differentiating between, say, a Northwest Indian rattle and an Indo-Chinese rattle "with many separate chambers."  He had collected hundreds of percussion instruments, not all originally intended to serve in that capacity (for instance, he prescribes sets of "graduated tin cans").  Among other hard-to-find instruments, Cage's list includes, among other things, a quijada (jawbone of a donkey with rattling teeth), a teponaxtle (a Mexican log drum with a slit carved into the wood shell), a conch shell and a pair of cricket callers from Polynesia.  Sometimes Cage and Harrison found their instruments at junkyards, or, as in the case of the jawbone, in a small music store in San Francisco.  But, as Christopher Shultis reminds us in a 2002 study of Cage's percussion music, even instruments such as claves and maracas, which are ubiquitous today, "were not commonly found in Western classical music of the early 1940s."  It is safe to say that both in its musical structure and its sound world, Third Construction introduced some bold innovations that had a major impact on the history of 20th-century music. 
Concerto for Violin with Percussion Orchestra (1940/1959)
Lou Harrison (Portland, OR, 1917 – Lafayette, IN, 2003)
It may have been around the time of the joint Cage-Harrison concerts, or shortly thereafter, that Lou Harrison made the first sketches for a concerto for violin and percussion orchestra.  Then he set these sketches aside for almost twenty years and did not return to them until the late 1950s, when violinist Anahid Ajemian asked him for a violin concerto.  Ajemian, who passed away in June at the age of 92, was a prominent champion of contemporary music in New York City; she collaborated with Harrison on numerous occasions.
Combining the percussion ensemble with a melody instrument was not an idea that would have appealed to Cage.  Harrison, on the other hand, was fascinated by this juxtaposition, which he had explored as early as 1939, when he composed a concerto for flute and two percussionists.  He later claimed that the idea for a violin concerto had first come to him after hearing Alban Berg's 1935 masterpiece in that genre.  Not that his piece sounds the least bit like Berg; yet something of the Viennese composer's Romantic serialism does shine through in Harrison's work, at least in the first two movements.  (Mindful of Harrison's profound involvement with Balinese gamelan, critic Tim Page later described the concerto as "Alban Berg on an Indonesian jaunt.")
Unlike Berg, Harrison did not use a twelve-tone row in composing the violin part; yet he imposed his own constraints on his melodic writing, constraints that were perhaps even more stringent than those in dodecaphony.  He imposed a strict "interval control" on the violin part, meaning that in the course of the entire piece, the violin was allowed to play only three different intervals:  the minor second, the major third, and the major sixth.  The richness and diversity of the solo part that Harrison was able to achieve under these restrictions is nothing short of astonishing.
Harrison's percussion battery harks back to the days of Third Construction:  alongside such "official" instruments as drums, cymbals and maracas, we find such "unofficial" ones as flower-pots, washtubs, coffee cans, clock coils and more. 
Reviewing the New York premiere, the noted critic Alfred Frankenstein saw a connection between Harrison's background in dance and the scoring of the piece, with the solo violin representing the dancer.  It is not hard to feel the dance character throughout the three-movement work.  After a brief introduction where the violin plays a soaring melody over a sparse series of attacks in the percussion parts, a highly dynamic "Allegro vivace" section begins with an ever more intense rhythmic activity.  In the central part of the movement, Harrison instructs that "the orchestra should finely shimmer and glitter while the violin chants" in an expressive melody made up of long-held whole notes.  Both the introductory material and the "Allegro vivace" then return, the latter interrupted by the cadenza which soloists and audience members alike have come to expect in a concerto.
In the second-movement "Largo cantabile," the violin plays two kinds of material:  a passionate melody that takes possession of the entire range of the violin from the highest to the lowest notes, and a more "sober" motion of equal eighth-notes.  The final movement abounds in wild ostinatos ("roughish," Harrison writes in the score), with a high level of energy that lets up briefly, only to resume the pounding motion with even more vigor all the way to the end.
Among Harrison's many passions, along with Asian music, just intonation and civil rights (gay rights in particular), was his enthusiastic espousal of the invented language Esperanto, which he used in many of his vocal works.  The original title page of the present composition was also written in "the language of hope:"  Konĉerto por la violono kun perkuta orkestro.  This language was created by Dr. Ludwik Zamenhof in the late 19th century; it was fitting that Harrison, who was deeply connected to many cultures, should embrace the idea of unifying the entire globe through the use of a common language that wasn't native to any particular country but could instead belong to everyone.