Kristin Lee and Michael Mizrahi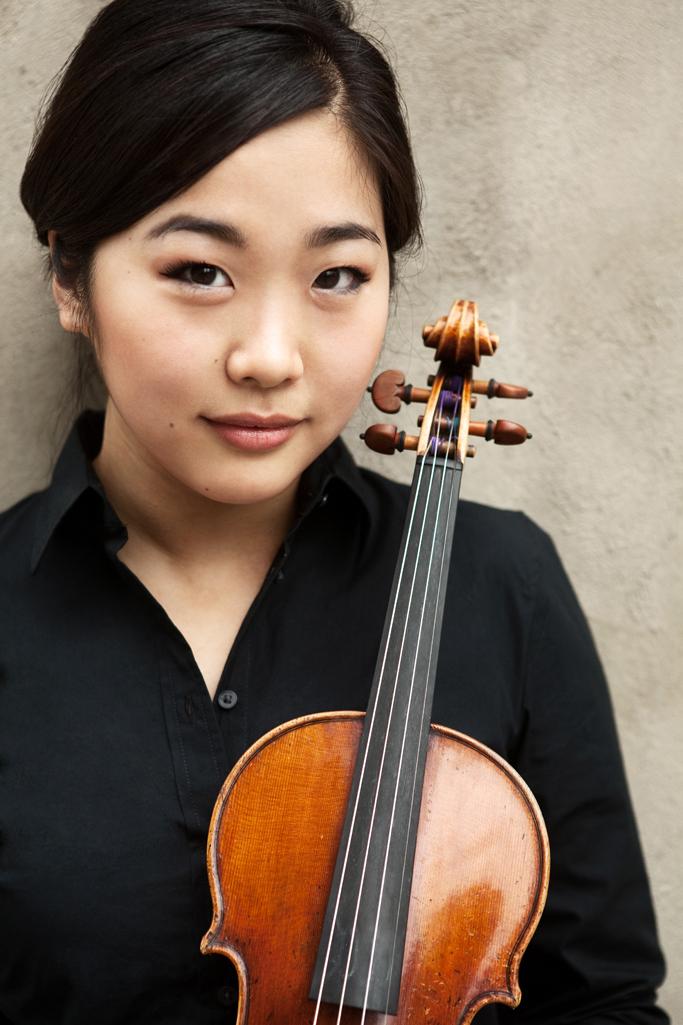 An active performer and music curator, Korean-American violinist Kristin Lee makes her Phillips debut with works by Webern, Ravel, and Beethoven, and Copland. She is joined by pianist Michael Mizrahi.
Program
An active performer and music curator, Korean-American violinist Kristin Lee recently commissioned and gave the premieres of five new violin duos for diverse instruments by composers Andy Akiho, Jakub Ciupiński, Shobana Raghavan, Patrick Castillo, and Vivian Fung. Lee serves as concertmaster of the Metropolis Ensemble, and makes her debut at the Phillips with works by Webern, Ravel, and Beethoven, and Copland. Lee is joined by pianist Michael Mizrahi.
Program
Maurice Ravel (1875–1937)
Sonata for violin and piano No. 2 in G Major
Aaron Copland (1900–1990)
Two Pieces for violin and piano
Intermission
Anton Webern (1883–1945)
Four Pieces for violin and piano
Ludwig van Beethoven (1770–1827)
Sonata for violin and piano No. 9 in A Major, Op. 47, Kreutzer
About the Artist
Korean-American violinist Kristin Lee has been praised by The Strad for her "rare stylistic aptness" and "mastery of tone and rare mood in a performer of any age." A violinist of remarkable versatility and impeccable technique, Ms. Lee enjoys a vibrant career as a soloist, recitalist, and chamber musician, and is equally noted for her growing reputation in collaborations with various genres of music.
Upcoming engagements include debut recitals New York's Merkin Concert Hall and Florida's Kravis Center, and debuts with the Guiyang Symphony Orchestra of China and the St. Paul Chamber Orchestra. Ms. Lee is also curating a program that premieres at Philadelphia's World Cafe Live, in which she is commissioning composer/performers to write music for the violin and steelpan, guitar, theremin, and carnatic South Indian singing; the program will also be performed at New York's (Le) Poisson Rouge and on St. Paul's Liquid Music Series. In the 2013–2014 season, she also tours with the Chamber Music Society of Lincoln Center in Kansas, New York, California, Michigan, and Dresden, Germany.
A winner of Astral Artists' 2010 National Auditions and a top prizewinner of the 2012 Walter W. Naumburg Competition, Ms. Lee has appeared as soloist with The Philadelphia Orchestra, St. Louis Symphony, New Jersey Symphony, Rochester Philharmonic, New Mexico Symphony, Albany Symphony, the Ural Philharmonic of Russia, the Korean Broadcasting Symphony of Korea, and many others. She has appeared on the world's finest concert stages, including Carnegie Hall, Avery Fisher Hall, the Kennedy Center, Philadelphia's Kimmel Center, the Metropolitan Museum, Steinway Hall's Salon de Virtuosi, the Louvre Museum in Paris, and Korea's Kumho Art Gallery. She has been featured on the Ravinia Festival's Rising Stars Series, and has toured throughout northern Italy. In April 2012, Ms. Lee organized a memorial concert at the Menlo-Atherton Performing Arts Center for the victims of the Oikos University shooting.
An accomplished chamber musician, Ms. Lee is a member of The Chamber Music Society of Lincoln Center, following her completion of a three-year residency as a CMS Two artist. She has appeared at the Ravinia Festival, Music@Menlo, the Perlman Music Program, Festival Mozaic, Medellín Festicámara of Colombia, the El Sistema Chamber Music festival of Venezuela, the Princeton Festival, and the Sarasota Music Festival. She is also the concertmaster of the groundbreaking Metropolis Ensemble, with whom she premiered Vivian Fung's Violin Concerto, written for her, and which appears on Ms. Fung's CD Dreamscapes, released for the Naxos label CD in September 2012.
Ms. Lee's performances have been broadcast on WQXR in New York, on Bob Sherman's "Young Artists Showcase," and with guitarist Mattias Jacobsson on Annie Bergen's "The Office Hours." Other broadcasts include PBS's "Live from Lincoln Center," the Kennedy Center Honors, and a guest artist performance on WFMT Chicago's Rising Stars series. She also appeared on a nationally broadcast PBS documentary entitled PBS in Shanghai, which chronicled a historic cross-cultural exchange between the Perlman Music Program and Shanghai Conservatory.
Ms. Lee has received many honors, including 2011 Trio di Trieste Premio International Competition, the SYLFF Fellowship, Dorothy DeLay Scholarship, Aspen Music Festival's Violin Competition, the New Jersey Young Artists' Competition, and the Salon de Virtuosi Scholarship Foundation. She is also the unprecedented First Prize winner of three concerto competitions at The Juilliard School—in the Pre-College Division in 1997 and 1999, and in the College Division in 2007.
Since her Paris-Philly Lockdown performance at the Philadelphia International Festival of the Arts, in Verizon Hall at the Kimmel Center for the Performing Arts in April 2011 with drummer and DJ ?uestlove, Ms. Lee has enjoyed a continued collaboration with the drummer and frontman for the Grammy Award-winning band, The Roots. She appears on The Roots' most recent CD Undun, and appeared at the Brooklyn Academy of Music (BAM) in ?uestlove's experimental project entitled "Shuffle Culture," which evoked iPod's "shuffle" mode in live performance and brought together musicians such as Deerhoof, D.D. Jackson, Rahzel, and DJ Jeremy Ellis.
Born in Seoul, Ms. Lee began studying the violin at the age of five, and within one year won First Prize at the prestigious Korea Times Violin Competition. In 1995, she moved to the United States and continued her musical studies under Sonja Foster. Two years later, she became a student of Catherine Cho and Dorothy DeLay in The Juilliard School's Pre-College Division. In January 2000, she was chosen to study with Itzhak Perlman, after he heard her perform Mendelssohn's Violin Concerto with Juilliard's Pre-College Symphony Orchestra. Ms. Lee holds a Master's degree from The Juilliard School, where she studied with Itzhak Perlman and Donald Weilerstein, and served as an assistant teacher for Mr. Perlman's studio as a Starling Fellow. She is a member of the faculty of the Aaron Copland School of Music at Queens College, and has served on the faculties of the LG Chamber Music School in Seoul, Korea, El Sistema's chamber music festival in Caracas, Venezuela, and the Music@Menlo Chamber Music Festival.
Pianist Michael Mizrahi has won acclaim for his compelling performances of a wide-ranging repertoire and his ability to connect with audiences of all ages. He has appeared as concerto soloist, recitalist, chamber musician, and teaching artist across the United States and abroad.

Mr. Mizrahi has performed in the world's leading concert halls including Carnegie Hall, Toyko's Suntory Hall, the Kimmel Center in Philadelphia, Jordan Hall and the Gardner Museum in Boston, the Kennedy Center in Washington, DC, the Chicago Cultural Center and Houston's Jones Hall. He has performed as soloist with major orchestras including the Houston Symphony, National Symphony, Haddonfield Symphony, Sioux City Symphony, and Prince Georges Philharmonic. He has given solo recitals at the Phillips Collection in Washington, DC and has made repeated appearances on the Dame Myra Hess Concert Series in Chicago. His chamber music festival appearances include Music@Menlo, Verbier, the Yellow Barn Music Festival, and the Steans Institute at the Ravinia Festival. Mr. Mizrahi won First Prize and the Audience Choice Award in the Ima Hogg International Competition, as well as first prizes in the International Bartók-Kabalevsky Competition and the Iowa International Piano Competition. He won third prize in the San Antonio International Piano Competition in 2006. Mr. Mizrahi appeared for many years on the active roster of Astral Artists.

An enthusiastic promoter of music education, Mizrahi has presented lecture-recitals and master classes at The American School in Switzerland (TASIS), the University of North Carolina at Wilmington, and the University of Nebraska at Omaha. As a member of Carnegie Hall's prestigious Academy program andTeaching Artists Collaborative, Mr. Mizrahi spent several hours a week as a teaching artist in New York City public schools.

Dedicated to the music of our time, Mr. Mizrahi has commissioned and given world premieres of several new works for piano and frequently collaborates with composers and instrumentalists in the performance of 21st-century music. He is a founding member of NOW Ensemble, a chamber group devoted to the commissioning and performing of new music by emerging composers. NOW Ensemble released its second album, Awake, to critical acclaim in 2011. Mr. Mizrahi released The Bright Motion, an album of newly commissioned works for solo piano, on the New Amsterdam Records label in May 2012. His music video, also called The Bright Motion, was lauded by National Public Radio and New Yorker music critic Alex Ross.

Mr. Mizrahi was a founding member of the Moët Trio, which performed in major venues across the United States and Canada, and established itself as one of today's most exciting young piano trios. The Moët Trio recently completed a two-year residency, the only one of its kind for piano trios, at the New England Conservatory. 

Michael Mizrahi received his bachelor's degree from the University of Virginia, where his concentrations were in music, religion and physics. He holds master's and doctoral degrees from the Yale School of Music, where he studied with Claude Frank. After his Philadelphia debut recital, the Philadelphia Inquirerwrote that "…the performance had transparency, revealing a forward-moving logic and chord voices you didn't previously realize were there…textures were sumptuous."

He is currently Assistant Professor of Piano at the Lawrence University Conservatory of Music in Appleton, Wisconsin.
Watch and Listen
Kristen Lee and Phillips Camerata Harpist Bridget Kibbey perform the Fantaisie for Violin and Harp, Op. 124 by Camille Saint-Saëns.
---
The Bright Motion by Michael Mizrahi from New Amsterdam Records.