Angels, Demons, and Savages
Pollock, Ossorio, Dubuffet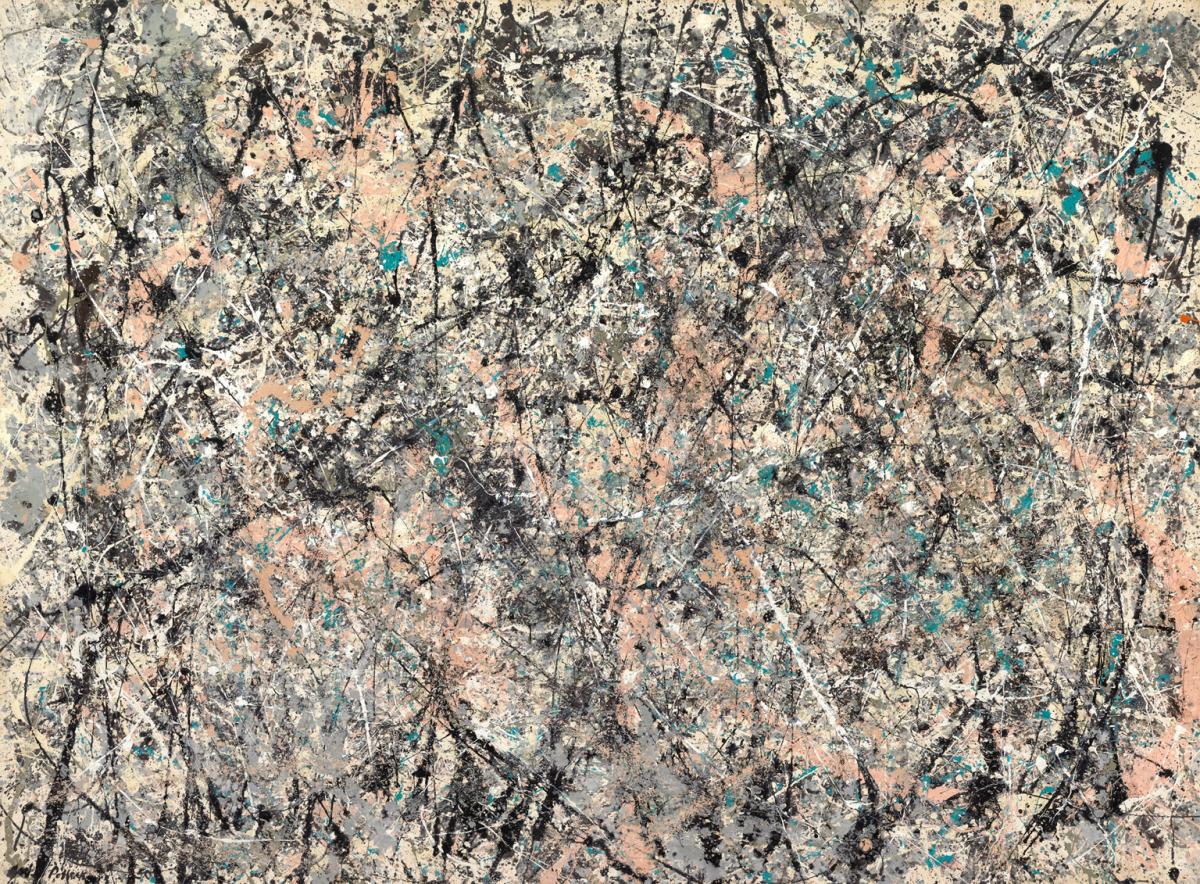 This exhibition reveals a rare cross-cultural artistic dialogue among three prominent artists—American painter Jackson Pollock, American artist and patron of European and American postwar art, Alfonso Ossorio, and French painter Jean Dubuffet.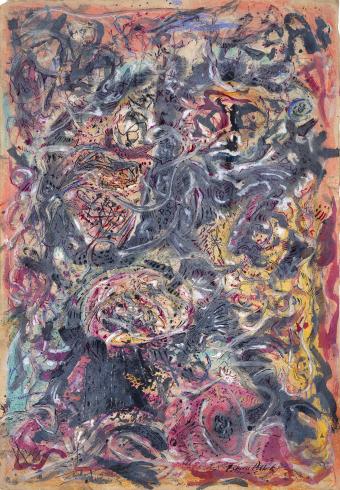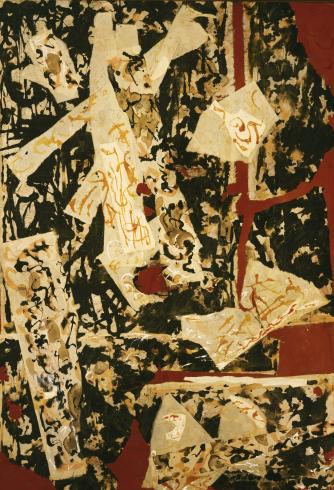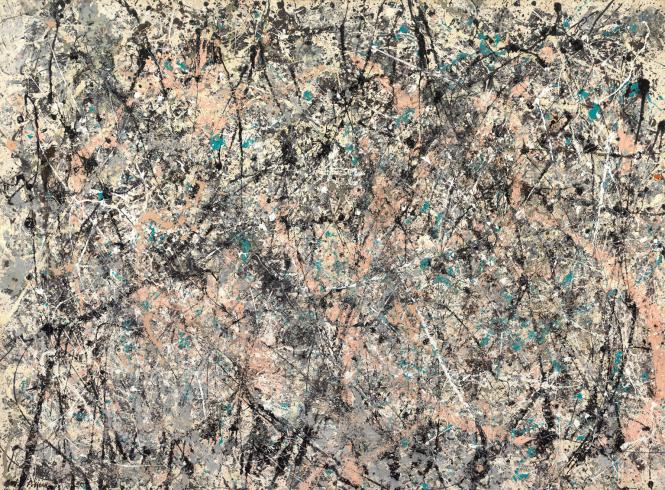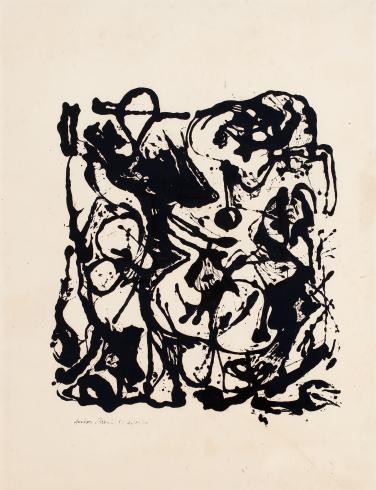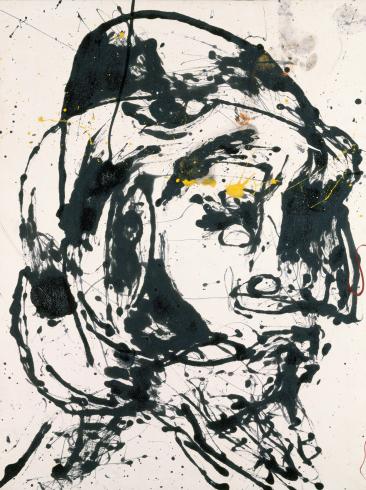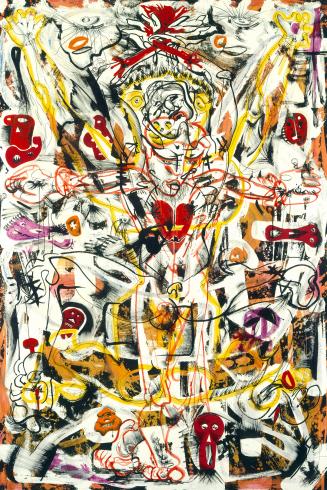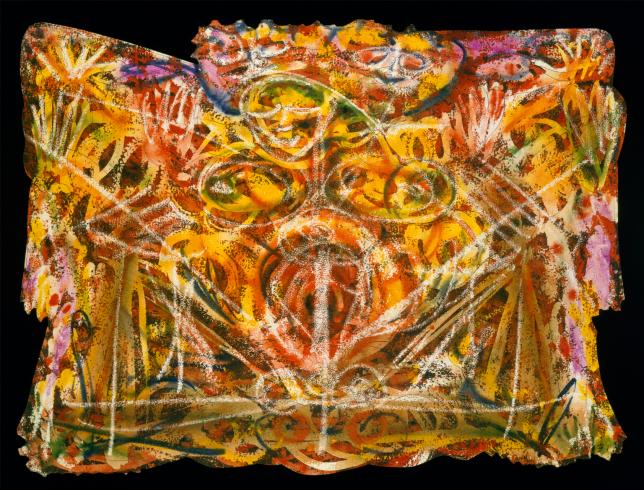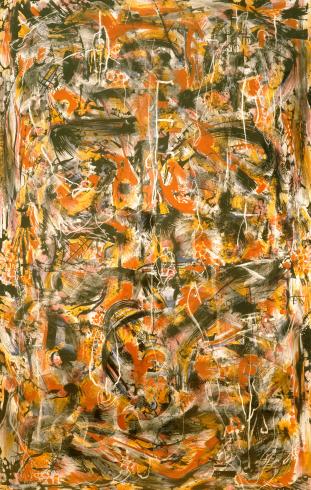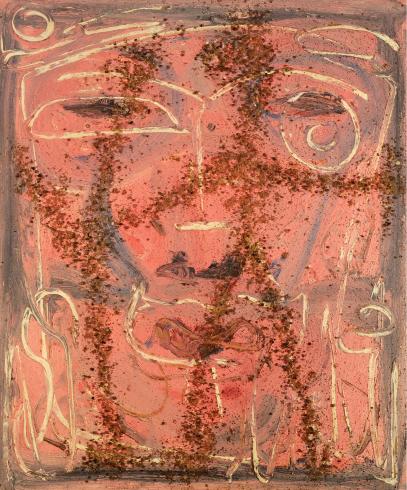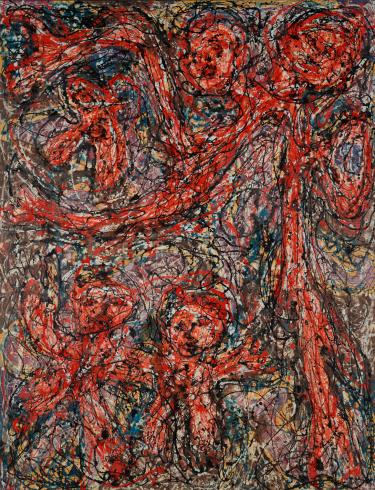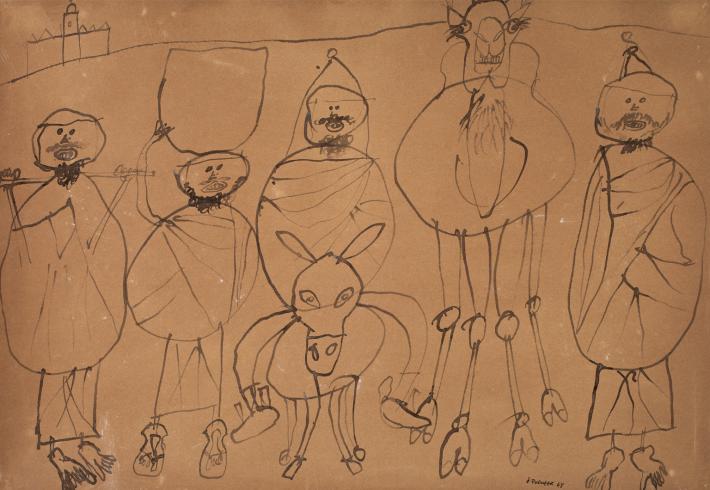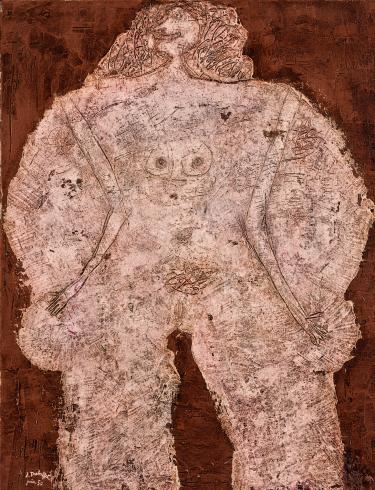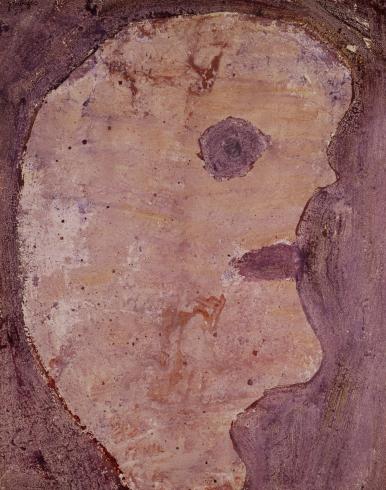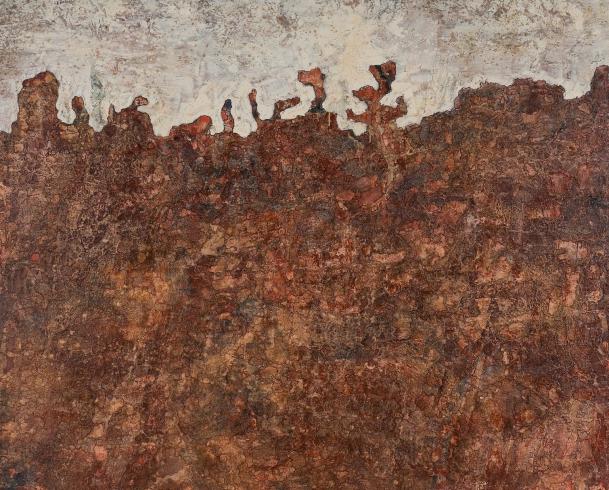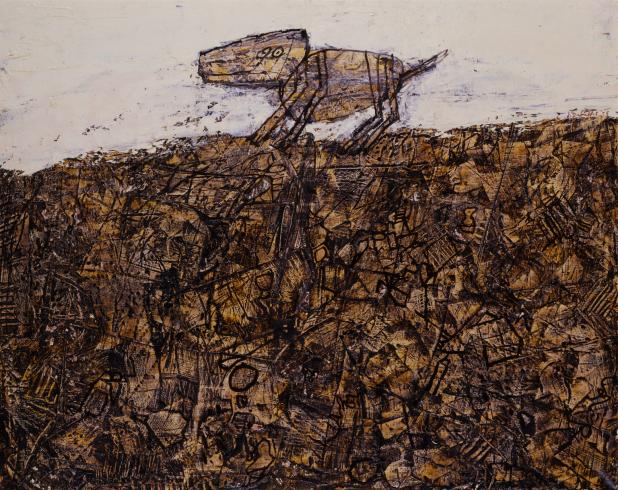 About the Exhibition
The Phillips Collection dives into American abstract expressionism to reveal a little-known but captivating story that focuses on the relationship among three of the movement's seminal players: American painter Jackson Pollock (1912–1956), American artist and patron Alfonso Ossorio (1916–1990), and French painter Jean Dubuffet (1901–1985). Featuring 55 paintings and works on paper from 1945 to 1958, the exhibition illuminates a key moment in postwar art. It reunites a number of works by Pollock and Dubuffet from Ossorio's collection for the first time since they were dispersed after his death in 1990.
Angels, Demons, and Savages highlights visual affinities between the artists' work, tracing the impact of Dubuffet's art brut (art by the mentally ill and other so-called outsiders), the experimental spirit of Pollock's technique, and Ossorio's figurative language. As the focal point of the art world shifted from Europe to America, the exchange among the three helped bridge the widening gap between the continents.
Alfonso Ossorio, the central figure of the story, is virtually absent from standard art history texts, his altruism and generosity having obscured his accomplishments as an artist. Ossorio was attracted early on to the work of both Jackson Pollock and Jean Dubuffet and developed collegial friendships with both artists. Ossorio met Pollock in 1949 through the art dealer Betty Parsons. In 1950, at Pollock's suggestion, Ossorio traveled to Paris to meet Dubuffet, an artist with whom he developed a deep kinship and engaged in a rich correspondence. From 1952 to 1962, Ossorio housed and exhibited at his East Hampton estate Dubuffet's art brut collection. Ossorio amassed hundreds of works by Pollock and Dubuffet, including one of Pollock's most celebrated paintings, Number 1, 1950 (Lavender Mist).
By connecting Pollock, Ossorio, and Dubuffet's innovative pictorial language, Angels, Demons, and Savages unravels the artists' nuanced transcontinental dialogue infused with artistic camaraderie and mutual admiration.
Organized by The Phillips Collection and the Parrish Art Museum, Water Mill, N.Y.
---
CATALOGUE
The fully illustrated catalogue features essays by Klaus Ottmann, Phillips curator at large and exhibition co-curator, and Alicia Longwell, the Lewis B. and Dorothy Cullman Chief Curator, Art and Education at the Parrish Art Museum. The catalogue also includes the first English translation of Dubuffet's major essay on Ossorio and an in-depth study of the materials and techniques used in the works of the three artists.
Artists' Profiles
Jackson Pollock, Alfonso Ossorio, and Jean Dubuffet were among a group of artists in the mid-1950s who sought a different pictorial language through innovative use of materials and techniques. While each was classically trained, all three moved away from traditional painting methods that involved the application of paint using a brush to a canvas placed upright on an easel. Instead, these three artists developed techniques such as dripping, pouring, rubbing, and throwing their media onto paper, canvas, and hardboard panels placed on horizontal surfaces.
Contrary to popular belief that Pollock was a solitary genius, the artist—whom Life magazine posed as the "greatest living painter in the United States" in 1948—was keenly aware of what other artists were doing and was influenced by those he befriended and worked with throughout his abbreviated career. In 1950 and 1951, Pollock worked at times in Ossorio's studio in New York surrounded by Ossorio's paintings. It was at this time that Pollock abandoned his iconic abstract designs and produced the Black Pourings, a series of figurative "drawings" created on unprimed cotton duck using mostly black industrial paint.
Heir to a vast Philippine sugar fortune, Alfonso Ossorio lived for most of his creative life in East Hampton, New York. Born in the Philippines to a Spanish father and Chinese-Filipino mother, he was educated in England and the United States. Upon meeting Betty Parsons in 1941, he started to exhibit regularly, at first in New York, and later in Paris with Dubuffet's help. Among his highly original works are the Victorias Drawings (using the wax-resist method of drawing with candle stubs or liquid wax on paper then applying washes of watercolor) and his Congregations series (found-object assemblages including shells, horns, driftwood, glass eyes, and other materials).
Jean Dubuffet studied painting at the Académie Julian in 1918 but abandoned it in 1923 to take over his father's wine-selling business. He later briefly resumed painting, but did not devote himself entirely to art until 1942 at age 41, when he rapidly became one of the most talked-about artists of his time with his radically anticultural position. He championed the "raw" style of outsider art created in the streets and in mental hospitals (which he called art brut) and turned to highly unconventional materials. While remaining a highly controversial figure in Paris, he became the most prominent French artist in New York during the 1950s, with the American abstract expressionists embracing Dubuffet as one of their own.
Curators' Notes
Director Dorothy Kosinski and Curator at Large Klaus Ottmann, exhibition co-curators, share what the exhibition means to The Phillips Collection.
KO: It must have really surprised you when you came here to learn that [founder] Duncan Phillips had already bought an Ossorio.
DK: In the 1950s from Betty Parsons.
KO: Way ahead of his time.
DK: So this exhibition fits into the Phillips for multiple reasons. One is that Duncan Phillips shows us the way—really early on he is, in the typical Duncan Phillips spirit, embracing Alfonso Ossorio. We're building on that kind of risk-taking attitude.
KO: And on the idea of conversation between American art and European art that Duncan Phillips initiated in his museum, which we continue to this day.
DK: I think the hallmark of Phillips's curatorial thinking was to forefront new ideas and really to contextualize the permanent collection. We now also own other Ossorio works, including one of the later wild assemblages that he called "congregations," and a Jackson Pollock, a very unusual Pollock, as a matter of fact. So there is every reason, inspired by the permanent collection, to embrace a project like this.
KO: One thing that really created a strong affinity among these three artists was that all three were extremely interested in process and materiality and were very experimental. Pollock is well known for having pioneered new techniques, working with materials that until then had never been used in art. Dubuffet similarly used anything—even dirt from the street; he was extremely interested in raw material and in process. Ossorio did the same, and he continued to do it even in his late work. There was a great opportunity to focus on that and collaborate with a number of conservators.
DK: The conservators studied the [Pollock] that Duncan Phillips introduced into his collection early on, and it's still very hard to figure out exactly how he did it. There's so much consternation about Pollock's materials—the paints and so on—so that's really something that we're very keen to forefront.
KO: Some people have claimed that Ossorio was just imitating Pollock, but the fact is that Ossorio used a unique "wax-resist" painting technique that really no one else had used. And Pollock actually tried it a little bit later on, but Pollock also used his own technique, and Dubuffet used very different techniques as well. But all of it was about breaking the traditions of easel painting and using unorthodox materials and experimenting. It's a great match. 
Promotion
HAMPTONS FRIENDS GETAWAY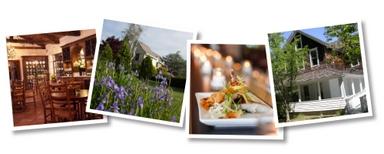 Artists Jackson Pollock, Alfonso Ossorio, and Jean Dubuffet, stars of the Angels, Demons, and Savages exhibition, forged a friendship that fostered a rich creative dialogue. The heart of the story unfolds in East Hampton, New York, where Pollock and Ossorio made their homes and Ossorio displayed Dubuffet's collection.
Who inspires you? Through a picture or short story, tell us who inspires you. Be creative! From your best friend, to your grandmother, to a kindred spirit who lived three centuries ago, we want to hear your stories of inspiring people.
GRAND PRIZE
Hamptons experience for three including round-trip transportation from Washington, D.C., and a three-night hotel stay. Grand prize made possible with generous donations from Parrish Art Museum, Pollock-Krasner House and Study Center, Almond–Bridgehampton, Wölffer Estate Vineyards.