Intersections: Sandra Cinto
One Day, After the Rain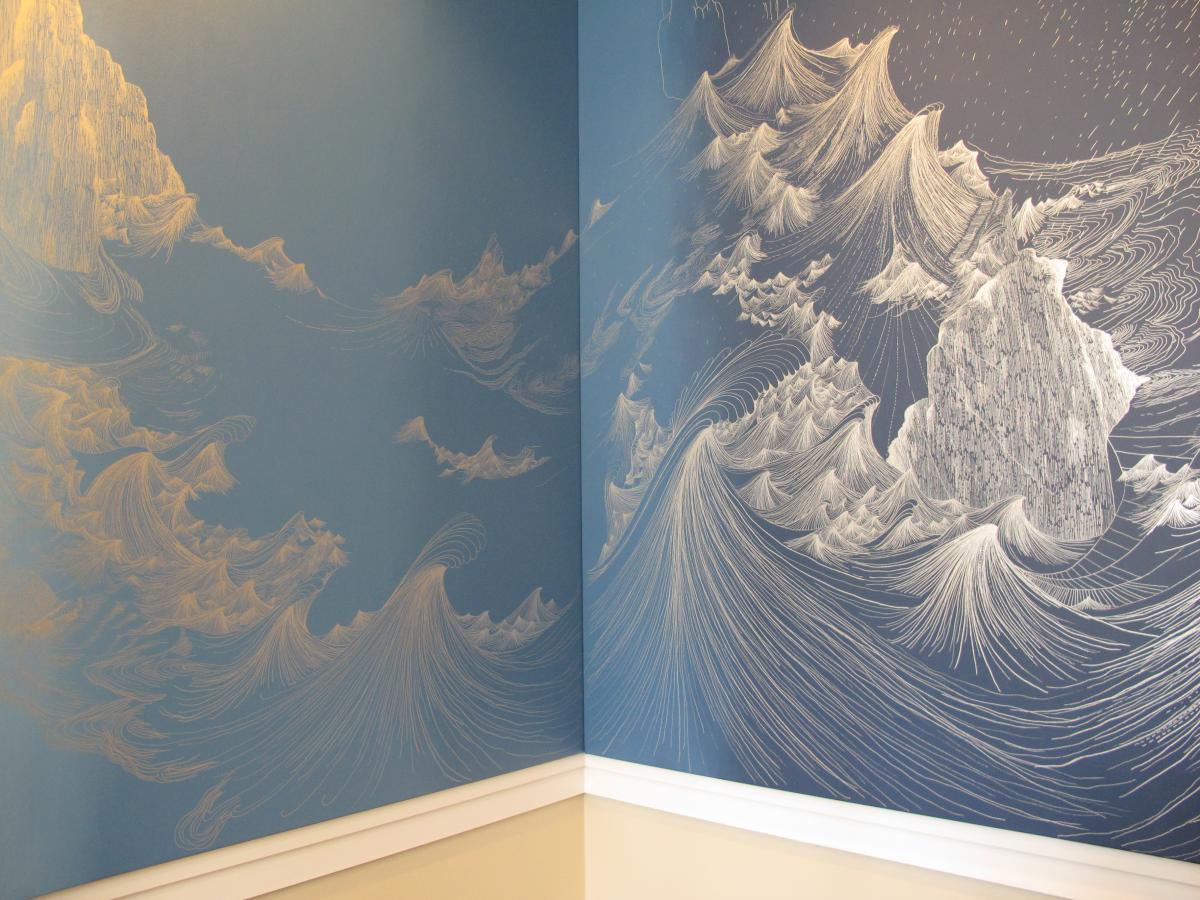 Conceived specifically for the Phillips, One Day, After the Rain is a monumental installation of drawings covering the café walls. Following the transition from sunrise to sundown, Sandra Cinto's work pays homage to Arthur Dove's landscapes in the permanent collection, in particular Sun Drawing Water (1933). It also addresses the architectural elements of the space, specifically the large window which reinforces the movement of light and therefore time. "I am interested in the passage of time marked by sun and moon, day and night, and the movement of water," says Cinto. "I chose the language of drawing because of its intimacy and direct character." 
One Day, After the Rain incorporates eight drawings on canvas mounted on the walls, as well as drawings made directly on the walls. Meticulously executed with silver ink and acrylic on a blue background, the drawings are at times dense and dark and at other times loose and light, resulting in an immersive environment that is intimate and vast, poetic and epic, familiar and strange, real and dreamlike. Following the progression from dawn to nightfall and rain to sun, and connecting sky, earth, and water, Cinto's drawings, much like Dove's paintings, allude to the cycles of nature and the trajectory of human experience.
Intersections artist Sandra Cinto presents One Day, After the Rain (2012)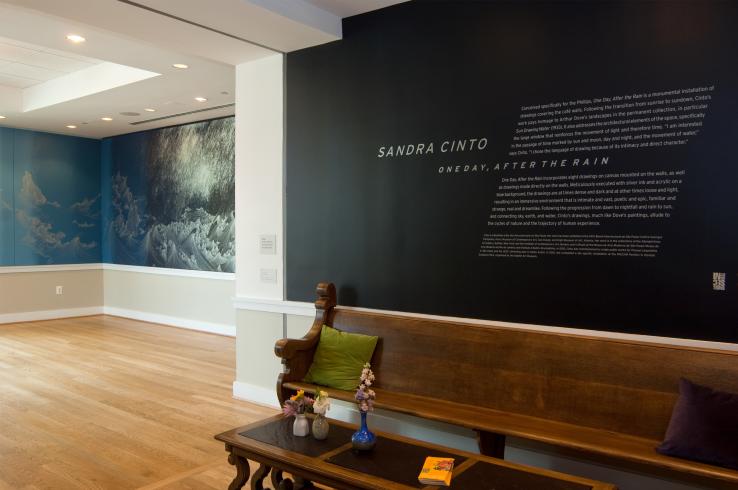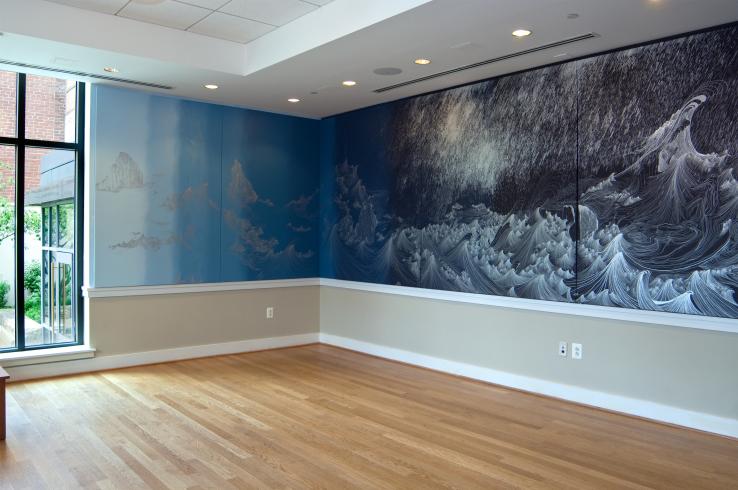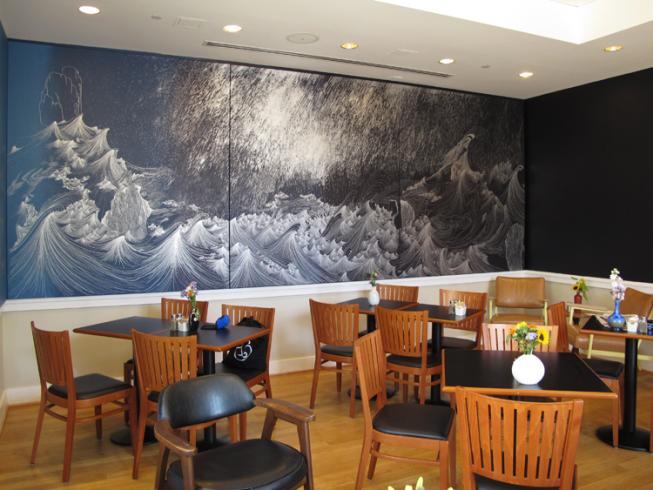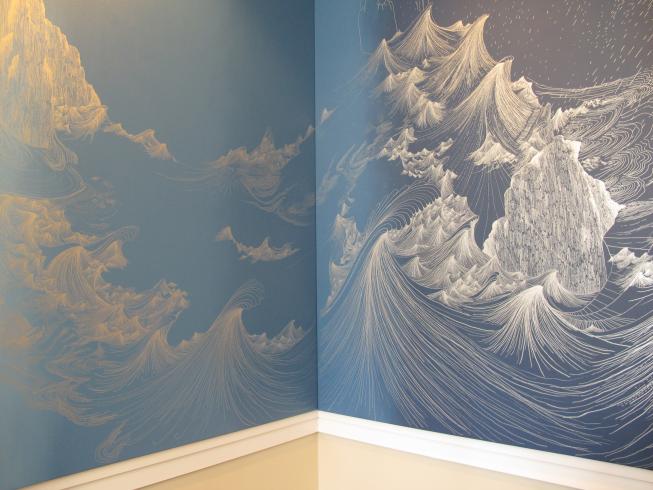 Sandra Cinto is a Brazilian artist who lives and works in São Paulo. Her work has been exhibited at the XXIV Bienal Internacional de São Paulo; Centre Georges Pompidou, Paris; Museum of Contemporary Art, San Diego; and High Museum of Art, Atlanta. Her work is in the collections of the Albright-Knox Art Gallery, Buffalo, New York; and the Institute of Contemporary Art, Boston; and in Brazil at the Museu de Arte Moderna de São Paulo; Museu de Arte Moderna do Rio de Janeiro; and Instituto Inhotim, Brumadinho. In 2010, Cinto was commissioned to create public works for Parque Leopoldina in São Paulo and the SESC swimming pool in Santo André. In 2012, she completed site specific installation at the PACCAR Pavilion in Olympic Sculpture Park,organized by the Seattle Art Museum.
---
Intersections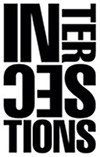 Intersections is a new series of contemporary art projects that explores—as the title suggests—the intriguing intersections between old and new traditions, modern and contemporary art practices, and museum spaces and artistic interventions. Whether engaging with the permanent collection or diverse spaces in the museum, the projects suggest new relationships with their own surprises. 

Many of the projects also riff on the nontraditional nature of the museum's galleries, sometimes activating spaces that are not typical exhibition areas with art produced specifically for those locations.