Intersections: Alyson Shotz
Ecliptic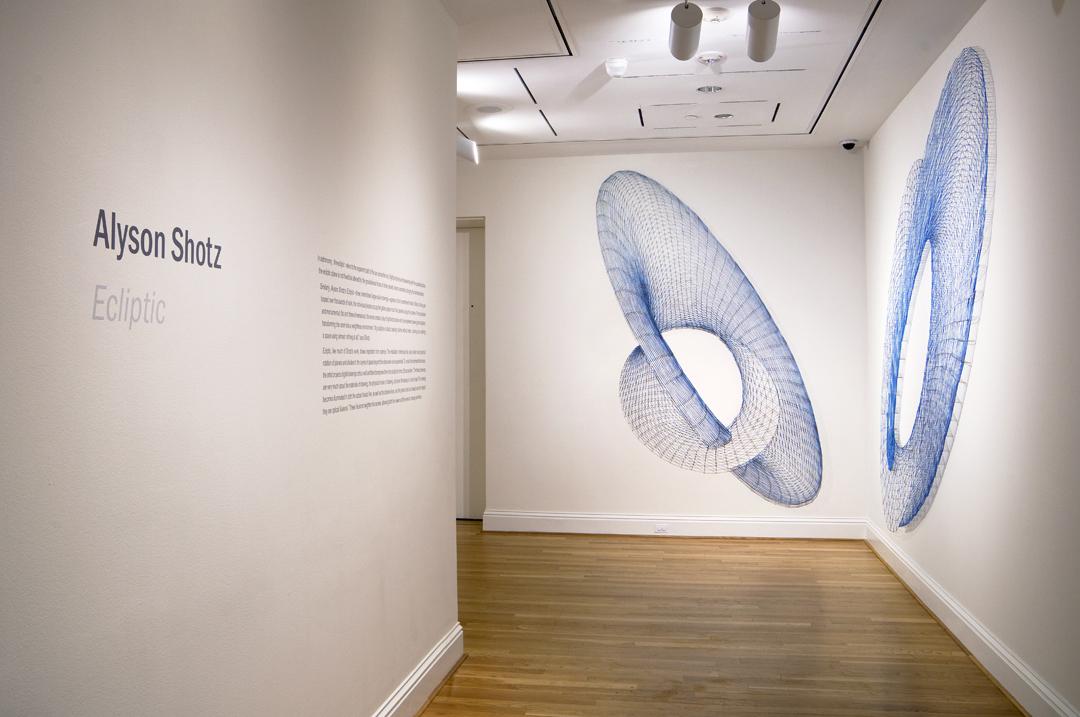 In cosmology, "the ecliptic" refers to the path on which the Earth orbits around the Sun. Slightly inclined and intersecting with the equatorial plane, the ecliptic plane is not fixed but altered by the gravitational forces of other planets, hence constantly changing the celestial sphere.
Similarly, Alyson Shotz's Ecliptic—three interrelated large-scale drawings—is in permanent motion. Made of blue yarn looped over thousands of nails, the individual pieces occupy the gallery space much like planets occupy the cosmos. At once delicate and monumental, flat and three-dimensional, the works create a play of light and shadow and hover between drawing and sculpture, transforming the room into a weightless environment. "My sculpture is about creating volume without mass…carving out or defining a space using almost nothing at all," says Shotz.
Ecliptic, like much of Shotz's work, draws inspiration from science. The installation references cosmic topology and the perpetual rotation of planets and alludes to the layers of space beyond the observable and experiential. To create this, dematerialized space, the artist projects computer–generated shapes onto a wall and then transpose them into sculptural forms. Shotz explains: "The thread drawings are very much about the materials of drawing, the physical motion of drawing, and even the beauty of a line in itself. The drawing becomes illuminated in both the actual thread line, as well as the shadow lines, and the planes that are created are only implied; they are optical illusions." These illusions heighten the senses, allowing both the viewer and the work to change over time.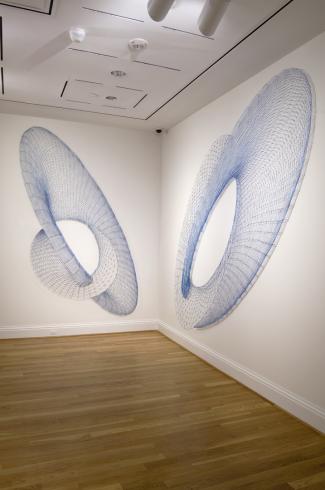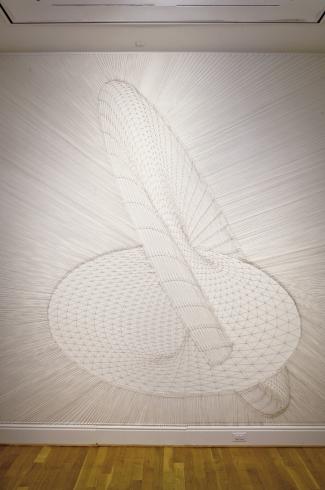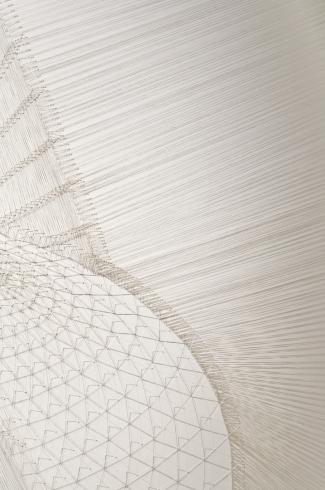 For the last ten years, Alyson Shotz has produced sculptures and installations that employ ordinary materials—mirror, glass beads, plastic lenses, thread, and steel wire—and investigate the material world. the structure of perception, and temporality. Based in Brooklyn, Shotz has had numerous solo and group exhibitions, including at the Aldrich Contemporary Art Museum, Ridgefield, Connecticut; Socrates Sculpture Park and PS1, Queens, New York; MASS MoCA, North Adams, Massachusetts; Nasher Sculpture Center, Dallas, Texas; San Francisco Museum of Modern Art; Wexner Center for the Arts, Columbus, Ohio; Storm King Art Center, Mountainville, New York; and most recently Espace Louis Vuitton Tokyo. Her work is in the collections of the Hirshhorn Museum and Sculpture Garden, Museum of Modern Art, and San Francisco Museum of Modern Art.
---
Intersections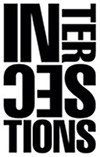 Intersections is a new series of contemporary art projects that explores—as the title suggests—the intriguing intersections between old and new traditions, modern and contemporary art practices, and museum spaces and artistic interventions. Whether engaging with the permanent collection or diverse spaces in the museum, the projects suggest new relationships with their own surprises.
Many of the projects also riff on the nontraditional nature of the museum's galleries, sometimes activating spaces that are not typical exhibition areas with art produced specifically for those locations.