Stella Sounds
The Scarlatti K Series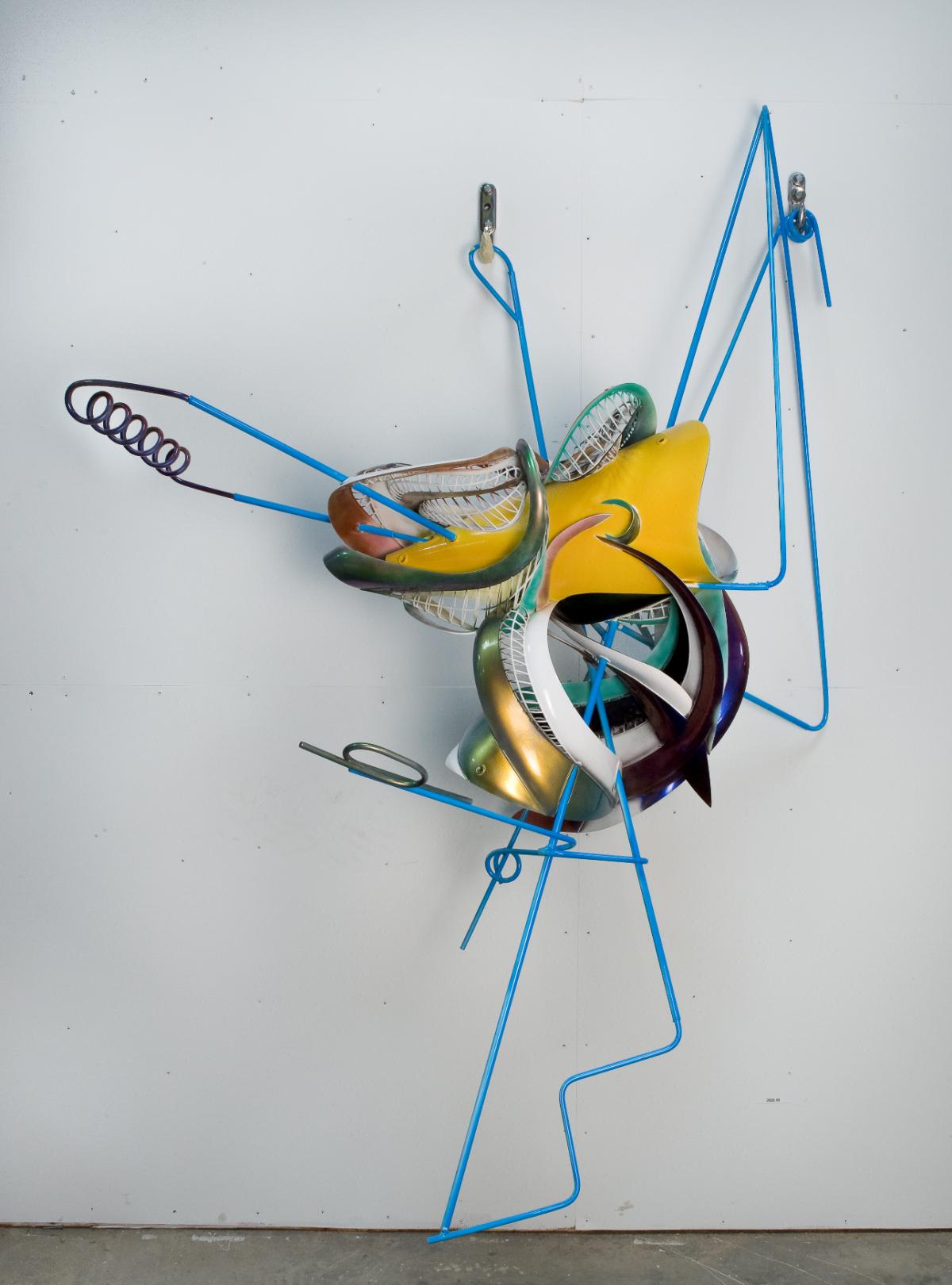 The eight recent sculptures from Frank Stella's (b. 1936) Scarlatti Kirkpatrick Series—swirling, multicolored polychrome forms with coiled steel tubing armatures—are dynamic evocations of the colorful sounds and rhythms of Domenico Scarlatti's harpsichord sonatas.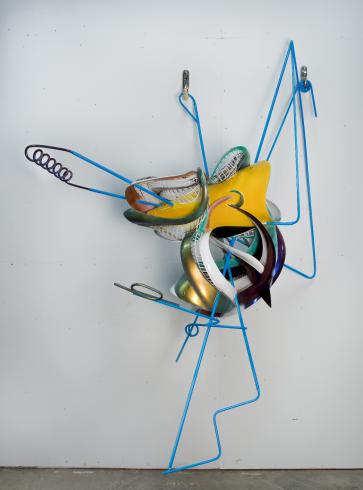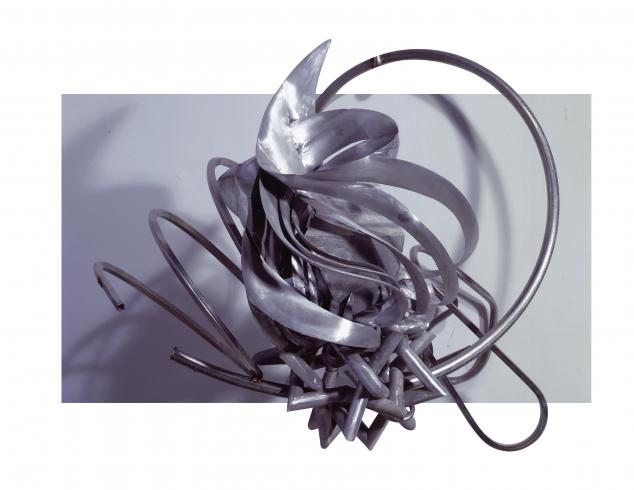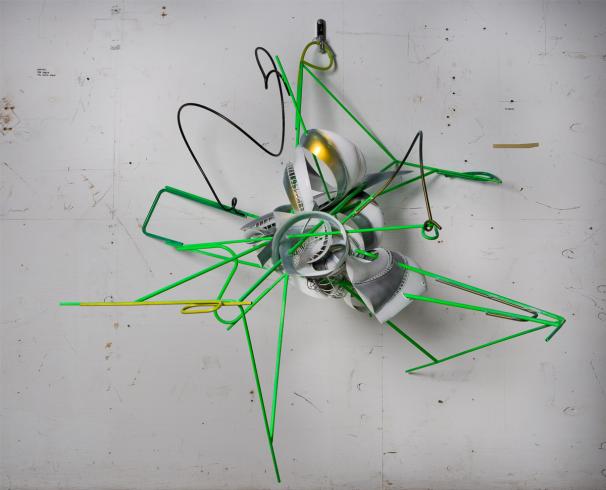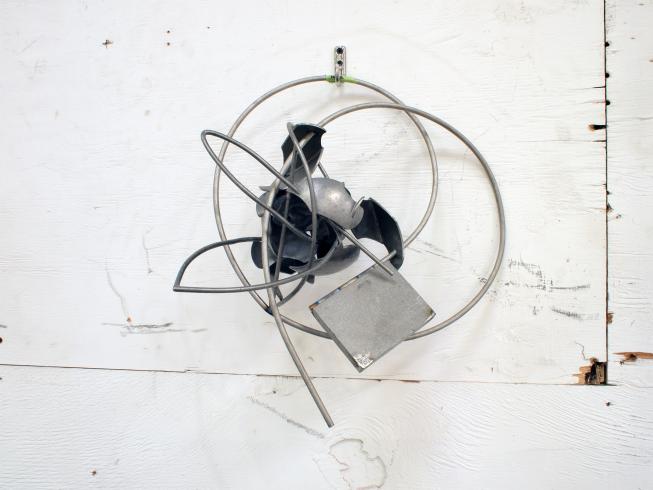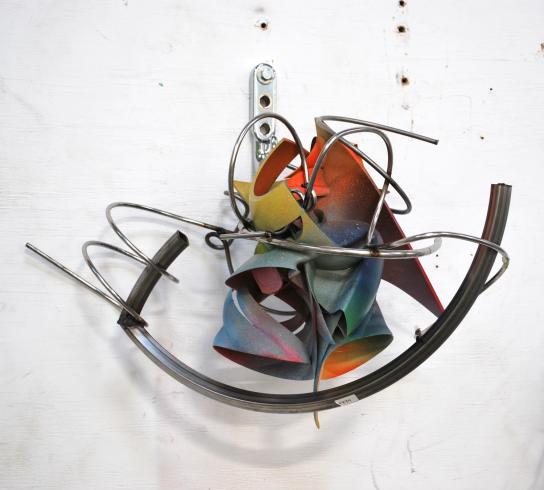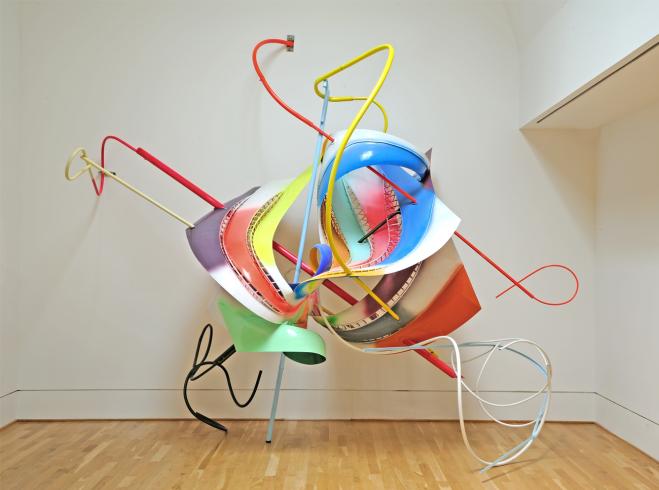 About the Exhibition
Stella Sounds: The Scarlatti K Series presents eight recent works by the renowned American abstract artist Frank Stella from his Scarlatti Kirkpatrick series (2006–), exhibited for the first time in a museum. The spiraling, polychrome works form a bold new chapter in Stella's decades-long career of artistic and technical innovation and reinvention, and are unlike any work he has done before.
The series title refers both to the Italian composer Domenico Scarlatti (1685–1757), known for his many harpsichord sonatas, and to the Yale musicologist and harpsichordist Ralph Kirkpatrick (1911–84), who popularized Scarlatti's work and produced the definitive catalogue of the sonatas in 1953. Stella's constructions, like the sonatas, are each assigned "K" numbers (for example, K.51), but their relationship to Scarlatti's music is one of visual rhythm and abstraction, rather than a literal correspondence. "If you were to be able to follow an edge" of a given work visually, says Stella, "and follow it through quickly, you'd get that sense of rhythm and movement that you get in music." 
Works in the exhibition, which range from a multicolored, 15-foot construction to an intimate, two-foot monochromatic piece, suggest the scope of the ongoing series, which currently includes 150 pieces. For Stella, each begins as a form he makes by hand, which is scanned into a computer. Using a computer model based on the scans, he refines the structure before constructing a small-scale model. (Four are included in the exhibition.) He then creates the final, full-size work by mounting painted resin forms on spiraling lines of coiled steel. The effect is one of lightweight exuberance—very unlike Stella's previous, gravity-bound works, but evocative of the bright, energetic rhythm of a Scarlatti sonata.
By design, this exhibition is presented simultaneously with an exhibition of work by another pioneer of modern art, Kandinsky and the Harmony of Silence: Painting with White Border. Visitors thus have the opportunity to see the work of two very different abstract artists, separated by a century, in visual conversation. Stella, in fact, has often written and lectured on Kandinsky, whom he admires for his work and for his groundbreaking defense of abstract modern art.
Artist Profile
Frank Stella is an internationally recognized contemporary American artist whose extensive body of work, produced over more than five decades, includes paintings, prints, sculptures, murals, and more. He often creates his works in the context of series, from his early, seminal Black Paintings(1958–60) to the multicolored steel constructions of hisScarlatti Kirkpatrick series (2006–), the subject of this exhibition. Stella also writes and lectures on art; his 1983–84 Charles Eliot Norton Lectures at Harvard were published in 1986 as Working Space.
Born in Massachusetts in 1936, Stella attended Phillips Academy in Andover, Massachusetts, and received a history degree in 1958 from Princeton University, where he studied with art historian William Seitz. After graduation, he moved to New York and achieved almost immediate fame with Black Paintings. The paintings—simple, cool, pure—contrasted dramatically with the abstract expressionist style of the day and served as a catalyst for minimalism. Stella, however, was not himself an adherent of minimalism, and his art became more complex and dynamic over time.
In 1960, the Leo Castelli Gallery in New York held Stella's first one-person show. The Museum of Modern Art gave Stella his first retrospective (at the age of 34) just a decade later, in 1970. At about that time, while recovering from surgery, Stella began drawings for his Polish Village series (1970–74), multicolored works in high relief, made of painted industrial materials, which are named for Polish synagogues destroyed by the Nazis. (One of these, Pilica II, is in the permanent collection of the Phillips.)
Stella continued to pursue three-dimensionality in many of his subsequent series, seeking in some ways to combine painting and sculpture. During the 1990s and the early 21st century, Stella has also created large-scale murals and sculptures for public spaces in Europe and North America. In 1987, he received a second full retrospective from the Museum of Modern Art. Stella was awarded the National Medal of Arts in 2009 by President Barack Obama.
Curator's Notes
The works in Frank Stella's Scarlatti Kirkpatrick series, says Curator Elsa Smithgall, have "a lightweight, dynamic quality. They combine sculpture, painting, and even drawing, since Stella sees the steel armatures as a form of drawing that serves to orient the polychrome sculpture in space. There's color, movement, and abstraction."
"An undulating spiral form lies at the heart of each piece," Smithgall notes. "This form recalls the artist's earlier variations on the wave motif in his monumental Moby Dickseries [from the 1980s and 90s] as well as the interpenetrating geometry of his Irregular Polygons series [1965-67]."
"I interviewed Stella at some length for the exhibition," she adds. "We talked about the inspiration for the series in the music of Scarlatti and the writings of Ralph Kirkpatrick. Stella enjoyed listening to Scarlatti when he was an undergraduate at Princeton in the 1950s, a time when Scarlatti enjoyed great popularity. Recently, he reconnected with Scarlatti's music through Kirkpatrick's book. Kirkpatrick spent 12 years preparing his biography and cataloguing all 555 of the Scarlatti sonatas—'bullying his way through it and forcing it into a form,' as Stella says, in a way that he can relate to."
"In planning this exhibition for the same time period as the Kandinsky exhibition, we wanted to place Kandinsky in dialogue with a contemporary artist. What's so wonderful about working with Stella's contemporary work is that we are also able to reconnect with an artist the museum had worked with years before, in our 1973 exhibition. And he's still pushing the limits of art, still reinventing himself."
"Stella himself has written extensively about Kandinsky, whom he greatly admires," she says. "And these particular works in the Scarlatti Kirkpatrick series resonate beautifully with the work of Kandinsky, including the idea that they are inspired by music. Kandinsky, too, embraced this idea that art and music are two analogous, though separate, abstract languages."