Intersections: Nicholas and Sheila Pye
The Coronation
The Coronation is a three-channel video with sound, projected on three 52-inch plasma monitors. Displayed in a manner that evokes an altarpiece triptych from the medieval or Renaissance period, the work alters the architecture of the Phillips House gallery and establishes a visual dialogue with Georges Rouault's Tragic Landscape, 1930, from the permanent collection. Produced by a Canadian collaborative team, Nicholas and Sheila Pye (at the time married and now separated), the work delves into the precariousness of an intimate relationship, and explores issues of gender and identity.
As an elusive, open-ended narrative The Coronation is a modern allegory of love. Charged with symbolic meaning taken from the Book of Genesis—and referring to the vice and virtue of primal sexuality—The Coronation is carefully staged in a series of constructed tableaus. While the piece borrows its visual language from the history of painting, especially from traditional portraiture, and sixteenth- and seventeenth-century Northern European vanitas (still life paintings alluding to the futility of pleasure and the transience of life), its mise-en-scène brings together performance art (in particular that of Marina Abramović and Ulay), experimental film (long takes, slow pace, and nonlinear narrative), and video art (like Bill Viola's highly emotional and theatrical works where the sound and image are completely intertwined). When juxtaposed with Rouault's Tragic Landscape, a desolate landscape with figures rooted to the earth, The Coronation takes on an epic dimension, as it alludes to the profound interdependence between humans and their environment. It is this integration of past artistic tradition and new media practices that gives the artists's work a unique place.
The Pyes' collaborative projects span video, performance, installation, and photography. Despite different media, their subject matter has remained consistent: the entanglement between two emotionally and sexually tied individuals. Although drawn directly from their life experience as a married couple, their work is by no means autobiographical; rather, the biographical moments serve as a springboard for tackling an array of human emotions, such as desire, obsession, anger, mistrust, resentment, codependency, and rivalry. "People try to commodify the 'couple' aspect of our practice, because it's an easy way to approach the work," Nicholas says. "But we used ourselves simply because it was affordable and we couldn't convince others to do what we wanted. Viewers assume that the works are about our personal relationship, but we don't intend our work to be about us." Indeed, visually beautiful and poetic yet often bizarre and discomforting, the Pyes' work evokes contradictory feelings of affection and repulsion, seduction and surrender, vulnerability and resistance, feelings that are at once universal and wholly human.
Intersections artists Nicholas and Sheila Pye present The Coronation (2008)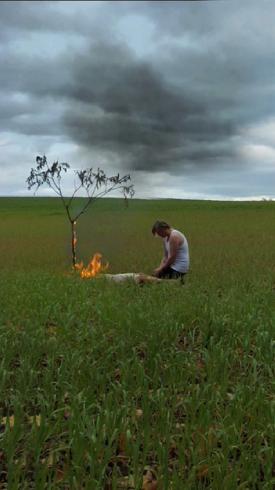 Sheila Pye was born near Hamilton, Canada. She studied painting, photography, and video at the Ontario College of Art & Design, where she met Nicholas, an English born artist who was also studying there at the time. Together, they continued their graduate studies at Concordia University in Montreal, where they both received MFA degrees in film production. Since then, the couple collaborated extensively in performance, cinema, and large-format still photography, yet maintained separate artistic practices: Sheila in film directing, and Nicholas in photography, sound, and video art. The Pyes have exhibited their collaborative work, nationally and internationally, including at The Hirshhorn Museum & Sculpture Garden, Washington, D.C.; Museum of Contemporary Art, San Diego, CA; The Museo Nacional Centro de Arte Reina Sofía, Madrid, Spain; Galerie Nationale du Jeu de Paume, Paris, France; San Francisco Arts Commission Gallery, San Francisco, California; Museum of Contemporary Canadian Art and The Power Plant, Toronto, Canada, among others. The Pyes' work has been screened in numerous international film festivals such as the Toronto International Film Festival, Canada; the Locarno International Film Festival, Switzerland; and Les Rencontres Internationales in Paris, Berlin, and Madrid. Their most recent photographic work is shown at Curator's Office, Washington, D.C., concurrently with the installation at the Phillips.
---
Intersections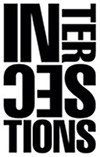 Intersections is a series of contemporary art projects that explores—as the title suggests—the intriguing intersections between old and new traditions, modern and contemporary art practices, and museum spaces and artistic interventions. Whether engaging with the permanent collection or diverse spaces in the museum, the projects suggest new relationships with their own surprises.
Many of the projects also riff on the nontraditional nature of the museum's galleries, sometimes activating spaces that are not typical exhibition areas with art produced specifically for those locations.
Intersections is supported by Phillips International Forum members.