Intersections: Jennifer Wen Ma
Brain Storm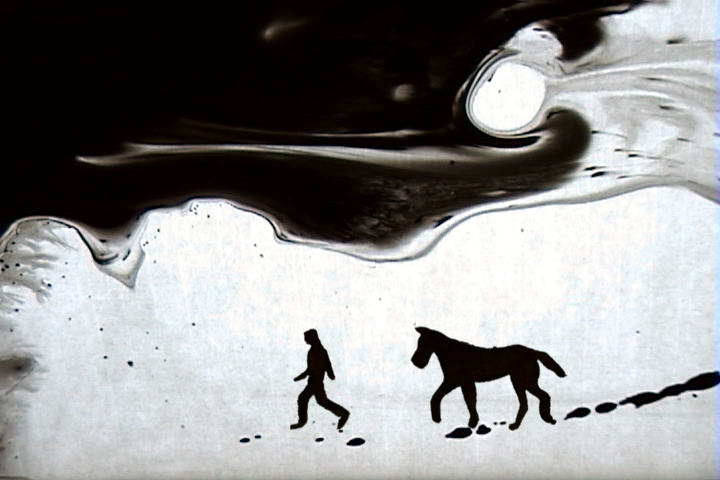 Jennifer Wen Ma's Brain Storm is a work in two parts: a single-channel video projected on a scroll-like screen in a gallery; and video stills, printed on transparent film, and mounted on the windows of the bridge walkway connecting the house to the Goh Annex. Showing a man and a horse crossing a stormy landscape, the piece alludes to an inner journey, or a brainstorm, unpredictable, uneven, and moody. Ma has reconfigured Brain Storm, originally commissioned in a three-channel version for Guggenheim Bilbao in 2009, for the smaller, more intimate space of the Phillips, adding an audio component—the sound of breath blown through lips—that reinforces the atmospheric quality of the piece. Brain Storm is displayed near Jacob Lawrence's Migration Series and in conversation with landscapes by Paul Cézanne (The Garden at Les Lauves), Arthur Dove (Me and the Moon), and Wassily Kandinsky (Autumn II), works that for Ma evoke movement or travel, whether spatial, temporal, or mental.
The presentation of Brain Storm is made possible by Transformer and Shigeko Bork mu projects, in conjunction with Ink Storm, an exhibition curated by Ma at Transformer, Washington, DC (September 18–October 31, 2009).
IMAGE: Jennifer Wen Ma, Brain Storm (2009), Single-channel video
Intersections
Intersections is a series of contemporary art projects that explores—as the title suggests—the intriguing intersections between old and new traditions, modern and contemporary art practices, and museum spaces and artistic interventions. Whether engaging with the permanent collection or diverse spaces in the museum, the projects suggest new relationships with their own surprises.
Many of the projects also riff on the nontraditional nature of the museum's galleries, sometimes activating spaces that are not typical exhibition areas with art produced specifically for those locations.