Digital Intersections Open Call
Submit your work to be part of the Digital Intersection series

The Phillips Collection invites digital media artists living in or connected to neighborhoods in Wards 7 & 8 in Washington, DC, to submit multimedia work to be part of the Digital Intersections series.
Five selected digital works will be displayed as part of the Digital Window Exhibition series at Phillips@THEARC (displayed on a monitor at the Phillips's satellite campus at THEARC in Southeast DC). The selected works will be on view for a minimum of three months, published on the Phillips's website and YouTube channel, and shared on the Phillips's social media. The selected artists will also receive an honorarium of $1,000.
Digital Intersections continues The Phillips Collection's long tradition of working closely with living artists, and engaging with communities locally, nationally, and internationally to make our collection, programming, and opportunities accessible to all.
Submissions have closed.
Timeline
Submissions portal open on this page: Deadline extended to June 12, 2023!
Exhibition dates:

The five selections will be shown for a minimum of three months in an order determined by the jurors between summer 2023-summer 2024.
Questions
Jurors
Nehemiah Dixon III, Senior Director for Programming and Community Engagement, The Phillips Collection
Laylaa Randera, Manager of Community Projects, The Phillips Collection
Vesela Sretenović, Director of Contemporary Art Initiatives and Academic Affairs, The Phillips Collection
Lynnita Jones Morton, Vice President of Operations and Programming, THEARC
Dee Dwyer, photographer
All submissions:

L

andscape orientation, with 16:9 aspect ratio

Artwork must be original in concept, design, and execution

For 2D works:

Supported file extensions are jpg, gif, png, jpeg
Images must be between 960

px and 4600 px

on the long side, and up to 5 MB in size

Color space: sRGB 8 Bit

For time-based media/video works:

Video artworks are limited to single-channel

Video/film/animation artworks can run up to 2-5 minutes

Videos must be hosted by a third-party video hosting service, such as YouTube or Vimeo

Subtitles if there is audio (works with sound will only be audible on the website and YouTube)
Up to 3 works for consideration. Additional works will be disqualified.

Short biography/artist statement (up to 250 words)
Description of the work, including media, date, title, and duration (up to 250 words)

All entries must be submitted electronically via the submission link which will be available on this page from March 8-April 28, 2023; only submissions entered through the portal will qualify. Incomplete submissions or those not meeting eligibility requirements will be disqualified.

If submitting video work, please include both the embed code and the URL link.

With the submission of artwork, the artist agrees to all the terms and conditions set forth in this call.
The Phillips Collection reserves the right to reject artwork that contains materials that might pose a risk to the museum, its collections, its staff, and/or the public, and/or contains offensive language or content.
Digital media artists living in or connected to neighborhoods in Wards 7 & 8 in Washington, DC.

Digital media artists working with film, video, animation, graphics, photography, or other digital media disciplines.

The Phillips Collection trustees, staff, volunteers and their immediate families will not be eligible to participate.

Artists who are 18 years of age or older.
The Phillips reserves the right, and each artist agrees that the Phillips shall be entitled to, to use any images of the artworks provided by the artists or their representatives, and to photograph, videotape, and/or otherwise reproduce the artworks for documentation, publicity, publication, educational, and all other purposes, in print and digital forms, connected with the exhibition.
The Philips assumes the right to reproduce images of the works on its digital channels, including but not limited to its website and social media accounts for documentary, educational, and promotional functions.
The general public may take photos for personal, non-commercial use only.
By submitting any artwork, artists will be deemed to have certified that they are the creator and owner of the artwork being submitted and that nothing they submit will infringe on the rights of others.
Artists will also be deemed to have granted The Phillips Collection a royalty-free, worldwide, perpetual license to display their image, in whole or in part, without further review or participation, in any medium now existing or subsequently developed, in promotional or trade uses on The Phillips Collection websites and social media platforms, and format it to fit the website specifications, without any compensation.
The Phillips Collection's issuance of these guidelines does not constitute an agreement that a work will be selected for exhibition and/or that an artist is in any way otherwise associated with it.
The Phillips Collection expressly reserves the right at any time to:
Waive and/or correct any defect and/or informality in these guidelines
Reject any submissions
Reissue these guidelines
Prior to the submission deadline, modify these guidelines.
The Phillips Collection will treat all information provided by an artist when entering according to the Privacy Policy posted at www.phillipscollection.org.
The Phillips Collection reserves the right, in its sole discretion, to (1) cancel, terminate, suspend, and/or modify these guidelines, or any part, at any time, without notice, and (2) to cancel, terminate, modify or suspend the exhibitions in whole or in part, at any time, without notice and award prizes using eligible entries received as of the termination/suspension date, if any infection, computer virus, bugs, tampering, unauthorized intervention, fraud, technical failures, or any other cause beyond The Phillips' control, affects the integrity or proper conduct thereof. The Phillips Collection reserves the right, in its sole discretion, to disqualify any individual who tampers with the entry process (if applicable) or the operation of the exhibitions or to be acting in violation of these guidelines or any other promotion or in a disruptive manner. The Phillips Collection is not responsible for (1) entries that are lost, late, incomplete, illegible, incorrect, delayed, garbled, undelivered, or misdirected; (2) theft, destruction or alteration of, or unauthorized access to, entries; (3) failures or malfunctions of phones, phone lines, or telephone or data transmission systems; (4) interrupted or unavailable network, server, or other connections; (5) any error, omission, interruption, defect or delay in any transmission or communication; (6) traffic congestion on the Internet or any technical problem, including but not limited to any injury or damage to any person's computer or computer system related to or resulting from participation; (7) typographical, printing, or other errors or omissions in these guidelines, in any advertisements, or other materials; or (8) other problems or errors of any kind whether computer, network, mechanical, human, electronic, typographical, printing, or otherwise relating to the exhibitions, including, without limitation, errors or problems which may occur in connection with the administration of the exhibitions, in the processing of entries, in the selection or announcement of winners. The Phillips Collection's failure to enforce any term of these guidelines shall not constitute a waiver of that provision.
About Digital Intersections

Digital Intersections is a series of digital projects building on the Phillips's ongoing series of contemporary art projects—Intersections—in which artists are invited to produce work that engages the museum's architecture and/or permanent collection.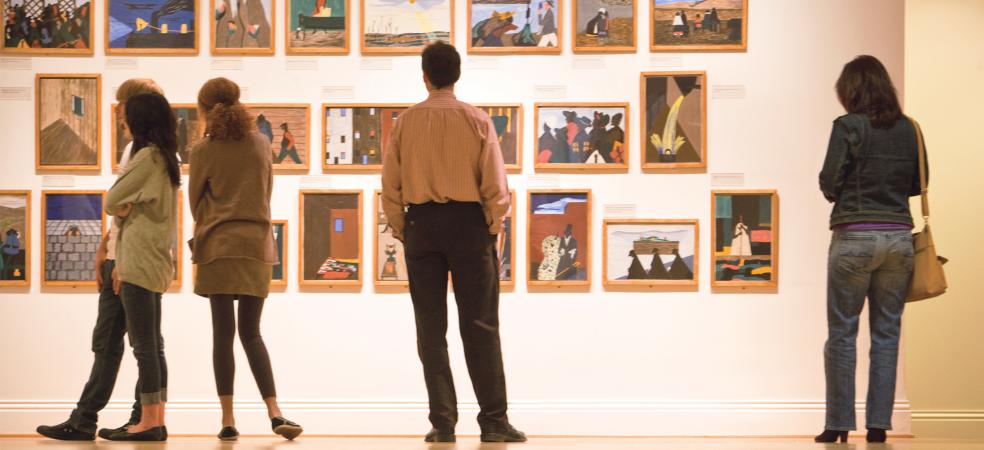 Sign-Up!
Get information about our exhibitions, events, and more delivered straight to your inbox.