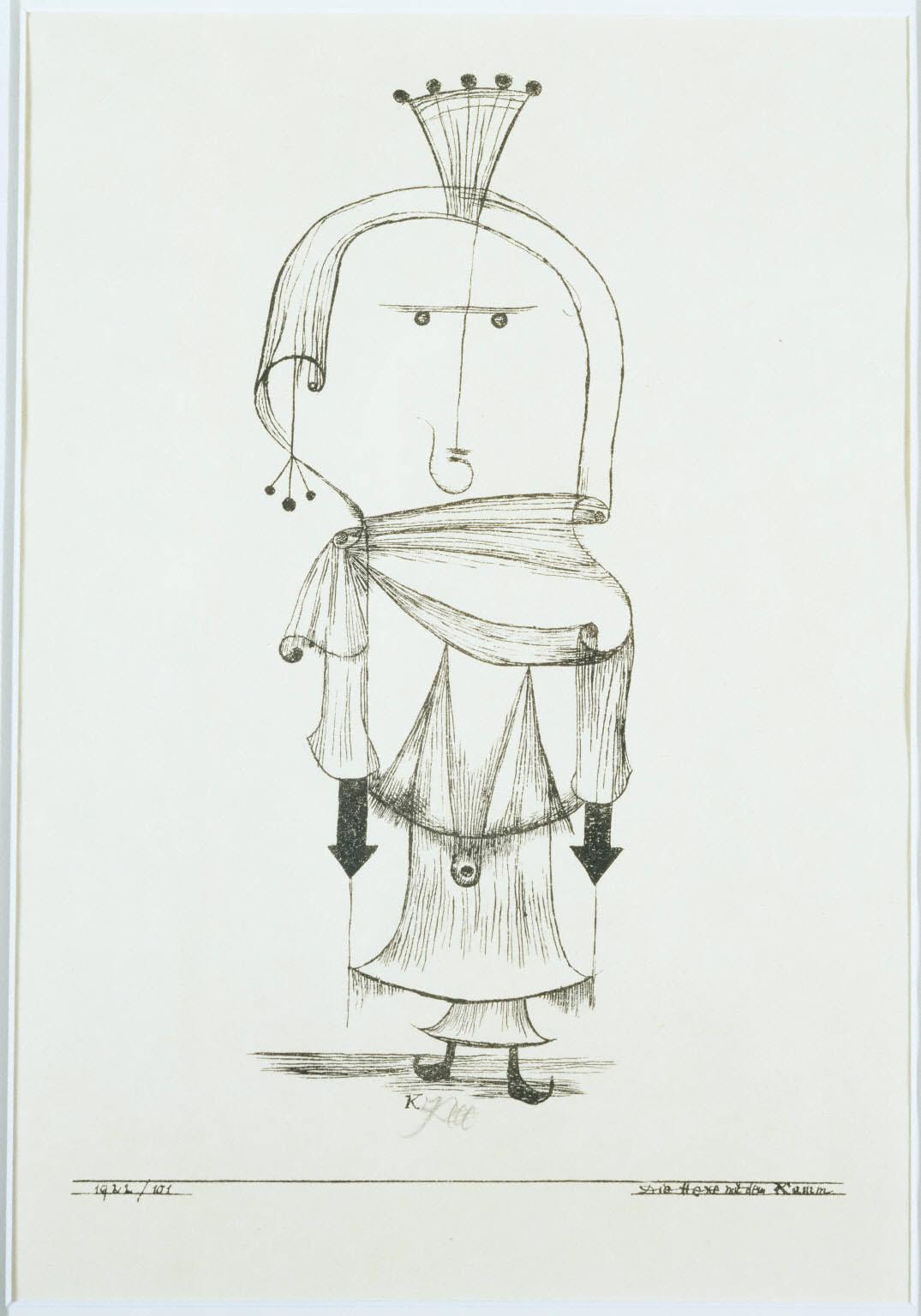 Although many of Klee's contemporaries in Germany had a serious interest in printmaking, Klee made only 109 prints during his career, 69 of which were completed by the end of 1918, just as he was entering his fertile middle period that begins with the Bauhaus. During the years 1919 to 1925, Klee made 30 lithographs, nearly all of which were based on previous drawings. Most of the lithographs of this period were produced in response to commissions for publications or portfolios. In this case, the lithograph The Witch with the Comb was published by the Künstlerspende für das Deutsche Buchmuseum, Leipzig, 1922. Editions of Klee's prints are generally very small with fewer than sixty of the artist's prints published or printed in editions often or more impressions. This lithograph was made in an edition of 215.
The frontally posed and centrally positioned figure of the witch or sorceress in the lithograph is quite humorous with her dangling earring, fancy hair-comb, flapper's stylish dress adorned with a scarf draped around her shoulders and tied to the side. She looks out at us with a rather impish facial expression reminiscent of a musical notation. Although the title identifies her as a figure with magical powers, Klee makes her into a charming figure endowed with his multivalent symbol for supernatural powers—the arrow. Instead of hands, the artist has placed a pair of arrows, pointing down, at the end of the witch's sleeves, giving the arrows a strong sense of extraordinary force.
The transfer of drawings became Klee's preferred lithographic technique. In fact, it is highly probable that Klee's invention of the oil-transfer process was stimulated by lithography. This lithograph would be an important addition to the museum's current holdings of Klee's work. It is from the same year as the earliest Klee in the permanent collection (Little Regata). The rarity of Klee's prints and the direct relationship of his lithographs to his drawings, makes this lithograph of The Witch with the Comb an opportunity to have a key example of Klee's graphic work in the Collection. It would be the first print by Klee to enter the Collection.
Ten Americans: After Paul Klee explores The Witch with the Comb