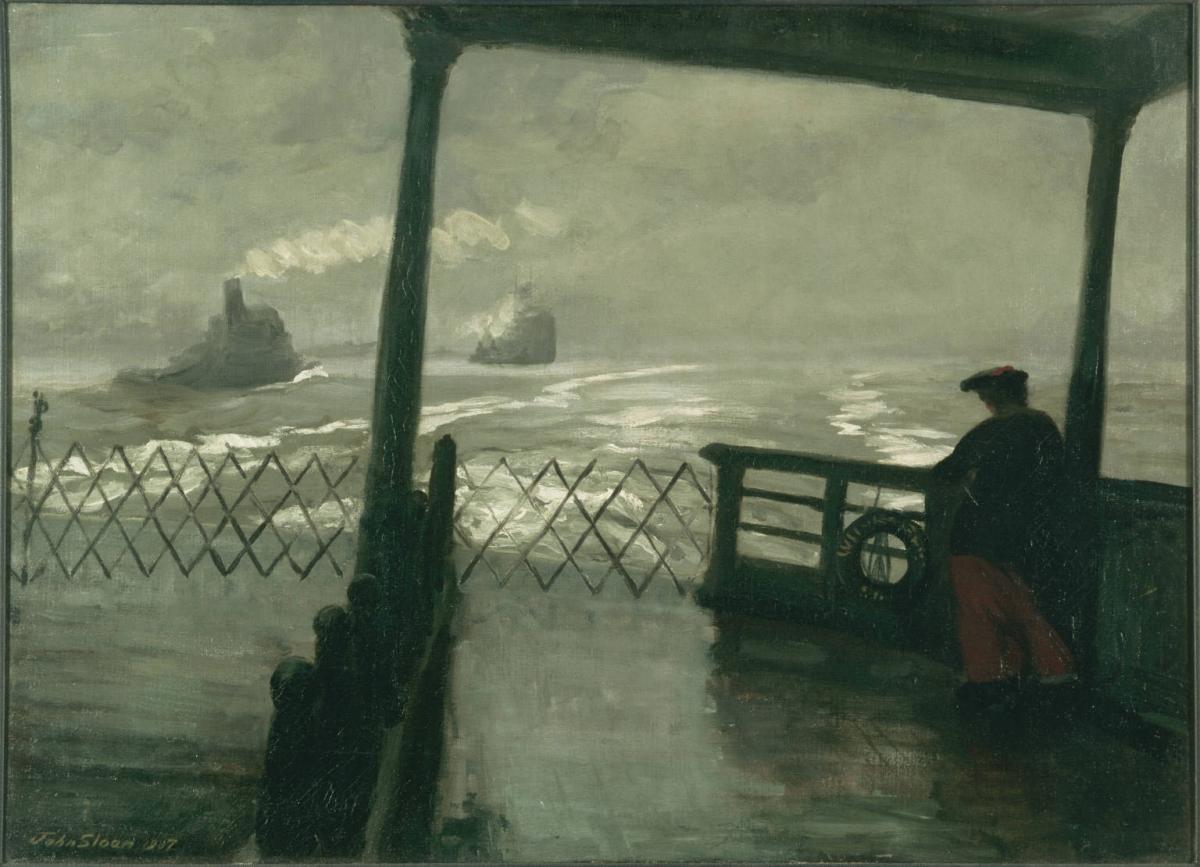 Sloan began painting The Wake of the Ferry II on May 8, 1907, soon after completing arrangements for the exhibition of The Eight to be held at Macbeth Gallery the following February. In this work, Sloan captured the boat/river theme that was popular among the members of his circle, injecting a human element into the painting. The subject may well have been suggested by the occasions when Sloan accompanied his wife, Dolly, to the Jersey City ferry on her way to Philadelphia for medical treatments.
He executed the first version, The Wake of the Ferry I—currently at the Detroit Institute of Arts—on March 19, 1907, after returning from a ferry ride to Jersey City. Soon after, however, Sloan threw a rocking chair at the painting during a quarrel with his wife, damaging the sky area. When he began The Wake of the Ferry II on May 8, he made some changes; the elimination of background activity, the reduction of the palette to tonal grays, and the listless pose of the figure create a more somber and personal experience. The composition reinforces the mood; the ferry's tilted framing of the river view is arresting, and the diagonal of the wake receding into the mist reinforces the sense of loneliness and distance.
Duncan Phillips admired Sloan's ability to evoke a specific mood. "Sloan, during that earlier New York period," he wrote, "was a splendid painter and space composer. He could take the ugly facts of a scene like the deck of a ferry boat on a rainy day and make his use of gray not only dramatic but infinitely subtle in its scale of 'values.'" Another critic described The Wake of the Ferry II as "one of the few really first-rate mood paintings in early 20th-century American Art."
In 1949 the Cleveland Print Club asked Sloan to make an etching of it for its membership. Sloan refused, saying he did not like to reproduce early work. However, when the Art Students League asked Sloan to make an etching for sale to their members, he agreed, choosing to portray "merry-making mourners on the front of a ferry boat"—The Wake on the Ferry II—"for the amusement of collectors who could appreciate the contrast with the more romantic realism of his 1907 painting." In 1971 the painting was selected by the United States Postal Service for a stamp commemorating the centennial year of Sloan's birth.