Self-Portrait with Red Tam and Scarf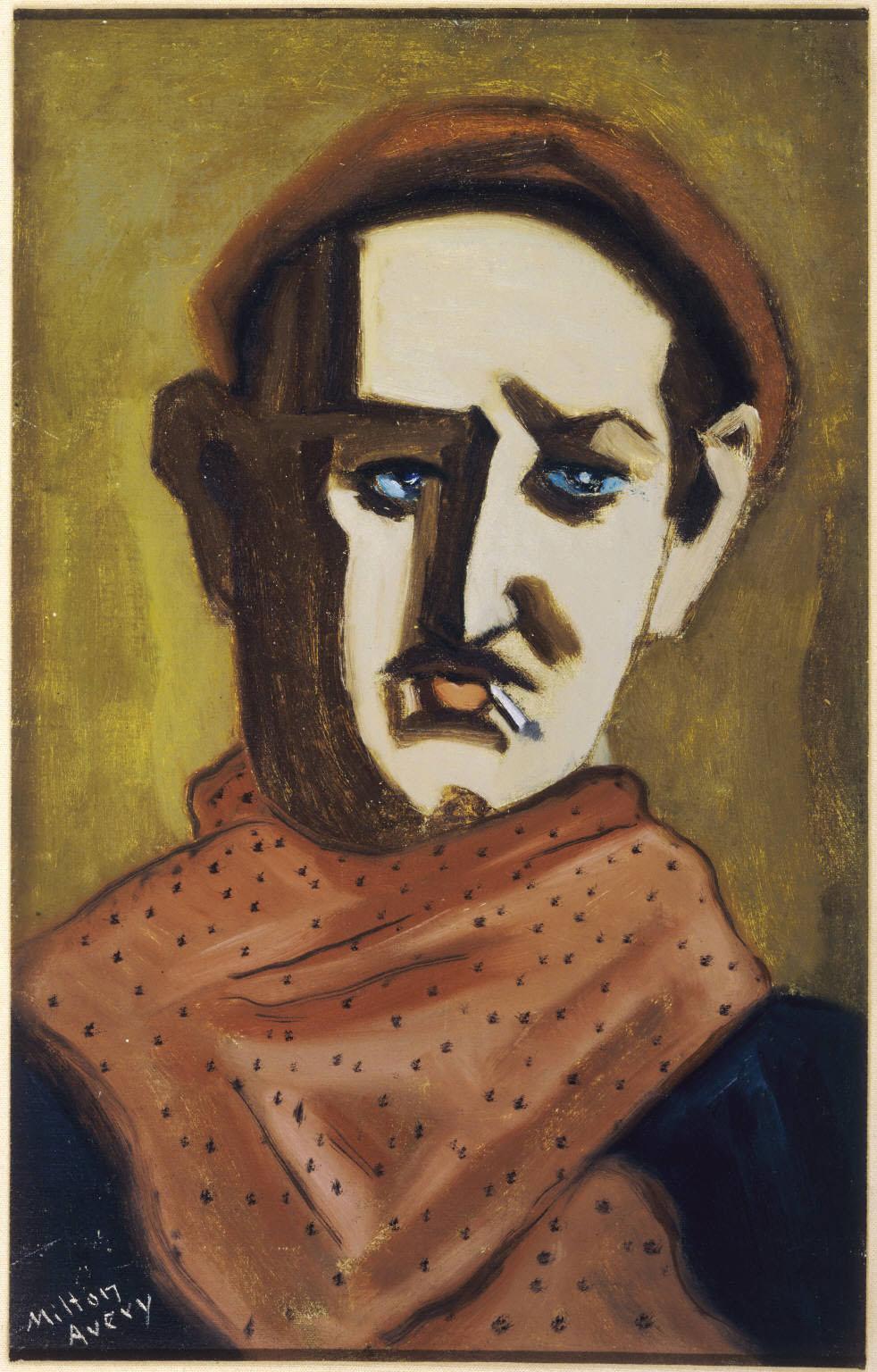 Milton Avery immersed himself in the art world after he moved to New York City in 1925, attending numerous museum and gallery exhibitions, absorbing ideas from art periodicals, and developing his own style. He enrolled in classes at the Art Students League and drew landscapes and portraits of friends. After seeing Henri Matisse's art at the Valentine Gallery in 1927, Avery pursued a more modern aesthetic defined by simplified, flat color fields. His work caught the eye of patron Louis Kaufman, an accomplished violinist, who befriended Avery in 1928 and went on to acquire twenty-nine of the artist's paintings, including this example.
Through Kaufman, Avery met Mark Rothko, who introduced him to Adolph Gottlieb and Barnett Newman. Beginning in the 1930s, the group gathered at Avery's New York apartment to discuss painting and hold sketching sessions; they shared art-filled summers in Gloucester, Massachusetts. Avery became their mentor. He inspired them to experiment with various pigment combinations and make their art more abstract.
Joining the Valentine Gallery in 1935 encouraged Avery to challenge himself. No longer constrained by naturalistic hues, he explored the emotional and compositional effects of a bolder, more saturated palette. By compressing shapes and reducing details, his figures became even more abstract. He would later explain: "I eliminate and simplify, leaving apparently nothing but color and pattern….[T]he purity and essence of the idea expressed in its simplest forms." [1]
The year Self-Portrait with Red Tam and Scarf was painted, Avery worked for the Easel Division of the WPA Federal Art Project. Although he was grateful for the stipend, his modernist approach was at odds with the program's promotion of representational art. This self-portrait, distinguished by its unmodulated color layers and sharply outlined forms, shows Avery's interest in the art of Matisse and Pablo Picasso. Facing the viewer, a cigarette between his lips, in this bust-length portrait Avery presents himself as a bohemian. He wears a red tam o'shanter, a traditional Scottish wool hat, and a large patterned red scarf wrapped around his neck. Dramatic lighting and shading carve expressive features into his sculpted face; his contemplative gaze does not engage with the viewer.
Five years after this canvas was painted, Duncan Phillips hosted Avery's first solo museum exhibition. Like Kaufman, Phillips had supported Avery's career early, acquiring in 1929 the first work by the artist to enter a museum collection, Winter Riders (1929). Phillips went on to assemble a distinguished unit of eleven works by Avery and organized three more solo shows for the artist. Phillips admired his independence, associating him with other artists in the collection like Arthur Dove and John Marin. Today, the museum owns over twenty-five works by Avery.
1. In Edward A. Aiken, Milton Avery Revisited: Works from the Louis and Annette Kaufman Collection (New York: Syracuse University Art Collection, 1999), 6.
Text by Renée Maurer, adapted from Seeing Differently: The Phillips Collects for a New Century (The Phillips Collection in association with Giles, 2021)