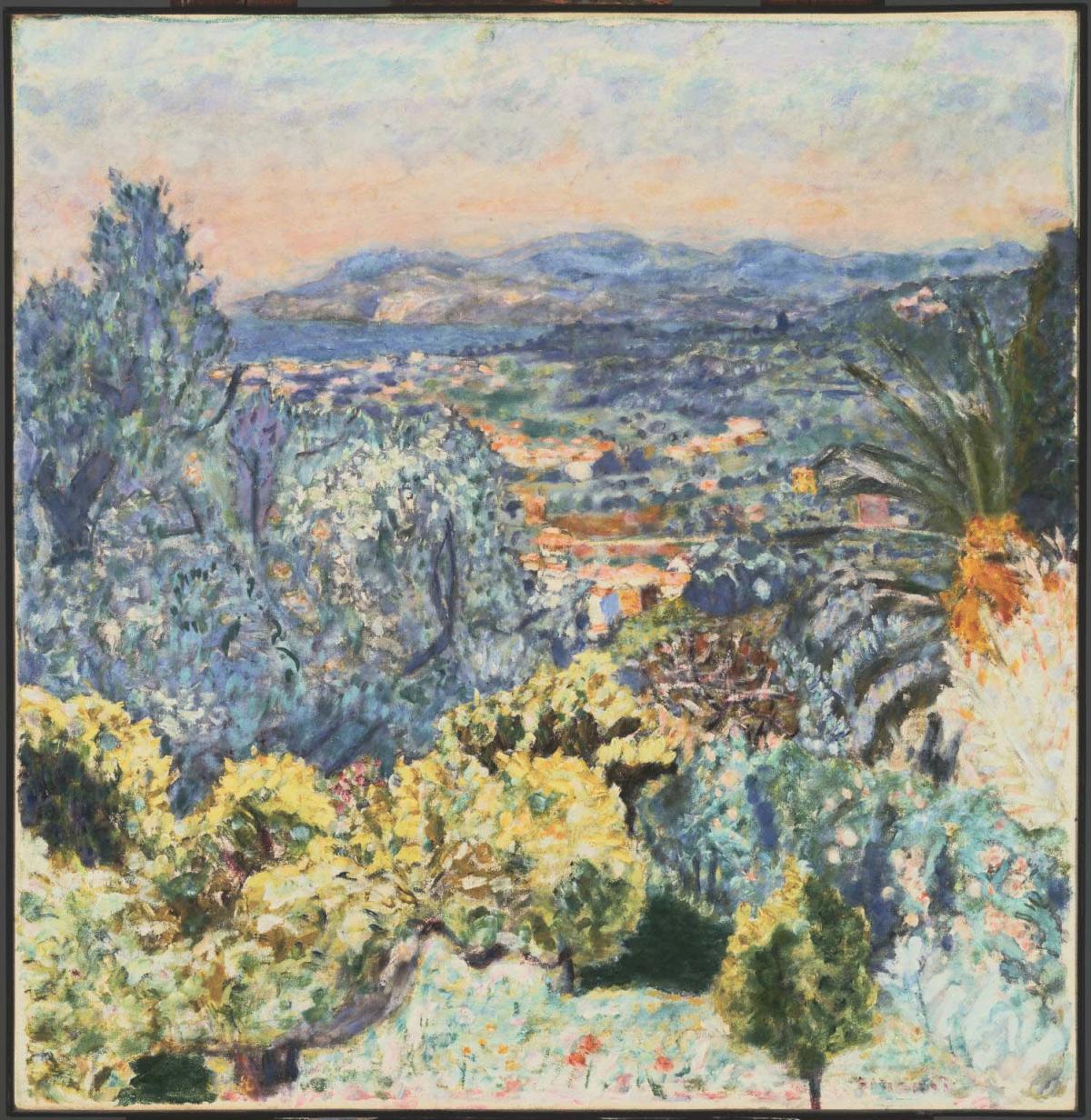 Pierre Bonnard's first impression of the Mediterranean coast was "… an experience akin to the thousand and one nights; the sea, the yellow walls, the reflections which are as colored as the light effects …" However, he found the southern light alien at first, writing, "I can't paint here; there are no colors." But by seeking a vantage point from the shadows, as he had done in previous paintings, he found that the brilliance could come alive, the nuances of color animated by the deep shades of the foreground.
Bonnard worked in southern France for part of almost every year, by 1922 favoring Le Cannet, the village above Cannes. The Riviera is among others in his late oeuvre that reflect his love of the region. The broken brushwork forms luxuriant masses of opalescent foliage akin to Monet and Renoir, yet the abrupt juxtaposition of foreground and deep space creates stark spatial distinctions that vibrate against each other in the manner of Cézanne. The nearby bushes sparkle in sharp sunlight against the hazy blue middle ground of trees and distant atmosphere. In this way, Bonnard imposed compositional structure on his impressionistic technique, thereby solving the question he continually posed to himself: how to create form from color and light.
The flat shape denoting the foreground in The Riviera takes the eye upward; this device, in combination with the foliage's subtle textural variations, recalls the patterning of Bonnard's Nabi years. A lyric expressiveness infuses the pallid sky, the scattered light, and the ethereal view of the mountains. Bonnard's work in gouache and watercolor, begun in earnest in 1925, may have influenced the blurred forms and softened washes of paint in late works such as this one.
The Riviera was included in Bonnard's first one-person gallery exhibition in the U.S., where Phillips saw it, and borrowed it on approval; ultimately he found its charms so irresistible that he asked César Mange de Hauke to negotiate its purchase in Paris, lest its owner, Claude Anet, change his mind when he saw it again.