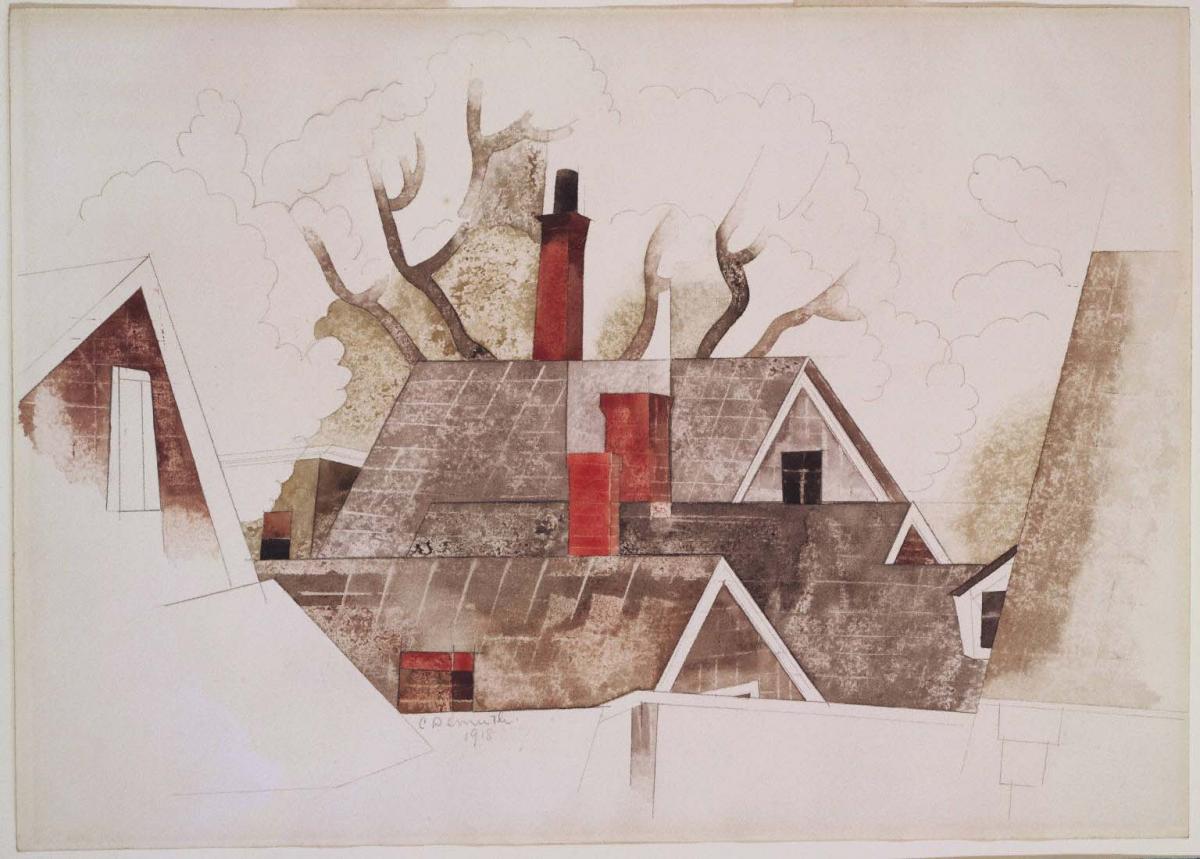 Red Chimneys is an early example of Demuth's work in the precisionist idiom, a style characterized by shallow space, hard edges, and a tendency toward abstraction. Architecture offered Demuth an exceptional opportunity for Cubist interpretation, and rooftop views of New England, Lancaster, and Bermuda became favorite subjects. Despite the abstract treatment of these images, Demuth seldom strayed far from naturalistic representation. His integration of realistic representation with abstract surface design was a quality that marked his art from his earliest to his latest work.
Painted in Provincetown, Red Chimneys at first glance appears to be based on a specific view of chimneys and rooftops. But Demuth rearranged the elements to create a geometric pattern. He created a grid, which flattened the image, and punctuated the scene with geometric forms to create rhythm. Radiating from the middle roof are five twisted, leafy tree limbs, the only curving elements in the composition. Color is used with discrimination and confined to small portions of the painting. The minimal color and systematic, spatial organization of Red Chimneys would become even more pronounced in the artist's later tempera and oil paintings.
Duncan Phillips included Demuth's work in his 1926 "Exhibition of Paintings by Nine American Artists," which was an effort to make Washington aware of progressive trends in American art. The exhibition intrigued local critics. It included many American artists never before shown in the city who painted in a cubist-influenced style "based on systematized, arbitrary arrangement" of forms. In his catalogue essay, Phillips praised Demuth's "austerity of ruled line combined with an enchanting quality of color," and in his collection catalogue of the same year commented on Demuth's "genius for design and consummate taste and tact" throughout his oeuvre.