Otis Skinner as Col. Philippe Bridau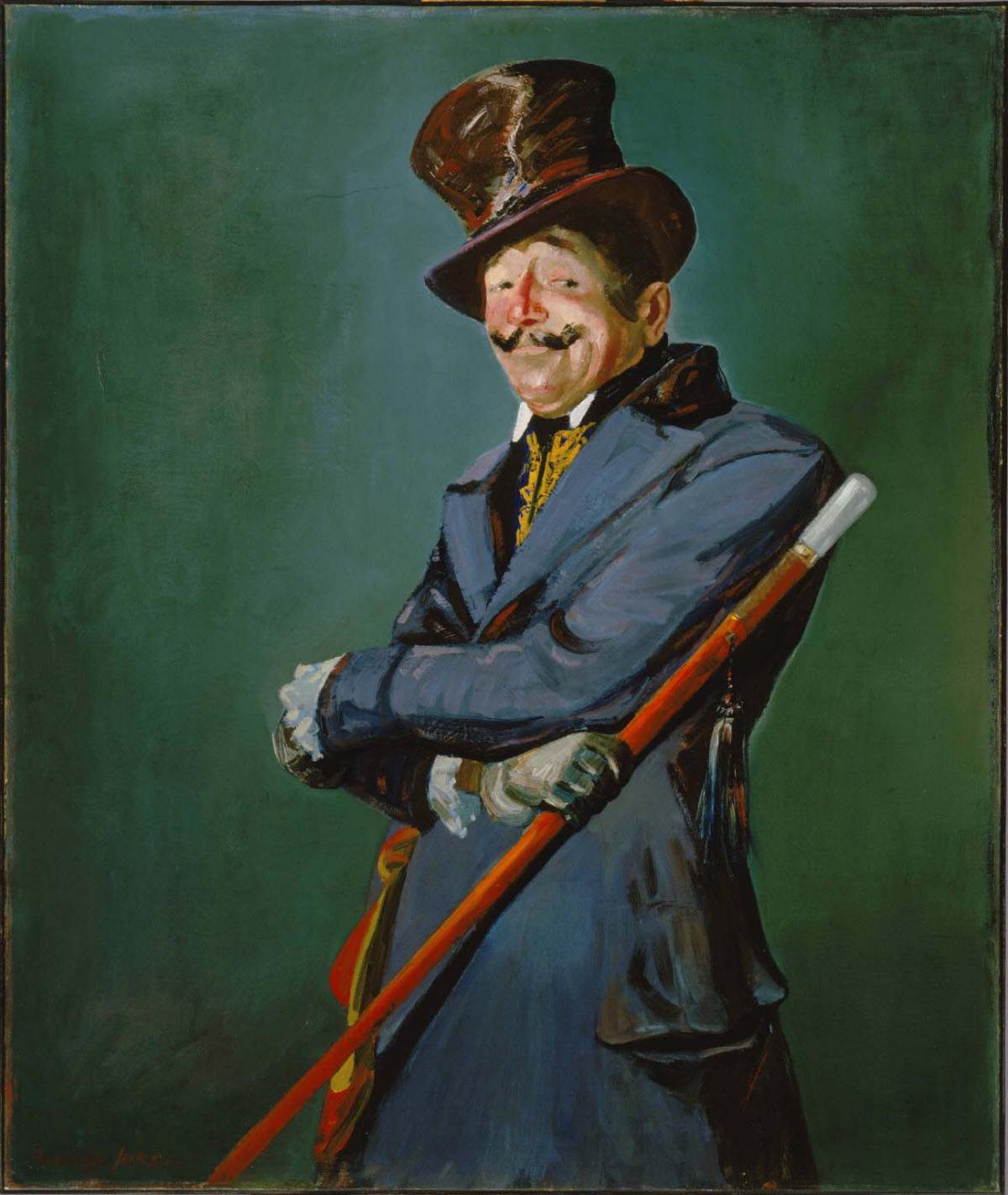 George Luks was an artist admired for his gutsy, true-to-life depictions of modern life. Born August 13, 1866, in Williamsport, Pennsylvania, Luks studied art in brief stints at the Pennsylvania Academy of Fine Arts in Philadelphia and in 1889 at the Staatliche Kunstakademie in Düsseldorf. Not one to adhere to a class agenda, Luks preferred to study on his own while visiting Paris and London in 1889-1890. In 1894, he became a newspaper illustrator with the Philadelphia Press. While in Philadelphia, he became friends with William Glackens, Robert Henri, Everett Shinn, and John Sloan, all members of a group of American painters that would become known as The Eight. He exhibited with The Eight in New York in 1908 and at the Armory Show in 1913.
Luks' straightforward, spontaneous portrait of the actor Otis Skinner reveals the artist at his best in the evocation of character. He depicts Skinner as the brash, rakish Colonel Philippe Bridau, a role played in The Honor of the Family, Emile Fabré's dramatic adaptation of Honore de Balzac's story "Les célibataires." An admirer of Skinner since his youth, Duncan Phillips commissioned the portrait, stating that he considered Luks the best man in America for the job. Because Skinner was too busy for studio sittings, Phillips purchased theater tickets for the artist so that he could sketch him in performance. It was rumored that after a half hour visit with Skinner in his dressing room, and aided by a photograph, Luks painted the portrait in less than a week. When Skinner at last had the opportunity to see the painting a few years later at a reception at the Art Alliance in Philadelphia in 1923, a witness wrote to Phillips that Skinner "could not keep his eyes away from it, and he said when he first saw it that it was indeed a warm greeting and one of the kindest he had ever received." Subsequently Skinner visited his portrait at the collection whenever he was in Washington.