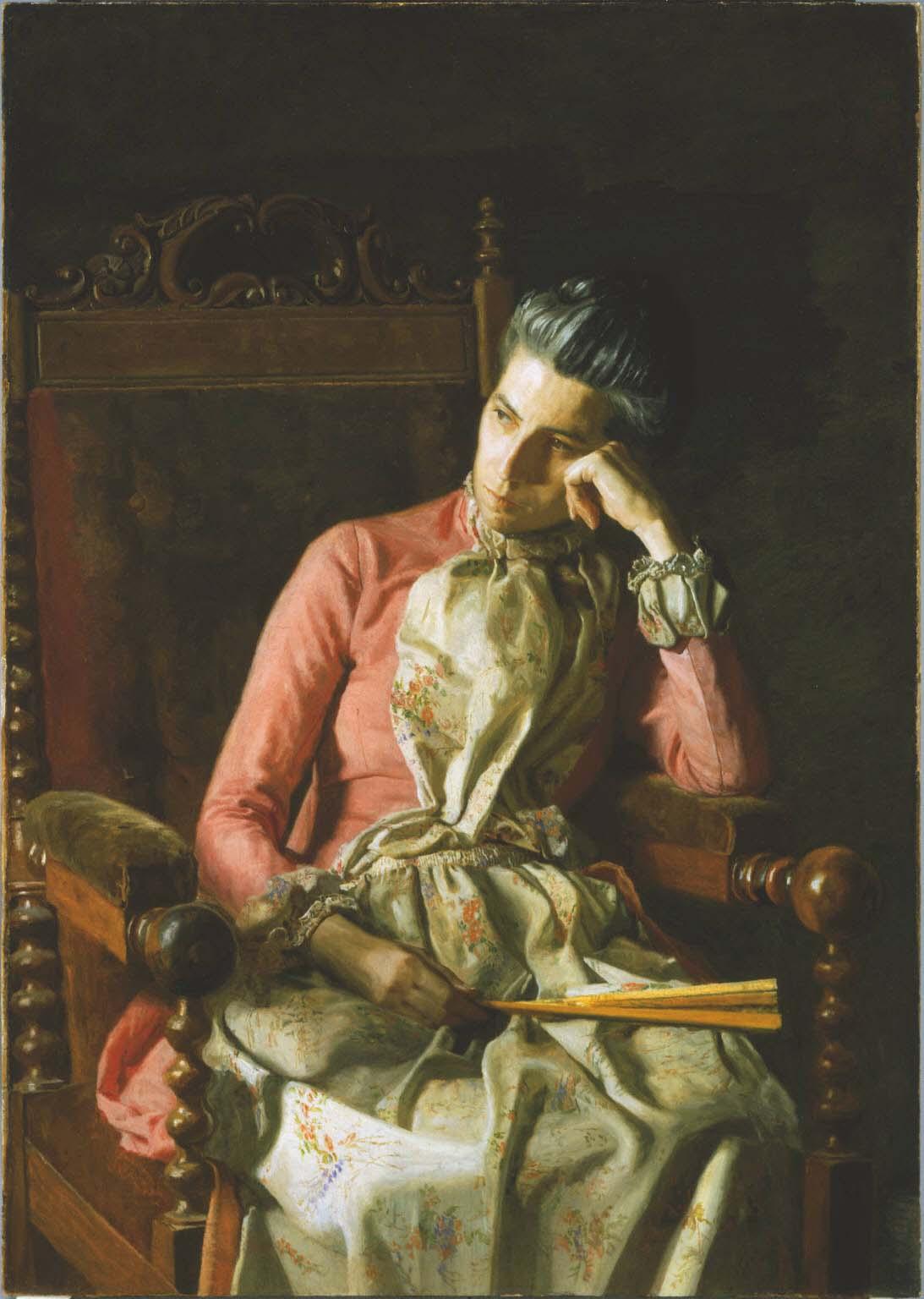 After his forced resignation from the Pennsylvania Academy in 1886, Eakins concentrated almost solely on portraiture. Among his finest and most compelling portraits is this painting of a former student and friend, Miss Amelia Van Buren.
Eakins centered his attention on Van Buren's face and hands, creating through subtle means—deft highlights, distant glance, and relaxed yet tensile hands—an image of great psychological complexity. Her weary head leans on her curved hand, while her other hand rests in her lap. She looks absently towards but not into the strong light, which emanates from the left and defines her face. Eakins establishes in this passage Van Buren's character, her quiet strength and determination. And it is in this manner, through a portrait of his friend and fellow artist's contemplative state, that Eakins comments on his own achievements at the end of a long, tumultuous career.
The sitter, Van Buren, is an elusive, but fascinating figure. Born in 1856 she was recorded by 1880 as an "artist in color." Her lifelong friendship with the Eakins family began when she took the artist's life classes at the Pennsylvania Academy in 1884. Van Buren later became interested in photography, an enthusiasm she may have initially acquired from Eakins, who himself had used photographs extensively in his work. She turned from painting to work exclusively as a photographer. She may have found the expressive potential of photography challenging, seeing photography as an art form in its own right, and, too, Van Buren may have believed that for a woman, photography offered a better chance for recognition.
Duncan Phillips appreciated Eakins's brilliant sense of color and texture, as well as the artist's respect for the sitter as an individual; writing: This portrait … is characterized with the deepest reverence and respect but without so much as a trace of the desire to please the sitter … or the public …. Her humanity is offered to us in its outer physical manifestation with sincere patient exactitude … penetrat[ing] to the spiritual depths instead of glittering on the ornamental surface.
Expressing his belief in Eakins's influential place in the history of American art, Phillips stated that "the American old masters pointed the way and they [modern American artists] have followed."