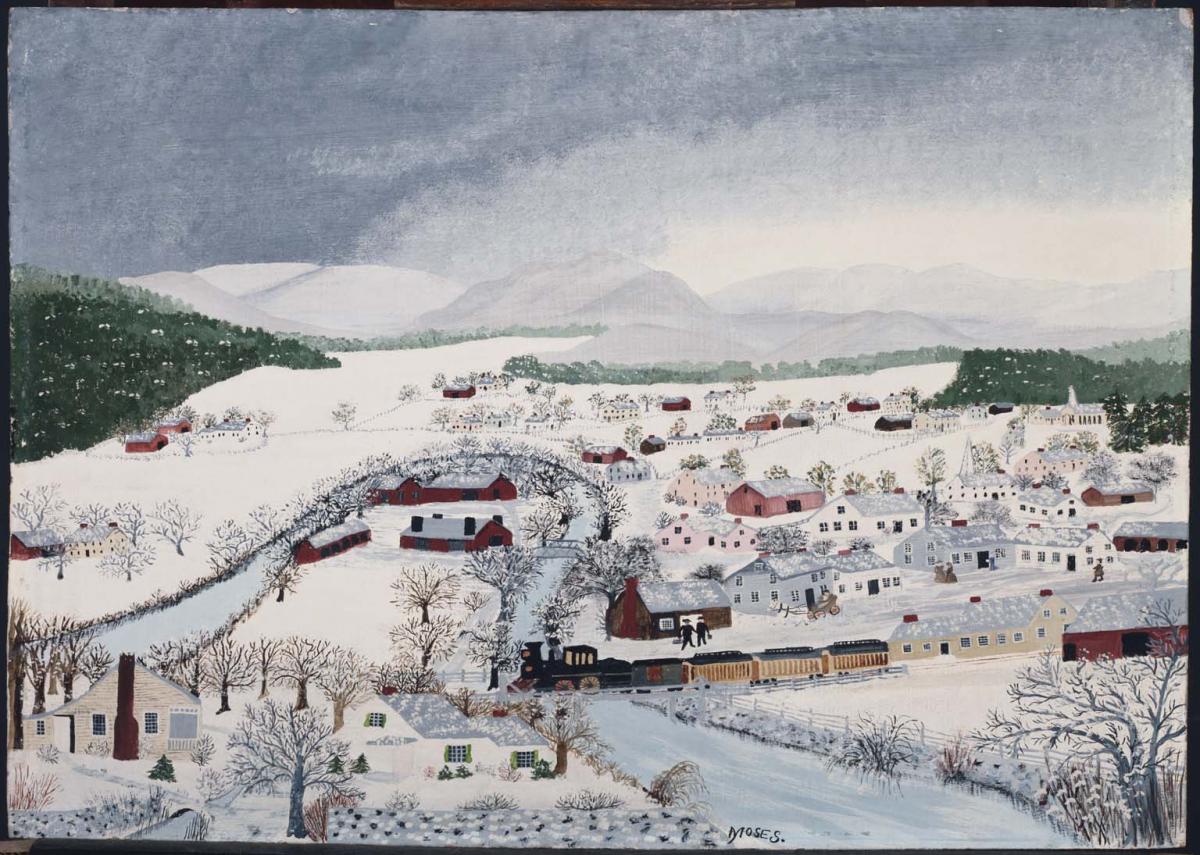 Anna Mary Robertson Moses, known as Grandma Moses, was a self-taught artist who did not begin painting until the 1930s, when she was in her seventies and widowed. She is part of an American folk tradition that stretches back to Edward Hicks in the mid-nineteenth century. Moses's interest in painting grew from her embroidered yarn pictures, as well as imagery taken from popular prints and illustrations, yet she always relied strongly on direct observation of life in the countryside near the Moses family farm. In this area of rolling hills in upper New York State near the border with Vermont, the Hoosick River winds through a panoramic valley and the Green Mountain Range lies in the distance. This is the landscape Moses knew and loved for a lifetime and where, year in and year out, she watched the passing seasons. Familiar scenes, favorite anecdotes, and memories form the setting for events Moses reconstituted in her paintings.
Grandma Moses painted Hoosick Falls in Winter in 1944. This was a theme Moses had painted before; each time she revisited it, she would make changes, be it season or time of day, making each painting unique unto itself. In Hoosick Falls in Winter, Moses has portrayed the sleepy town of Hoosick Falls, blanketed in snow. While her technical ability to portray people and buildings was sometimes lacking due to the fact that she was a self-taught painter, her landscapes are painted with a poetic grace, stemming from her immense fondness of where she lived. She masterfully painted the subtle grays and whites of a cold, frosty day, and dotted the landscape with bits of color as the houses, to enliven the scene. Though her art could possibly be termed 'naïve' for its lack of technical skill, Moses imbues her canvases with the love has for her subject matter.
Duncan Phillips was an early enthusiast of Moses's paintings and the first to acquire one for a museum in 1942.