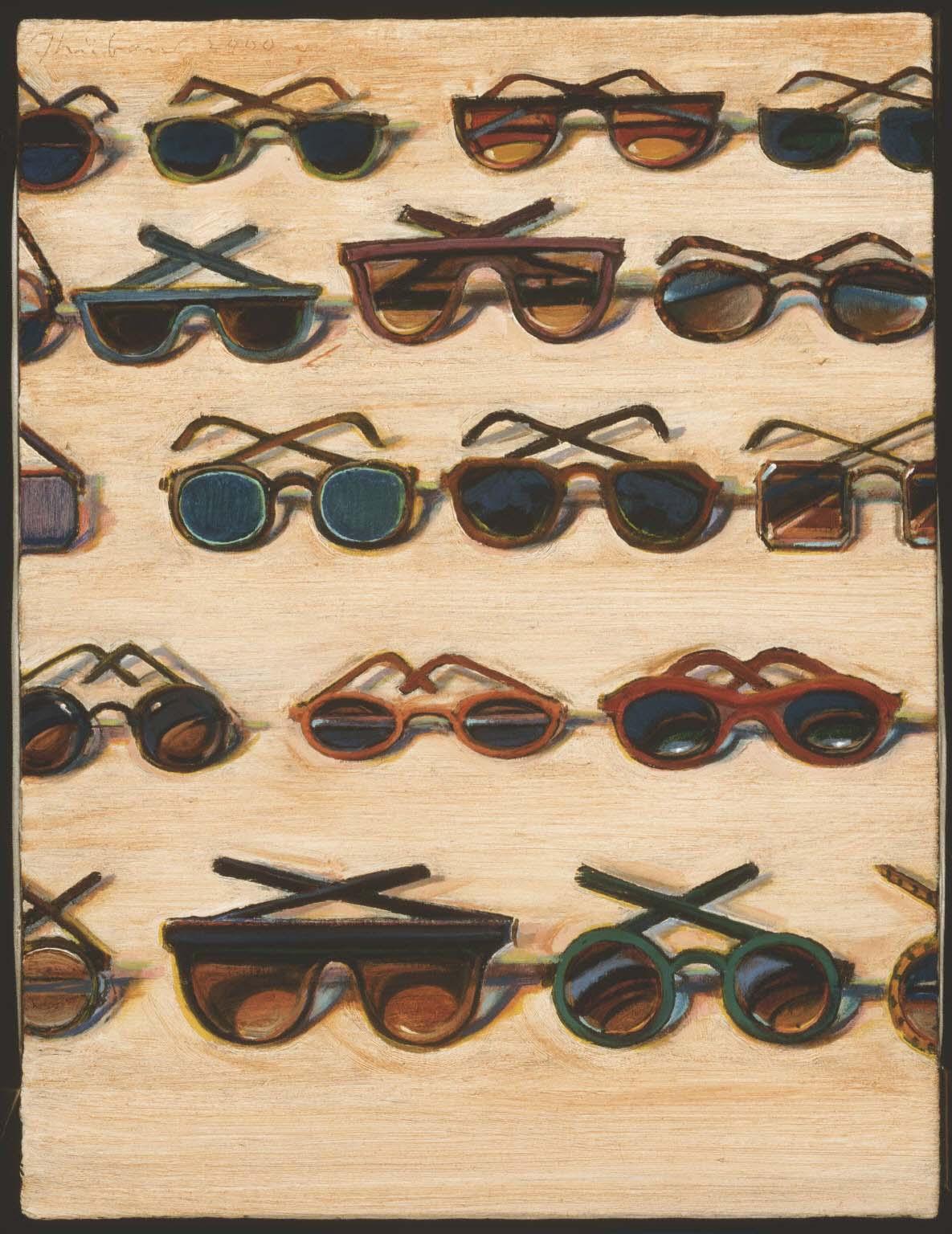 Throughout his career Thiebaud experimented with various subject matter—from still lifes, figurative works and portraits to landscapes—but remained dedicated to the depiction of everyday items in American life. Although Thiebaud shares his fascination with America's commercial icons with the Pop art movement, he has forged his own distinctive artistic style and mode of expression. Unlike Pop artists—with whom Thiebaud has been most closely associated—his work was not so much concerned with an ironic social critique or commentary on consumer culture, but rather projects the artist's interest in formal problems: the representation of color, shape and light.
During the 1950s when Abstract Expressionism was a dominating force, Thiebaud was influenced by its characteristic quick application of bright pigment in bold, thick brushstrokes. This way of painting formed the foundation for the artist's work in subsequent years. In works such as Five Rows of Sunglasses (2000), broad strokes of dense paint activate the canvas, within which the central motif becomes a dynamic combination of form and color, moving beyond their identity solely as sunglasses. As in his figurative work, the central objects in his still-lifes often come into view from a pure white background. Here, sunglasses emerge from a neutral background, allowing the viewer to focus on the subject and its relation to the space in which it occupies. Similar to his early paintings in the 1960s of food, specifically of cakes and slices of pie,
Five Rows of Sunglasses
reveals the similarity between richly textured oil paint and frosting.
Described as a realist, Thiebaud paints material fact. Through the repetition of sunglasses one can note the differences among many versions of the same object: variation within repetition becomes central to Thiebaud's images. While the details and accuracy of the small distinctions among the objects make his works interesting, his densely painted surfaces give precedence to the tactile quality of the thickly painted canvas. Although the shadows of the sunglasses firmly locate the objects in space and heighten the physicality of the subject, the energetic relationship between object and ground, achieved through the dense impasto on the surface, emphasizes the two-dimensionality of the overall composition. In this work and others, Thiebaud creates an active balance between the constructs of representation and abstraction.