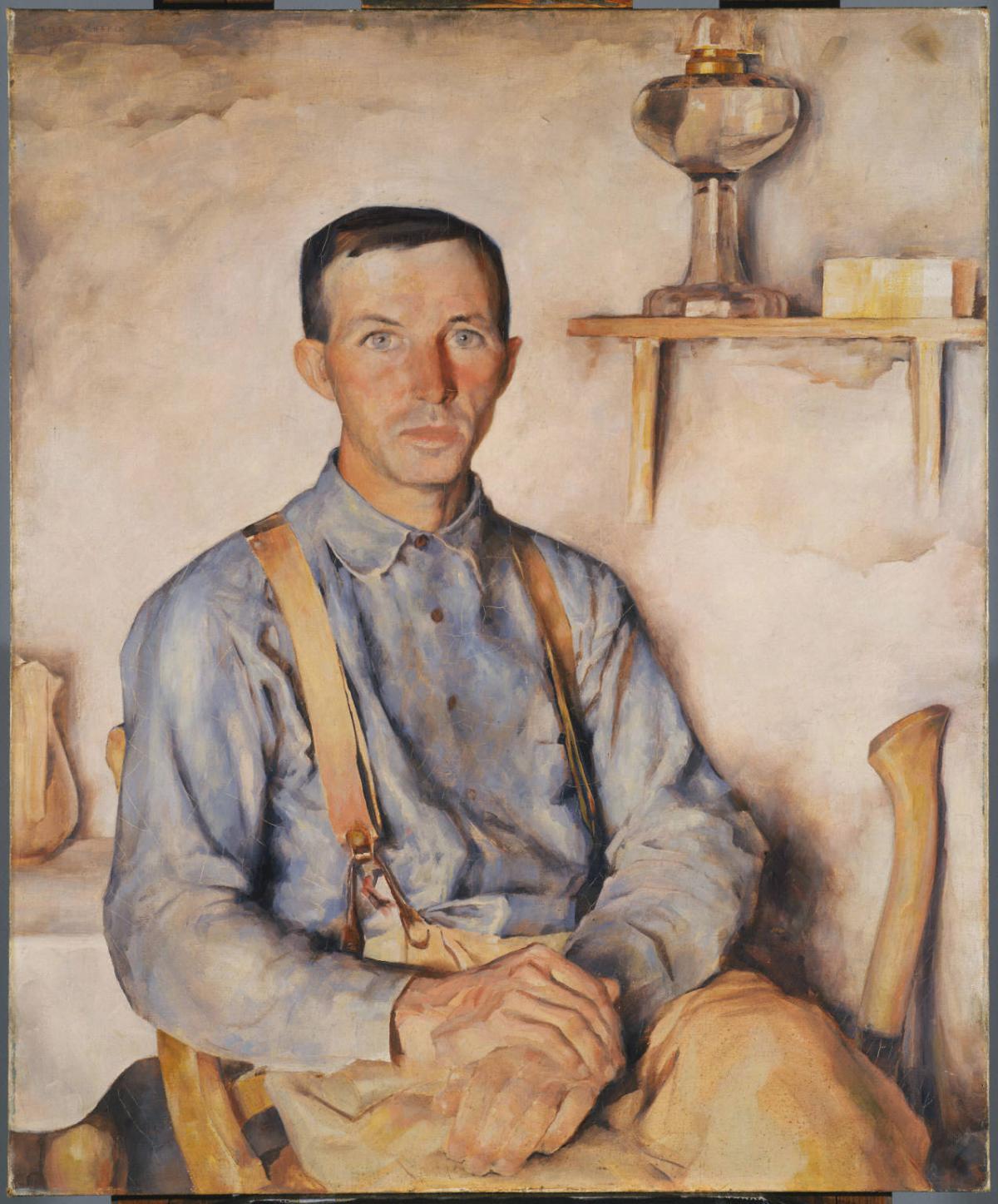 James Omsbee Chapin was a man of the people who celebrated the diversity of American experience by depicting individuals at work, rest, and play. Wary of groups and trends in the art world, he valued his independence, stating, "I am of a tradition but not of a school, and I should like to be counted, if at all, among those aspiring to affirm life and the brotherhood of man in common experience." Chapin mined his own personal story, his home and his surroundings as his narrative.
After a stint in New York City where he worked in a more abstract style reminiscent of European trends, he chose to leave the city in 1924 and return to his native New Jersey where he began a new phase in his career. Hoping to discover his roots, Chapin got off the train at Stillwater, New Jersey because he liked the name of the town. Nearby, he rented a small log cabin on the Marvin farm for four dollars a month. Over the next several years, he painted some of his most memorable canvases.
Disarmingly direct, Emmett Marvin, Farmer was Chapin's first major work from this period; it was also his first picture purchased for a museum. Centrally placed and dressed in his work clothes, Marvin sits quietly in a spare interior, the few objects near him alluding to his austere life. Drawings from the Marvin period reveal how carefully Chapin studied details of his subjects before incorporating them into his paintings. Chapin's technique of applying pigment in patchy strokes, reminiscent of Cézanne's brushwork, gently animates the portrait. The unassertive palette, primarily pale blues and browns, helps convey the ordinariness of the subject.
Appearing both alert and cautious, Emmett Marvin looks directly at the viewer. He is unemotional; his introverted personality is subtly revealed by his gaze, posture, and folded hands. Chapin wrote that Marvin "was in some ways a thoughtful man with a touch of the poet in his speech. In other ways he was a frustrated and dangerous one, especially when drunk on homemade whiskey."
Like many of the other Marvin works, this painting was greatly admired in its time. In a letter to George Hellman in 1926, Duncan Phillips called it "a human document," writing two years later that it was "a serious tribute to a sterling American type." Grant Wood later pronounced Chapin's Marvin paintings to be "among the best things in American art, strong and solid as boulders." In 1975, Chapin recalled Marvin's reaction to the work: "As they stood looking, Emmet [sic] turned to his cousin, and his face shining said, 'And he did it all with a leedle broosh.' He so yearned to share with his cousin the wonder of it. The wonder seemed to have little or no reference to 'art' or to the painting itself….It seemed to be celebrating that marvelous subtle and potent structure which is the human hand."