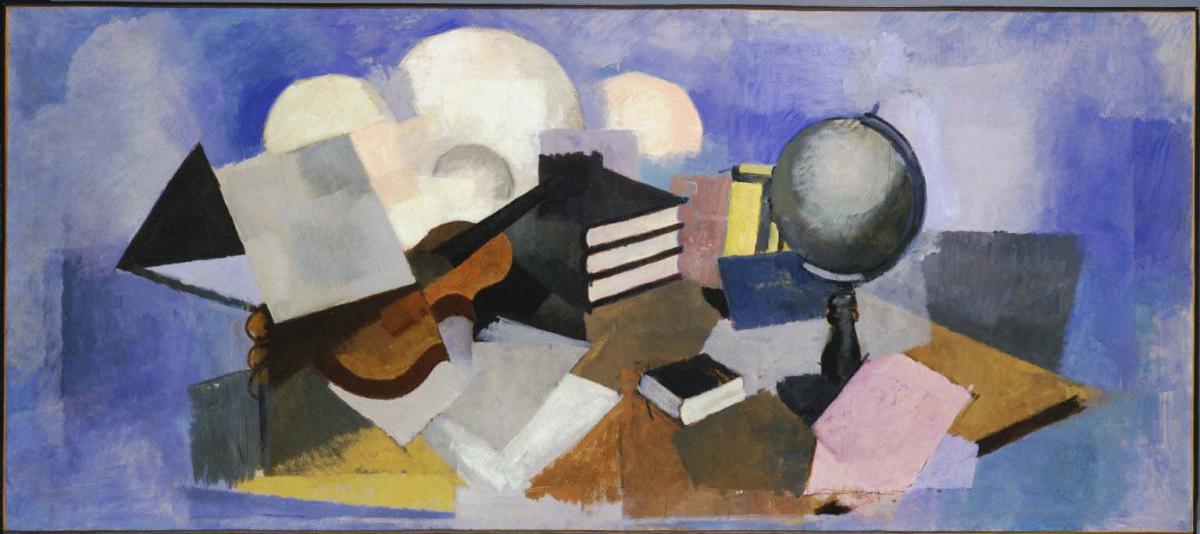 Emblems was one of two decorative overmantels created by La Fresnaye for André Mare's Petit Salon, to be exhibited at the Salon d'Automne of 1913. The previous year La Fresnaye had collaborated with Mare, Duchamp-Villon, and other artists in the Puteaux-based cubist circle on the provocative Maison Cubiste, also shown at the Salon d'Automne. The willing adaptation of cubist principles for decorative purposes was but one measure of the distance at this time between the cubism of Picasso and Braque and that of artists such as La Fresnaye.
In Emblems, rather than using typical cubist faceting to convey the effect of viewing the books, globe, and violin from multiple vantage points, La Fresnaye maintained their integrity and legibility by situating them in a fractured field of floating abstract planes summoned from his imagination. He kept the motifs centralized and deliberate, and his colors, luminous and bright.
La Fresnaye never pursued an exclusively formal approach to his painting. His choice of subject matter frequently reflected traditional and nationalist values, and in the context of La Fresnaye's proclivity for patriotic themes and the prevailing French rhetoric attacking German barbarism, Emblems might well be seen as a representation of the fruits of civilization La Fresnaye deemed worth fighting for at any cost. Emblems, along with its companion piece, L'Arrosoir (The Watering Can), are odes to the contemplative and active life of The Gentleman, who engages both his mind and body in pursuit of refinement and individualism.
According to Duncan Phillips, it was precisely La Fresnaye's ability to imbue his "stately decoration[s]" with a personal sensibility attuned to the dynamism of the times that earned his admiration. It might be said that in Phillips's estimation La Fresnaye was nearly a decade ahead of his formal cubist counterpart, Georges Braque, and Phillips admired La Fresnaye's ability to paint beautiful, light-hearted decorative motifs imbued with the artist's distinctive cubist notions.