Breeze Rustling Through Fall Flowers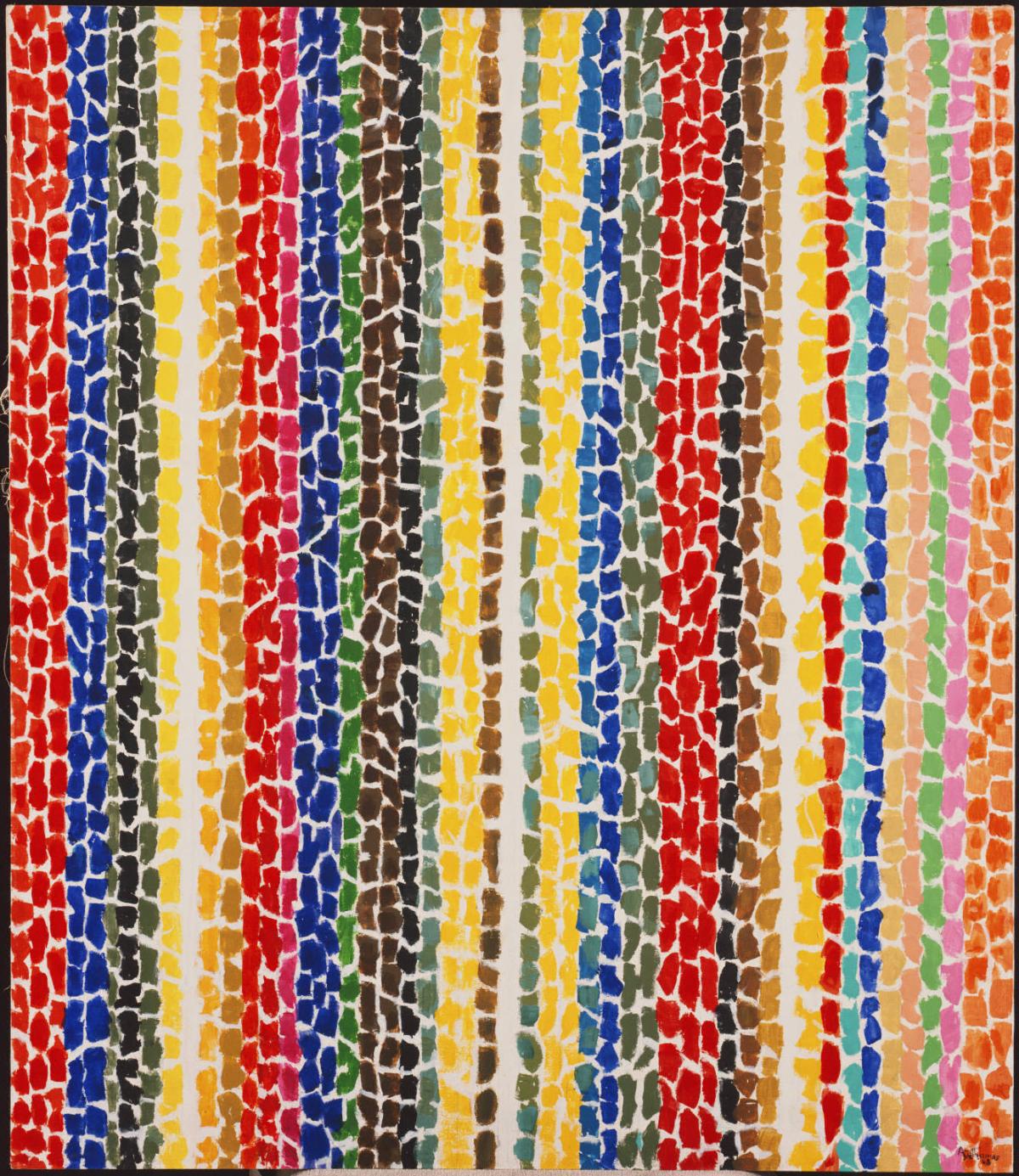 In 1966, invited to hold a retrospective exhibition at Howard University, Alma Thomas created a series entitled Earth Paintings, marking a turning point in the development of her style. This series focused on subjects from nature, particularly wind and flowers. Breeze Rustling Through Fall Flowers, an early example, was inspired by the artist's natural surroundings in Washington, such as the azaleas at the Botanical Gardens, the cherry blossoms, and fall foliage. Thomas's primary visual source was the image of a holly tree pressed against the living-room window of her Washington home. The designs formed by the leaves upon the panes, and the interrupted patterns of light and shade cast on the floor and walls of her kitchen, inspired the flickering motion of her brushstrokes. The irregular daubs of color represent the motion of leaves and flowers in the wind.
Breeze Rustling Through Fall Flowers is composed of a vertical grid of closely spaced stripes filled with bars of contrasting colors on a painted white ground. The acrylic paints are thinned almost to the point of transparency, retaining the luminous quality often associated with watercolor. The modulated white background functions in the same way the white of watercolor paper can glow from beneath the painted surface. Thomas sometimes produced as many as twenty watercolor studies before beginning a painting on canvas.
The power of Thomas's work lies in her uneven, irregular divisions of color. Similar to a mosaic, where each piece or tessera is carefully placed into a larger framework, the shape and gesture of each individual daub of color create the overall pattern in the work. Thomas's paintings like Breeze Rustling Through Fall Flowers can be described as "stripes;" the brushstrokes are ordered vertically reminiscent of rows in a garden. Like Washington artist Gene Davis, she chose the colors of her stripes by intuition and mood. In her later Earth series, Thomas abandoned multi-colored stripes to concentrate on the force of a single bright color on a white ground. Duncan Phillips often praised an artist's ability to invent color-shapes that capture the spirit of nature, as in Breeze Rustling Through Fall Flowers, with its spontaneous brushstrokes of pure color and its unique interpretation of the visual appearance of nature.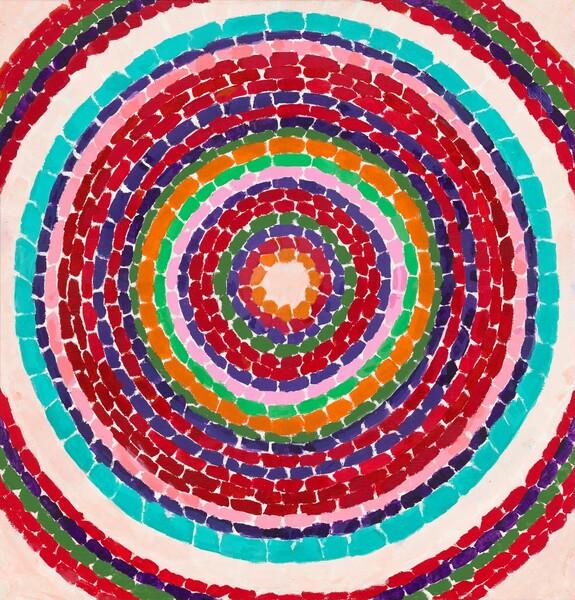 Alma W. Thomas: Everything Is Beautiful
October 30, 2021-January 23, 2022
Signing the Phillips: Breeze Rustling through Fall Flowers