Adirondacks: Bridge for Fishing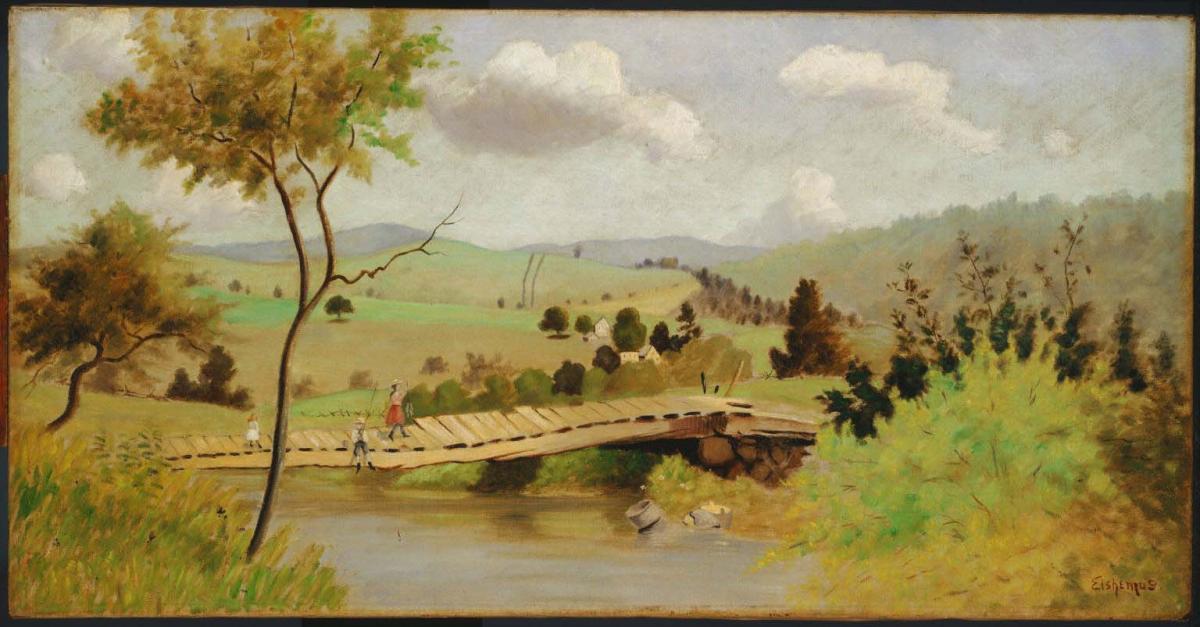 Adirondacks: Bridge for Fishing, painted in 1897, is among the many landscapes Louis Michel Eilshemius made of American locations he visited on numerous sketching trips during the last 20 years of the 19th century. He continually returned to the Adirondacks in upstate New York, where he painted in a style influenced by his first teacher, Robert Minor, and the French Barbizon school. Duncan Phillips said that Eilshemius's landscapes possessed the "lyrics of light and color and perfect atmospheric values which are worthy of comparison with George Inness and even Corot, especially the early Corot." These two artists were already part of Phillips's collection; he therefore saw Adirondacks: Bridge for Fishing as an obvious addition.
Although Eilshemius's landscapes fit within the tradition of late 19th-century American painting, they still betray an eccentric vision that anticipates modern expression. A sunny, nostalgic view of pastoral America, Adirondacks: Bridge for Fishing is described by Phillips as a "picture-perfect" world with an old-fashioned quality that he called "rural romanticism."
Phillips noted the artist's tendency to use a tonalist approach, describing his landscapes as "blonde … with their pearly skies, their thinly and directly painted woodland dells or translucent open spaces, their dark and slender trees, and their tiny little people, usually ladies and children." Yet its limited, yellow-saturated palette washes out details and compresses the space, creating the effect of a simple child's image and emphasizing the two-dimensional design elements.