Artists of Conscience
Art, Nuclear War, Peace, and Reconciliation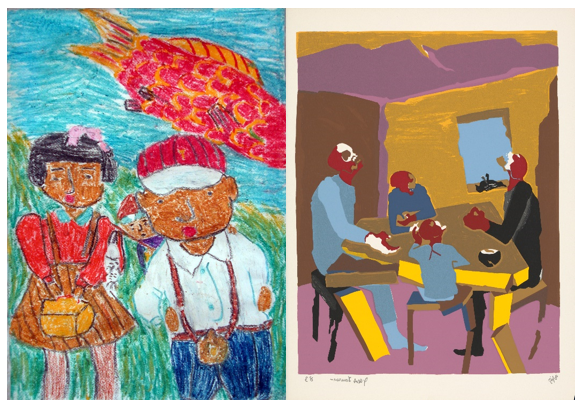 Chief Curator Elsa Smithgall moderates a conversation exploring art's role in addressing nuclear war abolition, peace and reconciliation. Panelists include Leslie King Hammond, Mel Hardy, and Smriti Keshari. The program includes poignant musical reflection​s performed by pianist Ryo Yanagitani, cellist Char Prescott, and members of the All Souls Church, Unitarian, Washington, DC choir.
To attend this event in-person, follow the registration link above. The event will also be live-streamed for free. To access the livestream on October 27 at 6:00pm, click the YouTube player below.
The Artist of Conscience panel brings together figures from the arts, policy, and scientific communities to discuss how the arts can be an impetus for action. The panel focuses on the power of artists as advocates for change and how policy makers and artists have and can collaborate effectively.
These events are in collaboration with The Bahá'í Chair for World Peace (umd.edu) and All Souls Church.
IMAGE: Jacob Lawrence, Hiroshima Series: Kite, 1983, Color screenprint on Somerset paper, 13 x 10 in., Published by Limited Editions Club, New York, Ed. 19/35, The Phillips Collection, Gift of Nora Lee and Jon Sedmak / © 2022 The Jacob and Gwendolyn Knight Lawrence Foundation, Seattle / Artists Rights Society (ARS), New York; Akihisa-Yagi, Boy,age 8, Boy and Girl with Fish, Collection All Souls Church Unitarian, Washington, DC
Thursday, October 27 at 6:00pm
This event is free and does not require registration. Click play on the YouTube player to the right to access the livestream on Thursday, October 27 at 6:00pm
Smriti Keshari
Smriti Keshari is known for her acclaimed multi-media installation, the bomb, which was heralded as "a stunning avant-garde approach to a plea for nuclear disarmament." She is an Indian-American director and artist whose work covers a spectrum of the moving image from traditional, linear filmmaking to art installations and live performances. She is currently an artist-in-residence with the National Theatre in London and Pioneer Works in New York, and in development of her debut fiction feature.

Dr. Leslie King-Hammond
Dr. Leslie King-Hammond is an artist, curator, and graduate dean emeritus and founding director of the Center for Race and Culture at the Maryland Institute College of Art. In 2006 King-Hammond was appointed chairperson of the collections and exhibits committee at the Reginald F. Lewis Museum of Maryland African American History & Culture and in 2007 she became the chairperson of the board of the Lewis Museum. She also sits on the board of the Creative Alliance for the Artists, Baltimore, MD. Between 1985–98, King-Hammond was the project director for Ford/Phillip Morris Fellowships for Artists of Color at MICA. She has won lifetime achievement awards from the Studio Museum in Harlem, the DuBois Circle, Women's Art Caucus-College Art Association, and the James A. Porter Colloquium, Howard University. In 2008, she was granted an Andy Warhol Curatorial Fellowship. The Detroit Institute of the Arts gave her the Alain Locke International Prize in 2010. She served as a Center panelist in Pew Fellowships in 2009.

Mel Hardy
Mel Hardy is credentialed to the UN Office of Disarmament Affairs as a civil society advocate for The Treaty on the Prohibition of Nuclear Weapons. Theologically hailing from All Souls Church Unitarian in Washington, DC, which is heralded for its social justice-seeking activism, he has been engaged with disarmament groups from around the world. Mel Hardy is also co-Founder, Millennium Arts Salon.
Char Prescott
Char Prescott is a soloist, chamber musician, and orchestral cellist from the Washington, D.C. Metropolitan area. She received her Masters degree from the Manhattan School of Music, studying with Alan Stepansky, and completed her undergraduate education at Northwestern University with Hans Jensen. Char currently serves as Principal cellist of "The President's Own" United States Marine Chamber Orchestra, with whom she performs at the White House, the State Department, the Capitol, and other prestigious venues. She has appeared as a soloist and chamber musician in many of DC's prominent classical music venues, including the John F. Kennedy Center's Terrace Theater and Millennium Stage, the Phillips Collection, the Evermay in Georgetown, and at the Japanese Ambassador's residence in Washington, D.C. for the Washington Performing Arts Society. Char has also appeared as a solo artist at the World Trade Center September 11th Memorial; and with the Northwestern Symphony Orchestra, the Reston Chamber Symphony, and the Barry Studio Orchestra. She is also in high demand as a guest artist at music festivals in the United States, Canada, Spain, and Germany.
Char's awards include the S&R Foundation's Washington Award Grand Prize; the President's Award from Manhattan School of Music; the Karl Zeise Memorial Cello Award from the Tanglewood Music Center; Third Prize and the Vincent R. Bastien Cello Scholarship Award from the WAMSO Young Artists Competition; and the Lena and Jules P. Flock prize at the Klein International String Competition. She was also a scholarship recipient at Pinchas Zukerman's Young Artists' Programme in Ottawa, CN.
Ms. Prescott has been the Principal cellist of orchestras at the Tanglewood Music Center, Music Academy of the West, Manhattan School of Music, and Northwestern University and has performed with the New York String Seminar Orchestra at Carnegie Hall under Jamie Laredo. Char has also performed as the Principal cellist of the Chamber Orchestra of San Antonio on many occasions. As a guest artist, she has enjoyed performances with the Smithsonian Chamber Orchestra, the 21st Century Consort and the Pressenda Chamber Players. Ms. Prescott has performed with string quartets all over the United States, Canada, and Germany including a recent performance with the American String Quartet in New York City.
In addition to her classical performing career, Ms. Prescott is the cellist of Mason Jar Music, through whom she has collaborated with popular artists such as Feist at Radio City Music Hall, Andrew Bird at the Covenant Fine Arts Center, and national tours with Josh Garrels. She has also performed live with artists like Josh Groban and has toured the US with the band Ra Ra Riot on electric cello.


Ryo Yanagitani, piano
Ryo Yanagitani has distinguished himself as one of Canada's most promising young concert artists. His most recent success includes winning the gold medal at the 10th San Antonio International Piano Competition, where he was also given special recognition for a performance of the complete Chopin Ballades. Among other honors, he is also the grand prize winner of the Hugo Kauder International Piano Competition and a laureate of the Minnesota International Piano-e-Competition, the Dr Luis Sigall International Piano Competition in Vina del Mar (Chile), and the Hilton Head International Piano Competition.
Mr Yanagitani has made concerto appearances with the Vancouver Symphony Orchestra, the Montreal Metropolitan Orchestra, Edmonton Symphony Orchestra, Minnesota Orchestra, Hartford Symphony Orchestra, and the Moroccan Symphony Orchestra, among others. In the 2010-2011 season, he will be performing concerti with the San Antonio Symphony Orchestra and the Kerrville Symphony Orchestra.
In addition to many solo recitals, Mr Yanagitani has been in demand as a chamber musician, performing in a wide range of settings, from the duo sonata repertoire to large ensembles. His most recent collaboration with eminent flutist Ransom Wilson has taken him to Moscow for performances of Canadian and American music. He is presently an active member of the Musique a la Mode chamber ensemble in New York, specializing in the performance of new music and unusual works seldom heard in public. Mr Yanagitani is also pianist of Duo Chrysalis with cellist Jacques Lee Wood, and their collaboration will take them on a tour of performances across the United States and Korea in the upcoming season.
A recipient of many scholarships and awards, Mr Yanagitani has been endowed twice by the Canadian Arts Council with a grant as an Emerging Artist. He is also a recipient of the Arthur Foote Scholarship from the Harvard Musical Association, and an artist-in-residence of the Maxwell Shepherd Fund of Connecticut. He is also increasingly recognized not only as a performer but also a pedagogue, and is frequently asked to adjudicate competitions and conduct masterclasses.
Mr Yanagitani received his Masters of Music degree from the Yale School of Music under Boris Berman, a Bachelors Degree in Piano Performance from the University of British Columbia under Doctor Henri-Paul Sicsic and an Artist Diploma from the Cleveland Institute under Sergei Babayan. He recently completed his residency requirement of the Yale School of Music Doctor of Musical Arts Degree, and currently resides in New Haven, Connecticut.