Artists of Conscience
COAL + ICE Panel Discussion & Frankenthaler Climate Art Awards Presentation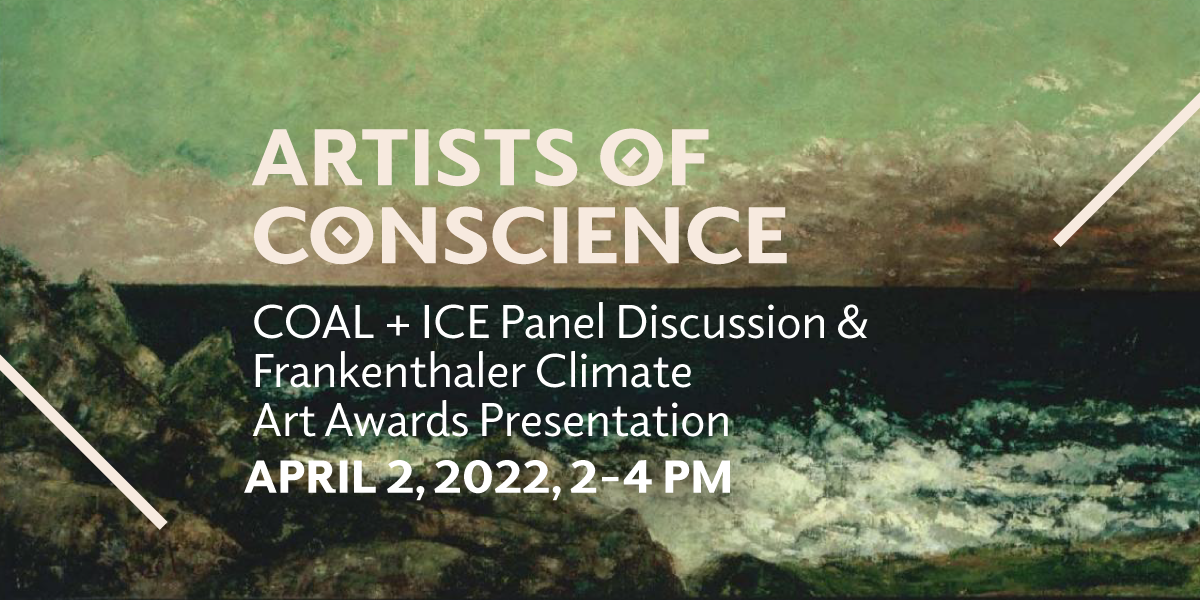 Held on the occasion of the Frankenthaler Climate Art Awards and the COAL + ICE exhibition, this panel discussion, presented in collaboration with Asia Society, will bring together figures from the arts, policy, and scientific communities to discuss how the arts can be an impetus for action against climate change.
The panel will focus on the power of artists as advocates for change and how policy makers and artists have and can collaborate effectively. Each participant will speak about their commitment to climate change work, then engage in a group discussion. 
Panelists
Congressman Don Beyer
Susan Meiselas, curator of COAL + ICE
Clifford Ross, artist
Felice Stadler, Vice President of Political Affairs of the Environmental Defense Fund
Moderator
Nora Halpern, independent curator and Vice President of Leadership Alliances at Americans for the Arts
---
Frankenthaler Climate Art Awards
Presented by Asia Society and the Helen Frankenthaler Foundation, the Frankenthaler Climate Art Awards aim to foster climate change awareness through the imagination and insights of an upcoming generation of visual artists.
COAL + ICE (at the Kennedy Center March 14-April 22, presented by Asia Society) is a documentary photography exhibition that brings together the work of over 50 photographers and video artists from around the world to visualize the climate crisis—its causes and consequences—as a large-scale immersive experience.
The Asia Society navigates shared futures for Asia and the world across policy, arts and culture, education, sustainability, business, and technology. Founded in 1956 by John D. Rockefeller 3rd, the Asia Society is a nonpartisan, non-profit organization with cultural centers and public buildings in New York, Hong Kong, and Houston, and offices in Los Angeles, Manila, Melbourne, Mumbai, Paris, San Francisco, Seoul, Sydney, Tokyo, Washington, D.C., and Zurich.
Congressman Don Beyer is serving his first term as the U.S. Representative from Virginia's 8th District, representing Arlington, Alexandria, Falls Church, and parts of Fairfax County. He serves on the House Committee on Natural Resources and is a member of the New Democrat Coalition. He was the Lieutenant Governor of Virginia from 1990 to 1998, and was Ambassador to Switzerland and Liechtenstein under President Obama.
Rep. Beyer's signature work as lieutenant governor included advocacy for Virginians with disabilities and ensuring protections for Virginia's most vulnerable populations as the Commonwealth reformed its welfare system in the mid-1990s. Rep. Beyer was Virginia's Democratic nominee for governor in 1997.
After leaving office, Rep. Beyer spent fourteen years as Chair of Jobs for Virginia Graduates, a highly successful high school dropout prevention program, and was active for a decade on the board of the D.C. Campaign to Prevent Teen Pregnancy. As Chair of the Virginia Economic Recovery Commission, he helped pass permanent pro-business reforms and was co-founder of the Northern Virginia Technology Council.
President Obama nominated Rep. Beyer to serve as Ambassador to Switzerland and Liechtenstein in 2009. He used his position to advocate for stricter sanctions to compel Iran to begin nuclear disarmament discussions. As Ambassador, Rep. Beyer was integral to US Department of Justice efforts to halt the abuses of Swiss bank secrecy by wealthy Americans.
Rep. Beyer has spent four decades building his family business in Northern Virginia after a summer job at a car dealership in 1974. He is a magna cum laude graduate of Williams College with a Bachelor of Arts with the Highest Honors in Economics and was elected Phi Beta Kappa. He was Salutatorian at Gonzaga College High School in Washington, DC and named a Presidential Scholar by President Lyndon Johnson.
Rep. Beyer has four children and two grandchildren. He and his wife Megan live in Alexandria, Virginia.
Susan Meiselas is a documentary photographer based in New York. She is the author of Carnival Strippers (1976), Nicaragua (1981), Kurdistan: In the Shadow of History (1997), Pandora's Box (2001), Encounters with the Dani (2003) Prince Street Girls (2016), A Room Of Their Own (2017) and Tar Beach (2020).

Meiselas is well known for her documentation of human rights issues in Latin America. Her photographs are included in North American and international collections. In 1992 she was made a MacArthur Fellow, received a Guggenheim Fellowship (2015), and most recently the Deutsche Börse Photography Foundation Prize (2019) and the first Women in Motion Award from Kering and the Rencontres d'Arles. Mediations, a survey exhibition of her work from the 1970s to present was recently exhibited at the Fundació Antoni Tàpies, Jeu de Paume, San Francisco Museum of Modern Art and the Instituto Moreira Salles in São Paulo and is presently on view at the Kunst Haus Wien.

She has been the President of the Magnum Foundation since 2007, with a mission to expand diversity and creativity in documentary photography.
Clifford Ross is a multi-media artist who graduated from Yale in 1974 with a degree in art and art history. His work focuses on the beauty and sublime qualities of nature, using both realistic and abstract means—through painting, sculpture, photography, computer animation, and stained glass.
His best-known works are his Hurricane Wave photographs, captured while tethered by rope to an assistant on land. He recreated the experience using computer generated animation to make his Digital Waves, which will be exhibited at The Phillips Collection.
Long committed to issues relating to climate change, Ross has been part of the COAL + ICE project with Orville Schell from its inception, exhibiting in Beijing, Shanghai, Paris, and San Francisco.
His work has been exhibited in museums worldwide, including the Museum of Modern Art, J. Paul Getty Museum, and Philadelphia Museum of Art. In 2015, MASS MoCA presented a major mid-career retrospective.
Felice Stadler is an expert on federal clean air and climate policy with 25 years of experience spearheading nationally prominent campaigns and working with partners on the ground to advance solutions that protect communities and the natural world. Chief among her accomplishments are helping bring the Keystone XL fight to the national stage, leading a national effort to eliminate mercury use in consumer products, and winning first-ever limits on methane pollution from the oil and gas industry. Felice has been on the Political Affairs team at Environmental Defense Fund since 2015, providing strategic direction for the program's federal advocacy.
Additionally, Felice is the national director of Clean Air Moms Action, a project of EDF Action focused on inspiring and activating women to vote for pro-environment candidates. Prior to joining EDF, Felice worked at the National Wildlife Federation for 15 years, directing the organization's climate program and related advocacy campaigns. She holds a master's of science from the University of Montana and a bachelor of arts from the New School's Lang College in New York. She is a first-generation American (German immigrant parents, the late artist Ulrike Stadler and jazz composer/record producer Heiner Stadler). She grew up in New York City and rural Maine, lives in Maryland and has two adult children.
Nora Halpern has been an art historian, curator, and arts advocate for four decades. As Vice President of Leadership Alliances at Americans for the Arts, she oversees several programs and initiatives, including the National Arts Policy Roundtable which focuses on the intersection of art and collective action. Nora is the Founding Director of the Frederick R. Weisman Museum at Pepperdine University. She co-founded Street Scenes: Project for DC, a public art program that places temporary art experiences across the Washington, DC, metropolitan area.
Nora received her BA and MA from the University of California, Los Angeles, and attended the Whitney Museum of American Art Independent Study Program as a Helena Rubinstein Fellow. She has written and lectured internationally on modern and contemporary art and arts policy.