Leading International Composers: Tania León
chamber ensemble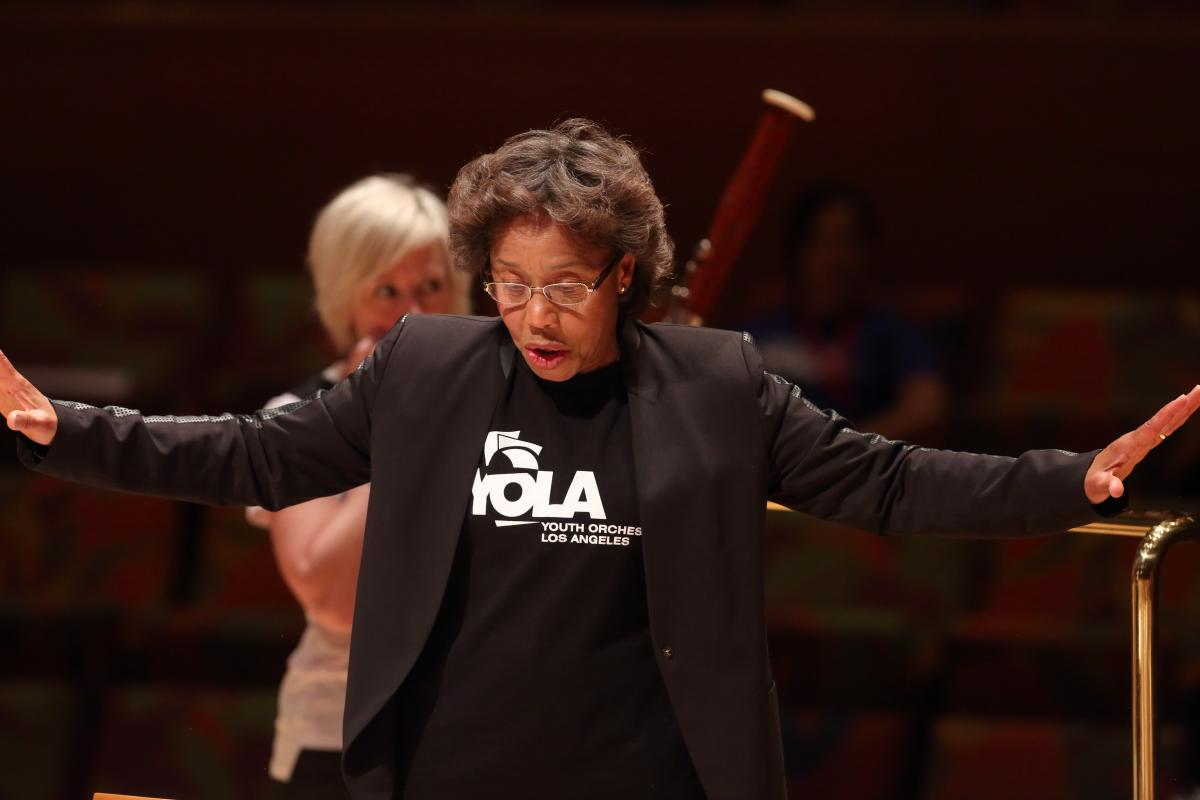 Tania León (b. Havana, Cuba) is highly regarded as a composer, conductor, educator and advisor to arts organizations. In 2021, her orchestral work Stride, commissioned by the New York Philharmonic, was awarded the Pulitzer Prize in Music.
Recent commissions include works for New York Philharmonic, Los Angeles Philharmonic, NDR Symphony Orchestra, Grossman Ensemble, International Contemporary Ensemble, and pianist Ursula Oppens with Cassatt String Quartet. Appearances as guest conductor include Philharmonic Orchestra of Marseille, Gewandhausorchester, Orquesta Sinfonica de Guanajuato, and Orquesta Sinfónica de Cuba.
Upcoming premieres feature commissions for the NewMusic USA Amplifying Voices Program, The Musical Fund Society in Philadelphia to celebrate their 200th anniversary, and for The Crossing chamber choir with Claire Chase, flutist, among others.
A founding member of the Dance Theatre of Harlem, León instituted the Brooklyn Philharmonic Community Concert Series, co-founded the American Composers Orchestra's Sonidos de las Américas Festivals, was New Music Advisor to the New York Philharmonic, and is the founder/Artistic Director of the nonprofit and festival Composers Now.
Her honors include the New York Governor's Lifetime Achievement, awards from the American Academy of Arts and Letters and the American Academy of Arts and Sciences, and the ASCAP Victor Herbert Award, among others. She also received a proclamation for Composers Now by New York City Mayor, and the MadWoman Festival Award in Music (Spain).
León has received Honorary Doctorate Degrees from Colgate University, Oberlin and SUNY Purchase College, and served as U.S. Artistic Ambassador of American Culture in Madrid, Spain. A CUNY Professor Emerita, she was awarded a 2018 United States Artists Fellowship.
Conrad Tao has appeared worldwide as a pianist and composer, and has been dubbed a musician of "probing intellect and open-hearted vision" by The New York Times. Tao is a recipient of the prestigious Avery Fisher Career Grant, and was named a Gilmore Young Artist—an honor awarded every two years highlighting the most promising American pianists of the new generation.
Tao opened last season with the New York Philharmonic's world premiere of his piece Everything Must Go, and went on to make recent debuts with the Los Angeles Philharmonic, Cleveland Orchestra, New York Philharmonic and Boston Symphony. In the 2019-20 season, following his recital debut at Carnegie Hall, Tao will make his debut in recital at Walt Disney Hall, where the LA Phil will present him in works by Copland and Frederic Rzewski. Following his debut at Blossom, the Cleveland Orchestra will present Tao in Severance Hall in a special program inspired by jazz and Dadaist art film, performed with pianist Aaron Diehl. Concerto highlights in the upcoming season include performances of his own work for piano & orchestra, The Oneiroi in New York, with the Seattle Symphony, as well as performances with the Baltimore, Charlotte, and Pacific Symphonies. He will also perform The Oneiroi alongside Galina Ustvolskaya's Piano Concerto with the Phoenix Symphony.
Highlights from Conrad's 2018-19 season included his inauguration of the New York Philharmonic's Nightcap series with artist Charmaine Lee and dancer Caleb Teicher, with whom he also premiered the new evening-length multidisciplinary work, More Forever, which continues to tour throughout the US. His ongoing electroacoustic collaboration with improviser and vocalist Charmaine Lee also continues with an opening-night performance at the 2019 Resonant Bodies Festival in New York. In February 2019, Conrad made his LA Opera debut in the West Coast premiere of David Lang's new work, the loser.
‍ A Warner Classics recording artist, Tao's will release his third album, entitled American Rage this Fall, featuring works by Julia Wolfe, Frederic Rzewski and Aaron Copland.
Tao was born in Urbana, Illinois, in 1994. He has studied piano with Emilio del Rosario in Chicago and Yoheved Kaplinsky in New York.
Washington National Opera's Cafritz Young Artist Program is a leading resident-training program for artists on the verge of international careers. Founded in 2002 by Plácido Domingo, the program offers exceptionally promising young singers and coach/accompanists two years of intensive training, study, and career guidance with the resident faculty, and a team of world-renowned visiting master teachers and coaches which includes Joan Dornemann, Kathleen Kelly, Dennis Giauque, John Churchwell, Alan Held, Erie Mills, Laura Brooks Rice, and Neil Shicoff among others.
Members of the program are featured prominently in performances at the Kennedy Center and throughout the Washington, DC, metropolitan area. They are cast in principal and comprimario roles, given cover assignments, and perform an annual showcase with full orchestra in the Opera House. One or two performances each season are specially designated as "young artist performances," giving them the opportunity to step into leading roles on the main stage. As well as being featured in an annual recital and masterclass series, they are actively involved in WNO's American Opera Initiative, where they have the opportunity to workshop and premiere newly composed operatic works. Young Artists also perform frequently in other landmark venues around DC, including the Smithsonian Institution and various embassies, as well as with the National Symphony Orchestra.
The Domingo-Cafritz Young Artist Program is dedicated to cultivating successful careers in opera. Graduates of the program have gone on to perform at the world's leading opera houses, including the Metropolitan Opera, San Francisco Opera, Lyric Opera of Chicago, LA Opera, New York City Opera, The Glimmerglass Festival, Santa Fe Opera, Bayreuth Festival, the Glyndebourne Festival, Vienna State Opera, Berlin State Opera, Teatro Real in Madrid, Gran Teatre del Liceu, and Opéra de Monte-Carlo, among others. Additionally, WNO actively seeks to provide former young artists with the opportunity to return to the company in principal and featured roles upon completion of the program.
Director: Robert Ainsley
Principal Coach: Ken Weiss