Intersections: Sanford Biggers
Mosaic
Sanford Biggers's Intersections project presents a visual and conceptual interplay—a mosaic—of distinct histories, cultural narratives, and art styles. Drawing from works in the Phillips's permanent collection, including the Gee's Bend quilts that were recently acquired and a number of European modernist sculptures, Biggers produced a new body of work—Mosaic, a three-dimensional quilt; Fool's Folly, a floor piece made with sand; and The Cantor, a marble sculpture—that bridges past art traditions with current multimedia practices. 
Intrigued by the heritage and cryptic symbolism of the Gee's Bend quilts from the insulated African American community in Alabama, as well as with their shapes, colors, and rhythm, Biggers started working with repurposed antique quilts in 2009. For the Phillips, he created a sculptural piece that integrates old textiles, patterns from the Phillips's quilts (created by Mary Lee Bendolph, Aolar Mosley, Arlonzia Pettway, and Malissia Pettway), and the folded forms of Japanese origami, a craft he learned while residing in Japan. He also designed a site-specific floor installation—essentially a sand-quilt—with an abstract composition combining geometric forms with organic shapes suggestive of mandalas and emphasizing the notion of temporality.
Additionally, Biggers riffed on the sculptural works from the collection—by Alexander Archipenko, Alberto Giacometti, Simone Leigh, Markus Lüpertz, and Pablo Picasso—and created a hybridized figure in marble that merges the formal aspects of Western art canon with the expressive iconography of African art, bringing another layer of cultural and aesthetic intersectionality.
---
Five Phillips Museum Assistants were selected to help Biggers create Fool's Folly. 
Sanford Biggers on Mosaic
Moon Medicin: Mosaic Performance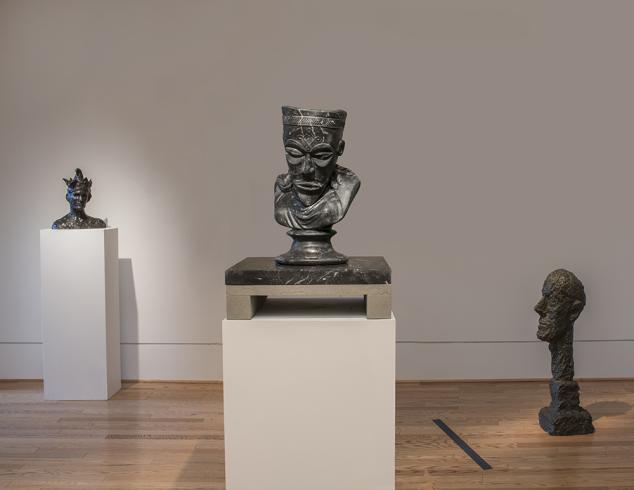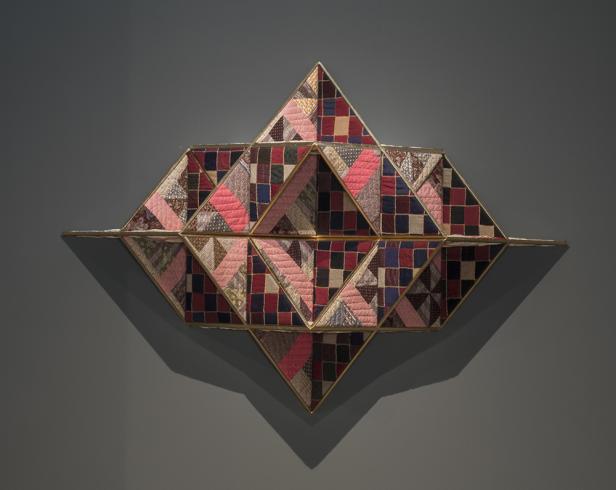 Sanford Biggers (b. 1970, Los Angeles, California) lives and works in Harlem. His artistic practice integrates audio-visual installation, sculpture, drawing, video, music, and performance to create diverse artworks that invite synchronicity of different histories, cultures, identities, and religions. He is the recipient of numerous awards, including a Guggenheim Fellowship in 2020 and the Rome Prize in Visual Arts in 2017. His most recent presentations include the solo exhibition Codeswitch organized by The Bronx Museum of the Arts (2020–21), as well as his large-scale sculpture Oracle at Rockefeller Center in New York City. Other solo exhibitions include the Contemporary Art Museum St. Louis (2018); the Museum of Contemporary Art Detroit (2016); the Massachusetts Museum of Contemporary Art (2012); and the Brooklyn Museum (2011), among others. His recent group exhibitions include the Metropolitan Museum of Art (2017), the Barnes Foundation (2017), and The Phillips Collection (2020). Biggers's work is held in the permanent collections of the Museum of Modern Art, New York; the Metropolitan Museum of Art, New York; the Whitney Museum of American Art, New York; the Museum of Contemporary Art, Chicago; the Walker Center, Minneapolis; the National Museum of African American History and Culture, Washington, DC.
---
Intersections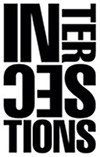 Intersections is a series of contemporary art projects that explores—as the title suggests—the intriguing intersections between old and new traditions, modern and contemporary art practices, and museum spaces and artistic interventions. Whether engaging with the permanent collection or diverse spaces in the museum, the projects suggest new relationships with their own surprises. Many of the projects also riff on the nontraditional nature of the museum's galleries, sometimes activating spaces that are not typical exhibition areas with art produced specifically for those locations.
---
Mosaic is organized by The Phillips Collection as a part of the ongoing Intersections series.
Generous support provided by the Paula Ballo Dailey Memorial Fund
Presented with support from Morgan Stanley

Take a 360-degree tour
Sanford Biggers: Mosaic