Pavel Haas Quartet
String Quartet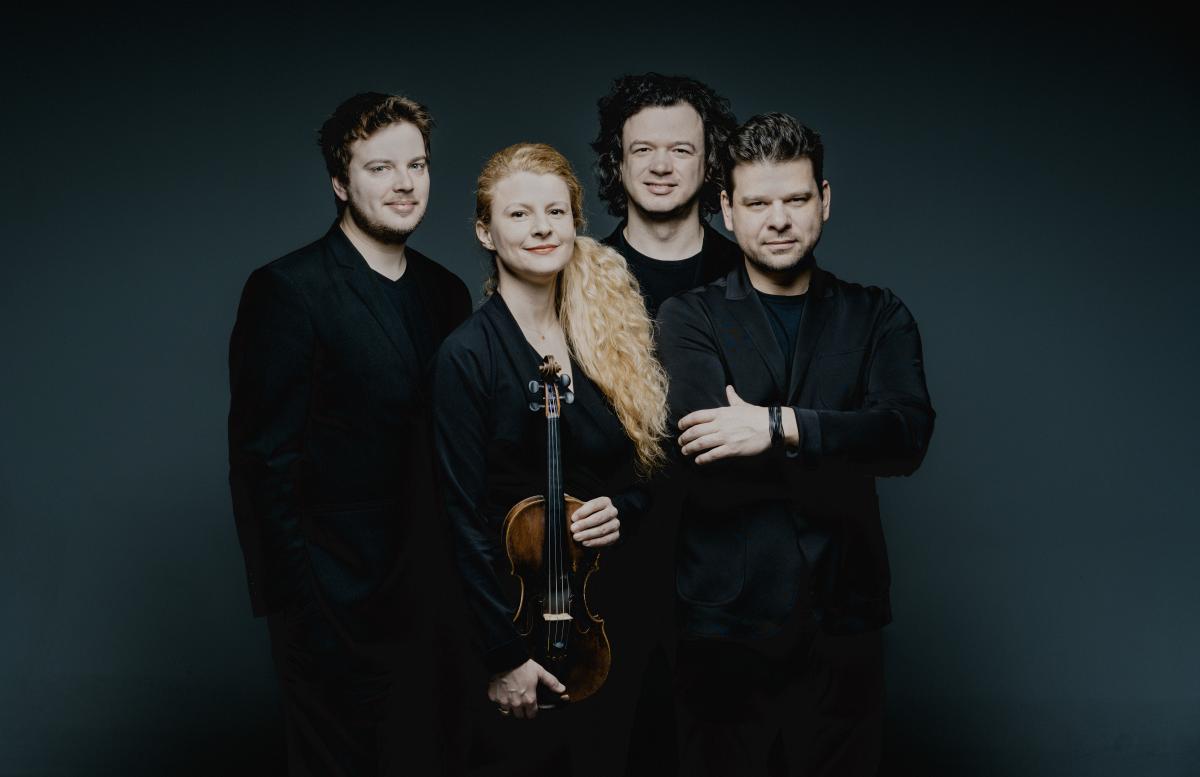 The Pavel Haas Quartet make their Phillips debut with works by Martinů, Smetana, and Dvořák.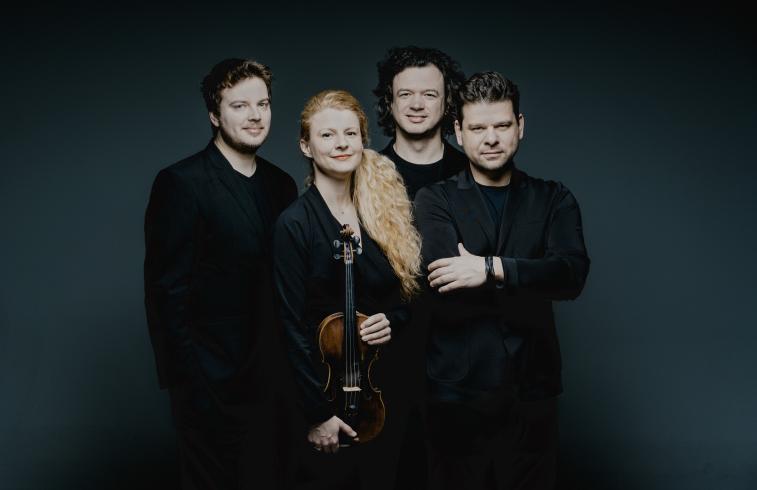 Program
Named after the Czech composer Pavel Haas (1899–1944), Janaček's most brilliant pupil who later perished in Auschwitz, the Pavel Haas Quartet was formed in 2002. With its first Supraphon recording released five years later (of quartets by Janaček and Haas) the ensemble was immediately recognized as one of the finest quartets of the 21st century: the recording won the 2007 Gramophone Award for Chamber Music. Since then the Quartet has gone on to play all over Europe, Asia, and the US, and several more widely admired recordings have followed, including music by Smetana and Dvořák. Both of those Czech masters are featured in this concert: Smetana's bold and troubled Second String Quartet and Dvořák's final Quartet in A-flat Major, Op. 105 (the Quartet in G Major, Op. 106 was finished first). This genial and joyous work was started a few months before Dvořák left America in 1895 and was completed once he returned to his homeland. The concert opens with Bohuslav Martinů's Concerto da Camera (Quartet No. 7).
Program:
BOHUSLAV MARTINŮ (1890-1959)
String Quartet No. 7 "Concerto da Camera," H. 314
BEDŘICH SMETANA (1824-1884)
String Quartet No. 2 in D minor, JB 1:124
INTERMISSION
ANTONÍN DVOŘÁK (1841-1904)
String Quartet No. 14 in A-flat Major, Op. 105
About the Artists
The Pavel Haas Quartet (comprised of violinists Veronika Jarůšková and Marek Zwiebel, violist Jiří Kabát, and cellist Peter Jarůšek) been called "the world's most exciting string quartet," (Gramophone) and is revered across the globe for its richness of timbre, infectious passion, and intuitive rapport. Performing at the world's most prestigious concert halls and having won five Gramophone and numerous other awards for their recordings, the Quartet is firmly established as one of the world's foremost chamber ensembles.
In the 2018/2019 season the Quartet will perform three concerts at Rudolfinum Hall in Prague as artist-in-residence of the Czech Philharmonic Chamber Music Society. They will return to the Edinburgh  International, Schubertiade, and East Neuk Festivals as well as to the Wigmore Hall, Paris Théâtre de la  Ville, Bozar, Munich Herkulessal, De Doelen, Florence's Teatro della Pergola, Philharmonie Essen, the Oslo Quartet Series, and tour the US and Canada.
The Pavel Haas Quartet records exclusively for Supraphon. Their autumn 2017 release of Dvořák's Piano Quintet No. 2 and String Quintet No. 3 with Boris Giltburg and their former member, Pavel Nikl, was awarded the Gramophone Chamber Music Award (the Quartet's fifth Gramophone award). Diapason d'Or chose the recording as Album of the Month and commented: "It is difficult to overestimate their expressive intensity and opulent sound production… …Robust or lyrical, rounded or trenchant, tenderly bucolic or tempestuous, the musicians embrace and revel in it all." The Quartet's recording of Smetana's String Quartets No. 1 and 2 was awarded both a BBC Music Magazine Award and a Gramophone Chamber Music Award in 2015 and they won the same prize in 2014 for their recording of Schubert's String Quartet "Death and the Maiden" and the String Quintet with cellist Danjulo Ishizaka. Their account of Dvořák's String Quartets No. 12 "American" and No. 13 was awarded both the Gramophone Chamber Music Award and the most coveted prize, Recording of the Year in 2011. The Sunday Times commented: "Their account of the 'American' Quartet belongs alongside the greatest performances on disc." The Quartet also won the Diapason d'Or de l'Année in 2010 for their recording featuring Prokofiev's String Quartets No. 1 and 2, and received yet another Gramophone Chamber Music Award in 2007 for their disc of Janáček's Quartet No.2 "Intimate Letters" and Haas's Quartet No.2 "From the Monkey Mountains."
In spring 2005, the Quartet won the Paolo Borciani competition in Italy and in 2007, Cologne Philharmonie nominated them as ECHO Rising Stars, resulting in a tour to major concert halls worldwide. The Quartet took part in the BBC New Generation Artists scheme between 2007-09, and in 2010 was awarded the Special Ensemble Scholarship of the Borletti-Buitoni Trust.
The Quartet is based in Prague and studied with the late Milan Skampa, the legendary violist of the Smetana Quartet. They take their name from the Czech composer Pavel Haas (1899-1944) who was imprisoned at Theresienstadt in 1941 and tragically died at Auschwitz three years later. His legacy includes three wonderful string quartets.
 
Notes
Bohuslav Martinů: String Quartet No. 7 "Concerto da camera," H. 314
Martinů arrived in the US from war-ravaged Europe in 1941 and eventually settled in a brownstone on 58th Street in New York. He was encouraged (and financially supported) by Serge Koussevitzky who gave the premieres of both the First and Third Symphonies, and composed a number of other orchestral works and several pieces of chamber music. In July 1946, Martinů had a serious fall, and during his recuperation he composed two string quartets: No. 6, completed on Christmas Day 1946, and No. 7, written in June 1947 (the manuscript is dated June 24, 1947). The title page of the autograph manuscript reads "Concerto da camera for string quartet (Quartet No. 7)" and this was to be the last of the series of Martinů's quartets which had started in 1918. Martinů himself was an excellent violinist and early in his career he played in the Czech Philharmonic Orchestra under its conductor Václav Talich who became one of the earliest advocates of his music. Martinů's original title for the work, Concerto da camera, seems entirely apt for the first movement with its Neo-Classical echoes of Baroque concerti grossi. The music here is utterly characteristic of Martinů, propelled by urgent rhythms and marked by a harmonic language that sounds original while remaining firmly rooted in traditional keys. The Andante opens with a tender simplicity that gives way to more intricate writing before returning to the serene mood of the opening. The Allegro vivo finale again hints at why Martinů originally called this work a Concerto da camera. It opens with an energetic idea that is reminiscent of a composer like Vivaldi on the one hand and of Czech folk dances on the other. This ebullient movement brings Martinů's final string quartet to a jubilant close. 
Bedřich Smetana: String Quartet No. 2 in D minor, JB 1:124
Smetana's second quartet was written under the most difficult circumstances and took nine months to be completed. The onset of Smetana's deafness had already been depicted with heart-breaking realism in the "From my Life" Quartet (completed in 1876), and by the time he started work on a second quartet he was not only completely deaf but also bedeviled by other serious ailments including nervous exhaustion that was partly the consequence of his hearing loss. Ordered by his doctors to rest, a defiant Smetana began his second quartet in the summer of 1882 at his home in Jabkenice. It was slow going, but on March 9, 1883 he wrote to Václav Zelený reporting that he was making good progress while also alluding to an increasing sense of despair: "I am writing a quartet in defiance of the doctors. The new quartet continues from where the first one ended, after the catastrophe [Smetana's deafness]. It introduces the whirlwind of music in the head of a person who has lost his hearing. As for that, no one can imagine how the thoughts of a deaf person fly away from him: if I don't write them down immediately, I can't remember them at all. And yet I used to be renowned for my prodigious memory." A few days later, the work was finished, but it had been a struggle. In his catalogue of works, Smetana wrote that it was "composed in a state of disordered nerves, the outcome of my deafness." Smetana subsequently made some revisions and evidently felt the effort had been worthwhile, declaring the quartet to be "good, full of melodious moments, feeling and novelty." Yet in spite of these fine episodes, there is an unmistakable feeling that Smetana had started to lose his grip on large-scale musical forms. There is minimal development and the quartet's conciseness seems to be the result of Smetana's mental frailty rather than a deliberate decision on his part. It gives Smetana's last major work an even greater poignancy, while the thematic material is mostly delightful, often driven by purposeful rhythms. Moreover, it is does not sound like the music of despair, even though Smetana could only compose a few bars at a time. The first movement has a consoling second theme that comes to dominate the musical argument, leading John Clapham to suggest that perhaps it represented Smetana's "rising spirits at the discovery that he could find solace in composition." After an uneasy introduction, the second movement is a Polka of real charm, with a tender Trio section. Unsurprisingly the quartet as a whole is full of unpredictable mood changes, but in spite of this it still radiates the authentic voice of its composer.   
Antonín Dvořák: String Quartet No. 14 in A-flat Major, Op. 105
At the start of his career Dvořák worked for 10 years as an orchestral viola player and his official Op. 1 was a string quartet composed in 1861. Dvořák's writing for string instruments has a character and sonority that is entirely original, demonstrating the results of his performing experience as well as his creative imagination. He composed 14 string quartets and the last two, Op. 105 and Op. 106, were finished in December 1895. 
Dvořák and his family spent from September 1892 to April 1895 in the US, where he served as director of the National Conservatory of Music in New York City. His years in America were some of the most productive of his life, including the composition of the "American" Quartet, the "New World" Symphony and most of the Cello Concerto, as well as starting the String Quartet Op. 105. When he returned to Prague in the spring of 1895, he did not immediately return to composing but took four months off, relaxing at his summer house in Vysoká. To his friend Alois Gobl, he wrote: "I am basking in God's nature and I am contentedly idle. I am not doing anything, which will probably surprise you, but it's true. I'm just lazing around and haven't picked up my pen." While Dvořák wasn't writing anything, he was certainly contemplating ideas. The first work he started once back in his homeland was the String Quartet in G Major, Op. 106, which was composed during a month of concentrated activity, between November 11 and December 9, 1895. The A-flat Major Quartet, Op. 105 had already been started in America, and Dvořák took it up again on December 12 in Prague. His dates on the autograph manuscript show that he completed it a few weeks later, on December 30. It is Dvořák's last chamber work—the compositions that followed included a series of five orchestral tone poems and three operas. The score and parts of the quartet were published by Simrock in September 1896.
The first performance of Op. 105 was given in Prague on October 20, 1896 (11 days after the premiere of its companion quartet, Op. 106) when it was played by the celebrated Rosé Quartet, led by the violinist Arnold Rosé—concertmaster of the Vienna Philharmonic, a friend of Brahms and later Mahler's brother-in-law—with August Siebert (violin II), Hugo von Steiner (viola), and Reinhold Hummer (cello). On November 10, 1896, the same players gave the work for the first time in Vienna and a few weeks later the work was heard for the first time in the US, played by the Dannreuther Quartet in New York City on December 20, 1896. 
The quartet opens with a short slow introduction in A-flat minor during which each of the instruments, building from the cello upwards, offers a hint of what is to become the main theme of the first movement. The theme, now in A-flat Major, is revealed in all its glory at the start of the Allegro appassionato, and Dvořák adds a song-like answering idea marked by expressive falling intervals. The second subject, in E-flat Major is driven by ebullient, dotted rhythms. The development section has been described by the Dvořák's biographer Otakar Šourek: after a reminder of the main elements from the first theme, "it then flares up passionately in a sharp skirmish between the principal and subordinate theme, twisting and turning through numerous minor keys." The recapitulation is a notable surprise: it begins with the lyrical answering idea of the first subject, played by the viola in the entirely unexpected key of G Major before finally arriving in the home key and the presentation of the two main themes. The short coda includes tender reminiscences of the two melodic components of the first theme before reaching a robust conclusion. 
The Scherzo that follows is marked molto vivace and is in F minor. It's a delectable movement with a main idea that is imbued with the syncopated rhythms of a Czech furiant (bohemian dance, which alternates between duple and triple time), and Dvořák contrasts this with a Trio section in D-flat Major in which the music is rich, radiant, and tender. While in the middle of composing this Scherzo, Dvořák wrote to a friend that he was feeling "inexpressible contentment" at being home for the first time in three years, and something of that happiness seems to shine through the music of the quartet. The slow movement, marked Lento e molto cantabile is in the key of F Major, dominated by the ardent theme heard on the first violin, its melody delicately inflected with hints of folk music. A central episode is followed by a rapturous return of the opening melody and a coda of blissful tranquility. The finale is an energetic movement based on three themes. These often evoke the spirit of folk dances, albeit ones that are presented and developed with the greatest sophistication, culminating in an exuberant conclusion. 
Nigel Simeone, 2019